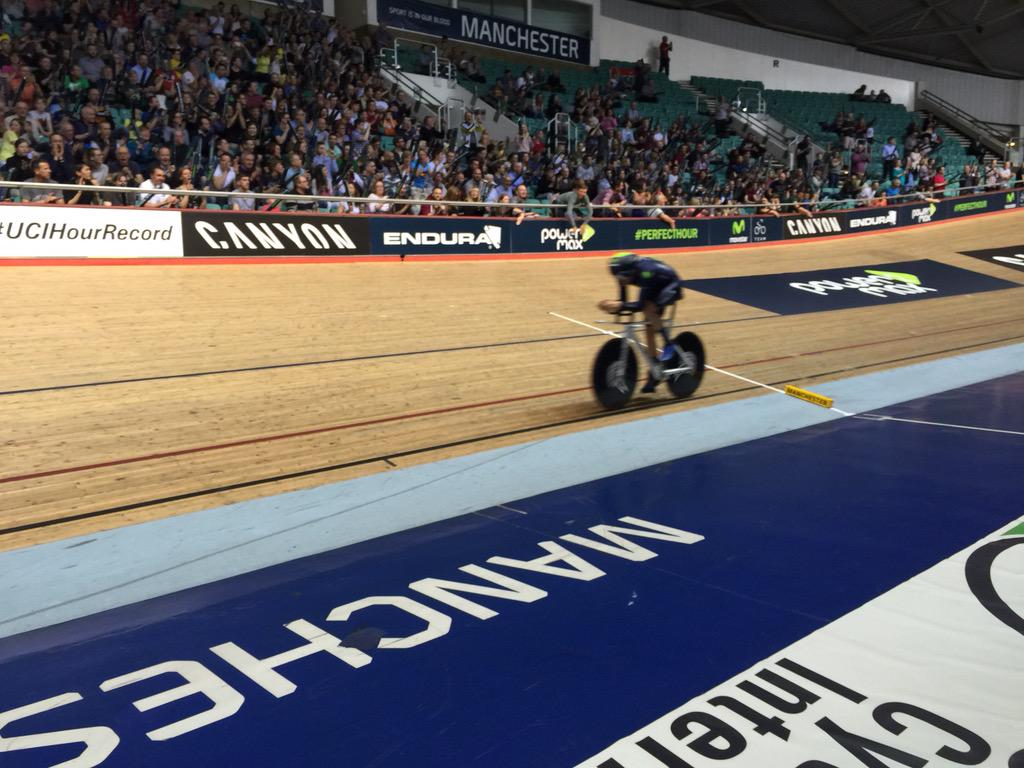 Look how

Alex Dowsett rides exactly on the line: steady, calm, on full control.

He knows what he's doing and how he has to do it.
20 mins in (70 laps) and he's sticking to the plan Team Movistar says:

he's just 4.8 seconds behind Rohan Dennis' time

, his average speed is always around 52.4kph.
Last 10 miinutes... and he's going for it: 52.736kph.
After 180 laps, Alex is AHEAD of Rohan Dennis. He keeps pushing and his speed keeps increasing.
200 laps in, Alex is more than 17'' ahead of the record pace: JUST 3' to go. Goooo!!!!
And now it's over. He's done it!.

Alex Dowsett is the new UCI HourRecord holder with 52.924km.

He rises one arm. He's moved. Too much joy.

He throws away the helmet and keeps riding, and keeps smiling while the crowd keeps roaring.
JUST PERFECT!
"I want to say thank you. I've got a lot of thanks yous to make. It's not been easy since November when we started thinking about the Hour Record. I thought when the UCI changed the rules that I'd have a punt at that… suddenly I realised what I'd let myself in for. I just want to say thank you to the whole crowd because the last five minutes it was all you guys.
The first 30 minutes I'm not going to lie were easy.

Easier compared to what I expected. Every time I've got on the bike I've got faster. This is the first time I've done it with the higher temperature. I knew it was going to be easier early on but I wasn't expecting that.

I just had to stay disciplined because the last 10 minutes were a little grippy.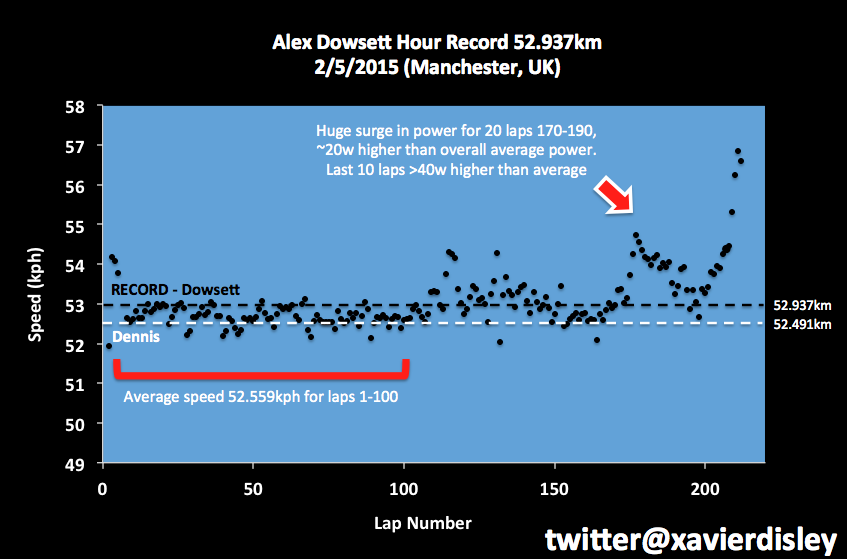 The coaches gave me a plan which I didn't like that much but deep down I knew that it was the right plan.

I'm not very good at changing pace so we'd ride at an easy pace, which would put me behind Rohan for 45 minutes and I wasn't too keen on it. At the halfway point I knew that I more left in the tank.

I think I got a bit excited at halfway and posted a few quick times.
A massive thank you to Steve Collins, we must have had about 30 or 40 hours of track time. He's been there for every single training session.
Things like the Commonwealth Games, the Olympics, the Tour de France and world championships hit home with the general public, but I truly had my eyes opened during my offseason this year when I travelled around Europe with the

Miles for Haemophilia

campaign.
On these trips

I saw my story was spreading hope

: their boy or girl could in fact lead an ordinary life. So I thought: what more can I do to bring a positive outlook on the future to them, alongside my own personal career ambitions?

Everyone understands a world record, so I wanted my next target to be the hour record.

"