"Being able to come into the line and knowing I was alone and realizing that I was going to win was special. Now I wished I had slowed down a little bit in the last 150 meters to savor it, but I didn't know how fast Joe was coming – and you never know what can happen.
I'm ecstatic! Since I won in 2011 I wanted to do it again, for me, for my family, for the team - it's always an honor to wear the colors of your country. It's been a hard start to the season so this is great.
It's unbelievable to have [my son] Noah there with me on the podium. You see guys do it all the time, and I always thought I would never do that. Maybe it was cliché, but I enjoyed it a lot! To have my own family here, and Noah at only five months old, and to celebrate with them is very memorable.
When that big group went from the start, I was mad for missing it. I don't even know how it happened, or when or where. I, like a lot of guys, thought it was over and I was very frustrated that I had missed it. I am by myself so I have to rely on other guys to do some work and luckily there were some others that wanted to win.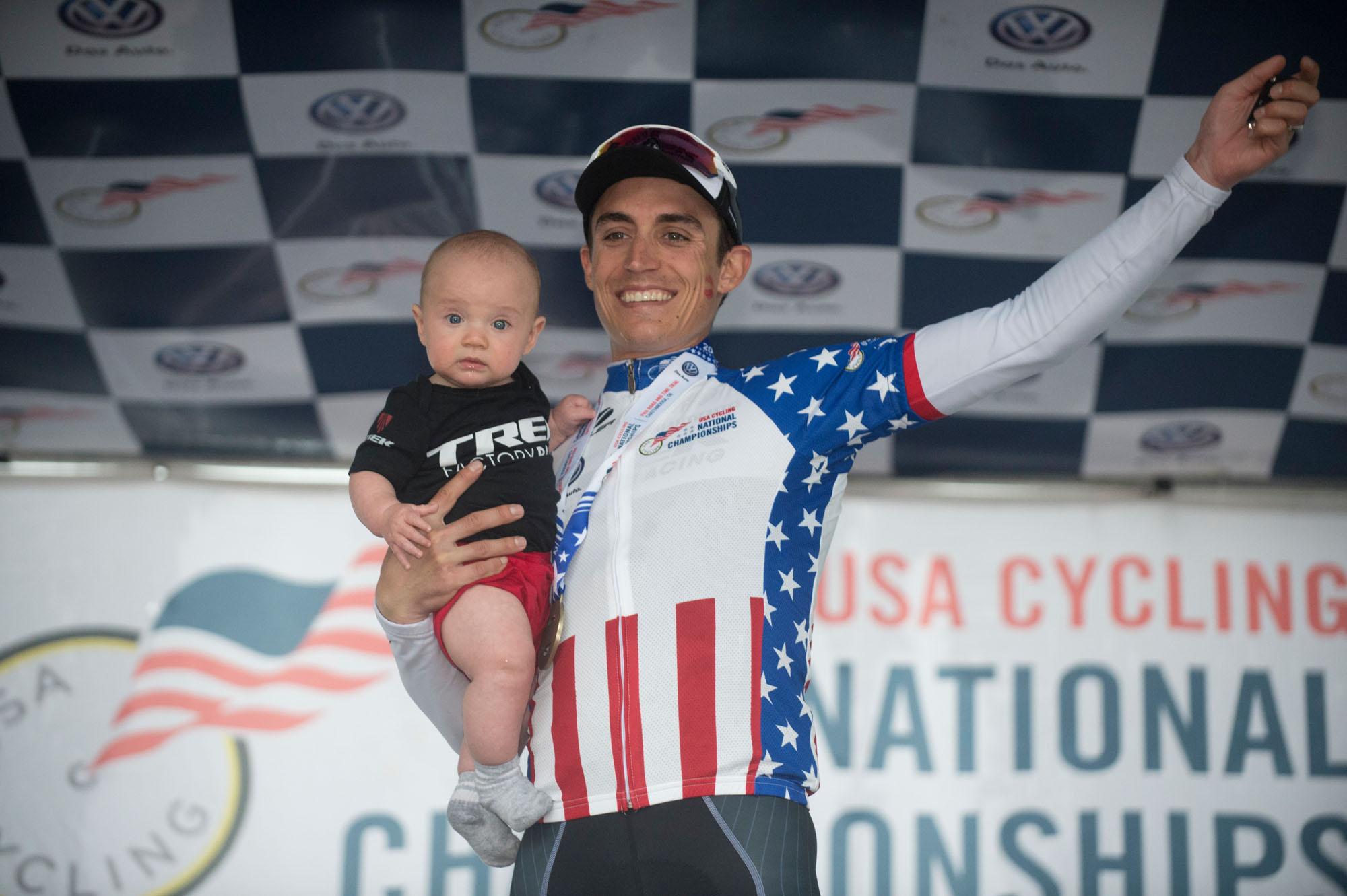 I am alone and I can't chase the break and then win the race so I had to play it cool. I got nervous when Andrew [Talansky] went alone the third time up Lookout, because he looked very strong. It was a gutsy move. But teams kept working, and at the end things came together.
I felt I was one of the strongest at the end and Alex Howes was definitely Garmin-Cannondale's favorite for that finish, he's punchy and fast so I wasn' t going to wait for the sprint. I've learned from these [National Championship] races that at some point something is going to stick and hopefully I'm not going to miss it.
I think with just over one lap to go I went for it, but everyone came back to me. There were more attacks and you never know which one is going to go, when Joe, Gaven [Mannion, Team Jelly Belly] and I got away that was a little bit surprising for me as I don't know how the gap opened up. But it's just one of those things in a long race and it only takes a small gap that someone can't close and it's over; it's just the way a championship race is.
Then it was just Joe and me. I don't think he liked his chances in the sprint so he was staying in my wheel. When he attacked it was a strong attack, but I had strong legs and could follow. I knew I had to go right away, and I got a gap. I had to keep my wits about me as the final left hand turn was slippery and even though I was fairly certain I had to come back in my own head to slow down, and don't lose it in the corner.
To be the strongest on the day, and maybe play it a little tactically better, to win in a hard race like today, in hard conditions, hard course, just to win knowing that you gave it your all is just really the best feeling."