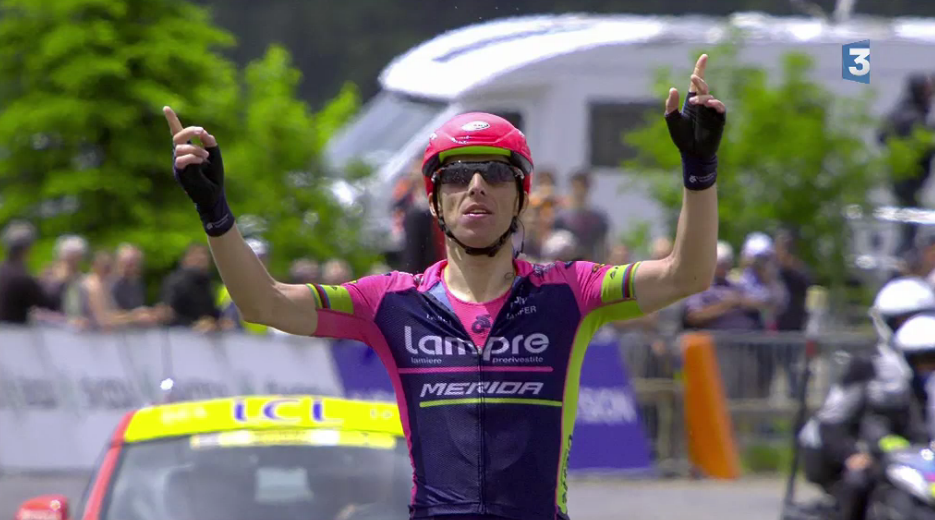 He

failed to win the stage

but it doesn't matter maybe given that

he's wearing Yellow.

Vincenzo

Nibali

went in the right break-away and made the right move.

Costa

beated him in counter,

unespected and harsh.

That's cycling, that's life. Still Yellow is a nice, swet colour, isn't it?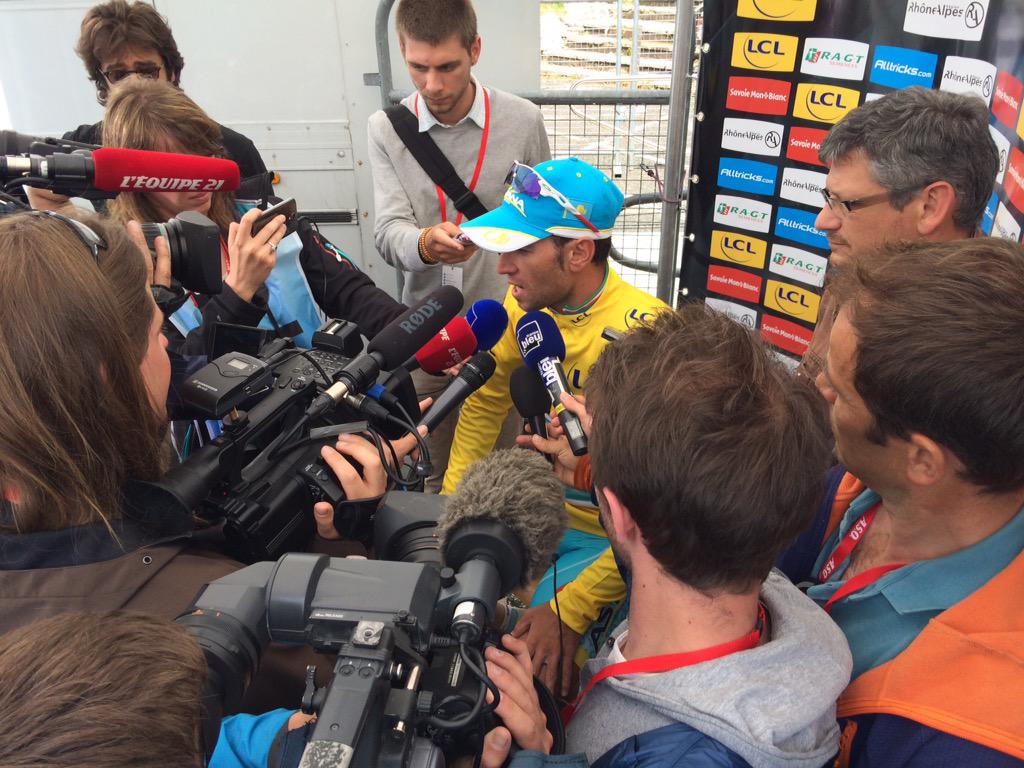 In the

breakaway

with

Nibali

there were

Gallopin, Costa, Valverde and Tony Martin.

Incredible how they got such a gap! Incredible that the peloton let them go!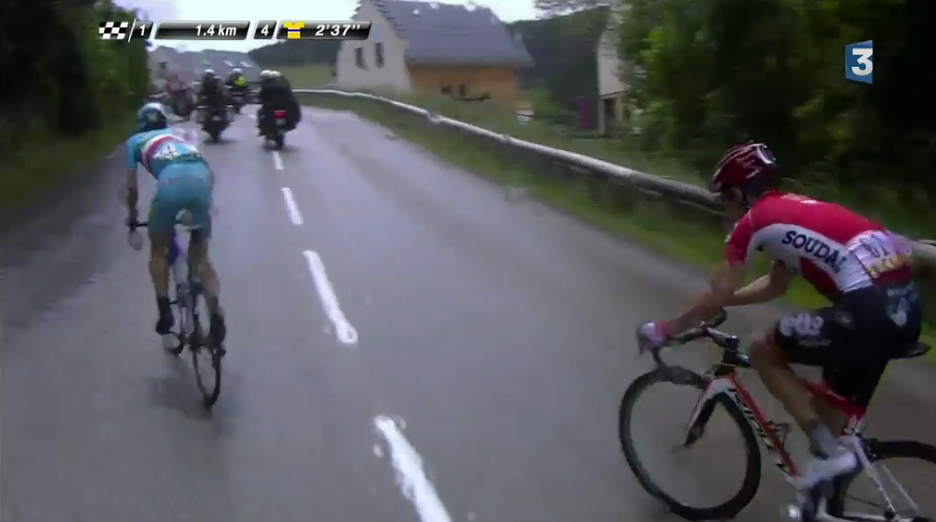 The

chasers were Talansky, Daniel Martin, Froome, Kelderman, Bardet, S.Yates, Herrada, Intxausti, Van Garderen, Kiserlovski and Serpa.

They chased in the

rain

but couldn't catch them back.
In front

Gallopin was the first one attaking

and he was solo 3.2km to go.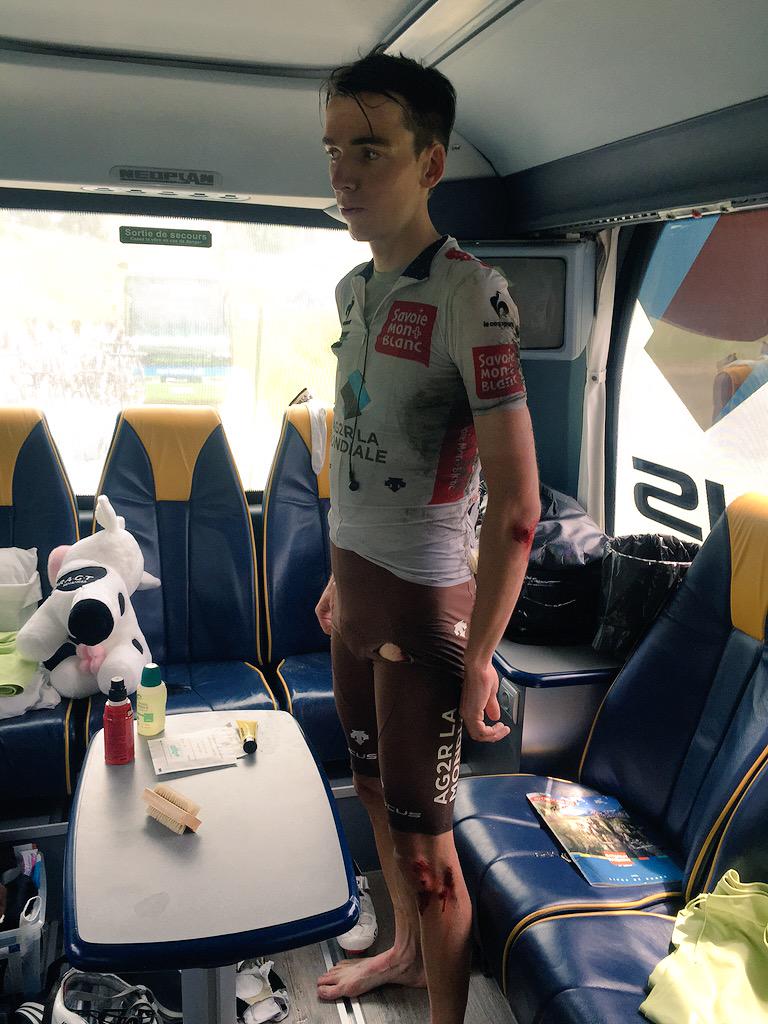 1 km to go

Nibali dropped
and the crime was looking perfect...

but Costa arrived and passed by 300 m to go. It was done.
"Congrats to all the team,my teammates and all sponsors. This victory is all yours!!! Thanks for the big support :) "
Romain Bardet:
"Les jours se suivent et ne se ressemblent pas. Le pilote n'était pas à la hauteur aujourd'hui dans les descentes."
[Days aren't all the same. The pilot wasn't as good as yesterday in the descent.]
Dan Martin:
"That was maybe the hardest, definitely the most aggressive race I've ever ridden. Epic racing and none of it in front of cameras. Typical."
Tejay van Garderen:
"It was a rainy day, it was up and down and really technical – so it was just the perfect storm. Any stage hunter was going to be looking at today for a breakaway. Everybody knew the breakaway had a good chance to win, so that meant everyone wanted to be in it. That meant the guys who got in it were really strong.
I knew I couldn't mark everyone so I picked Chris Froome and Romain Bardet," he said. "Every single one of those guys (in the group) was at two minutes (off the lead) and every single one of those guys has a huge pedigree in the sport. If I follow everything, I blow up.
I really have to give a big shout out to those two guys. They were just incredible today. Sadly, we were just a little bit isolated. When guys like Nibali and Valvderde get up the road, it is really tough to bring them back.
I am motivated. Valverde and Nibali were both dropped yesterday on Pra-Loup. So maybe this is more of a blessing in disguise that we do not have the jersey and we do not have to defend. Maybe Astana can waste some of their bullets early on in the stage. If I have the legs on the last climb, 42 seconds isn't much."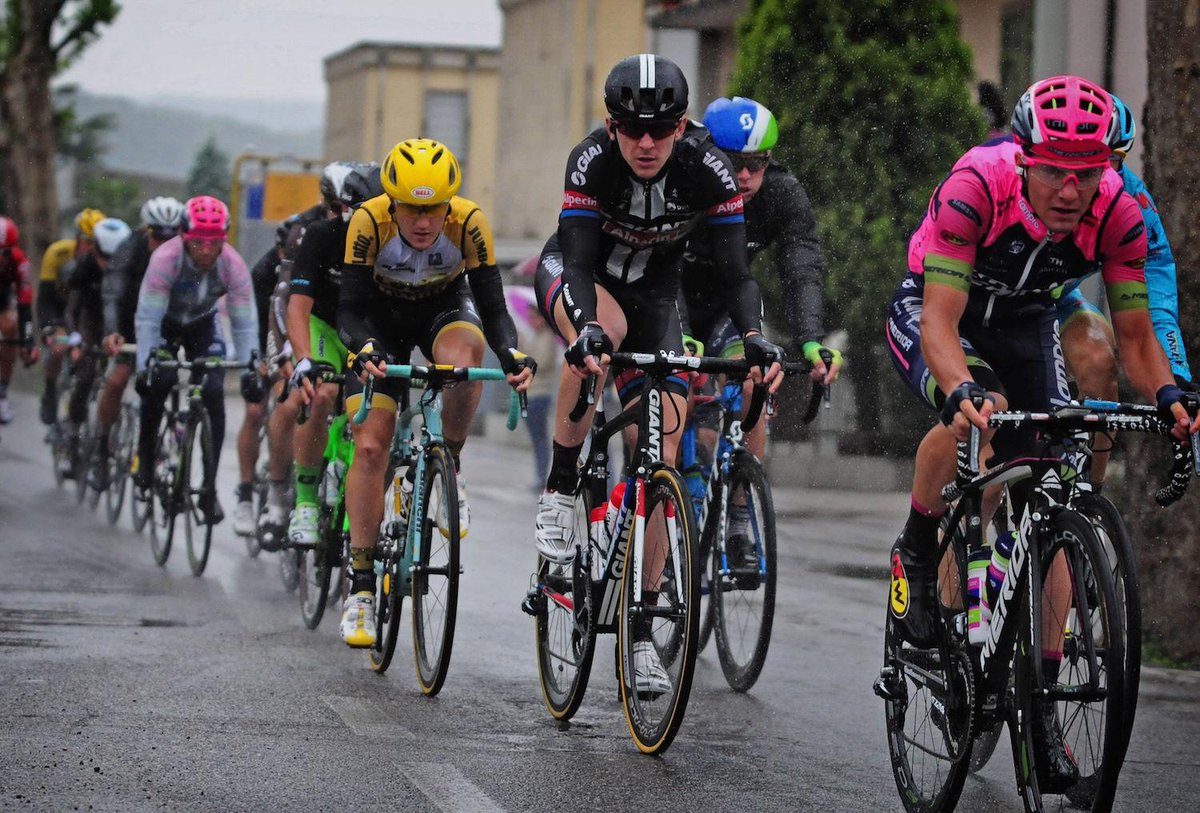 Haga Chad:
"It was full gas from the start and I was unable to hold the pace. I just had to keep fighting until the bunch slowed down, then I finished in the bunch."
Simon Yates:
"It's been an incredible day. We rode flat out the whole stage. We always had to stay tuned, at a high, almost constantly under the rain. When I realized that we were only fifty riders left, I thought I could try and gain some time. I didn't know what was going on because I was far from being fresh in the finale. No one could be fresh! I've already had difficult days on the bike with rain and cold but at this speed with so many moves, I don't know. Now I have the

white jersey

but it's impossible to say if I'll be able to keep it. With the two stages to come this week-end, anything can happen."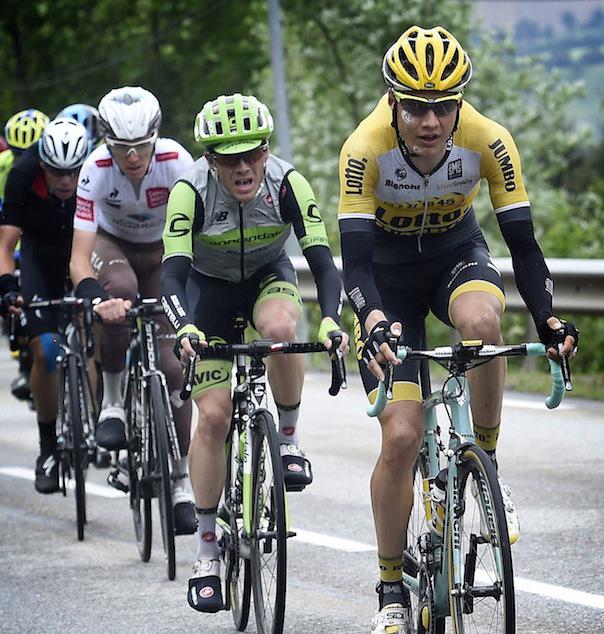 Wilco Keldermann:
"Cycling is meant to be like this. In the beginning of the stage, on a steep climb, I was well-placed in the front of the group. Guys like Nibali (Astana) and Valverde (Movistar) kept attacking. That made it a very challenging stage the whole day. They eventually escaped on the descent, when I was at the back of the group. That was a pity, but I had to save energy. The final went quite well afterwards. I wasn't one of the best, but it went better than yesterday."
TFR DS Alain Gallopin:
"I am disappointed because we made a plan this morning to have Matthew [Busche] or Riccardo [Zoidl] in the break. I saw Markel [Irizar] and Fumy [Beppu] try to do something in the beginning, and after it turned into a big fight with the leaders, but I am disappointed with Markel, Riccardo and Matthew - when they try to do something they need to be with the 40 guys at the front. Excuse me, but for me this is difficult to accept!
For Bauke it's different because he had a problem – and we are trying to fix it – and the focus for Bauke now is to finish the week better than the beginning and he is on the plan for the Tour de France.
And as for Haimar [Zubeldia] I expected him to be in the top 50 today and I have no spoken with him yet…
But I am especially not happy with Matthew and Riccardo today. In this kind of fight today from the beginning, when the leaders are not expected to fight and normally are tired, you must take your opportunity. It ended up being special today and the race never stopped, but I cannot accept that we were not in the front.
Honestly, to not have anyone in the top 50? I cannot accept this because they have the legs to be there. I understand that it was raining, but it's raining for everybody, and it was not cold - it's no excuse. Today is no excuse. I am a little bit tired about that.
We have two more stages to go, and we need to find back our focus."
Team Sky DS Servais Knaven:
"It was crazy out there today. The rain poured down and attacks went one after another, right from the start. It must have made for an exciting stage to watch.
It was so hard for the riders, and when Nibali's group went over 100km from the finish there were only about 15 riders left in the peloton.
That escape group was super strong and they took some big risks on the descent of the Col de Grimone. They'd managed to build a lead of over a minute before they got to the bottom. Back in the peloton, no-one wanted to work together to chase them initially, and that undoubtedly played into their hands as there some huge engines in that move.
We couldn't really contribute as were short on numbers. Our riders had had to do so much work covering those opening hours of attacks, and the pace of the race meant they couldn't regain contact like they might otherwise have done. Philip Deignan did some good work before the last climb, but the gruppeto was huge today. Around 90 came home over 36 minutes behind, and that proves how hard things were.
Whilst he didn't take any unnecessary risks on the wet and slippery roads, Froomey dug in on that last climb. He prefers the dry and sunny conditions so today definitely wasn't to his liking. There's nothing wrong with him though, he's strong and looking forward to the last two stages. That's where he's in his element – in the high mountains – and this race is definitely not over.
Everything is still possible for Froomey. He's only 1min 20sec down, and we saw on the big climb on Thursday how Nibali was dropped pretty early.
It's not going to be easy but we're going to do everything we can. The team we have here is strong and they're all determined to give it their all."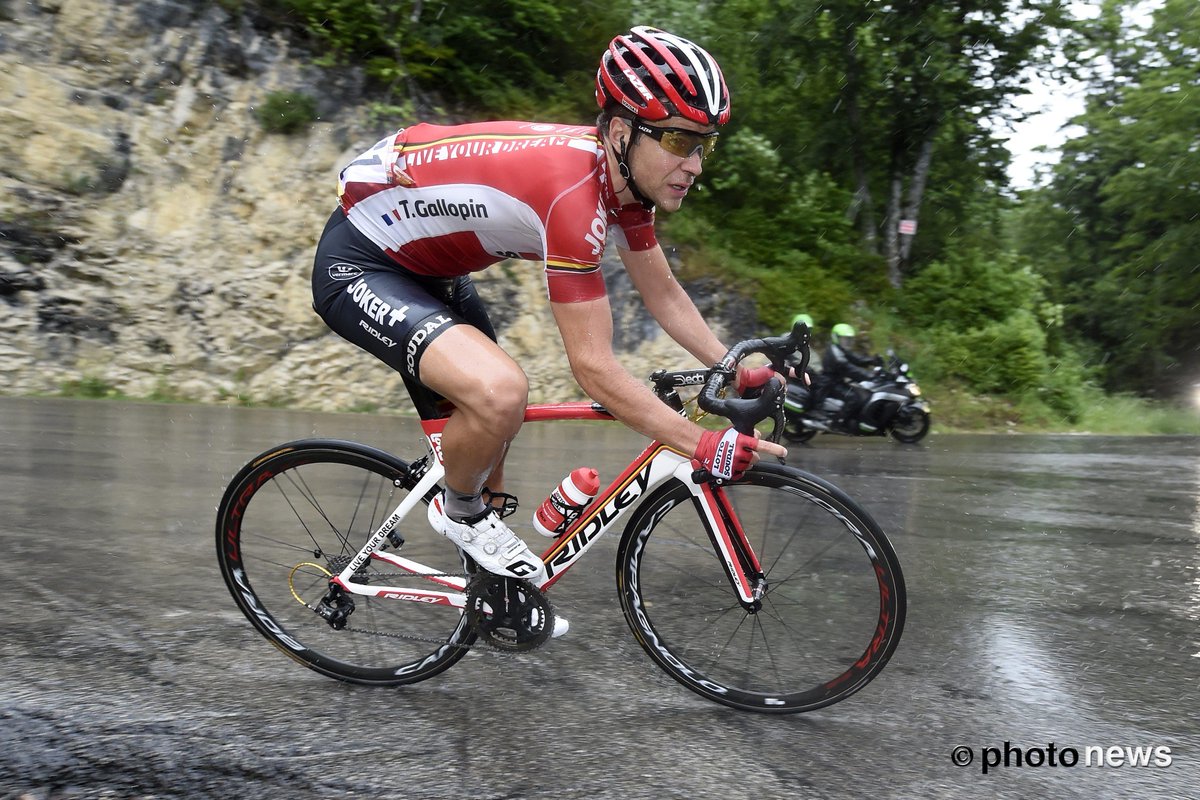 Tony Gallopin:
"I had marked today's stage. Depending on the circumstances I knew it had to suit me. It went really fast right from the beginning, there were a lot of attacks and also the top riders wanted to make something of the stage. Before the decisive breakaway was formed, we had been ahead with twenty riders, without Froome or one of his teammates. The groups came back together and then I got away with Nibali, Rui Costa, Valverde and Tony Martin; some big names. We took a few minutes, but uphill I soon realized Nibali was the strongest. On the first category climb Martin and I were dropped, but we could rejoin the others in the descent. I knew there was a possibility to get away four kilometres before the finish, but on the climb to the finish I couldn't stay ahead. Such a stage is good for the confidence. This are only my first race days since Liège-Bastogne-Liège."
Tiesj Benoot:
"This was without any doubt the hardest day of my career. Yesterday I let go, also because I knew today's rainy weather would suit me better then the warmth yesterday. But I had marked today, possibly to join a breakaway and see how far I could get. And that was pretty far, indeed. First I was part of a group of 50 riders behind the five leaders, with Tony in that front group. When the group fell apart because of the tempo of Sky, I could hang on. In the last phase I responded to an attack of Daniel Martin and John Gadret. Because I'm not playing a role in the overall classification they let me go easier than a favourite. I did well today in a medium mountain stage, but that doesn't mean I'm a GC rider (laughs).
Robert Kiserlovski:
"When Nibali, Valverde, Gallopin, Costa and Martin attacked I followed but I was blocked by another rider, who unfortunately didn't hold the wheel and created a gap. As it turned out, it was a winning move and I felt strong at that moment. However, I think it was a positive day for me personally, as I feel that I'm improving each day. And, as a team, we also had five guys in the yellow jersey group chasing the breakaway until the stage finale.
It was a very hard stage today with attacks all the time. As everybody could see, it was very difficult to control the race, as the intensity was very high. I think we will see several of the GC riders paying the price on tomorrow's stage, also with the weather conditions we had today".
MORE TO COME
RESULTS
STAGE
1
Rui Costa (Por) Lampre-Merida
4:29:23
2
Vincenzo Nibali (Ita) Astana Pro Team
0:00:05
3
Alejandro Valverde (Spa) Movistar Team
0:00:38
4
Tony Gallopin (Fra) Lotto Soudal
0:00:39
5
Simon Yates (GBr) Orica GreenEdge
0:01:24
6
Daniel Martin (Irl) Cannondale-Garmin Pro Cycling Team
0:01:46
7
John Gadret (Fra) Movistar Team
0:01:48
8
Tiesj Benoot (Bel) Lotto Soudal
0:01:59
9
Christopher Froome (GBr) Team Sky
0:02:12
10
Benat Intxausti (Spa) Movistar Team
11
Tejay Van Garderen (USA) BMC Racing Team
0:02:14
12
Robert Kiserlovski (Cro) Tinkoff-Saxo
0:02:25
13
Wilco Kelderman (Ned) Team LottoNL-Jumbo
0:02:31
14
Andrew Talansky (USA) Cannondale-Garmin Pro Cycling Team
15
Rafael Valls Ferri (Spa) Lampre-Merida
16
Joaquim Rodriguez (Spa) Team Katusha
17
Romain Bardet (Fra) AG2R La Mondiale
0:02:42
18
David De La Cruz (Spa) Etixx - Quick-Step
0:02:55
19
Arnaud Courteille (Fra) FDJ.fr
0:03:09
20
Jonathan Castroviejo (Spa) Movistar Team
21
Gorka Izagirre (Spa) Movistar Team
0:03:19
22
Ruben Plaza Molina (Spa) Lampre-Merida
0:03:37
23
Daniel Navarro (Spa) Cofidis, Solutions Credits
24
Bart De Clercq (Bel) Lotto Soudal
25
Adam Yates (GBr) Orica GreenEdge
0:05:23
26
Paul Voss (Ger) Bora-Argon 18
0:06:13
27
Chris Anker Sörensen (Den) Tinkoff-Saxo
28
Lieuwe Westra (Ned) Astana Pro Team
29
George Bennett (NZl) Team LottoNL-Jumbo
0:06:23
30
Bruno Pires (Por) Tinkoff-Saxo
0:06:25
GC
1
Vincenzo Nibali (Ita) Astana Pro Team
22:34:17
2
Rui Costa (Por) Lampre-Merida
0:00:29
3
Alejandro Valverde (Spa) Movistar Team
0:00:30
4
Simon Yates (GBr) Orica GreenEdge
0:00:35
5
Tejay Van Garderen (USA) BMC Racing Team
0:00:42
6
Benat Intxausti (Spa) Movistar Team
0:00:57
7
Christopher Froome (GBr) Team Sky
0:01:21
8
Tony Gallopin (Fra) Lotto Soudal
0:01:29
9
Romain Bardet (Fra) AG2R La Mondiale
0:01:30
10
Daniel Martin (Irl) Cannondale-Garmin Pro Cycling Team
11
Andrew Talansky (USA) Cannondale-Garmin Pro Cycling Team
0:02:07
12
Rafael Valls Ferri (Spa) Lampre-Merida
0:02:42
13
Joaquim Rodriguez (Spa) Team Katusha
0:02:45
14
Wilco Kelderman (Ned) Team LottoNL-Jumbo
0:03:05
15
David De La Cruz (Spa) Etixx - Quick-Step
0:03:13
16
Robert Kiserlovski (Cro) Tinkoff-Saxo
0:03:28
17
Bart De Clercq (Bel) Lotto Soudal
0:03:59
18
Daniel Navarro (Spa) Cofidis, Solutions Credits
0:05:44
19
John Gadret (Fra) Movistar Team
0:05:48
20
Ruben Plaza Molina (Spa) Lampre-Merida
0:06:56
21
Jonathan Castroviejo (Spa) Movistar Team
0:07:10
22
Gorka Izagirre (Spa) Movistar Team
0:07:44
23
Paul Voss (Ger) Bora-Argon 18
0:07:58
24
Tiesj Benoot (Bel) Lotto Soudal
0:09:00
25
Mathias Frank (Swi) IAM Cycling
0:09:18
26
George Bennett (NZl) Team LottoNL-Jumbo
0:09:48
27
Adam Yates (GBr) Orica GreenEdge
0:09:55
28
José Herrada (Spa) Movistar Team
0:10:05
29
Lieuwe Westra (Ned) Astana Pro Team
0:15:12
30
Chris Anker Sörensen (Den) Tinkoff-Saxo
0:16:38