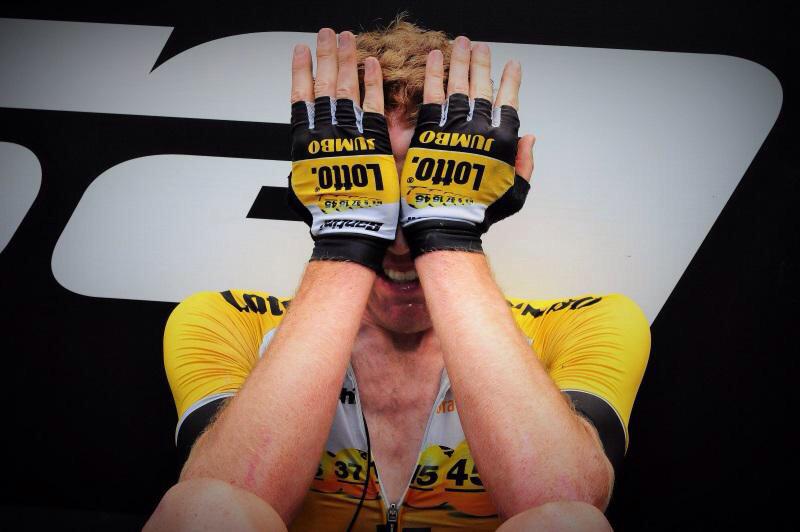 Steven Kruijswijk: best things in the Giro
Traveling with a grand tour is sharing a

daily adventure

, spending days with people you had never met before and that very often you'll never meet again - but there are fortunate exceptions – and living a collective life more intensely than your own's. For me it has been waiting for hours in places I would have never seen, beautiful places sometimes, sometimes... welll... not. But

places I had the time to breath

– at the barriers in the heat, in the early morning on a still deserted square in a small town watching workers bringing on the Giro or the Tour, and after, when they had already brought it away, in lonely night.
This year I decided to stay at home: no Giro, no Tour. No races to be honest because I just went to watch the Strade Bianche and a stage of Tirreno. No money, no time, no Andy. I still enjoy watching a cycling race and I really like writing of cycling but I must admit that

my priorities changed

. I dedicate more time to my son's racing and to my own riding. Study and Politics are getting my focus again.
And still – DANM – I was expecting more by this Giro.
I'm disappointed.

I liked the route

– for a change – with his demanding first week, short transferts and many stages that on paper could suit the braves. I liked the fact the

there wasn't one favourite for the final victory but a handful of names

. I apreciated the

open battle for the Red, Blue and White

jersey between several good riders. It was going to be an

unpredictable

Giro.
Instead Team Astana killed the race and Contador killed Team Astana.

As a result, we had a boring Giro,

decided more by crashes, penalties and UCI points than by attacks, strategy and guts.
I believe in

the explicative quality of data

so here you have some numbers on display.

Team Astana's dominance

is obvious.

Team Tinkoff weakness

is evident and that's make

Contador's victory

look like

a miracle, especially checking the gaps.

Contador ALONE has defeated a very strong team Astana – to use an understatement! But

Team Astana

has been strong enough to put an

insane

number of riders in the final top positions, to collect an insane numbers of stage victories and to grab the White Jersey. I don't remember anything similar, not even in the CSC good old times (and you know how 'good' those times were!).
I say Team Astana killed the race because

they systematically prevent any break-away

to reach the line, lining up

such a fire power

that you can't really believe they

actually didn't win

the overall. But they didn't! The 2nd one in the final GC, Fabio Aru, has a huge gap from Contador and

Contador's Pink Jersey has never been really in danger

. I understand that Astana's strategy was to isolate Contador... but they should have realised – as everybody else – that Contador didn't really need anybody to keep his primate. I guess

Astana will have to pay

its arrogance in the next races, when alliances or even neutrality by other teams can come in hand.
Talking about

Astana's strategy... or lack of it

: assuming – and not believing – that they are all clean,

Fabio Aru

was recovering from

dyssentery

, had lost many kg and abandoned Giro del Trentino because of that, in the first weeks of the race he looked all but strong,

often in troubles because of his team crazy pace.

Mikel Landa

looked very strong instead and probably

the only one able to contend Contador's Pink.

Still

Astana's didn't want to win with him

, they prefered to lose with Aru. I wondered why till when I read an article by Neal Rogers saying that Landa's

contract

with Astana

espired

without a new offer and that he already unofficially off to Team Sky. That makes sense finally: Aru would have kept in the team all his

UCI points

while Landa would have bring them away. What a lame story...
It has been

thrilling watching Landa on the attack

and I – brain off - have dramt of him riding solo till the line and winning with a big gap on Contador – and Aru.

Unfortunately Landa has been stopped

and anyway

Contador wasn't that 'off'

even in his 'off day'. It has been

killing

to see Contador NOT chasing

Kruijswijk

– as Indurain in the old good times would have done - and Team Astana doing so instead. It has been

moving

to see the

other GC contenders

in the race fighting like lions for a top five or top ten results, with no way to get a stage victory.

Amador, Caruso, Geniez, Trofimov, Hesjedal, Uran, Konig... They deserve a bravo.

It has been for them a true

surviving race

.
Before the start the big

favourites

were Richie Porte, Domenico Pozzovivo, Alberto Contador, Fabio Aru and Rigoberto Uran.

Fabio Aru

's condition had been questioned and his performance has been

'weird': inconsistent

in the first weeks,

solid

in the last hard mountain stages. Somebody even said

dyssentery was a very good preparation!
Rigoberto Uran

was sick but the team didn't tell it around, he was slowly recovering from

bronchitis

and I wonder why a sick rider is allowed to start in a three weeks race. His performance looks more 'normal': poor in the first weeks and a little better at the end. He fought for a stage victory but two 3rd places were the best he could get.

Domenico Pozzovivo badly crashed out.

That's a pity.

Carlos Betancur

did his best to save AG2R's Giro, was in several break-aways and fought for the Blue Jersey. But

in this race there was no room for underplots.

Richie Porte

was in the shape of his life, coming from victorious races, motivated and well supported. Unfortunately Team Sky won the

Bad Luck

Award: he met

a naif friend

, a very

strict Jury

and a

big crash

all out the nutralisation zone. He probably met also his personal

mental limit

. Taking

frustration

isn't an easy sport. Do you remember Andy Schleck in Spa? He didn't accept that his Tour was over beacuse of a crash, and he won that Tour. But I'm far from saying Richie Porte is a pussy:

cycling isn't a war. I don't see it like that.
It was quickly down to Alberto Contador and Fabio Aru.

A duel. How cool. Unfortunately Fabio Aru

didn't look a danger

at all, in spite of his team. Contador crashed and rode some days with

a dislocated (?) shoulder

without any serious attempt by anybody to put him in trouble.

Fair Play? Mah!

Team Astana attacked him on a mechanical on the Mortirolo so I don't think that was the matter. By the way: Contador had few to say about it given his own behaviour in the famous stage of the Tour when Andy's chain dropped....
So

where did Contador won

his 2nd – or 3rd - Giro

? In the ITT

probably. He almost won the stage and inflicted his opponents big gaps they weren't able to reduce in the mountains. Of course things would have been very different with a competitive Porte in the ITT – but he had injuried his knee in the crash – with Porte, Pozzovivo and Uran attacking in the mountains day by day, allowing the break-aways to go and to take seconds on the line. THAT would have been a thrilling race.
The Fight for Pink being a no-real-fight, I focused on the

Fight for Blue

, more open and more interesting, with

Intxausti, Visconti, Betancur and Kruijswijk giving it all at every KOM.

They have been amazing, the Dutchman especially who in fact scored high in the final GC. Believing but not adsuming that he's clean,

Kruijswijk has been the most exciting thing in the Giro.

He had already shown a nice racing in the past, also in Italy, but now he looked

a mature, strong, determined rider.

Strong in his legs but also in his head. His team did its best to support his brave Fight for Blue but mostly he had to try on his own.

I'm gutted he was denied a stage victory, the Jersey and a higher place in the final overall. Even the Combactivity Award

, that went to Philippe Gilbert. Kruijswijk's results don't show his value. He deserved more. But that's cycling and I'm thankful he gave me something to jump on the sofa for. Team Movistar brought finally home the

Blue Jersey

with

Giovanni Visconti

, playing both his cards against its opponents who were isolated.
Another one I was cheering for was

Leo Konig

. In my opinion he has been

oustanding

. A bit like Wout Poels in the last Tirreno but in amore shocking way he got

a late call to lead

Team Sky and

responded with class

. On the monster climbs of the Giro's last week

he climbed with the best ones

, only dropped by Landa and Contador's last attacks. He

manged himself wisely

, avoiding to go in the red, gaining and keeping GC places day by day. Here I must add

a little word for Team Sky DS who once again had to improvisate after he spent month planning. It's an hard life...
The

Fight For Red

was also

engagging.

No Cav, no Kittel, No Degenkolb. André Greipel scored a good point but wasn't in contention for the Jersey, so it has been an

Italian Story

.

Manuel Belletti

only managed a few four places and then

abandoned

with a microfracture.

Elia Viviani

was the absolute favourite and in my opinion it would have won without the usual Team Sky

Bad Luck

: the Porte's drama left Viviani

without support

twice – when he punctured and when he crashed – then

a shocked team focused on defending Konig's GC position

and again Viviani had to help himself,

finally in Milano...

Team Sky was leading the chase when suddenly

everybody started puncturing

, Viviani included, Konig included.... almost half peloton! What happened it isn't sure, maybe a bad joke. As a result no sprint and anyway no Viviani in the front row.

He won a beautiful stage

and I think he was the best sprinter in the race.

Sacha Modolo and Diego Ulissi

were having

the best train

and a

team all focused on stages

.

Giacomo Nizzolo

didn't win but

calculated well and collected points

at every intermediate sprint. As a result

Team Lampre scored four stage victories but Trek Factory Racing brought home the Red Jersey

. By the way: I expected more by Fabio Felline but ok, that was a nasty Giro.
A big

disappointment

has been the

Fight For White

. There were a few young riders in this Giro who were supposed to shine in the break-aways, especially in the mountains, but they have been

crushed in the clash for the final GC

.

Formolo

won a stage, BMC

Kung

set a nice attack but crashed out,

Elissonde

just worked hard for Geniez,

Chaves

tried but

Team Astana put Fabio Aru so high that there was no fight at all.
As far as

Teams

are concerned,

Astana

and Tinkoff can't be completely happy: the first one

failed to win

the race, the second one won but

looked inconsistent.

In my opinion Team

Sky

did a good race, faced a very bad luck and all considered

limited the losts

. So did

Etixx

, to some extent, but even without Uran's illness its roster looked

weak, especially in the mountain, that's hard to explain

given that they didn't bring a sprinter. Movistar did

great

and moreover did it like a team as well as

ORICA-GE

: they didn't have a true GC rider but

did the best of it

in the first week, BMC did definitely

good

–

Gilbert

seems defintely back and

Caruso

held on the top ten – Katusha managed to get a stage with

Zakarin

('weird' racing by him) and to keep

Trofimov

in the top ten.

Kruijswijk

made

Lotto-Jumbo

's Giro but also

Hofland

deserves a mention. Both young, both promising, they aren't top rider - so far - but can achieve some nice results for a team that need them greatly.

Lampre-Merida

's target were

stage victories

and they got them, plenty of them.

Modolo

was expected,

Ulissi

a little less especially at the sprint. Coming back from a doping bann, Ulissi looks as strong as before, even more. It's an

interesting rider

- if clean - good climber, good sprinter, almost a finisseur but able to endure a stage races.
Trek Factory Racing

failed to win a stage but won the red Jersey: they can be

moderately happy. Nizzolo

's train works well but it isn't the best in the and that makes all the difference betwen 1st and 2nd place.

Cannondale-Garmin

managed to win a stage but failed to repeat in the mountains, in spite

Hesjedal furiously tried

. As a consequence he landed high in the final GC (5th!). A better cohordination between

Formolo

and Hesjedal would have been desirable but I know it isn't easy in Italy with an Italian rider.

Lotto Soudal

won a stage, or better

André Greipel

won a stage. That's all.

Jürgen Van Den Broeck

was quite disappointing, again.

FDJ.fr

spent all its Giro defending

Geniez

position in the GC, they were invisible, you even forgot that they were in the race... but in the end they kept that nice top ten place.

Bardiani CSF

won a stage and confirmed to be the best Italian Wild Card option, still they aren't as brillinat as last year.

Androni Giocattoli

animated the break-aways with

Marco Bandiera

... and that's all. Savio is happy. No doubt they showed the jersey.

AG2R La Mondiale

lost its leader Pozzovivo,

Betancur

did his best but their result in the race doesn't allow to smile that much. Finally some teams achieved

basicly nothing:

IAM Cycling, Southeast, Team Giant-Alpecin, Nippo - Vini Fantini

and

CCC Sprandi Polkowice

go home empty hands.

Sprinters' teams can just blame themselves

: there was a few and they wasted them. The others had few options because

breaks didn't
succeed.
FINAL GC
1

Alberto Contador (Spa) Tinkoff-Saxo

88:22:25
2

Fabio Aru (Ita) Astana Pro Team

0:01:53
3

Mikel Landa Meana (Spa) Astana Pro Team

0:03:05
4

Andrey Amador (CRc)
Movistar Team

0:08:10
5

Ryder Hesjedal (Can) Cannondale-Garmin Pro Cycling Team

0:09:52
6

Leopold Konig (Cze) Team Sky

0:10:41
7

Steven Kruijswijk (Ned) Team LottoNL-Jumbo

0:10:53
8

Damiano Caruso (Ita) BMC Racing Team

0:12:08
9

Alexandre
Geniez (Fra)
FDJ.fr

0:15:51
10

Yury Trofimov (Rus) Team Katusha

0:16:14
STAGES
1 (TTT) - San Lorenzo Mare › Sanremo

Orica GreenEDGE

GERRANS Simon

17.6
2 - Albenga › Genova
VIVIANI Elia
MATTHEWS Michael

177
3 - Rapallo › Sestri Levante

MATTHEWS Michael

MATTHEWS Michael

136
4 - Chiavari › La Spezia
FORMOLO Davide
CLARKE Simon

150
5 - La Spezia › Abetone
POLANC Jan
CONTADOR Alberto

152
6 - Montecatini Terme › Castiglione della Pescaia

GREIPEL André
CONTADOR Alberto

183
7 - Grosseto › Fiuggi
ULISSI Diego
CONTADOR Alberto

264
8 - Fiuggi › Campitello Matese
INTXAUSTI Beñat
CONTADOR Alberto

186
9 - Benevento › San Giorgio del Sannio

TIRALONGO Paolo
CONTADOR Alberto

224
10 - Civitanova Marche › Forlì

BOEM Nicola
CONTADOR Alberto

200
11 - Forlì › Imola

ZAKARIN Ilnur
CONTADOR Alberto

153
12 - Imola › Vicenza (Monte Berico)
GILBERT Philippe
CONTADOR Alberto

190
13 - Montecchio Maggiore › Lido di Jesolo

MODOLO Sacha
ARU Fabio

147
14 (ITT) - Treviso › Valdobbiadene

KIRYIENKA Vasil
CONTADOR Alberto

59.4
15 - Marostica › Madonna di Campiglio

LANDA Mikel
CONTADOR Alberto

165
16 - Pinzolo › Aprica

LANDA Mikel
CONTADOR Alberto

177
17 - Tirano › Lugano

MODOLO Sacha
CONTADOR Alberto

134
18 - Melide › Verbania
GILBERT Philippe
CONTADOR Alberto

170
19 - Gravellona Toce › Cervinia

ARU Fabio
CONTADOR Alberto

236
20 - Saint Vincent › Sestriere

ARU Fabio
CONTADOR Alberto

196
21 - Torino › Milano

KEISSE Iljo

185
JERSEYS
General Classification

CONTADOR Alberto
Points Classification

NIZZOLO Giacomo
Mountains Classification
VISCONTI Giovanni
Youth Classification

ARU Fabio
Teams Classification

Astana Pro Team
AWARDS
Energy ARU Fabio
Combactivity GILBERT Philippe
Break-away BANDIERA MARCO
Azzurri d'Italia LANDA MIKEL
SPRINT BANDIERA MARCO
TEAMS
1 Astana Pro Team

: 5 stages, 2nd and 3rd in GC,

White Jersey

, 1 day in pink, Team classification, Energy award, Azzurri d'Italia award, Cima Coppi
2 BMC Racing Team:

2 stages, top ten (8th), Combactivity award
3 Lampre-Merida: 4 stages
4 Team Sky

: 2 stages, top ten (6th)
5 Movistar Team:

1 stage,
top ten (4th),

Blue Jersey
6 Orica GreenEdge: 2 stages, 4 days in Pink
7 Team LottoNL-Jumbo

: top ten (7th), Cima Pantani
8

Bardiani CSF: 1 stage
9 Tinkoff-Saxo:

Pink Jersey
10

Team Katusha: 1 stage, top ten (10th)
11

Cannondale-Garmin Pro Cycling Team: 1 stage, Top Ten (5th)
12

Trek Factory Racing:

Red Jersey
13

Androni Giocattoli: Break-away award, Sprint Award
14

IAM Cycling: -------------------------------
15

Southeast Pro Cycling: ---------------------
16

Etixx - Quick-Step: 1 stage
17

Team Giant-Alpecin: -----------------------
18

Lotto Soudal: 1 stage
19

AG2R La Mondiale: -----------------------
20

Nippo - Vini Fantini: -----------------------
21

FDJ.fr: Top Ten (9th)
22

CCC Sprandi Polkowice

66:---------------