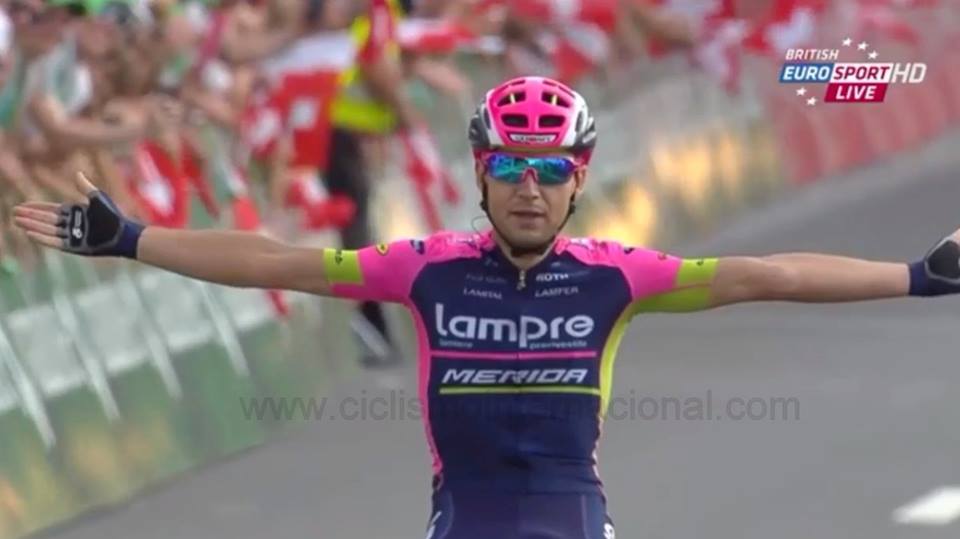 That's Lady Luck often kisses braves.
Kristijan Durasek:
"This is my first victory in a World Tour race, I'm happy and proud because a very good season is going on in the best way after the victory in the Tour of Turkey. My legs gave me positive feedback in the important moments, so I could ask them for extra efforts to attack, since I was aware I was not the fastest rider of the head group, the final attack gave me the victory."
Julian Arredondo:
"I felt really good, I had really good training after the Classics, so I tried an attack on the last climb. It didn't work, but I was happy to help make a selection of nine riders. There were two from Astana and two from Katusha so I was patient and stayed in the wheels. I had the win in mind, more than GC, and when Durasek went it was not up to me to close the gap, and he was gone."
Tom Dumoulin:
"As I said Yesterday, I will try to keep the jersey as long as possible and after today I have it for at least one extra day," Dumoulin said of his GC aspirations. "Today was a difficult stage, which we knew upfront. I did everything to keep the jersey and I succeeded. By consolidating the lead after today's stage, my GC chances increase a bit. It remains hard to predict what to expect about my final GC, as I've returned from the team's altitude camp and I may get a setback from that, hopefully this happens on a sprinters stage.
Only the mountain top finish at the Rettenbachgletcher on Wednesday worries me a little and I will loose time there. I hope the time lost will not be too extreme so that I can strike again at the closing time trail in Bern."
Peter Sagan:
"Today's stage was difficult and as you saw, those who finished up front were mostly climbers. I tried to be in front, but in the last hill I did not manage it. I lost about 15 seconds at the top and then I couldn't catch up on the way to the finish so I finished in 10th place. Too bad because I used up quite a lot of energy and spent power to be in front, but to no avail. Never mind, at least I tried it and we'll see what happens tomorrow", says Peter Sagan.
RESULTS
STAGE
1 Durasek
2 Moreno +4
3 Arredondo +4
4 Pinot +4
5 Thomas +4
6 Spilak +4
7 Lopez +4
8 Fuglsang +4
9 Dumoulin +4
10 Sagan +14
1 Dumoulin
2 Thomas +7
3 Moreno +11
4 Fuglsang +14
5 Sagan +15
6 Morabito +15
7 Pinot +16
8 Durasek +18
9 Jungels +19