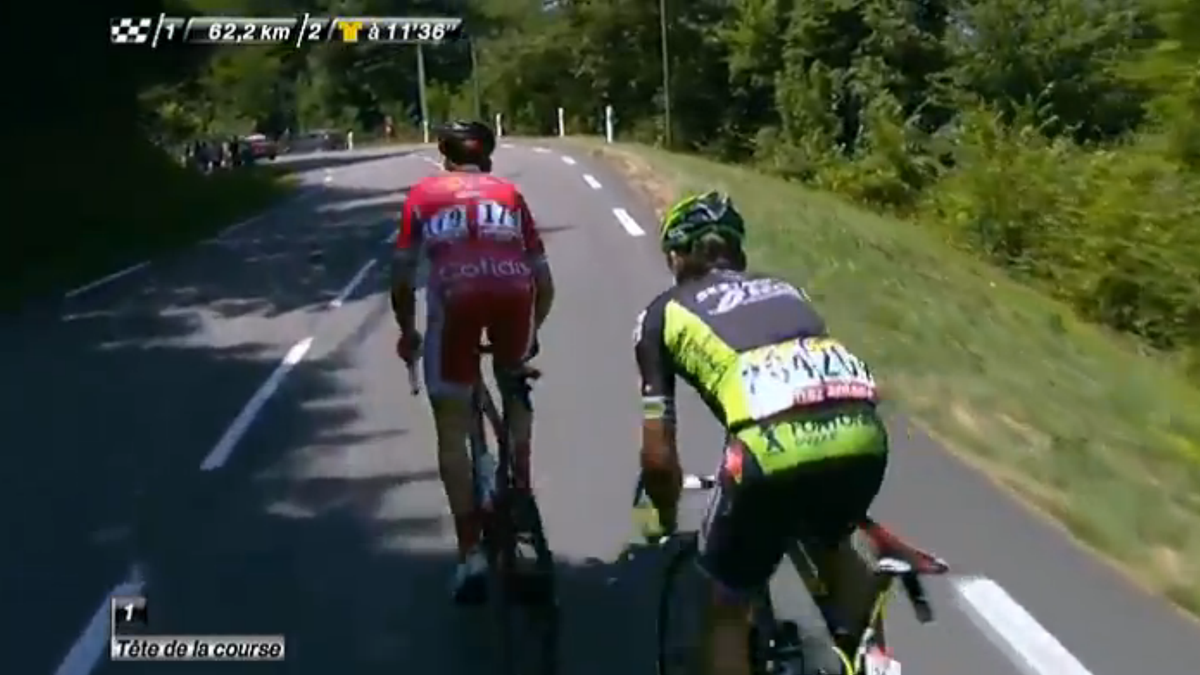 Vanblissen and Fedrigo
14 Juillet.

Pyrennes

.

Côte de Bougarber

, the first of three 4th cat climbs, 1.4 km, 6.2% average. Kenneth Vanbilsen and Pierrick

Fédrigo

are riding ahead.

Team Movistar is chasing.

Gap is 13'44" 83 km to go. The

finish

is uphill, on a never climbed climb:

La Pierre Saint Martin.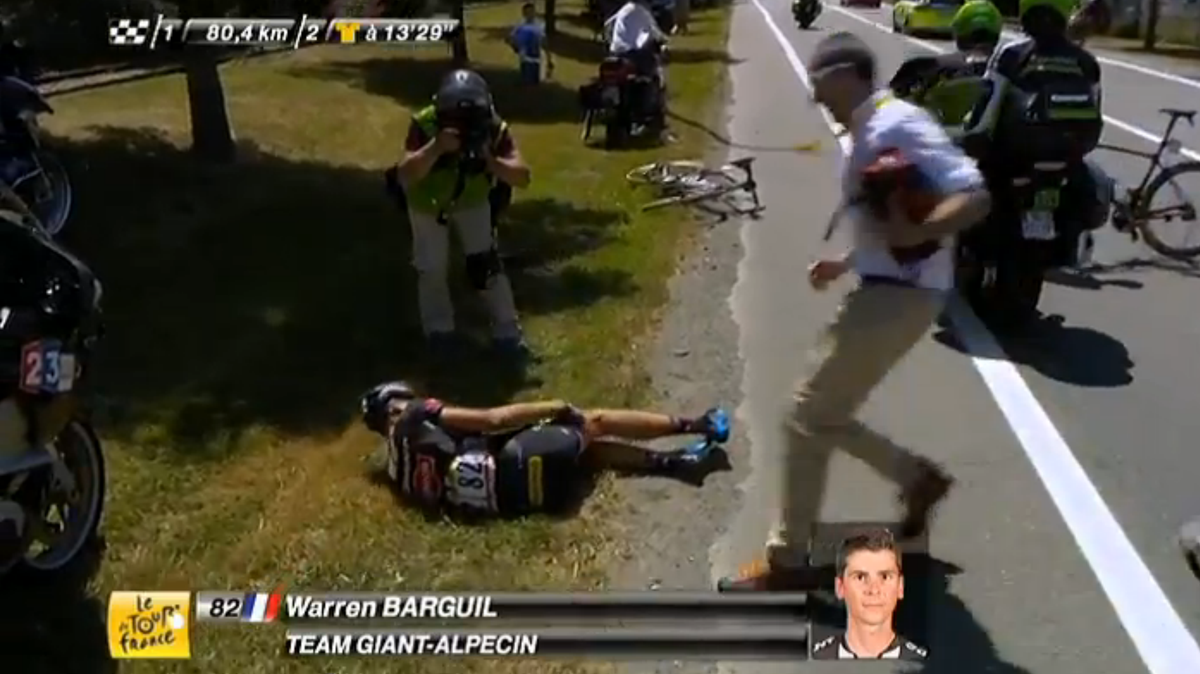 Crash!
Warren

Barguil crashes

, he's back on bike but 3' behind the peloton. He's expected to do well today, fighting for White and for the stage victory maybe. Now it's more complicated.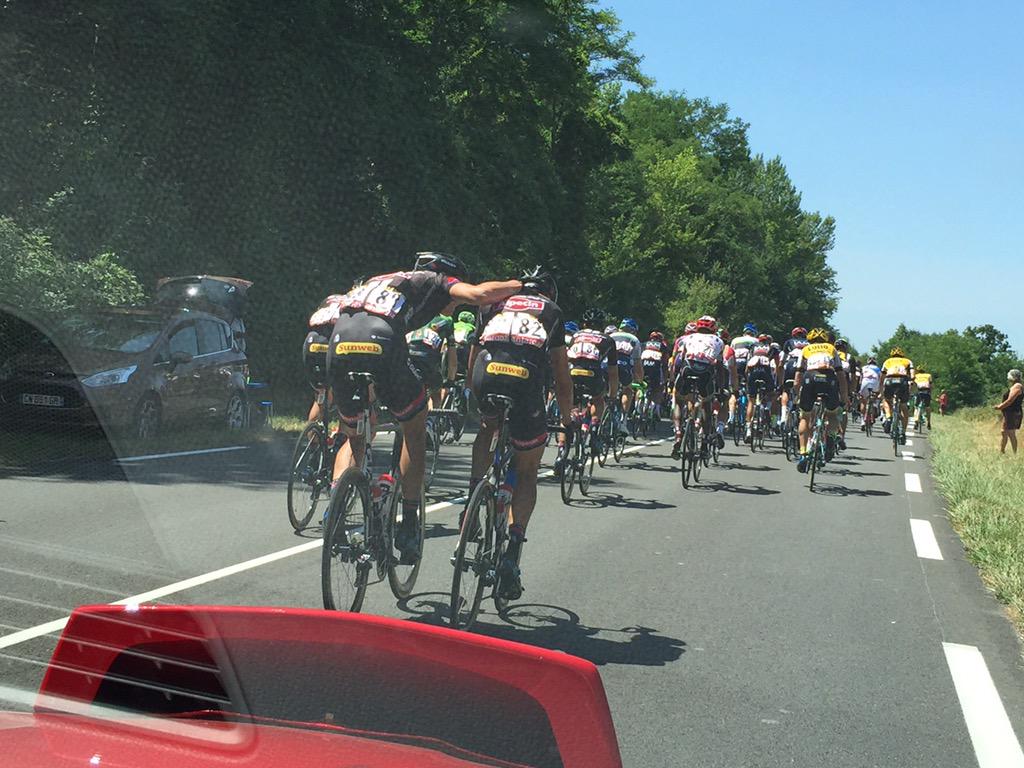 Sweet!
Côte de Vielleségure

(4th cat) - 1.7 km, 5.9% average.

Sinkeldam drops back to help

Barguil, they catch the tail of the peloton and it's sweet to see Sinkeldam

gently poking on Barguil's shoulder.
The breakers slow down and the peloton too.

Mechanical for Mark Cavendish

, a small crash for Lotto-Jumbo's Tom Leezer. Meanwhile Barguil needs the doctor care to treat his many blessures.
Climbers' day, but there is an

intermediate sprint

.

Greipel

won it while Sagan is only 7th: the Gorilla is back in

Green

.
Côte de Montory

(4th cat) - 1.8 km, 6.3% average.

Green grass, blue foggy far peaks.

The race is aproaching the last climb up to

La Pierre-Saint-Martin

, HC of 15.3 km with an average gradient of 7.4%. Gap is down to 2'.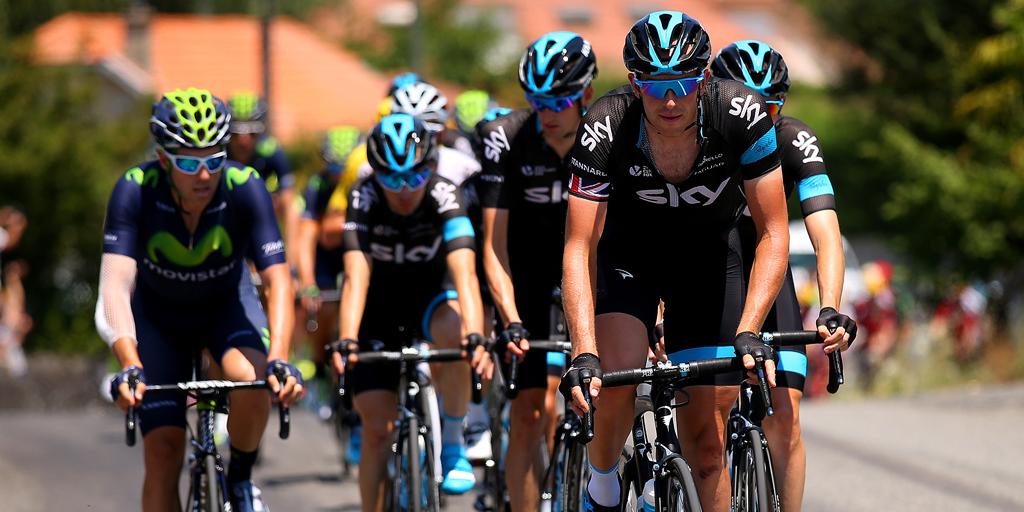 The first ramp is harsh.

Teklehaimanot gets dropped

. Sprinters do 'gruppetto'. The whole

Movistar

is in front.
12 km to go, Vanbilsen caught,

Fedrigo

is leading

solo

. Behind

Bardet

gets dropped, as well as

Talansky

and Dan

Martin

, as well as Pinot, Keldermann and Peraud.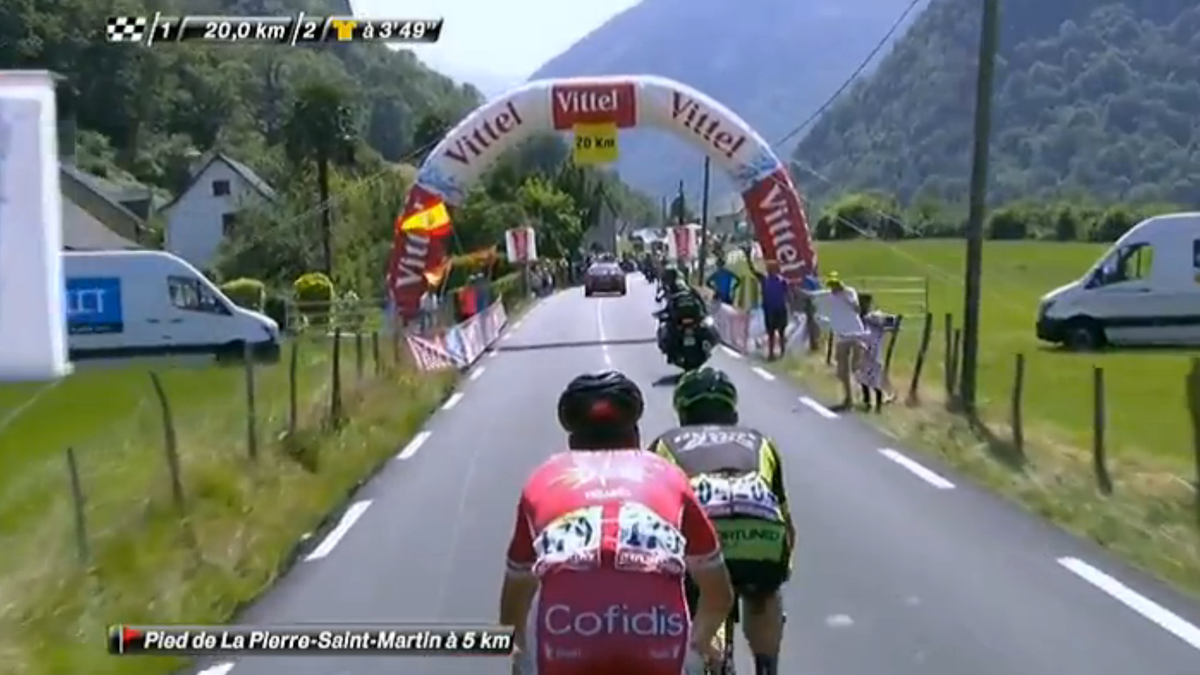 In front Gesink attacks and joins Fedrigo, quickly dropped. Also

Mollema, Uran, Rodriguez

and

Nibali are in trouble

. Alexis

Vuilermoz

can't follow the Yellow Jersey's group where Team Sky still has four riders.

Rolland

and

Gallopin

are also there.
Froome

goes in front with

Poels, Port

and

Thomas

.
8 km to go also

Barguils gets dropped.

Fugslang openly exorts Nibali

to resist, to conter, to not give up.

The Sharck looks lost

.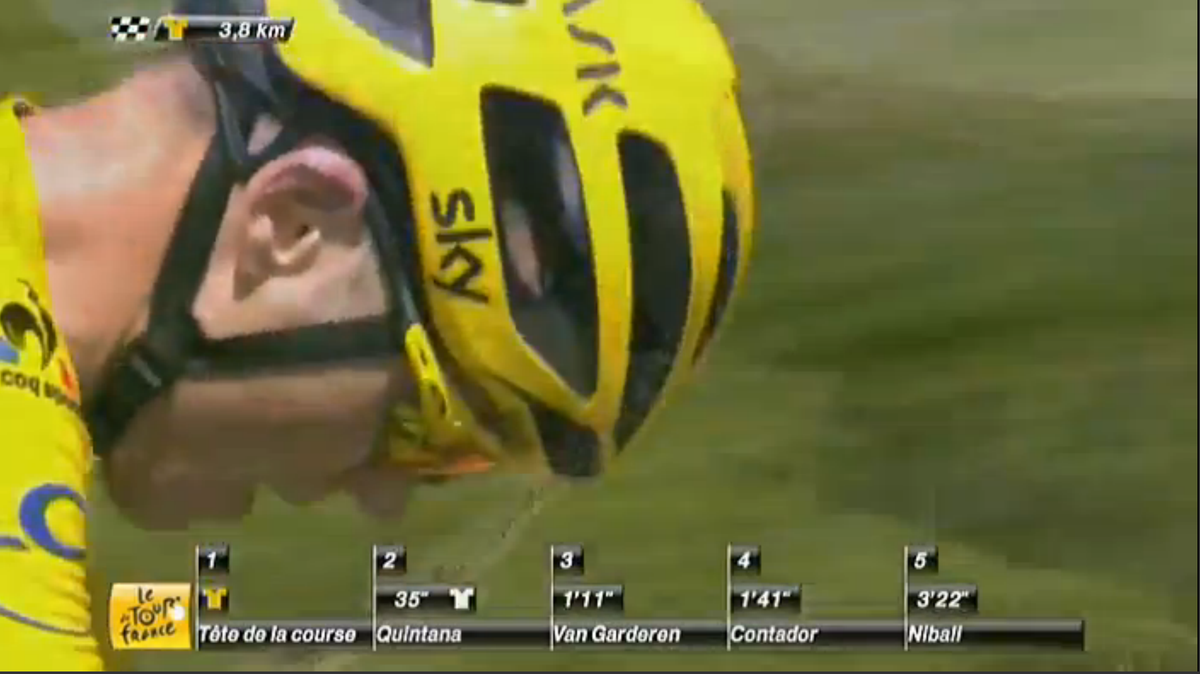 6 km to go

Contador gets dropped.

In front

Froome goes, with Porte and Quintana. Van Garderen cracks

.

Froome speeds up, dashes away. He's solo. Quintana is dropped

, but tries to follow. Distanced.
4 km to go the road is a little flatter but

Froome's advantage keeps increasing.

No mercy. And

the crowd goes crazy

.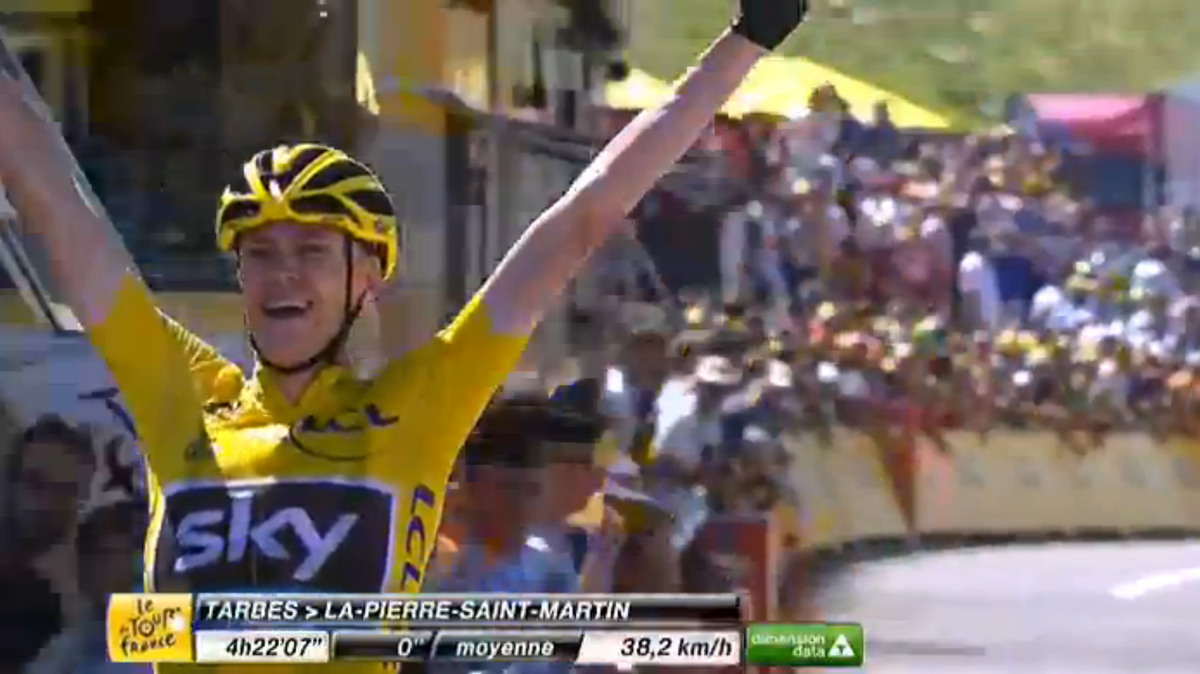 Behind

Porte is chasing Quintana solo.

Froome is already in the last km. Last meters, Porte is on Quintana's wheel and even sprint to take the 2nd place.
Bravo Gesink: 4th. Contador finishes 3' later, Nibali 4'.
"I'm at a loss for words. That was unbelievable. I couldn't believe it when I asked the guys to push hard a little bit and we were hearing on the radio that the big names were getting dropped. It was textbook from the team, the guys rode such a good race. I'm over the moon to be able to finish it off for them."
"Now we're just going to have to take it on a daily basis. I'm in such a great position now and with such team around me. Guys like Richie Porte coming second, G just a few places back in fifth – it just shows the calibre of riders I've got supporting me. Hopefully now we can just ride a defensive race. Let's see – there's still a very long way to go to Paris but of course I'm ecstatic about how it went today.
When I heard [the time gaps] on the radio it was like music to the ears, especially this early in the race. There are some really big time gaps today which I'm quite surprised about, seeing as we only had the one climb on the final. The one thing that comes to mind for me is that maybe some of the guys didn't look after themselves quite that well through the rest day yesterday, or maybe came out of the rest day feeling quite heavy. My guys were great. It was a dream day for us."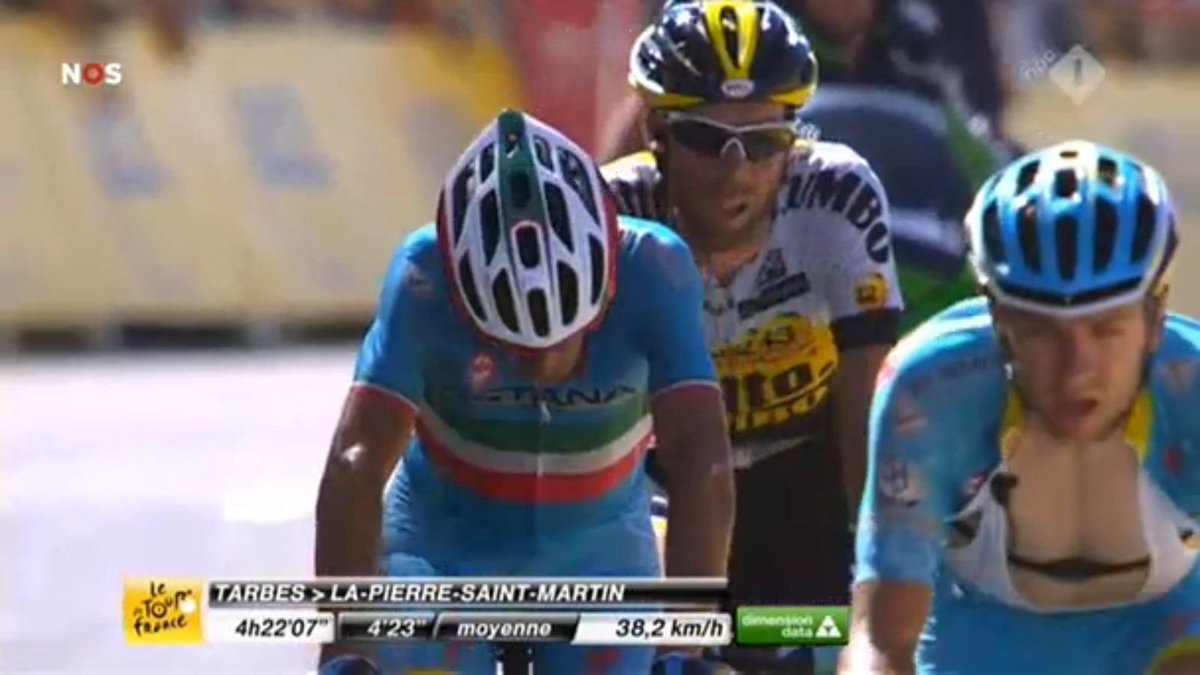 Vincenzo Nibali:
"It was a difficult day. I couldn't keep the pace. I could not breathe properly. I couldn't find the right pedalling pace. It was as if I didn't have any strength left. I could hardly follow my own team-mates. I tried to pace my effort, but I dropped after four kilometres and decided to climb more gradually. For sure Chris Froome hammered us badly. But we all lost time, all the favourites did: Van Garderen, Rodriguez, even Contador. We all thought we were better. It's going to be difficult now. Physically I feel pretty well. But I can't give anymore. I'm not the same Vincenzo Nibali as last year."
Thibaut Pinot:
"J'ai su très vite que j'allais exploser aujourd'hui / I quickly understood that it was not my day!"
Robert Gesink:
"Great day! Thanks for all the kind reactions!"
"I'm exhausted, but happy. I saw people getting dropped but felt good myself and decided to be crazy and give it a go. We didn't discuss anything, but I knew that when the big men began accelerating, they would go too fast for me. I anticipated and it worked out well today.
Yes, stupid actually. I thought about it for a moment, but looking back, I should have done that. I don't quite realise what has happened. Today, I had a super day, I felt strong. I'm happy. I wonder what's in store for me tomorrow."
Tejay van Garderen:
"Sky definitely put on quite the performance. I tried my best to stay with them. When it got too much for me, I tried to stay in my rhythm and focused on getting to the top. I don't think today was my best day. But it wasn't all bad. I am still keeping a good GC (general classification) position.
The first mountain day is always tricky. We have done almost two weeks without climbing any real mountains. So it can be quite a shock to the system, especially after a rest day. I feel like it should go better from here. I am definitely still happy about where we are sitting."
Bauke Mollema:
"I just couldn't go fast. At the bottom of the climb, the speed was so high and I just couldn't follow. I tried to go as fast as possible to the top and I was with Nibali all the time. But I just didn't have any power in the legs.
It was a really easy start until the last 20-25 kilometers; it was just easy all day. But then you knew the last climb was going to be full gas but, yeah, I don't know… I was hoping for more today and it just didn't go as I wanted.
Our group was going okay in the last five kilometers, but I think in the steep part we lost a lot of time. In the last kilometer I knew I had to give everything to the finish. But in the end it was a lot of time lost today.
After a couple of kilometers I was already at my maximum. On the steepest parts if felt like I was almost standing still. You have hardly any info, but you know you are going slow. Too slow.
I don't have an explanation - I really felt good until today. I knew that today would tell me something about the field; it was a surprise, though, what I found, and not in what I had hoped to see.
The gaps are substantial, but the GC battle for me is not over. Let's see for the next days."
Romain Bardet:
"C'est une journée comme on aimerait ne jamais en connaître sur un Tour de France ou même sur n'importe quelle compétition. Nous n'avons escaladé qu'un col du Tour et il reste encore beaucoup d'opportunités pour nous rattraper. J'ai passé une très mauvaise journée dès le départ, c'était très difficile. Maintenant, il faut rester positif et penser à demain. / It's one of those days you wouldn't ever meet in a Tour de France or in any other race. We just climbed one mountain in this Tour and there are still a lot of chances for us. I had a very bad day since the start, it has been very hard. Now we must stay positive and look forward."
Richie Porte:
"It's one day in the Tour. We can't get too carried away. We've seen in 2013 the first and second on the stage and then the disaster there. So we're not getting too far in front of ourselves, but it's still a fantastic feeling.
I sort of felt a little bit bad picking [Quintana's] pocket but it's a race. Chris was absolutely fantastic today. I take my hat off to Geraint Thomas as well. He was still on GC and he could have sat behind me. He didn't, he put in and did a great pull softening them up."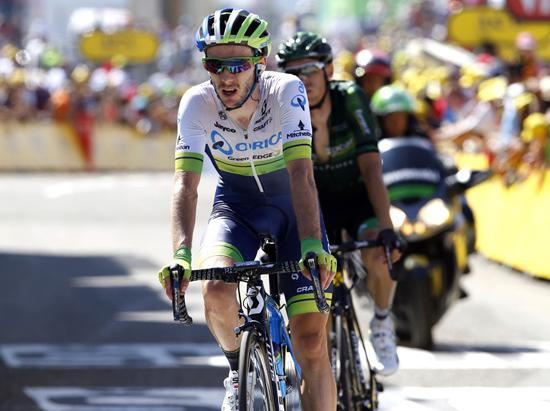 Adam Yates:
"I was in a good position because we took it easy in the team time trial so I am probably a little bit fresher than some of the big GC guys.
I was distanced when Contador was dropped and I just rode at my own pace. I worked my way back up and I caught up to (Tony) Gallopin and we worked together to catch the other guys.
I couldn't go much harder than that, I was pretty much full gas."
Nairo Quintana:
"It was a really hard stage, with hellish temperatures and big pace all day, especially since we took command of the peloton. We wanted to test our rivals' condition, see how they were going, and we found a superior Chris Froome. He was really strong and we must accept that. We'll try to find a strategy or some alliances to try and gain some time back or, at least, keeping our actual position. We must keep going day-by-day. We saw in previous races that he struggled a bit at the end in races finales and at the end of the three weeks; we will hope he cracks some day or that I find myself better than I did today. My winning chances? They shrank a bit today, but I keep dreaming about yellow, and will give my everything to snatch it."
Alejandro Valverde:
"To be honest, it was a big blow by Froome today. We did a nice race, but we've got to be realistic: he was over the rest today. Let's see if he can continue to do so for the rest of the race. Sky kept a high pace all the way when they took over, I tried to jump away to drop Froome's team-mates back, but they were strong. It's been a hard nine days before this stage, and the steep climb, combined with the heat… made everything impossible for many. Now, for us it's a matter of keeping what we've got or improving our result if we're able to. The Tour is not over at all, though it's becoming harder to win. Still, we can hope for everything when it's Nairo. Others like Contador, Nibali, Purito, Van Garderen cracked today, and the same can happen to us or any other rivals up to the end of the race."
Warren Barguil:
"I am thankful to my teammates and especially Ramon [Sinkeldam] who waited for me to bring me back to the bunch.
In the first kilometer of the Col de Soudet I could get my rhythm pretty well. After that I suffered from my wounds and dropped from the group with the favorites. I am a tough guy so I will not give up easily. Despite the crash and the wounds I felt pretty good on the final climb, so I am satisfied about that."
Alexis Vuillermoz:
"Une journée très difficile avec la chaleur. J'ai géré la montée, j'ai vu que mes leaders étaient en difficulté, après un temps d'hésitation on m'a dit de ne pas me préoccuper d'eux. J'ai fait des efforts et j'ai eu un point de coté durant la montée. Je ne sais pas si c'est la chaleur, la fatigue ou la pression qui retombe après les derniers jours, mais j'ai peut être du mal à me remettre en route."
[A very difficult day because of the heat. I managed my energy on the climb, I saw that my leaders were in trouble and after some exitation I have been told to not care about them. I had to do a big effort and sufferend on the climb. I don't know if it's the heat, the fatigue, or the pressure after the last days, but I had some problem to get started again."]
Andre Greipel:
"1st time I could go on the podium on mountain top finish-thanks to @Lotto_Soudal we can have green for another day in our rows! A demain..."
Dan Martin:
"No words. Completely empty as soon as the climb started. Dreaded rest day effect perhaps but we regroup and be back in the game 2moro"
Alberto Contador:
"Mal dia hoy en el Tour,toca descansar,analizar todo friamente y pensar el lo que esta por venir."
"It was a complicated day. I knew it was going to be a climb, where you could lose a lot of time, if you weren't in form and that's what happened. It was the stage after the rest day, where one could lose a lot of time. I couldn't breath and I still can't – so I couldn't get rid of the lactic acid in my legs and I couldn't follow the pace. It was a bad day, and we've seen that Froome was better than everybody else. I was unable to follow the pace, not only of Froome but also of other riders", comments Alberto Contador before elaborating.
This is cycling, you have good days and you have bad days. I wasn't able to see much of the race but I saw that Froome was able to accelerate away, when he wanted. Movistar's pace was not much of a problem to me, but the pace that Sky set was higher. At some point, I had to follow my own pace and find the rhythm and I've definitely had better days".
John Degenkolb:
"First mountain top finish done...unfortunately some more to come"
Serge Pauwels:
"My initial goal was to be in the long breakaway but after trying in those first few kilometres I felt I had good legs after the rest day. In the final I was surprised that I was able to follow the best for such a long time. I didn't want to get in the way of the real GC guys so at first I gave them some space but then I saw Nibali got dropped and I still had good legs. I just kept riding within my own limits. This is a great result for me. I am happy to have been given so much confidence by the team."
Peter Sagan:
"Looking forward to getting my jersey back:-)"
Joaquim Rodríguez:
"De los días más duros encima de la bicicleta!! No recuerdo el llegar tan vacío como hoy!!😰😰😰😰 @letour @TDWsport"
Andrew Talansky:
"The @Ride_Argyle boys were perfect but I wasn't. Never nice having a day like today but time to move onwards, plenty more mtns coming!"
Mark Cavendish:
"Well I don't think today was supposed to be as hard as it was! It's going to be a grim remainder of @letour for the gruppetto!"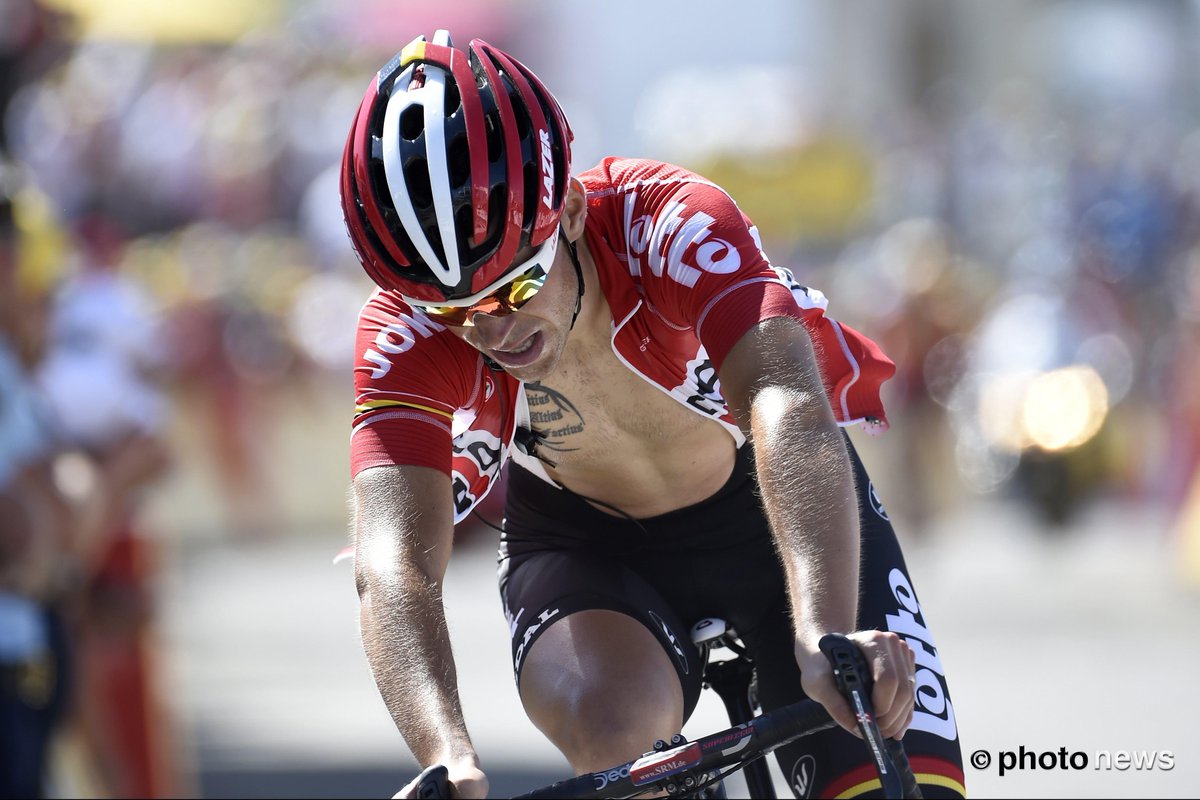 Tony Gallopin:
"With the team we agreed that I would see how far I got on the last climb. Tim and Adam could join a big group that had a chance to stay ahead. The first goal was to win the intermediate sprint with André, which we did, and then it were the teams of the GC riders who set a high pace on the way to the climb. I was amazed I could hang on and even when big names got dropped I could stay in the yellow jersey group. The steady pace of Sky was perfect for me. It was only when they raised the tempo and ten riders were left that I was distanced.
Of course I'm happy with the ninth place today and the seventh place overall. The legs felt very good, even when the group was already considerably reduced. On the one hand this place on GC is very nice, on the other hand I might get less space to aim for a stage win. But we'll look at that again with the team and we'll discuss what the next days will bring."
Alex Dowsett:
"Better day from me, new stitches seem to be working much better, as were my legs. Congrats to @TeamSky, we threw quite a lot at them today."
RESULTS
STAGE
1
Christopher Froome (GBr) Team Sky
4:22:07
2
Richie Porte (Aus) Team Sky
0:00:59
3
Nairo Quintana (Col) Movistar Team
0:01:04
4
Robert Gesink (Ned) Team LottoNL-Jumbo
0:01:33
5
Alejandro Valverde (Spa) Movistar Team
0:02:01
6
Geraint Thomas (GBr) Team Sky
7
Adam Yates (GBr) Orica GreenEdge
0:02:04
8
Pierre Rolland (Fra) Team Europcar
9
Tony Gallopin (Fra) Lotto Soudal
0:02:22
10
Tejay Van Garderen (USA) BMC Racing Team
0:02:28
11
Alberto Contador (Spa) Tinkoff-Saxo
0:02:51
12
Rafael Valls Ferri (Spa) Lampre-Merida
0:03:09
13
Jakob Fuglsang (Den) Astana Pro Team
14
Serge Pauwels (Bel) MTN - Qhubeka
0:03:19
15
Warren Barguil (Fra) Team Giant-Alpecin
16
Samuel Sanchez (Spa) BMC Racing Team
0:04:00
17
Bauke Mollema (Ned) Trek Factory Racing
0:04:09
18
Jacques Janse Van Rensburg (RSA) MTN - Qhubeka
19
Eduardo Sepulveda (Arg) Bretagne-Séché Environnement
0:04:16
20
Tanel Kangert (Est) Astana Pro Team
0:04:25
21
Vincenzo Nibali (Ita) Astana Pro Team
22
Laurens Ten Dam (Ned) Team LottoNL-Jumbo
23
Mathias Frank (Swi) IAM Cycling
0:04:44
24
Louis Meintjes (RSA) MTN - Qhubeka
0:05:38
25
Jean-Christophe Peraud (Fra) AG2R La Mondiale
26
Thomas Voeckler (Fra) Team Europcar
27
Jerome Coppel (Fra) IAM Cycling
0:05:46
28
Rigoberto Uran (Col) Etixx - Quick-Step
0:05:54
29
Michael Rogers (Aus) Tinkoff-Saxo
0:05:57
30
Gorka Izagirre (Spa) Movistar Team
31
Alexis Vuillermoz (Fra) AG2R La Mondiale
0:06:04
32
Steven Kruijswijk (Ned) Team LottoNL-Jumbo
33
Wouter Poels (Ned) Team Sky
34
Joaquim Rodriguez (Spa) Team Katusha
0:06:07
35
Haimar Zubeldia (Spa) Trek Factory Racing
0:06:15
36
Emanuel Buchmann (Ger) Bora-Argon 18
0:06:28
37
Dominik Nerz (Ger) Bora-Argon 18
38
Bartosz Huzarski (Pol) Bora-Argon 18
0:06:47
39
Brice Feillu (Fra) Bretagne-Séché Environnement
0:08:00
40
Jarlinson Pantano (Col) IAM Cycling
41
Cyril Gautier (Fra) Team Europcar
0:08:11
42
Geoffrey Soupe (Fra) Cofidis, Solutions Credits
0:08:20
43
Jan Bakelants (Bel) AG2R La Mondiale
0:08:50
44
Romain Bardet (Fra) AG2R La Mondiale
45
Ryder Hesjedal (Can) Cannondale-Garmin Pro Cycling Team
46
Giampaolo Caruso (Ita) Team Katusha
47
Mikael Cherel (Fra) AG2R La Mondiale
0:09:15
48
Rafal Majka (Pol) Tinkoff-Saxo
0:09:52
49
Thibaut Pinot (Fra) FDJ.fr
0:10:03
50
Steve Morabito (Swi) FDJ.fr
51
Roman Kreuziger (Cze) Tinkoff-Saxo
52
Damiano Caruso (Ita) BMC Racing Team
53
Marcel Wyss (Swi) IAM Cycling
54
Lars Ytting Bak (Den) Lotto Soudal
55
Lieuwe Westra (Ned) Astana Pro Team
0:11:02
56
José Herrada (Spa) Movistar Team
0:11:33
57
Daniel Martin (Irl) Cannondale-Garmin Pro Cycling Team
0:11:34
58
Andrew Talansky (USA) Cannondale-Garmin Pro Cycling Team
59
Pierrick Fedrigo (Fra) Bretagne-Séché Environnement
0:11:49
60
Romain Sicard (Fra) Team Europcar
0:12:12
61
Merhawi Kudus Ghebremedhin (Eri) MTN - Qhubeka
62
Anthony Delaplace (Fra) Bretagne-Séché Environnement
0:12:37
63
Bob Jungels (Lux) Trek Factory Racing
0:12:53
64
Alberto Losada Alguacil (Spa) Team Katusha
65
Jonathan Castroviejo (Spa) Movistar Team
0:13:41
66
Alexandre Geniez (Fra) FDJ.fr
67
Perrig Quemeneur (Fra) Team Europcar
68
Markel Irizar (Spa) Trek Factory Racing
69
Winner Anacona (Col) Movistar Team
70
Georg Preidler (Aut) Team Giant-Alpecin
71
Wilco Kelderman (Ned) Team LottoNL-Jumbo
72
Pierre-Luc Perichon (Fra) Bretagne-Séché Environnement
73
Andriy Grivko (Ukr) Astana Pro Team
74
Thomas De Gendt (Bel) Lotto Soudal
75
Nicolas Roche (Irl) Team Sky
0:13:51
76
Nicolas Edet (Fra) Cofidis, Solutions Credits
0:14:09
77
Simon Geschke (Ger) Team Giant-Alpecin
0:14:28
78
Tiago Machado (Por) Team Katusha
0:14:47
79
Jérémy Roy (Fra) FDJ.fr
0:15:34
80
Paul Voss (Ger) Bora-Argon 18
0:15:36
81
Leopold Konig (Cze) Team Sky
0:15:45
82
Michele Scarponi (Ita) Astana Pro Team
0:16:09
83
Daniel Navarro (Spa) Cofidis, Solutions Credits
0:16:40
84
Luis Angel Mate (Spa) Cofidis, Solutions Credits
85
Stijn Devolder (Bel) Trek Factory Racing
86
Ruben Plaza Molina (Spa) Lampre-Merida
87
Kristijan Durasek (Cro) Lampre-Merida
88
Nelson Oliveira (Por) Lampre-Merida
89
Peter Kennaugh (GBr) Team Sky
90
José Mendes (Por) Bora-Argon 18
91
Michael Schär (Swi) BMC Racing Team
92
Armindo Fonseca (Fra) Bretagne-Séché Environnement
93
Bram Tankink (Ned) Team LottoNL-Jumbo
94
Reinardt Janse Van Rensburg (RSA) MTN - Qhubeka
95
Kristijan Koren (Slo) Cannondale-Garmin Pro Cycling Team
96
Roy Curvers (Ned) Team Giant-Alpecin
97
Sylvain Chavanel (Fra) IAM Cycling
98
Jan Barta (Cze) Bora-Argon 18
99
Stephen Cummings (GBr) MTN - Qhubeka
100
Rui Costa (Por) Lampre-Merida
101
Koen De Kort (Ned) Team Giant-Alpecin
102
Grégory Rast (Swi) Trek Factory Racing
103
Frédéric Brun (Fra) Bretagne-Séché Environnement
104
Dmitriy Gruzdev (Kaz) Astana Pro Team
105
Edvald Boasson Hagen (Nor) MTN - Qhubeka
106
Sep Vanmarcke (Bel) Team LottoNL-Jumbo
0:18:10
107
Paul Martens (Ger) Team LottoNL-Jumbo
108
Michael Valgren Andersen (Den) Tinkoff-Saxo
109
Danilo Wyss (Swi) BMC Racing Team
110
Florian Vachon (Fra) Bretagne-Séché Environnement
111
Albert Timmer (Ned) Team Giant-Alpecin
112
Matteo Tosatto (Ita) Tinkoff-Saxo
113
Daniele Bennati (Ita) Tinkoff-Saxo
114
Julian Arredondo (Col) Trek Factory Racing
0:19:53
115
Angelo Tulik (Fra) Team Europcar
0:20:43
116
Yohann Gene (Fra) Team Europcar
117
Greg Van Avermaet (Bel) BMC Racing Team
118
Jens Debusschere (Bel) Lotto Soudal
119
Simon Yates (GBr) Orica GreenEdge
0:21:09
120
Stef Clement (Ned) IAM Cycling
0:21:34
121
Matthias Brandle (Aut) IAM Cycling
122
Nathan Haas (Aus) Cannondale-Garmin Pro Cycling Team
123
Imanol Erviti (Spa) Movistar Team
124
Tyler Farrar (USA) MTN - Qhubeka
125
Martin Elmiger (Swi) IAM Cycling
126
Adriano Malori (Ita) Movistar Team
127
Ramon Sinkeldam (Ned) Team Giant-Alpecin
128
Reto Hollenstein (Swi) IAM Cycling
129
Florian Senechal (Fra) Cofidis, Solutions Credits
130
Pieter Weening (Ned) Orica GreenEdge
131
Julien Vermote (Bel) Etixx - Quick-Step
132
Daniel Teklehaimanot (Eri) MTN - Qhubeka
133
Michal Golas (Pol) Etixx - Quick-Step
134
Alex Dowsett (GBr) Movistar Team
135
Jos Van Emden (Ned) Team LottoNL-Jumbo
136
Luke Durbridge (Aus) Orica GreenEdge
137
Christophe Riblon (Fra) AG2R La Mondiale
138
Arnaud Gerard (Fra) Bretagne-Séché Environnement
139
Rohan Dennis (Aus) BMC Racing Team
0:21:57
140
John Degenkolb (Ger) Team Giant-Alpecin
0:22:19
141
Manuel Quinziato (Ita) BMC Racing Team
0:22:22
142
Filippo Pozzato (Ita) Lampre-Merida
143
Matthieu Ladagnous (Fra) FDJ.fr
144
Marcel Sieberg (Ger) Lotto Soudal
145
André Greipel (Ger) Lotto Soudal
146
Matteo Bono (Ita) Lampre-Merida
147
Jose Rodolfo Serpa (Col) Lampre-Merida
148
Bryan Nauleau (Fra) Team Europcar
149
Daniel Oss (Ita) BMC Racing Team
150
Rein Taaramae (Est) Astana Pro Team
151
Tim Wellens (Bel) Lotto Soudal
152
Benoît Vaugrenard (Fra) FDJ.fr
153
Julien Simon (Fra) Cofidis, Solutions Credits
154
Adam Hansen (Aus) Lotto Soudal
155
Jacopo Guarnieri (Ita) Team Katusha
0:22:29
156
Damien Gaudin (Fra) AG2R La Mondiale
157
Alexander Kristoff (Nor) Team Katusha
0:22:31
158
Peter Sagan (Svk) Tinkoff-Saxo
0:22:39
159
Michal Kwiatkowski (Pol) Etixx - Quick-Step
0:23:21
160
Zdenek Stybar (Cze) Etixx - Quick-Step
161
Dylan Van Baarle (Ned) Cannondale-Garmin Pro Cycling Team
162
Sebastian Langeveld (Ned) Cannondale-Garmin Pro Cycling Team
163
Laurent Didier (Lux) Trek Factory Racing
164
Ben Gastauer (Lux) AG2R La Mondiale
165
Sam Bennett (Irl) Bora-Argon 18
166
Marco Haller (Aut) Team Katusha
167
Christophe Laporte (Fra) Cofidis, Solutions Credits
168
Kenneth Van Bilsen (Bel) Cofidis, Solutions Credits
169
Luke Rowe (GBr) Team Sky
170
Bryan Coquard (Fra) Team Europcar
171
Mark Cavendish (GBr) Etixx - Quick-Step
172
Matteo Trentin (Ita) Etixx - Quick-Step
173
Ian Stannard (GBr) Team Sky
174
Mark Renshaw (Aus) Etixx - Quick-Step
175
Zakkari Dempster (Aus) Bora-Argon 18
176
Ramunas Navardauskas (Ltu) Cannondale-Garmin Pro Cycling Team
177
Svein Tuft (Can) Orica GreenEdge
178
Thomas Leezer (Ned) Team LottoNL-Jumbo
179
Johan Van Summeren (Bel) AG2R La Mondiale
180
Davide Cimolai (Ita) Lampre-Merida
0:23:35
181
Arnaud Demare (Fra) FDJ.fr
0:26:27
182
Michael Matthews (Aus) Orica GreenEdge
183
Sébastien Chavanel (Fra) FDJ.fr
0:29:15
GC
1
Christopher Froome (GBr) Team Sky
35:56:09
2
Tejay Van Garderen (USA) BMC Racing Team
0:02:52
3
Nairo Quintana (Col) Movistar Team
0:03:09
4
Alejandro Valverde (Spa) Movistar Team
0:04:01
5
Geraint Thomas (GBr) Team Sky
0:04:03
6
Alberto Contador (Spa) Tinkoff-Saxo
0:04:04
7
Tony Gallopin (Fra) Lotto Soudal
0:04:33
8
Robert Gesink (Ned) Team LottoNL-Jumbo
0:04:35
9
Warren Barguil (Fra) Team Giant-Alpecin
0:06:12
10
Vincenzo Nibali (Ita) Astana Pro Team
0:06:57
11
Bauke Mollema (Ned) Trek Factory Racing
0:07:15
12
Rigoberto Uran (Col) Etixx - Quick-Step
0:07:22
13
Jakob Fuglsang (Den) Astana Pro Team
0:08:41
14
Jean-Christophe Peraud (Fra) AG2R La Mondiale
0:09:18
15
Mathias Frank (Swi) IAM Cycling
0:09:26
16
Joaquim Rodriguez (Spa) Team Katusha
0:10:09
17
Samuel Sanchez (Spa) BMC Racing Team
0:10:27
18
Roman Kreuziger (Cze) Tinkoff-Saxo
0:12:31
19
Gorka Izagirre (Spa) Movistar Team
0:12:47
20
Alexis Vuillermoz (Fra) AG2R La Mondiale
0:13:03
21
Dominik Nerz (Ger) Bora-Argon 18
0:13:06
22
Romain Bardet (Fra) AG2R La Mondiale
0:13:38
23
Pierre Rolland (Fra) Team Europcar
0:13:57
24
Jan Bakelants (Bel) AG2R La Mondiale
0:14:08
25
Andrew Talansky (USA) Cannondale-Garmin Pro Cycling Team
0:16:01
26
Eduardo Sepulveda (Arg) Bretagne-Séché Environnement
0:16:51
27
Thibaut Pinot (Fra) FDJ.fr
0:18:18
28
Jarlinson Pantano (Col) IAM Cycling
0:19:30
29
Adam Yates (GBr) Orica GreenEdge
0:19:59
30
Daniel Martin (Irl) Cannondale-Garmin Pro Cycling Team
0:21:05
JERSEYS
GREEN
: André Greipel
WHITE: Nairo Quintana
POLKA DOT
: Chris Froome