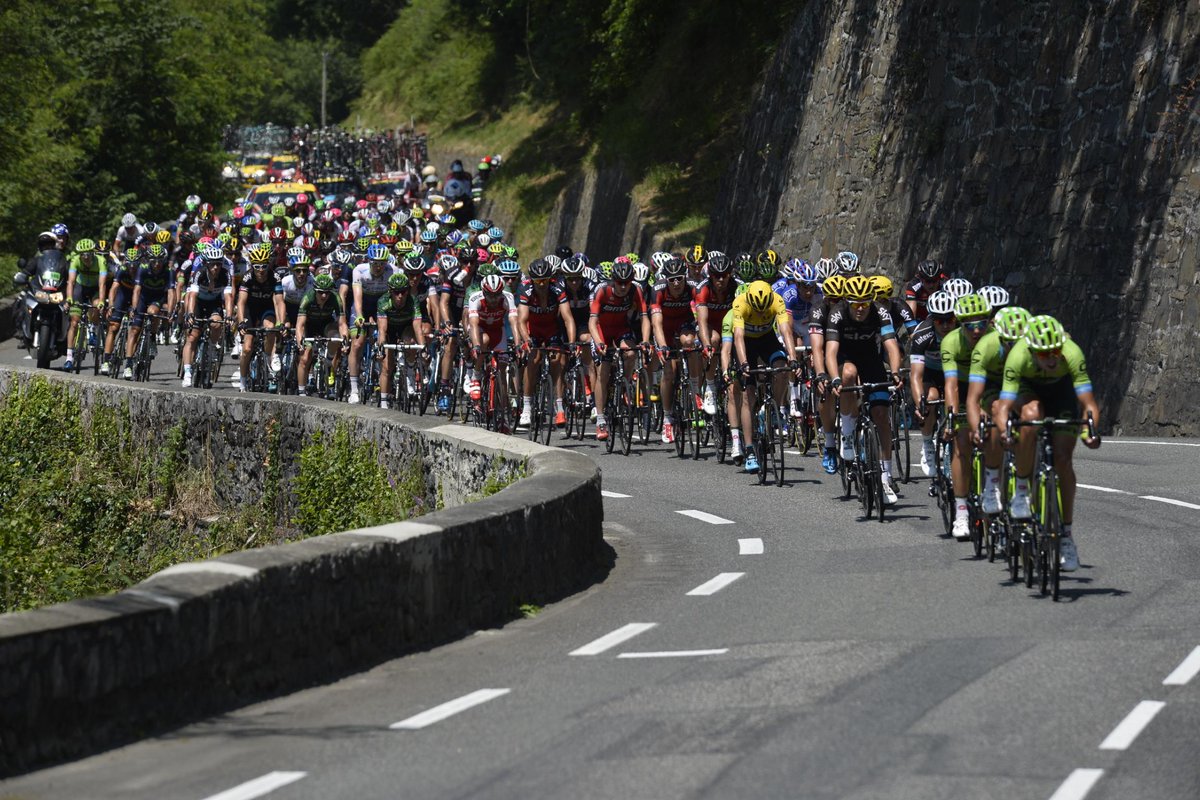 Pyrennes. Aspin

and

Tourmalet.

Heat

and

craziness

typical of the Tour.

Vincenzo Nibali's pride.

But also

Dan Martin

and Warren Barguil's.
Early break

including Westra, Kwiatkowski, Jungels and Boasson Hagen.
First climb of today:

Côte de Loucrup

(3rd cat, 2 km, avg 7%). Break over.

Thomas Voeckler

won the first KOM.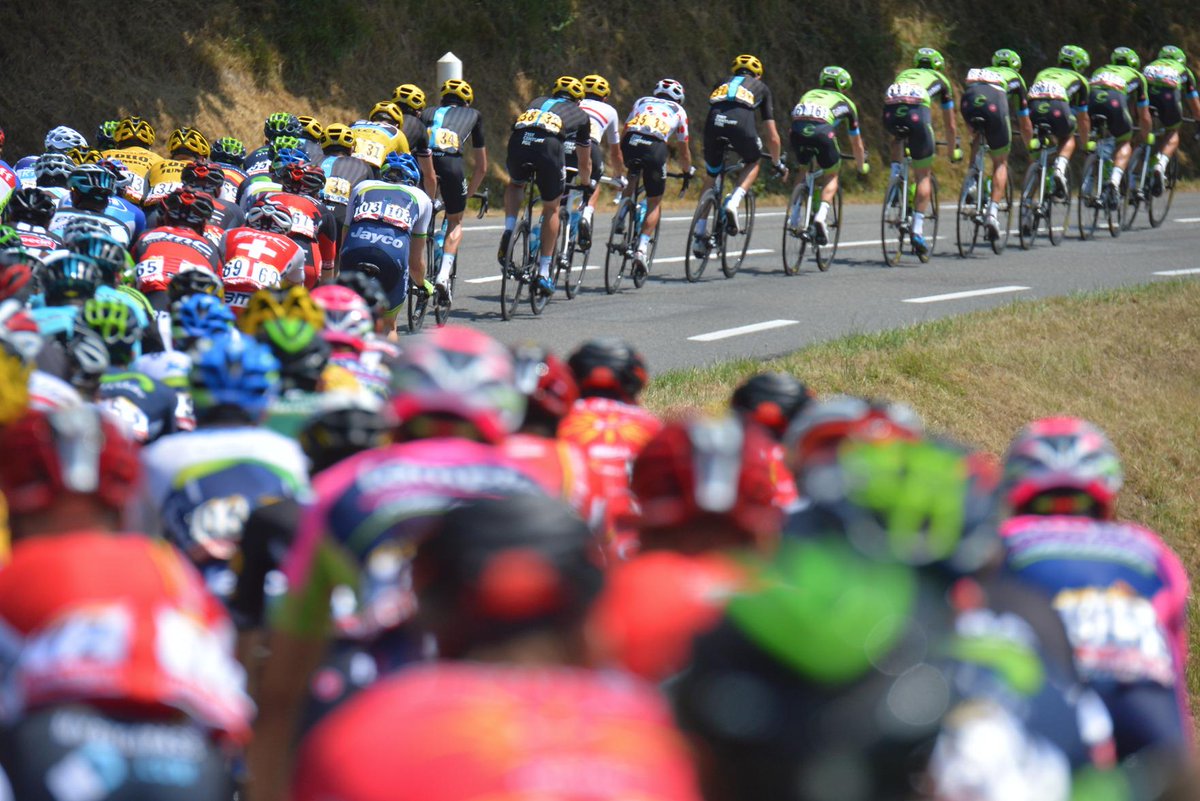 Second climb of the day:

Côte de Bagnères-de-Bigorre

(4th cat, 1.4 km, avg 6.1%).

Steve Morabito

is first on the second KOM.
A

new attack

, 15 riders up the road, including also

Pinot

and

Bardet

.

Côte de Mauvezin

(3rd cat, 2.7 km, avg 6%). All together again and

Teklehaimanot

wins the third KOM.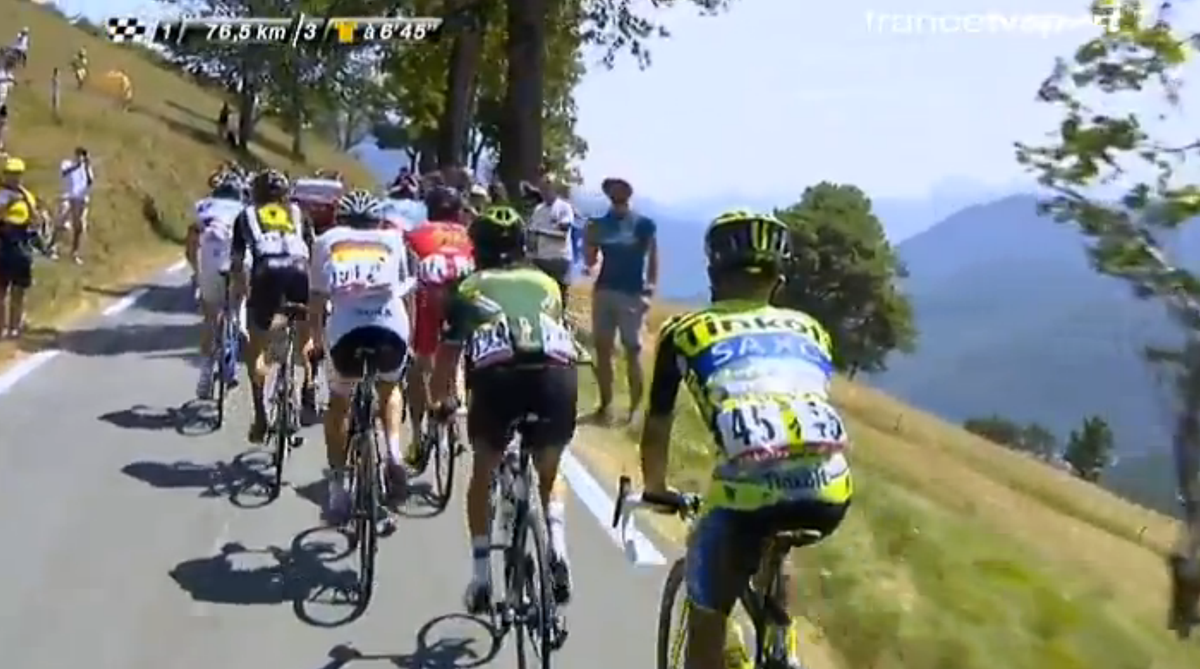 Intermediate sprint, Trentin wins and Sagan is back in Green.

Attack and a new

break

: Morabito, Pauwels, Majka, Voeckler, Buchmann, Démare and Simon. The peloton let them go.

Dan Martin

and

Andrei Grivko

missed the move and now try to bridge. But Grivko can't keep Martin's powerful pace, he gets dropped and

Martin goes solo

.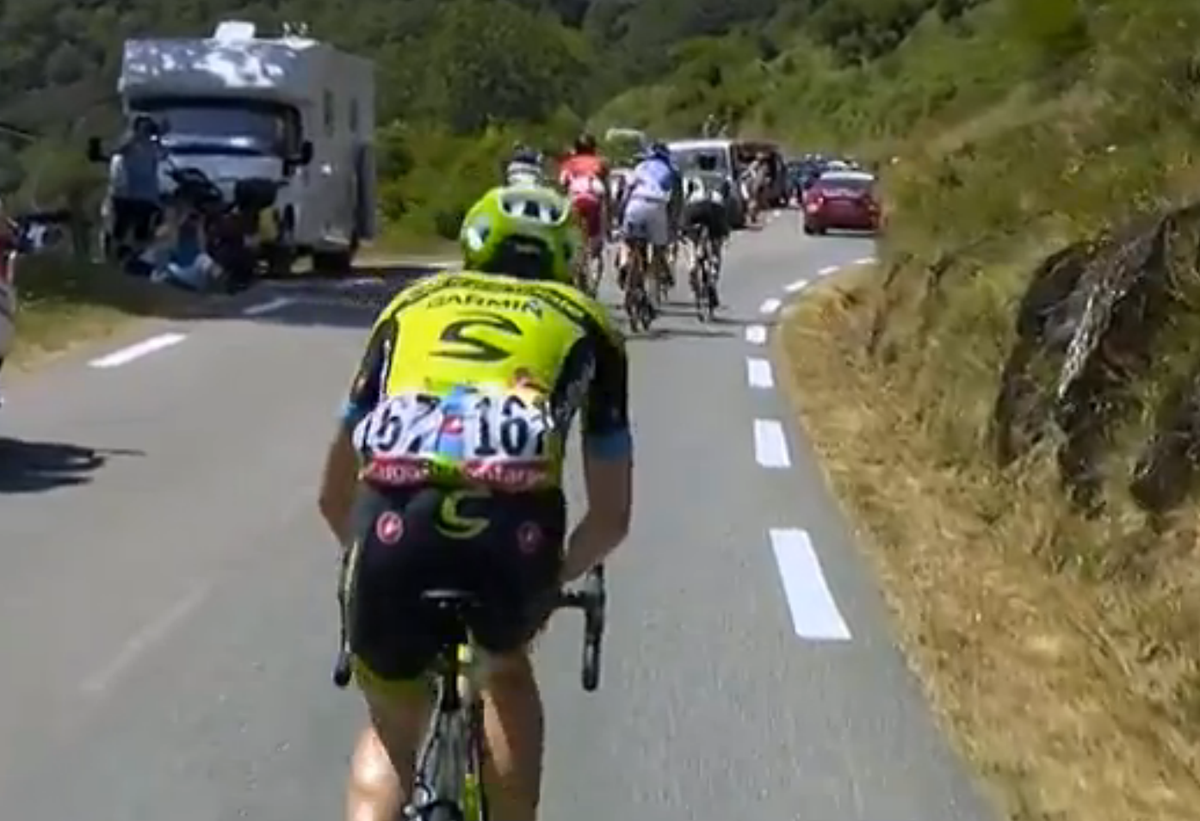 Col d'Aspin

approaching: 1st cat, 12 km, avg 6.5%.. Gap is 6'15" 79 km to go. Team

Garmin

did all the work so far. Now Team

Sky

must keep the front: Froome is in Yellow and Porte is wearing Polka Dot for him. Yellow helmets the whole squad.
74 km to go and by an outstanding effort Dan Martin joins the break on the steepest of the Aspin, passing a dropped Démare.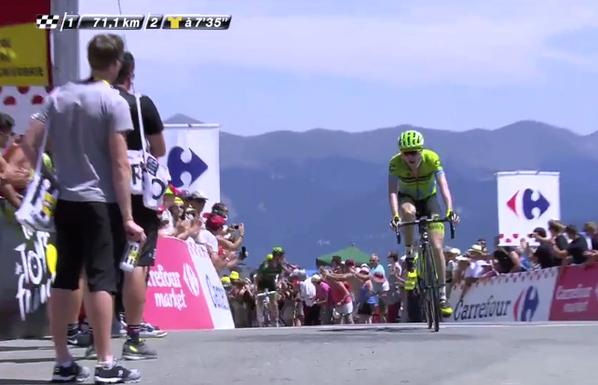 Behind the whole AG2R escorts

Bardet to the doctor car

Heat stroke? Teklehaimanot instead got a badtimed mechanical. In front

Dan Martin

sprints to won the prestigious

KOM

atop the Aspin.
Descent - cautiously - and there we go:

Col du Tourmalet

(HC, 17.1 km, avg 7.3%). Team Sky is leading the peloton but the break could stay away. Gap is 7'07" 55 kms to go.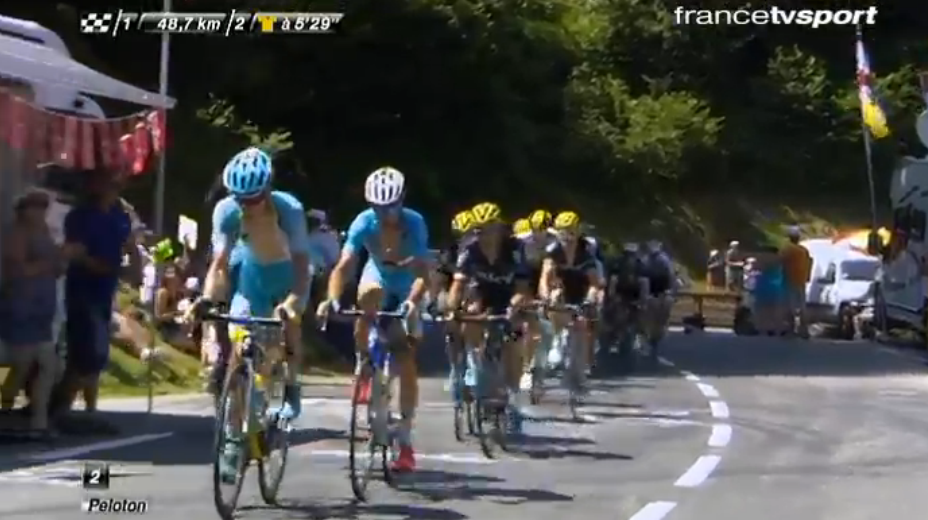 Mechanical for Rigoberto Uran,

three mates stop to bring him back and

Team Astana goes in front

. It's a

massacre

, the peloton exploded and there are riders scattered all over the climb. Dropped Pinot, Peraud, Vuillermoz, Rodriguez, Bardet, Barguil...
Surprise! Fugslang gets dropped by the forcing of his own mates!

Yesterday Vinokourov had nominated him team leader on the field...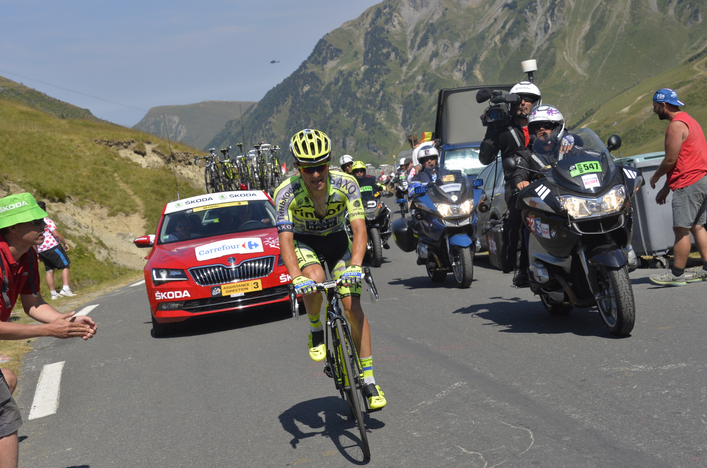 Just few riders in front

Nibali and Kangert are still leading, Chris Froome is on Thomas' wheel and Porte is still up there. Valverde, Quintana, Gesink, Gallopin, Mollema, Van Garderen, Sanchez and Rolland complete the group. Costa abandoned, Barguil is bravely chasing. A few riders manage to come back: Ten Dam, Frank and Talansky.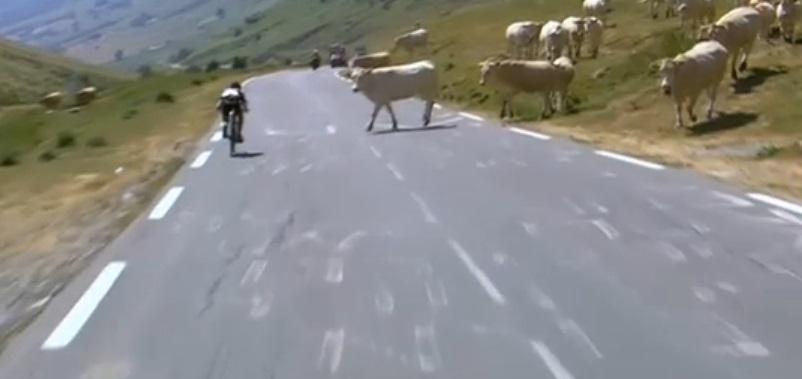 Majka tops solo the Tourmalet.

Gap is 5'34'' 35 km to go. And

Froome

leads the group at the

KOM

, adding points to his Polka Dot Jersey.
Descent:

Valverde

takes it in front. Mollema...ehm... at the back.

Les vaches du Tour

decide to cross the road and it's a risky move.... And also

Barguil is taking huge risks!

flying downhill he sees the tail of the group. He caught it!

HERO

!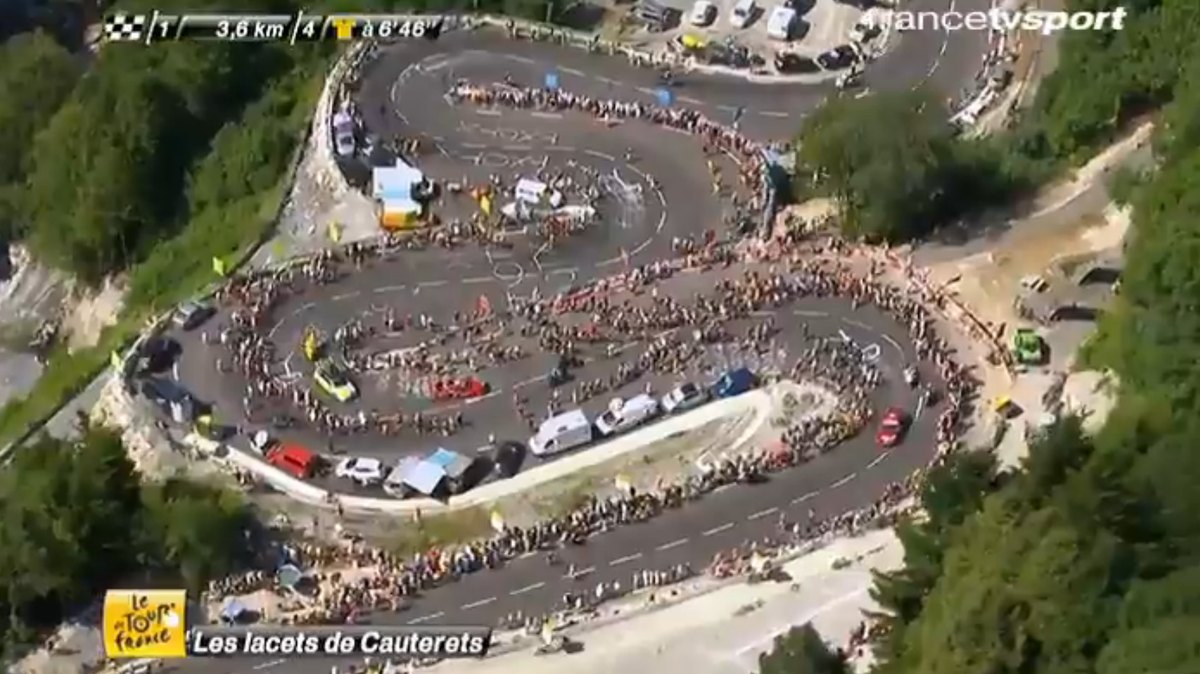 Final climb:

Côte de Cauterets,

3rd cat, 6.4 km, avg 5%, 10 km to go! Majka has 1'08" to Pauwels. 2' to Dan Martin and Buchmann. Simon and Voeckler are chasing behind. 6'05" to the Yellow Jersey group. 5 km to go and

Dan Martin

is trying to close the gap. 3 km to go he joins and drops Pauwels. He's ful gaz!
And now... ladies and gentlemen...

Le Tourmalet!

what a view!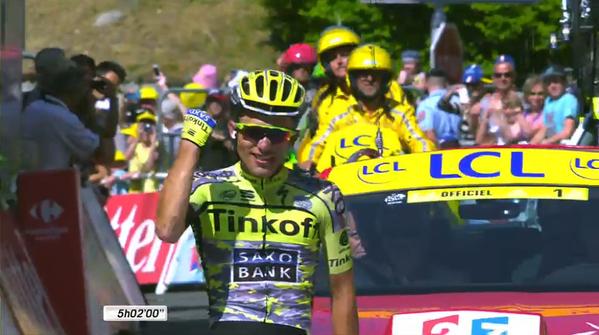 Last km: Bauke Mollema attaks!

...and Vincenzo

Nibali

gets

dropped

. Kangert stops and waits.

Rafal Majka finally smiles on the famous finish: fantastic!

Daniel Martin arrives like a fury, pride and power. 3rd is Buchmann

, 4th Pauwels. Bauke Mollema is digging deep. 5th Voeckler, 6th Simon. Gallopin attacks. Thomas speeds up pulling the group. Mollema is 7th and gains a place in the GC. Nibali's place. Then comes Valverde.

Chris Froome even sprints.

10th is Contador.

Nibali is more than 1' behind.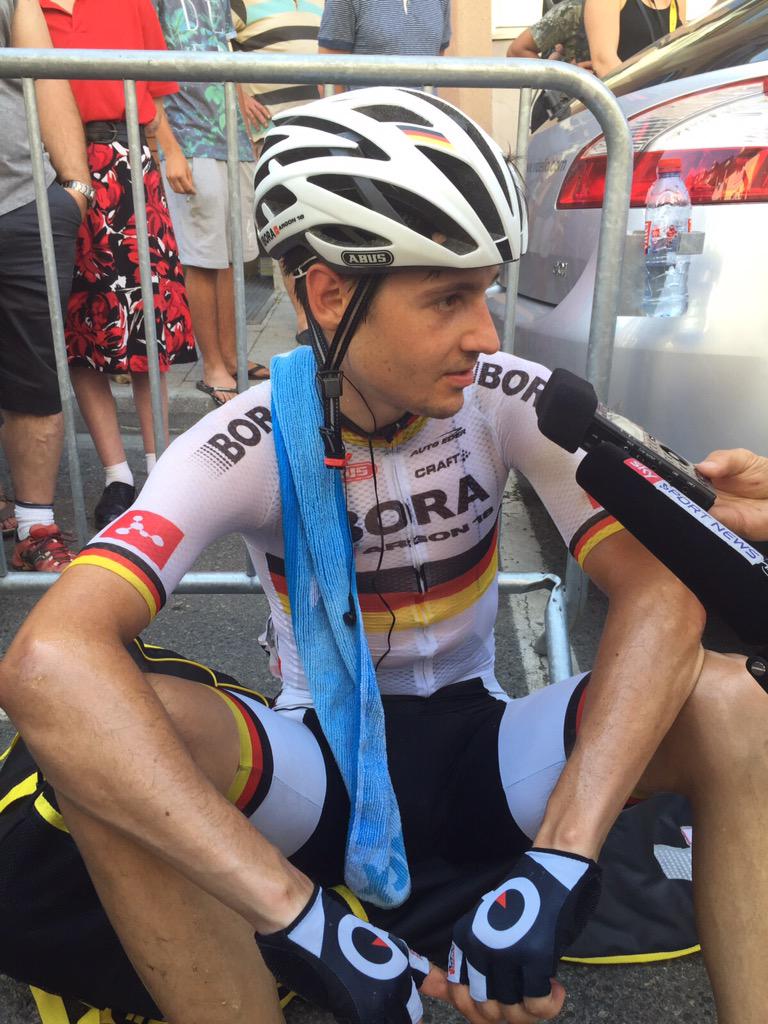 Rafal Majka:
"I dedicate this win to my team and especially Ivan Basso and Daniele Bennati, who crashed today. I only attacked once, but it was at the right moment. I was watching the other riders and noticed that many of them were suffering so I decided to attack. My teammates supported me to go in the breakaway and I told my sports directors that I wanted to attack already on the Tourmalet instead of waiting. I needed a hard climb to create a gap and I took nearly 1'30" on the Tourmalet. I'm very happy with this win and it is great for the morale on the team", says Rafal Majka, who conquered the win by a margin of 1'00.
A lot of people are asking me whether I want to go for the polka dotted jersey, but it's not easy to do that and ride for Alberto at the same time. Today, I was given the opportunity and I wanted to do my best but I am here to support Alberto and we still have two weeks left to race, and many riders suffered today. I like when it's warm and the climbs are hard so I felt good today."
Simon Yates:
"I've come down with some sort of bug so just trying to survive, 😞 Hope to be better before the Alps ! 💪💪 #TDF2015 #jesuismalade"
Cracked 100kph today !!! 🚴💨💨💨💨💨💨 #TDF2015"
Sébastien Chavanel:
"Merci @ArnaudLabbe et @PetitAdrien62 pour l'eau et les encouragements dans le tourmalet. Même passion même douleur!!! Forza les copains. Biz"
Alberto Contador:
"Another hard day in the Tour marked by tremendous heat!Great victory of @majkaformal CONGRATS!!! @tinkoff_saxo"
Richie Porte:
"Best moment of my day was stopping to have a chat to a guy calling me a doper on the way way back to the bus. He shit himself #coward"
Robert Gesink:
"Hard stage from start to finish! Satisfied about the way it went! Hope to be just as good tomorrow!"
Geraint Thomas:
"That was some start today! But another good day for the team. Thanks for all your support!! British and Welsh flags everywhere as well! 👍👌"
Koen de Kort
"That was a proper @letour stage we'll remember, very fast start and it never stopped. I assume some guys will be tired now, at least I am."
Albert Timmer:
"I suffered so much on the first 80km of today's stage @letour i could cry, only problem was that I was completely dehydrated 🙈#ridinginaoven"
Tejay van Garderen:
"Astana was a little bit aggressive on the Tourmalet, but all in all, it was a pretty smooth day. The Tourmalet, when Astana was making a tempo, was quite difficult. But with this finish, and the Tourmalet so far, it was more just following wheels. Tomorrow should really shake up the GC (general classification) a lot more."
Geraint Thomas:
"Today, the peloton knew the breakaway would probably succeed so there was a really hard start with nearly two hours on the rivet. Fortunately, we rode well as a unit and when the break went things settled down and we could recover as much as possible before the Tourmalet.
Astana set a solid pace but me and Richie held in there and took Froomey all the way to the line. Job done."
Chris Froome:
"Today was an extremely tough stage. Maybe it didn't look so hard but I can tell you a lot of riders lost a lot of energy today.
The breakaway took nearly two hours to form and then Astana made the race hard on the Tourmalet. My team were always there though and I still had Geraint and Richie with me at the top. They did a fantastic job to carry me over the summit and I've had support every step of the way.
I'm in a great position at the moment and have a great team around me. The best thing for us is to ride defensively now and try and follow the other contenders. The other teams need to make things happen and there's a big battle going on for the GC positions. Guys were jumping around trying to get time on each other today, and we're certainly expecting a big battle out there tomorrow.
I've reconned that stage and the summit finish at Plateau de Beille is brutal, similar to yesterday's stage. We're expecting [Nairo] Quintana and [Alberto] Contador to attack, and I'll play things how I see it out on the road."
Warren Barguil:
"Today was painful on the bike as I was suffering from my crash of yesterday, but I only thought about the race.
I know the Col de Tourmalet and knew on the summit that I had a chance to come back in the descent because I know exactly where to brake hard. Two times it almost went wrong as I passed the cows and the sports director car, which was scary but went ok, fortunately.
I am happy with today's result and I will continue to fight."
Emanuel Buchmann:
"I'm really happy with the third place but I am also completely tired. It was a super hard stage – most of the day in the attack. It's just awesome that it all lead to the third place for me. I just rode my own rhythm and it went really good. Today, we all had the freedom to ride for ourselves and we all were trying to jump into the group. After a long fight, I then made it. I'm very happy and the result is even better."
Alberto Contador:
"Peter was able to sprint perfectly and took the green jersey. Rafal grabbed very well the opportunity, caught the breakaway the moment one needed fresh legs and then crowned it with the stage win. It could have been a perfect day if it weren't for the crash of Daniele Bennati and his withdrawal from the race. It's an important loss to the team. He was a fundamental part of our squad in the first half of the Tour and if we didn't have him, I would be a near catastrophe. I hope he doesn't have anything serious.
In what concerns myself, I feel a bit better than yesterday but it's true I didn't push as hard as yesterday. I think I need some more time to feel very well. The heat was tremendous today and the forecast for tomorrow calls for higher temperatures. It's crucial to recover every day. Tomorrow's stage will bring me good memories, when in 2007 I was able to win after five attacks. However, every year is different. The legs I have today are maybe different from the ones in the past, especially the ones from last year. I wish I had them today but we have to take it day by day and focus on recovery".
"It was a really hard day with the Col d'Aspin and Tourmalet, two very long and hard climbs. The last climb was not so hard and we did it in training and I knew that I had to go and I just attacked. I felt pretty good and so I attacked on the steepest part of the climb. I wanted to gain some time and I hoped that a couple of guys would come with me, but that didn't happen. The final four kilometers was pretty long and I was alone and I just kept pushing full gas to the finish.
At one point there were 10 guys left and I was still there, and that is a good sign. This is very optimistic; I hope that yesterday was just an off day. I am just in the top 10 now, and there is still a long way to Paris. Really I just have to look at it day by day; I hope to finish minimum top 10 and hopefully a little bit better."
"Even today I didn't feel well. On Col du Tourmalet I gave everything to stay with the yellow jersey group. But 4 kilometers from the top of the climb I really couldn't follow. I'm sad because after the first week I was feeling good. I prepared well for this Tour. But this is the situation right now. Together with the team we will try to analyze the reasons I'm not performing as well as I expected. Now of course I have to change my goals for the next days. But Le Tour is not over and we will keep on fighting."
Robert Gesink:
"I wanted to attack as well, because the favourites aren't really marking, but Bauke beat me to it. He took off too fast for me.
Astana pulled really hard on the Tourmalet. We arrived at the top with only ten men. My legs hurt now. I really had to dig deep today, but I think many more men suffered."
"But still I was able to follow the favourites until very late. Luckily, I was of value to Robert today, as I had promised after the team time trial, but today took a lot of power. We need to make a good plan for tomorrow. If I'm going to attack like today again, I probably won't be able to help Robert in the final kilometres. Then he needs to get his own bottles and from my personal experience, I know it is very nice to have someone with you in the final part of a mountain stage."
"There is improvement. I was able to do my job today. I could have gone all-in to the top, but that doesn't make sense at the moment. I want to improve towards the last week, so that I can try something."
Steven Kruijswijk:
"I'm a little less than in the Giro. I noticed that I couldn't follow the others on the Tourmalet. If attacking is not possible, it's better to support Robert so we can do a nice Tour with the team."
Mark Cavendish:
"Always a little bit pleasing to see the other side of 100kph.... This was following @michalkwiatek down Tourmalet."
Romain Barde:
"En pleine traversée du désert. Sonné par la difficulté qui me fait mettre un genou à terre. Une seule option: se relever et persévérer."
Jakob Fuglsang:
"Today my body didn't wanted as I did...disappointing! Felt like having a hairdryer blowing in my head all day...what a heat!"
Greg Van Avermaet:
"Hard mountain stage in @letour, fast start and to long climbs in the the end! I like one day classics more! Tejay still 2nd in GC! #ride_bmc"
Nairo Quintana:
"It was a day of heat, too much for my liking. The pace was high all day, there were lots of attacks from the very start and some riders not dangerous for the GC went apart after a long while. With the speed we were keeping and with no chance to try anything, from that point on, our intention was a bit of 'getting through the day', waiting for what we can really do into the following stages. The wear and tear is really hitting the bunch with all that we went through so far in this race. I had good legs and that's important; let's hope to keep them day by day. Attacking tomorrow? It might be possible, we'll see how the race goes, keep Chris under control and, should I find the legs for that, why not trying. Depending on how the rivals are doing, we might try as well and take the team forward. Yesterday's stage was more important for me, but tomorrow's is also demanding. We hope to feel well and have the team doing things right tomorrow."
José Herrada:
"There were a lot of attacks from us at the beginning, all teams trying to get people into the escape, but Sky didn't want to let us any of our team go away. Still, we tried to make things harder behind the break and fought to keep our chances alive until 60km in - people were really 'sinking', many riders losing contact. Afterwards, Astana set a pace that didn't allow for much to happen. [Asked about fear within the favourites to try anything after yesterday] It's not a matter of fear; rather than that, they showed again to be strong. They were keeping the front all day, there weren't either many domestiques to prepare attacks from the favourites' group and we also weren't in the best condition to try and move the race. For the time being, we're in Paris podium position; now, we must keep making the race harder, try to take Van Garderen out of contention and, later on - I don't know whether it'll be tomorrow or maybe in the Alps - try to mess things up into the Sky train."
Vincenzo Nibali:
"Non mi sentivo di rispondere alle TV, sarò sembrato scortese verso tanti tifosi ma sono sicuro che verrò compreso" /"I didn't feel like to talk with the tv, I looked unpolite toward my supporters but I'm sure I'll be understood".
RESULTS
STAGE
1 Rafal Majka (Pol) Tinkoff-Saxo 5:02:01
2 Daniel Martin (Irl) Cannondale-Garmin Pro Cycling Team 0:01:00
3 Emanuel Buchmann (Ger) Bora-Argon 18 0:01:23
4 Serge Pauwels (Bel) MTN - Qhubeka 0:02:08
5 Thomas Voeckler (Fra) Team Europcar 0:03:34
6 Julien Simon (Fra) Cofidis, Solutions Credits 0:03:34
7 Bauke Mollema (Ned) Trek Factory Racing 0:05:11
8 Alejandro Valverde (Spa) Movistar Team 0:05:19
9 Christopher Froome (GBr) Team Sky 0:05:21
10 Alberto Contador (Spa) Tinkoff-Saxo 0:05:21
GC
1 Christopher Froome (GBr) Team Sky 41:03:31
2 Tejay Van Garderen (USA) BMC Racing Team 0:02:52
3 Nairo Quintana (Col) Movistar Team 0:03:09
4 Alejandro Valverde (Spa) Movistar Team 0:03:59
5 Geraint Thomas (GBr) Team Sky 0:04:03
6 Alberto Contador (Spa) Tinkoff-Saxo 0:04:04
7 Tony Gallopin (Fra) Lotto Soudal 0:04:33
8 Robert Gesink (Ned) Team LottoNL-Jumbo 0:04:35
9 Warren Barguil (Fra) Team Giant-Alpecin 0:06:44
10 Bauke Mollema (Ned) Trek Factory Racing 0:07:05
JERSEYS
GREEN: Peter Sagan
POLKA DOT: Chris Froome
WHITE: Nairo Quintana