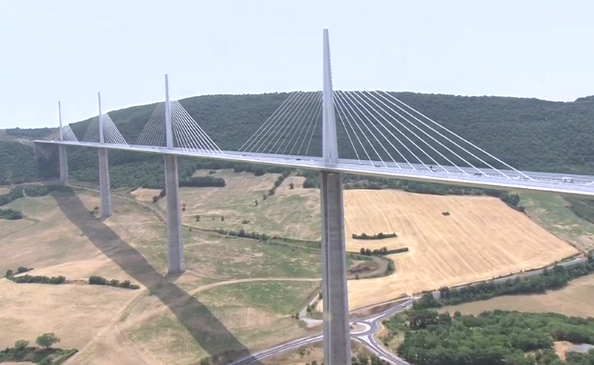 Start and crash

, many down including Greipel. The peloton split and five riders attack: Barguil, Caruso, Huzarski, Sagan and Weening.

Others joins

: Cummings, De Kort, Gautier, Grivko, Hesjedal, Jungels, Ladagnous, Losada, Malori, Maté, Pantano, Périchon, Plaza, Rolland, Sagan, Talansky, Urán, Valls, Voss, and S. Yates.

Too many

. Six riders attack -

Grivko, Ladagnous, Plaza, Talansky and Urán -

Jungels, Pantano and Sagan

catch up.

It's the break

.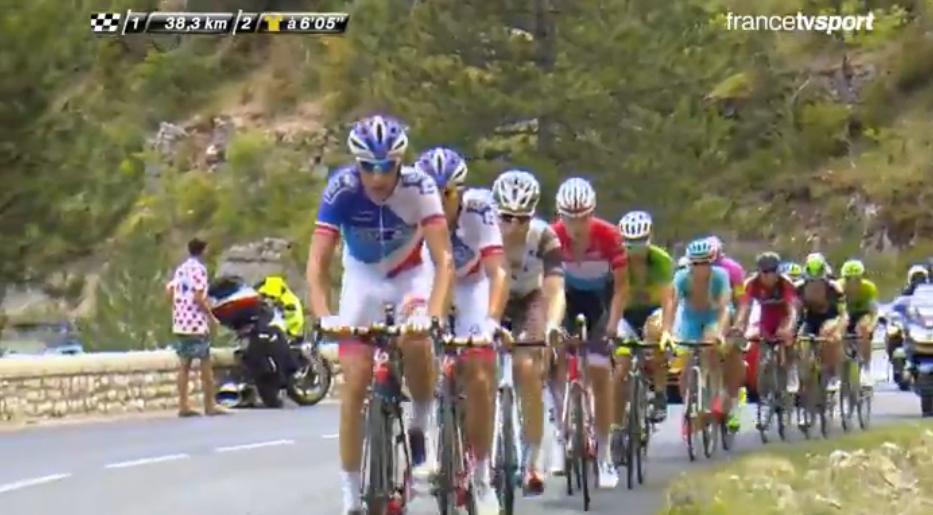 But the peloton definitely doesn't chase and and the

riders in the middle joins.

Big gap. They are gone.
Meanwhile
Peter Sagan won the intermediate sprint.
Golas attacks

with 28.3km to go. 14 km to go

Koren

gets off the front group and chaes solo.
Côte de Chabrits

(4th cat, 1.9km, avg 5.9%).
Flat tyre for Porte

11 km to go. He was bringing bottles and now will have to wait for the second team car.
Meanwhile

Koren joined Golas

.
Last climb:

Côte de la Croix Neuve

(Montée Laurent Jalabert) (1055m, 2nd cat, 3km, avg 10.1%), 6km to go.

Windows are roaring in all crossed villages.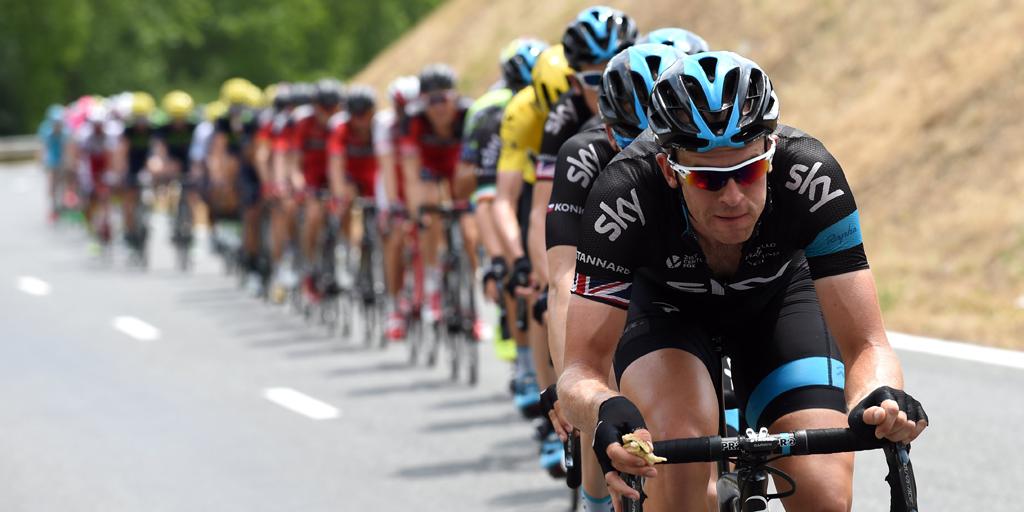 3 km to go Bardet attacks.

Pantano is on his wheel. Five riders in front, including Simon

Yates

. Bardet slows down, others bridge. Gautier attacks, Bardet goes in conter and Yates follows. They have a small gap.

Bardet attacks again.

Yates is dropped,

Then Uran, Pinot and Bakelands.

Bardet keeps going, he wants it.
The peloton is also on the last climb. Kreuziger has taken the lead.
Quintana attacks, then Nibali, then Valverde. Froome esitated. Now he reacts, Contador on his whel, then van Garderen.
In front

Pinot is chasing Bardet solo.

They are together.

Cummings arrives like an arrow.
Sprint for the victory and

Qhubeka wins

. HUGE.
Behind Quintana and Froome, then Contador, then van Garderen and Nibali.

Quintana attacks again.

Valverde joins Contador. Froome controls.

Valverde slaps Contador

, lets him on the place, joins. And

Froome is first at the sprint.
The overal will change tonight.
Steve Cummings:
"I wasn't the strongest today and I knew there were better climbers in our lead group. I had to play the waiting game today as FDJ were looking to set up Pinot for the win. I waited and waited and eventually the last climb arrived which I rode at my own pace. Pinot and Bardet were just ahead and I used them as the carrot dangling in front of me for motivation. Everyone went bananas at the start of the climb but the key was to remain calm and take my opportunity when it arrived. I made contact with the two Frenchman at the top of the climb and knew they might hesitate to chase me if I got the jump on them on the flat part before the finish. I threw caution to wind and just went for it. It paid off and I won the stage. This is an incredible day for me and the team, with it being Mandela Day the team was motivated more than usual but I don't think we can quite believe what has just happened. It may take a while to sink in."
Louis Meintjes:
"As a child I dreamt of being able to ride in the Tour de France. To be able to not only ride in this prestigious race but to know that I'm doing something good for other people is really special. Nelson Mandela brought the whole country together and I would love to see cycling make a difference on 18 July in some small way."
"I just tried to stay within myself and limit the time loss. It is a pity to move down a place on GC (general classification), but the podium is still very much a realistic goal. It was a difficult climb. On those gradients, that is where I tend to struggle the most. The Alps are better suited to my characteristics. I am still looking forward and I am still feeling good.
Even though I lost time on a couple of guys, I still gained time on Robert Gesink and Geraint Thomas and a few other guys close on GC. So it was not entirely an unsuccessful day. I kind of knew this day was going to be one I had to get through. Now the Alps present more opportunities and more chances to take back some time."
Rigoberto Uran:
"Golas and I entered the breakaway at the beginning. I knew the final climb would be the decisive one. When Bardet went I stayed with Pinot as best I could. I had good legs, but not enough to stay with them, and Cummings coming from behind. I fought and really tried to go for the victory, but it wasn't possible today. Anyway, the stage gave me a lot of motivation for the next stages, especially the ones in the Alps. I will continue to try and go for a stage victory. As a team we are in the actions every day. It would be nice to get another win in the upcoming days."
Michal Golas:
"It was very intense from the start. We tried to be in every big attack. After 20 kilometers I already saw a lot of riders on their knees, with groups everywhere. So, for me, it meant that everybody is tired and for sure a bigger group would go. First Rigo was in a nice breakaway, but IAM decided to chase them down. I knew in the next descent we should be in the front just to have a chance to go in the counter attack. Finally I got into the breakaway. We didn't really work well at the front. There were some riders trying to save energy. The plan was to bring Rigo to the final in the most comfortable position, without losing energy himself. For me, the only chance was to attack early and make a gap. I said to our sport director Davide Bramati that I would like to try. I hoped more riders would go on the offensive with me. But no one went with me. So, I tried to make the biggest gap possible by myself for the climb, to have some advantage. This would also give Rigo some shelter from having to go into the wind. This would keep him comfortable. So, OK, the plan was two-fold. I think the plan worked out until the end. We missed some legs in the finale. But we showed the aggressive style of racing that Etixx - Quick-Step is known for, which I think people love in cycling. You are extremely tired, but at the end you are happy. You see all this crowd cheering for you. It's Le Tour de France. It's always nice to be in the front like this and be part of the big actions of the race. I think we showed once again that we try every day to win a stage. We don't ride for 2nd place in stages. That's a nice thing and part of the team spirit."
"It was a double setback for me today. I started the day with antibiotics because I had some respiratory problems. Afterwards, I fell two times and in that second crash those old scars began to bleed again. I hope that my lungs recover quickly and fully because my legs are feeling strong."
Robert Gesink:
"The little crash I was involved in was nothing serious. I only had to chase for twenty kilometres to return to the peloton afterwards. Besides that, I was feeling fine. That last climb was an annoying one. It was hectic, but I started climbing in a good position at the front of the group. In the end, I finished in a group with my main competitors and I was setting the pace."
"Our goal was to be in the break. Simon [Geschke] already attacked a couple of times and I joined him, which turned out to be the right decision. After 50km the chase efforts of IAM brought us back in the bunch and directly after that I went again. This time we were gone. I enjoyed my day. It was my first time in five Tours that I was part of the breakaway that survives until the finish. I knew that my chances for victory weren't too big because the finish suited me not so good."
"Incredibly happy for @StevoCummings today. Brilliant for @TeamMTNQhubeka on #MandelaDay too. Nice one dude."
"Beaucoup de mal à récupérer de ma chute #esperedesjoursmeilleurs #keepfighting"
"Défendre des places de 12ème à 10 jours de la fin...Des efforts pour être devant pour rien😟dernière montée toujours aussi difficile♨️"
"Great ride out front by @KristijanKoren today! Doing @Ride_Argyle proud."
"Today I saw a spectator spit on @richie_porte very disrespectful those guys don't deserve this at all! Please stop, or stay at home."
"Grand vertige émotionnel. Quelle ambiance extraordinaire dans la montée. Immense merci pour vos encouragements."
Chris Froome:
"As far as the racing went, it was a really good day for us. The team did a great job getting me to that final climb in a good position, and then I just rode at tempo to keep things under control. It was a short, steep climb at 3km, and I knew what pace I had to ride. I knew Quintana wouldn't be able to get that far away from me so I didn't panic, rode at my own speed, and brought him back before the top. He's my main rival on the climbs, and deserves that respect, but he wasn't getting away from me today.
Having over three minutes lead going into the Alps is a dream situation for me. My guys have done a phenomenal job riding on the front every day and I couldn't have asked for any more support.
I'd like to congratulate MTN Qhubeka for their victory today too. Having an African team take a win on Madiba Day was really special, and even better for me that it came from a fellow Brit, and former team-mate in Steve Cummings."
"It was another hot day and hard to control the break. We had two hours of full gas racing at the start but we stuck together well and got Froomey into a good position for the start of that climb. Then it was down to him. I said to him I wasn't really feeling it today, but he distanced Tejay, which meant he's opened up more time on second place, so that was great. That was a bit of a shock to the system for me, but it's the same for everyone and I coped with it as best I could. For a bad day, it wasn't so bad. I knew I had to ride that last climb at my own pace and not go too deep at the bottom. In this heat, I could have cooked myself quite easily, but I managed to ride up to [Robert] Gesink and [Bauke] Mollema, and finish with them. I saw Steve [Cummings] had won when I got back on the bus and that was great to see because he's a good mate."
"I'm really happy with having climbed onto second. We knew that patience would bring this place to us, but our real goal, the one we're focused on, is taking place number one. We have worked hard with the team through all these days, we found a chance to gain time today and we're staying confident and determined to try some attacks when the big mountains are back, maybe still being able to go after that yellow dream.
We didn't have this stage and climb marked down for an attack, but I felt strong today and we thought that, after the fast pace in the last few days, wear and tear would be more evident. That's why we wanted to try - we saw we can keep attacking and fighting for our goal. I was really amazed to see so many Colombians again today at the finish; they must be really excited about this, as much as I am to see them, and this brings passion and huge support to me in order to keep pushing."
"It was a good day for us. We couldn't gain time on the leader since, as everyone saw, Froome is super strong - he's able to set a huge pace and it's really difficult to 'derail' - but still, we did a really good stage. Shouldn't we be able to beat him nor Sky, it will be because they were stronger than us, but we'll keep showing courage and willingness to try. Though winning the Tour remains difficult at this point, we must keep working. There's still all Alps left and we've got these two days, plus the rest one, to keep recovering.
I'm feeling really great at the moment - legs continue to roll well at the moment and I hope them to continue this way into the last week. I was doing my work through the climb; I didn't want to stay between Nairo and the other favourites, taking them into Nairo's wheel would have been really bad, so I waited, then kept my own pace not to lose much time, and with that same rhythm, I chased down Alberto and still had energy to drop him back. When I reached him, Contador asked me for some turns and I told him I couldn't take them, because Nairo was ahead. This is racing: he's doing his job, mine is to take care of Nairo, and he was the one who had to push.
There's a beautiful battle for the GC podium ahead, with plenty of mountains still to come. We took some gains today, but we might lose elsewhere. There's a long way home yet and my main goal till Paris is helping Nairo out for the victory. If I get into the podium, that'd really be fantastic, but that's a distant dream at the moment."
"When the first group with Barguil and Rolland went they were close in the GC so they chased behind. Everyone was pissed [at them] in the group and told them to drop, but they were pretty stubborn. Then again a group went away with five guys and I jumped and Sagan came up to me just before a downhill – I think that was pretty much the craziest downhill in my entire life! I don't know how we made it down… At the bottom we had caught the group and then it was a pity that these 10 guys came back because I think with the small group I had more chances.
I had never done the last climb and my radio had stopped working, but I knew it was hard at 3kms at 10% on paper, and I think I did all I could. I was well placed to start it and I took my rhythm. It was just too steep for me to follow the best guys; normally, I have no problem with the length of a climb, but I am just too big for such a steep climb.
In the end I caught two guys; I could use my power. In my eyes I did everything I could, and I know Alain (Gallopin, director) thought I did too much work in the break, but for me a lot of times it is easier to ride with the guys. They were not riding really organized in the break and if you are all the time up and down it can cost more energy and nerves than just turning at the front.
To be honest I did not feel good the first day after the rest day, but in the past two days I got my good feeling back. I was there today like planned. Of course, I had to expend quite a lot of energy to get in the breakaway, the other guys needed to stay with Bauke, so I was pretty much alone to get in a move. It all worked out, and I am happy with my effort."
"It was a big fight to get in a break for the first 50kms and it was a really hard start and really hard day. I was feeling quite good today, and after the break went it was finally a little more easy. But the last climb was three kilometers and really steep and I knew there would be attacks. I just tried to have a good position at the bottom and then just go full gas to the top. There were some attacks already after 1km of climbing, and I couldn't follow those and stayed at my own pace. It was a really hard climb. I was with most of the guys who are around me in the classification. Gesink pulled the biggest part of the climb and in the descent I helped him so we wouldn't lose too much time."
RESULTS
STAGE
1
Stephen Cummings (GBr) MTN - Qhubeka
4:23:43
2
Thibaut Pinot (Fra) FDJ.fr
0:00:02
3
Romain Bardet (Fra) AG2R La Mondiale
4
Rigoberto Uran (Col) Etixx - Quick-Step
0:00:20
5
Peter Sagan (Svk) Tinkoff-Saxo
0:00:29
6
Cyril Gautier (Fra) Team Europcar
0:00:32
7
Ruben Plaza Molina (Spa) Lampre-Merida
8
Bob Jungels (Lux) Trek Factory Racing
9
Jonathan Castroviejo (Spa) Movistar Team
10
Simon Yates (GBr) Orica GreenEdge
0:00:33
11
Jan Bakelants (Bel) AG2R La Mondiale
0:01:07
12
Jarlinson Pantano (Col) IAM Cycling
0:01:10
13
Pierre-Luc Perichon (Fra) Bretagne-Séché Environnement
0:02:00
14
Kristijan Koren (Slo) Cannondale-Garmin Pro Cycling Team
0:02:12
15
Koen De Kort (Ned) Team Giant-Alpecin
16
Greg Van Avermaet (Bel) BMC Racing Team
17
Andriy Grivko (Ukr) Astana Pro Team
0:02:43
18
Michal Golas (Pol) Etixx - Quick-Step
0:03:25
19
Jérémy Roy (Fra) FDJ.fr
20
Christopher Froome (GBr) Team Sky
0:04:15
21
Nairo Quintana (Col) Movistar Team
0:04:16
22
Alejandro Valverde (Spa) Movistar Team
0:04:19
23
Alberto Contador (Spa) Tinkoff-Saxo
0:04:34
24
Vincenzo Nibali (Ita) Astana Pro Team
0:04:45
GC
1
Christopher Froome (GBr) Team Sky
56:02:19
2
Nairo Quintana (Col) Movistar Team
0:03:10
3
Tejay Van Garderen (USA) BMC Racing Team
0:03:32
4
Alejandro Valverde (Spa) Movistar Team
0:04:02
5
Alberto Contador (Spa) Tinkoff-Saxo
0:04:23
6
Geraint Thomas (GBr) Team Sky
0:04:54
7
Robert Gesink (Ned) Team LottoNL-Jumbo
0:06:23
8
Vincenzo Nibali (Ita) Astana Pro Team
0:08:17
9
Tony Gallopin (Fra) Lotto Soudal
0:08:23
10
Bauke Mollema (Ned) Trek Factory Racing
0:08:53
Jerseys
Yellow: Froome
Green: Sagan
Polka dot: Froome
White: Quintana