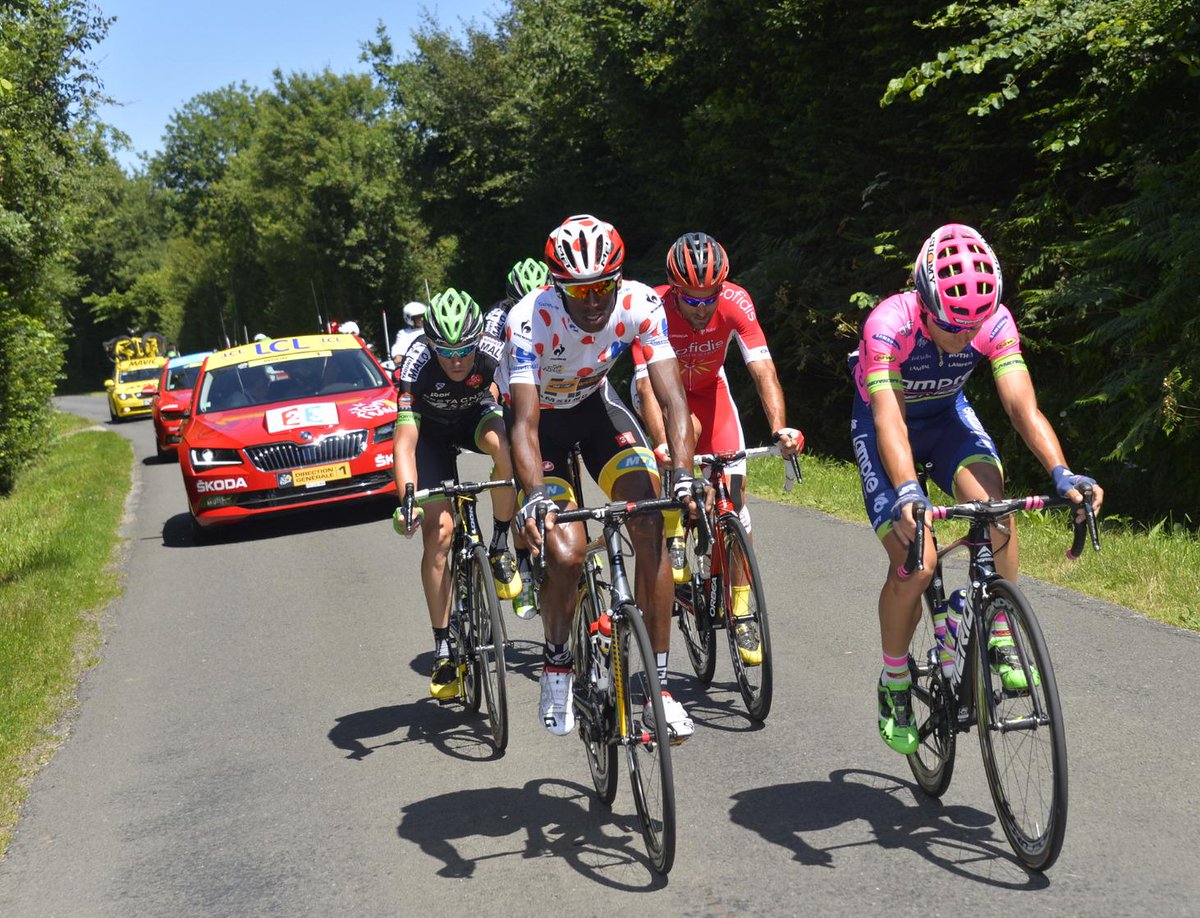 "In my opinion that's

not the way to inherit the #YellowJersey

- through someone else's misfortune"

Chris Froom said. Tony Martin crashed

yesterday and brought down several others. HERE there is avideo where he talks about it.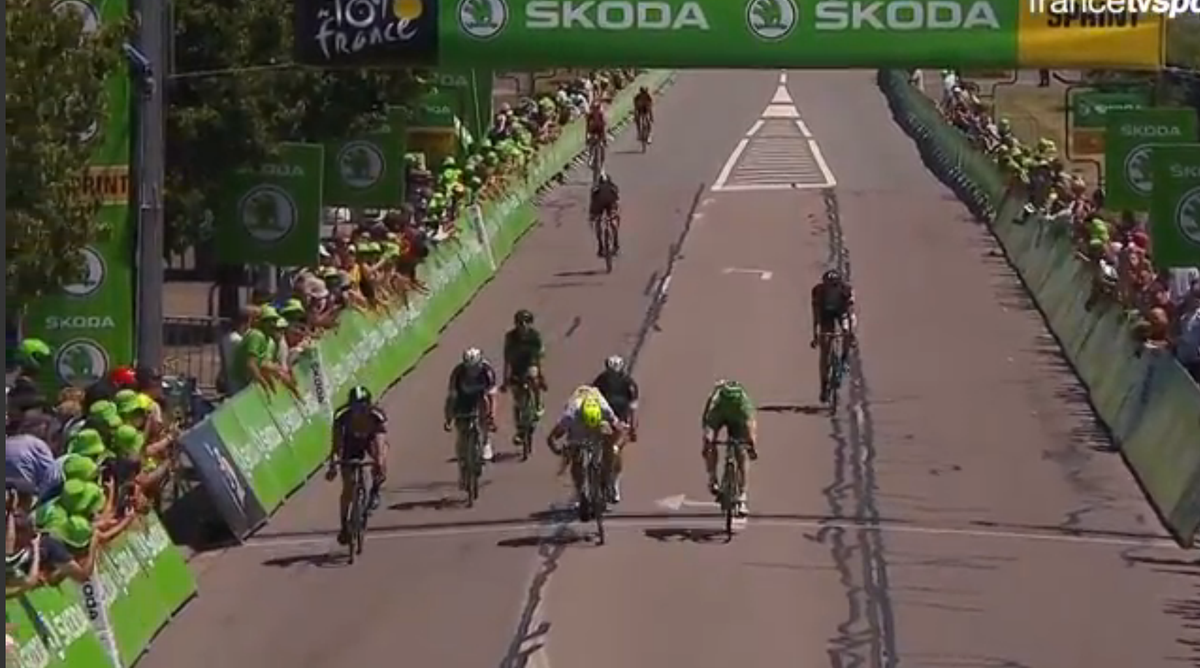 The

Polka Dot Jersey

instead is in the race, moreover is in the break away again and collecting points at the KOM of the day -

Côte de Canapville

- 4th cat, 1.9 km, average 4.7%. With

Teklehaimanot

there are Delaplace, Mate, Durasek and Feillu but their gap remains about 3'50".
Rough start for Contador and Gesink who crashed in the neutral zone.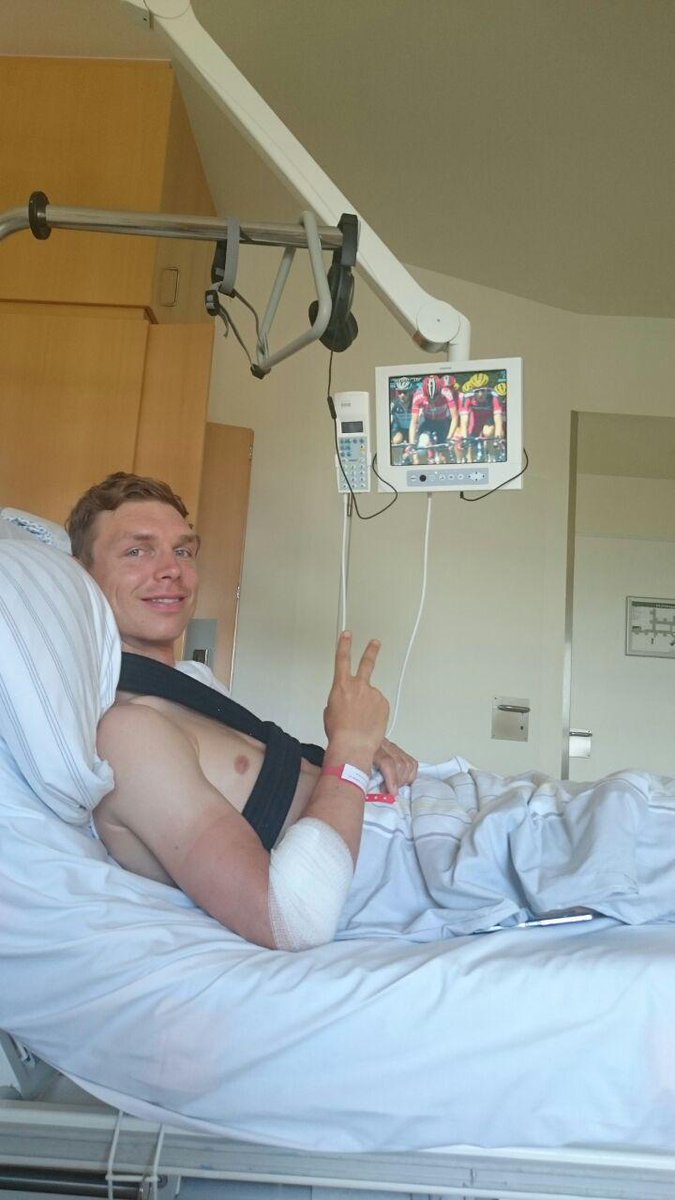 Today it's

for sprinters, twice.

Only few points divide

Greipel and Sagan

in the Green Jersey classification so it's

battle at the intermediate sprint.

Sagan wins but Greipel keeps the Jersey... till the finish where much more points are waiting for the winne
r.
Very few to say till there. At the sprint,

finally Cavendish picks his first flower of the race

- not of the season, splendid so far.
"I wanted it. I had a feeling when I was lying in my room with my wife and daughter. I was relaxed but knew today that I would be okay. The team was motivate, I could see that with the way Golas was pulling all day. We had some near misses but they kept the faith. This is incredible after Stybi's win and Tony's loss. To come out to do it like we did and to win is amazing. This is for Tony too.
I actually had to back off. I was waiting but everyone had tired legs. I told Mark (Renshaw) I wanted to wait. I manoeuvred onto Kristoff's wheel but Then Andre came up alongside me. We past Kristoff and I just got through. It was shoulder to shoulder with Sagan. But I wanted it so bad. I'm so happy."
Etixx Press Release:
"The last two sprints the team did well," Cavendish said. "I've just been too anxious and gone too early. The thing about Le Tour, in another race you maybe wait. In Le Tour you don't want to wait. In another race you maybe got one or two guys coming around you. In Le Tour you have 10 guys coming around you, there are so many strong sprinters and teams here. If you hesitate, you lose the stage. I've just been a bit over anxious the last two times and today was about not being impatient. I almost left it too long this time, I waited so long. I saw Kristoff had two leadout men left. I knew they'd keep the pace high. It was too long for anybody with one more leadout man from the finish. Normally Kristoff goes early anyway, so I anticipated that he'd go soon enough and I could come off his wheel. But he waited and waited. Greipel actually got the jump. I was perfect on Greipel, but Guarnieri came backwards after leading out and I had to avoid him. I almost panicked at how close we were to the line. If Andre had closed off the barrier I may not have won. Andre sprinted straight. He's a gentleman. I was able to come through and pass him on the right. I had the same power in my legs as I had the other days that ended in sprints. It's just, if you wait and launch later, you're going to go with more immediate power than you would with 250 or 300 meters to go like I did the other times. So, after being a little more patient, I'm super happy with my victory today, which is the 26th of my career. Every one of the 26 wins is special. At Le Tour de France even one victory makes a rider's whole career. So, to get one every year except 2014 when I crashed out of Le Tour in the first stage is a big, big thing. Obviously it's been the longest run for me without a win at the Tour de France, I think two years. So to get back to winning ways is certainly nice. Today my family is here, my wife Peta and my daughter Delilah. So it was super special to do it in front of them. I'd like to thank my teammates for doing great work to support me for this win today.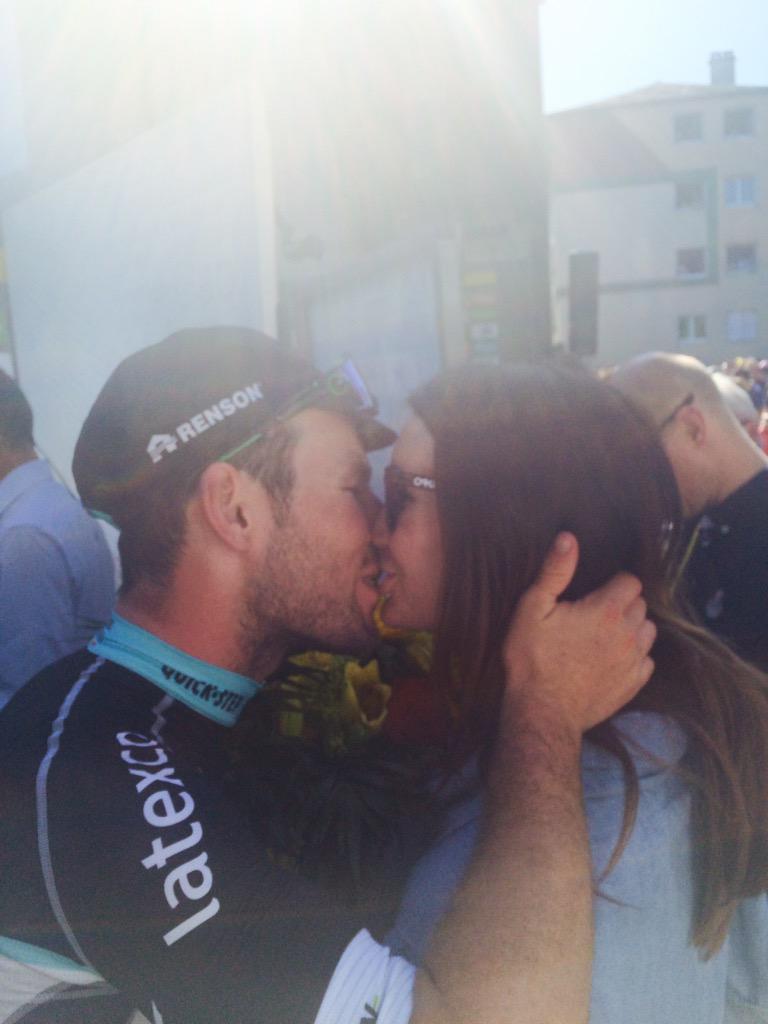 There's no hiding the fact that losing Tony was going to be a big loss to the team. But we said yesterday that we'd win for him today. To go out and win to get the yellow jersey like he did, it's really sad. He's an incredible part of this team, on and off the bike. It's almost like we started the race with 12 guys and now we've got eight left. That's what losing Tony is like. I'm so glad his surgery has gone well. We would have loved for him to be here today, and to celebrate with us tonight. We're going to definitely dedicate this win to him at the celebration and I can't wait to speak to him later. I think the way we rallied together, and around Tony, shows the spirit of Etixx - Quick-Step. I've grown with this team. I'm really happy. You've seen the ambience we've got here at Etixx - Quick-Step. We're like a family, we're always there for each other, and we share the same goals. Everyone knows I'm a fan of racing my bike. I love it. It's everything to me. To be with a team of like-minded people, it's really nice to come away and do it with people who share the same feeling. Now we look to the next days. We've got a really good momentum going with nine strong guys who proved this week that we can win in all kinds of situations. We'll keep going for good results."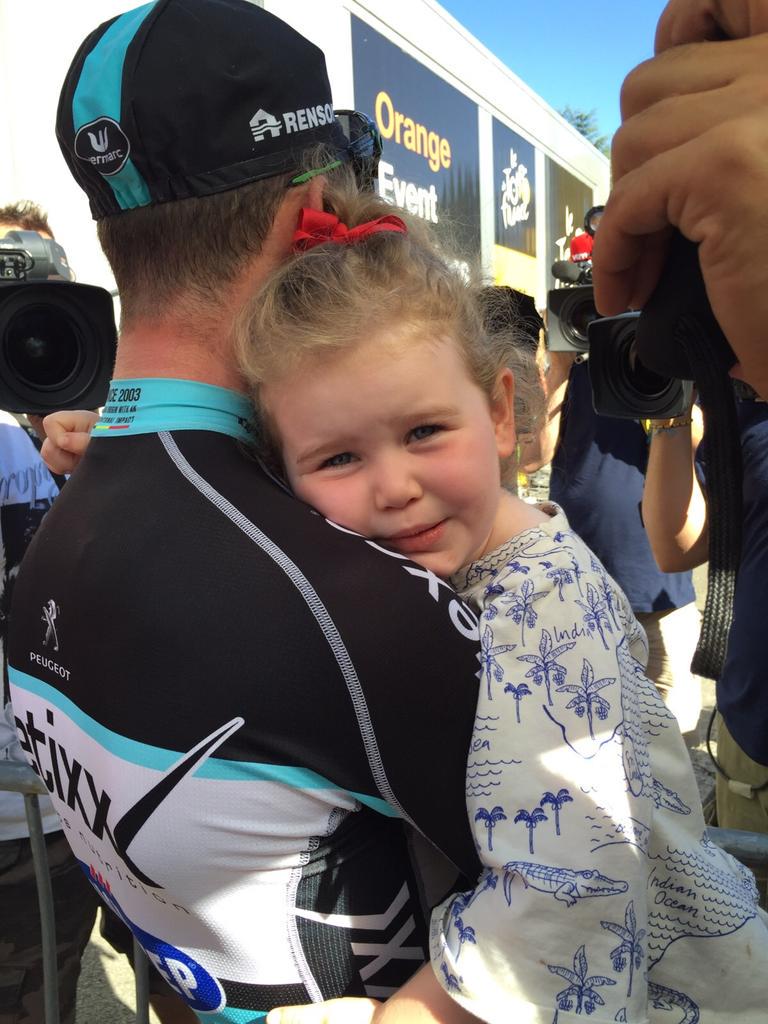 Andre Greipel
"Really proud of @Lotto_Soudal setting up the sprint+make defending green 2day.A little more respect for the team @sporza bc they deserve it"
Peter Sagan:
"Its actually nice to be 3rd:D "
"It's not easy, that's for sure. But it will come, just be patient. It was a very difficult sprint but I think I'm doing well. I didn't crash and I was there in the finale. I was on Degenkolb's wheel just before the final sprint and then I was on the wheel of André Greipel in the final meters but Cavendish was very fast today. I gave it my best and now I look forward to tomorrow and then we'll start to think about the team time trial. I think the most important is that I'm in good condition and I have avoided crashes and I will definitely try again.
I heard that tomorrow could be a good finish for me but we will see. It's right that I'm getting closer to the yellow jersey but it will be very difficult to overtake Froome tomorrow, I'm not a climber and the final climb is very hard and with the karma I have right now it will be difficult, that's for sure".
Luke Rowe:
"Good day out. Sun on our backs, yellow jersey for Froome dawg and great to see Cav back on the top step ! #TDF"
Robert Gesink:
"Luckily the pace wasn't too high and a tumble in the neutral zone doesn't really count as a real crash. I rolled through the day well, like I've done this whole week."
Tejay van Garderen:
"There were a lot of narrow roads out there, but the wind and the weather was not so bad. In the last 50 kilometers or so, on some of those narrow roads, we started feeling a little bit of the nerves. But compared to the other days, today was pretty tranquil."
Daniel Teklehaimanot:
"It was a great moment to start in the jersey this morning. We obviously had a plan with the early categorised climb today so that's why our team was in front to keep things under control before the start. It was good though that I could get away early and then won the point. I wanted to keep going and wasn't worried about saving power for the next weeks because I am feeling strong. Every day we can spend in the jersey helps our 5000 bikes campaign so I will work for it each stage."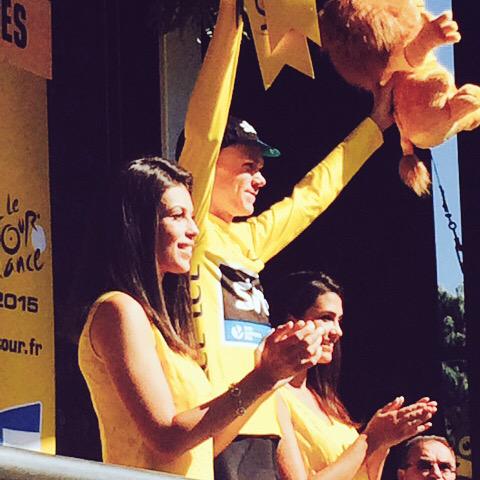 Chris Froome:
"It's a huge privilege to be back in the yellow jersey again. Unfortunately these aren't the circumstances under which I wanted to get the yellow jersey, given that Tony Martin crashed out of the race the way he did yesterday. But I am happy to be back in yellow and there's a lot of bike racing still to go from here. We're just looking to get through these next few days into the team time trial as best we can and then we'll re-evaluate from there.
It's basically a day by day process - evaluating how everyone's feeling and the stage that is coming up. What other motivations are out there and what other teams are going to be riding - for a sprint finish for example. On a stage like today it wasn't really the burden of a GC team to do all the work on the front. There are a lot of factors that come into it. But I'm confident with the team I've got around me. They've done a fantastic job so far.
Today was actually a much needed, much more relaxed stage for everyone in the peloton. It seemed to be a lot more calm. We didn't have cross-winds today and the weather was good. It was just a good day on the bike and I think everyone's happy to get through safely.
With the Mur de Bretagne, I wouldn't say it's going to be as hard as the Mur de Huy earlier this week, but certainly it's a stage that is going to test people. There could be a few more time gaps at the finish there. We'll see how it turns out.
Of course there's a lot of added pressure that comes with being the yellow jersey but that's all part of it. You need to find an extra hour of the day for all the ceremony processes that come with it but I wouldn't swap that for the world. This jersey means everything to me."
Geraint Thomas:
"We just left it to the sprinters' teams as we knew it was the last big sprint stage for a long time," he told Eurosport. "We knew they'd be keen so we just left it to them and luckily we didn't have to do a thing. We just had to try and hide really and look after the legs for tomorrow and then the team time trial.
Tomorrow it's all up and down, left and right. They are hard roads, like in the UK. I think as long as we keep riding as we have been doing towards the front it should be okay. And having the jersey gives you that little extra motivation and respect to stay at the front."
Alberto Contador:
"For us it was a good day and, in theory, a calmer one although there is always incredible nervousness in the peloton but we made it. We didn't have any crashes, with the exception of a small fall I had in the neutralized part of the start but it wasn't anything to worry about. Funnily, we were just talking about the recent crashes when a group of four-five riders got tangled in front of me and I was unable to avoid them. As I said, I got off unscathed.
In what regards tomorrow's stage, we will have to see what happens. In 2011 I was close to getting a victory at the Mûr-de-Bretagne although I think that it will most probably be a stage suited to sprinters such as Peter and I feel confident we can have a good race".
RESULTS
STAGE
Mark Cavendish (GBr) Etixx - Quick-Step 4:27:25
2
André Greipel (Ger) Lotto Soudal
3
Peter Sagan (Svk) Tinkoff-Saxo
4
John Degenkolb (Ger) Team Giant-Alpecin
5
Alexander Kristoff (Nor) Team Katusha
6
Arnaud Demare (Fra) FDJ.fr
7
Tyler Farrar (USA) MTN - Qhubeka
8
Reinardt Janse Van Rensburg (RSA) MTN - Qhubeka
9
Davide Cimolai (Ita) Lampre-Merida
10
Sam Bennett (Irl) Bora-Argon 18
GC
1
Christopher Froome (GBr) Team Sky 26:40:51
2
Peter Sagan (Svk) Tinkoff-Saxo 0:00:11
3
Tejay Van Garderen (USA) BMC Racing Team 0:00:13
4
Tony Gallopin (Fra) Lotto Soudal 0:00:26
5
Greg Van Avermaet (Bel) BMC Racing Team 0:00:28
6
Rigoberto Uran (Col) Etixx - Quick-Step 0:00:34
7
Alberto Contador (Spa) Tinkoff-Saxo 0:00:36
8
Zdenek Stybar (Cze) Etixx - Quick-Step 0:00:52
9
Geraint Thomas (GBr) Team Sky 0:01:03
10
Warren Barguil (Fra) Team Giant-Alpecin 0:01:07