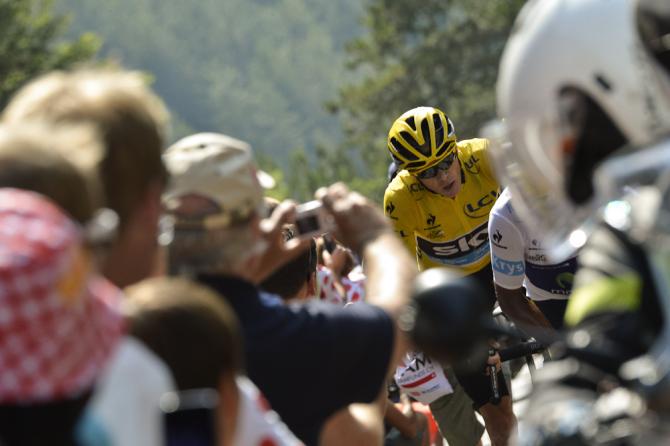 There is an article HERE.
"I saw the guy appear on a drag with 50-60km to go. I had teammates around me. I was boxed in a little bit on left. I saw a guy peering around and I thought, 'That looks strange.' He launched a cup at me and said 'dopée.' No mistake, it was urine.
I certainly wouldn't blame the public for this. It really is the minority of the people out there ruining it for everyone else out here. But I would blame some of the reporting on the race that has been very irresponsible. Having said that, those individuals know who they are.
Those individuals know who they are. I am not going into specifics details here but those people know who they are and have been extremely irresponsible on the way they have reported on the race," he said, insinuating the reporting had contributed to the spectators' actions.
It's no longer the riders bringing the sport into disrespect now, it's the individuals, and they know who they are.
It's not all the media, a lot of reporting has been fantastic. It has been about the race as it should be. But obviously since my victory a few days ago and the way the team has been, I think there has been a lot very of irresponsible reporting out here. That's unacceptable also.
I can't speak for everyone in the peloton. I certainly know myself, I am clean, I know what I've done to get here. Of course it's disappointing. What can we do? I feel from a rider's point of view, we are doing the right thing. We are trying to speak up in clean cycling, trying to change that image. Unfortunately, due to some of that reporting being so irresponsible, that negative image is still being portrayed to the public.
If this is part of the process that we have to go through to get the sport into a better place, I am here, I am doing it. I am not going to give up the race because a few guys are shouting insults at whatever or me.
Unfortunately, this is the legacy that's been handed us by people before us with people who have won the Tour only to disappoint fans a few years later. That's an unfortunate position we are in.
I am not scared about this. I just hope it doesn't interfere with racing. That's why we are all here, to race bikes at end of the day. I hope this doesn't interfere with how the race pans out at all. I am extremely focused on my job that I'm here to do. I am not going to let anything throw me off this year."