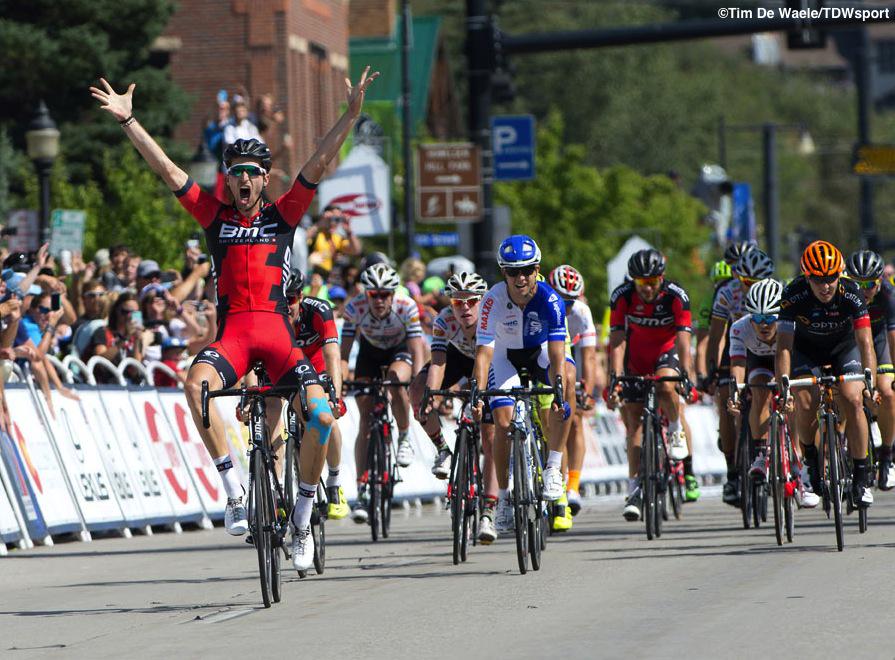 Steamboat Springs.

There was a break-away - Clarke (UHC), Kerby (DPC), Boivin (OPM), Oronte (SSC), Miller (JHB) Oram (BDT) and Torckler (BFL) - then only

two riders left

up the road: BMC Rohan

Dennis

and Optum Guillaume

Boivin

. 5 km to go their advantage was 25'' but Boivin, exhausted, refused to colloborate. 1 km to go they got

caught and Taylor Phinney won.
It seems the usual cycling race routine: a break, a chase, a win. But look closer: the winner was "racing for only the eighth time since

returning from a potentially career-ending crash

in May of 2014" BMC press release says

"Phinney fought back after losing contact with the peloton on the final climb

of the 155.5-kilometer race that started and ended in Steamboat Springs, Colorado",

still he won.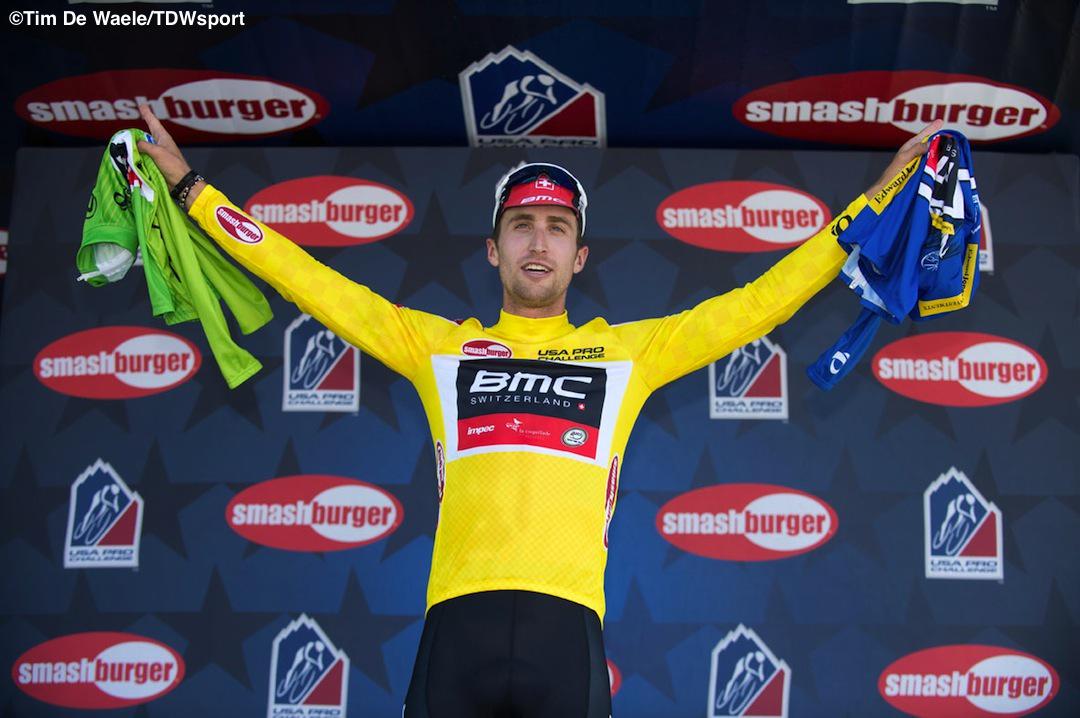 Taylor Phinney had already step on a

podium

in

Tour of Utah

, in his true first race since he had got injuried in 2014 US National Championship that he was dominating.

Now that's what you call a 'comeback':

when a champion knows that he has got the chance to be back at his/her own level he/she does all he can to achieve the result as soon as he/she can.

It's a matter of awarness, of self esteem. It's a matter of mind strenght.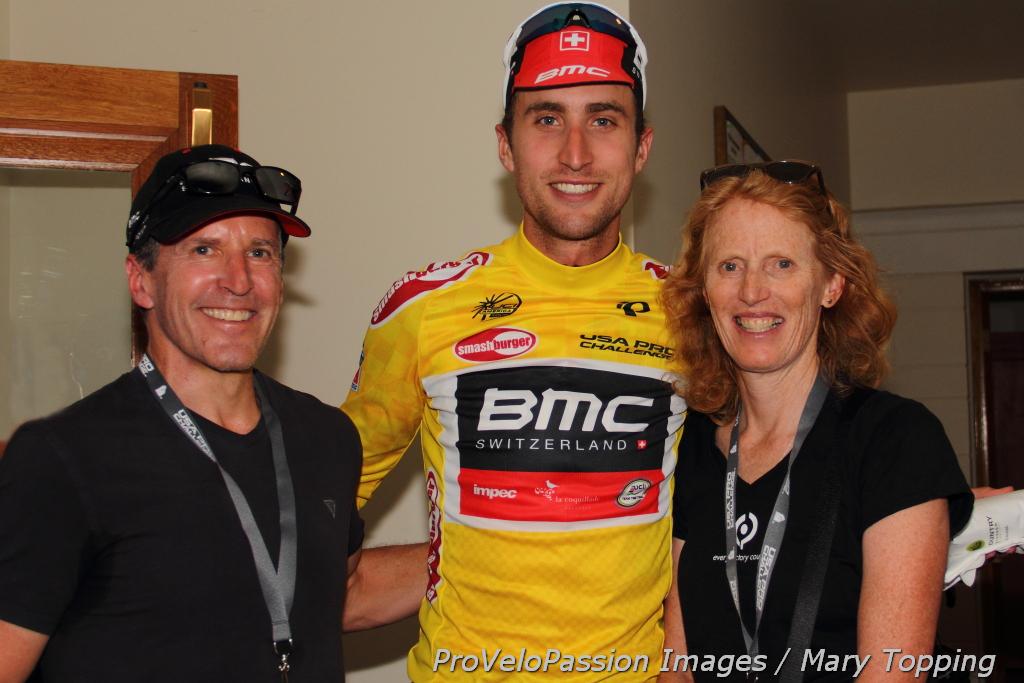 I can't avoid to add that

Andy Schleck failed just here.

He failed to understand how important a great comeback was for himself, for his personal growth. I'm sure, as far as I know him, that it was possible and that it was completely on him. But it was immediately obvious that he didn't want. He was attracted by the idea of it but he wasn't putting the power of his will on it and it didn't work. It's probably the case to question that will and his skill

to deal with reality and frustration.

No doubt it wasn't as strong as Phinney's.

Family has been probably another important factor

for both: Phinney's parents are people used to fight back and cleaver people. The Schleck family, as far as I know them, spent many years just defending and covering their sons, offering affection of course but probably not the

guidance

you need in hard times,

when you must face the fact that it's on you, your own bussiness, your own life and what you are going to do with it will be just your merit and your fault.

Do you remember

Timmy Duggan

? he decided to quit, he wasn't forced to but realised that he was done with procycling and eager to be engagged in a new challenge. That's also a very appreciable life choice. You need a perspective to do that,

a clear view of the future as you want it and then an effective, realistic effort to get there

. I see nothing similar in Andy Schelck's retirement and it made me sad. I thought he was something more than that. Instead he's going to be remembered for few great performaces (Zoncolan, Liège, Galibier) and a messy personal life. A cut flight. But cut by his own hands. And we'll never know how far he could really have gone.
Taylor Phinney

at the opposite is back where he belongs and where he wants to be. Well done guy!

Wellcome back!
Taylor Phinney:
"I actually got dropped but made it back. It was kind of what I like to call 'a Davis Phinney special,' where you get dropped and then come back and win.
I knew I don't have the pop to beat some of the best bunch sprinters in the group. So I just thought I would 'diesel style it' and go early. I didn't think I was going to be able to win until maybe 100 meters to go and then I had a slight moment of panic because I thought I was going to lose it. But I just put my head down and I spent a lot of time and a lot of energy pushing through those last eight or nine seconds. I have had 15 months to think about putting my hands up in the air. It was everything that I thought it would be."
STAGE
1

Taylor Phinney (USA) BMC Racing Team

3:39:07
2
Kiel Reijnen (USA) UnitedHealthcare Pro Cycling
3
Brent Bookwalter (USA) BMC Racing Team
4
Ryan Anderson (Can) Optum p/b Kelly Benefit Strategies
5
Gavin Mannion (USA) Jelly Belly p/b Maxxis
6
Logan Owen (USA) Axeon Cycling Team
7

Julian Arredondo Moreno (Col) Trek Factory Racing
8
Ivan Rovny (Rus) Tinkoff-Saxo
9
Toms Skujins (Lat) Hincapie Racing Team
10
Damiano Caruso (Ita) BMC Racing Team
11
Alexandr Braico (Mda) Jelly Belly p/b Maxxis
12
Taylor Shelden (USA) Jelly Belly p/b Maxxis
13
Guillaume Boivin (Can) Optum p/b Kelly Benefit Strategies
14
Dion Smith (NZl) Hincapie Racing Team
15
Ruben Zepuntke (Ger) Cannondale-Garmin Pro Cycling Team
16
Julien Bernard (Fra) Trek Factory Racing
17
Daniel Alexander Jaramillo Diez (Col) Jamis - Hagens Berman
18
Leonardo Basso (Ita) Trek Factory Racing
19
Jordan Kerby (Aus) Drapac Professional Cycling
20
Flavio De Luna (Mex) Team SmartStop
21

Tao Geoghegan Hart (GBr) Axeon Cycling Team
GC
1
Taylor Phinney (USA) BMC Racing Team
3:39:07
2
Kiel Reijnen (USA) UnitedHealthcare Pro Cycling
3
Brent Bookwalter (USA) BMC Racing Team
4
Ryan Anderson (Can) Optum p/b Kelly Benefit Strategies
5
Gavin Mannion (USA) Jelly Belly p/b Maxxis
6
Logan Owen (USA) Axeon Cycling Team
7
Julian Arredondo Moreno (Col) Trek Factory Racing
8
Ivan Rovny (Rus) Tinkoff-Saxo
9
Toms Skujins (Lat) Hincapie Racing Team
10
Damiano Caruso (Ita) BMC Racing Team
11
Alexandr Braico (Mda) Jelly Belly p/b Maxxis
12
Taylor Shelden (USA) Jelly Belly p/b Maxxis
13
Guillaume Boivin (Can) Optum p/b Kelly Benefit Strategies
14
Dion Smith (NZl) Hincapie Racing Team
15
Ruben Zepuntke (Ger) Cannondale-Garmin Pro Cycling Team
16
Julien Bernard (Fra) Trek Factory Racing
17
Daniel Alexander Jaramillo Diez (Col) Jamis - Hagens Berman
18
Leonardo Basso (Ita) Trek Factory Racing
19
Jordan Kerby (Aus) Drapac Professional Cycling
20
Flavio De Luna (Mex) Team SmartStop
21
Tao Geoghegan Hart (GBr) Axeon Cycling Team