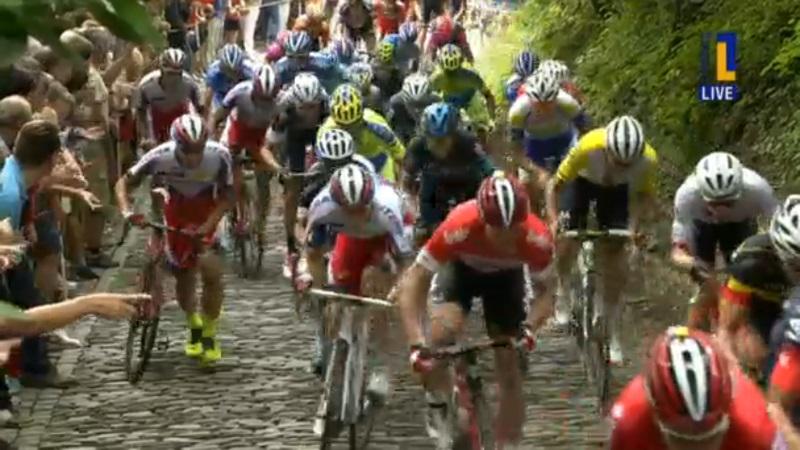 Selig's chain drops :/
Climbing and cobbles

. From Sint-Pieters-Leeuw to Geraardsbergen The

front group

: is Quinziato, Lampaert, Coledan, Hofland, Selig, Ferrari, Blythe, Koren, Denz, Groenewegen, Jans, Kerkhof, Leukemans and Preidler.
Up the

Denderoordberg

(700m, 8%), then the

Muur van Geraardsbergen

(1100m, 8.7%) in the first of two local laps of 25.6 km.

Dry, and beautiful silver clouds in the troubled sky.

The break split on the cobbles, three riders go away:

Quinziato, Lampaert and Leukemans

.

Valgren

tries to bridge, others follow. A eight riders

group forms

, including Roy Jans, Gijs Van Hoecke, Dries Devenyns, Johnny Hoogerland, Arnaud Démare, Stijn Vandenbergh, Simon Geschke. They are 2'43" from the break.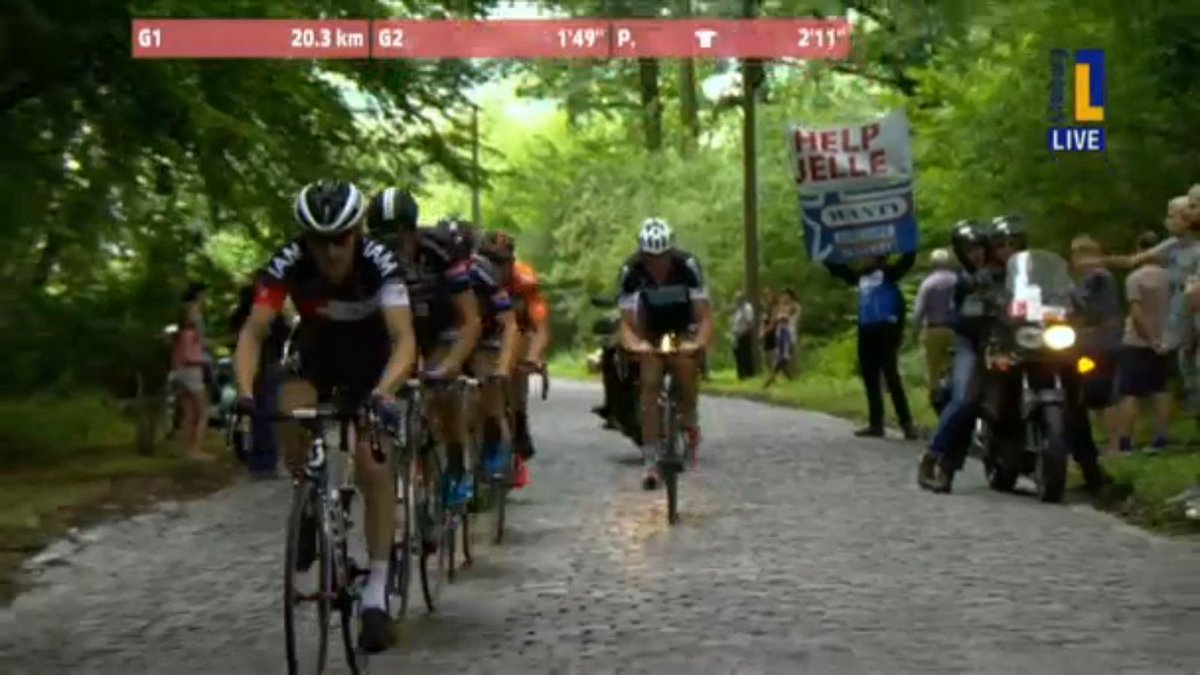 Behind, at 3'13" from the break, Team Lotto-Saudal is leading the peloton,

Wellens on the wheels in White

.
Last lap.

Huge crowd and hugely polite

: Belgians know how you attend a cycling race. Poor Selig! his chaing dropped just on the Muur! Race over for him.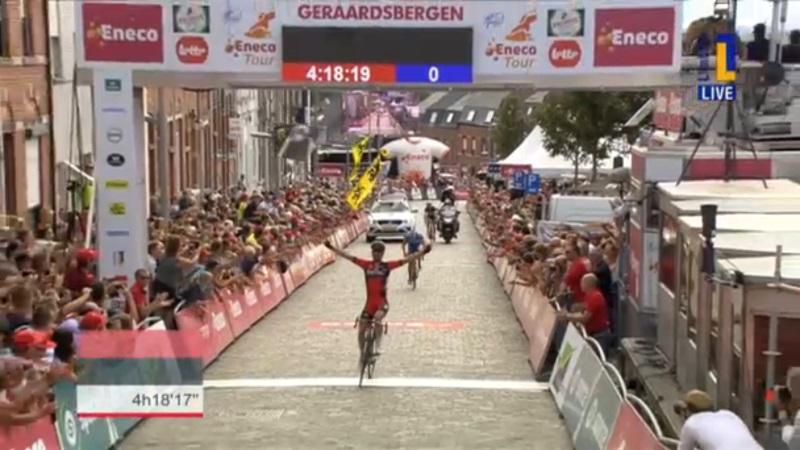 At the

Golden Km Leukemans

took 7'', Quinziato 6" and Lampaert 5". 12 km to go only

Van Hoecke is still chasing

, the rest has got caught.

Attacks fly from the peloton

and eventually they are

all together hunting the break-away

: Lampaert, Leukemans and Quinziato have 1'45" .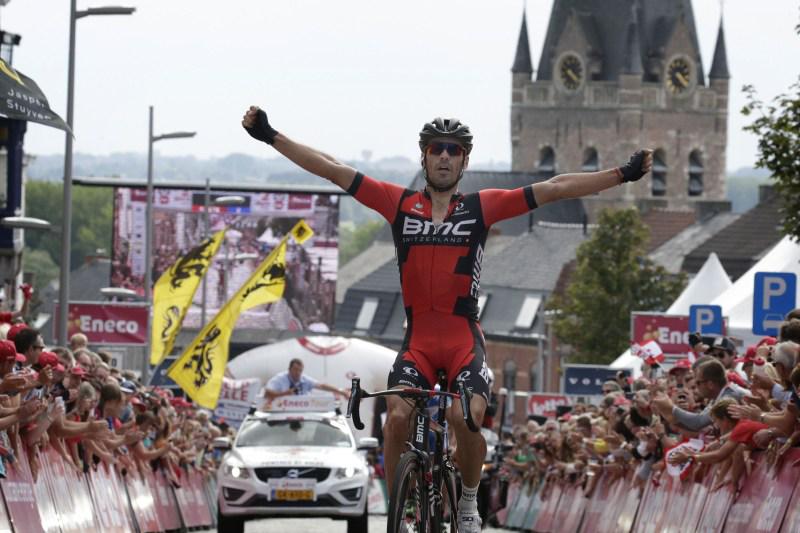 Up the

Denderoordberg

again. That's the last climb. The gap is down to 1'.

Quinziato attacks and goes solo.

Last ramp and last pavé toward the finish line.

Victory!

then Leukemans comes, then Lampaert.
Manuel Quinziato: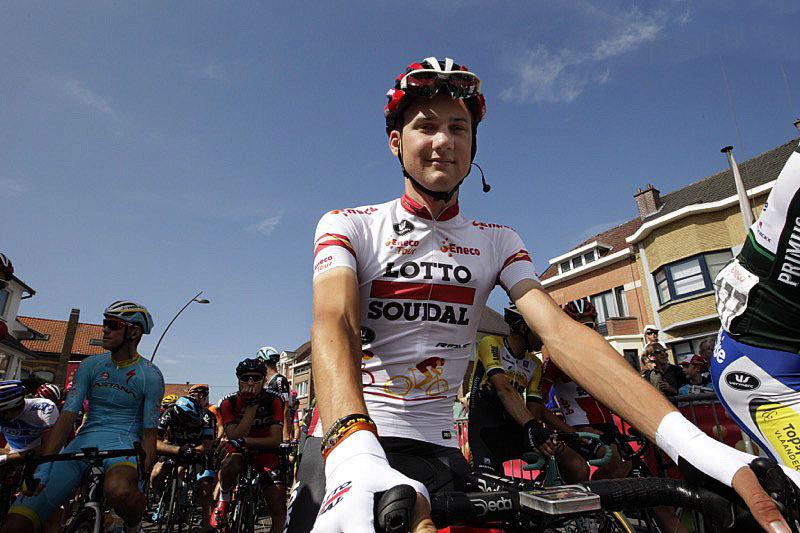 "I made a gap and the guys behind disappeared. But I was à bloc (at my limit). I said to myself, 'Don't look back.' But I looked back with 500 meters to go and saw that they were coming. I said to myself, 'You are either going to win, or you are going to die.' I won, so I am happy."
Taylor Phinney:
"'I said Manuel, or you win, or you die." "I won.'" -Manuel Quinziato legend!! Ahaha I am so happy. We are so happy! @BMCProTeam #enecotour".
Tim Wellens:
"It's very nice to win the Eneco Tour of course. And not because the Tour de France wasn't as good as expected. It's just fantastic to win a one-week stage race, it pleases me a lot. I started in this race with some doubts, because I didn't know how I would feel after the Tour. After the time trial I really had a good feeling and I knew for sure that the condition was good. The question was; how is Tim going to perform after the Tour? Well, the last days in that Tour I felt that my shape was improving, the choice to ride in the Clasicá San Sebastián appeared to be a good one. This week I confirmed this better shape.
This year's victory is even more beautiful than the previous one I think. The first victory of the Eneco Tour was a bit unexpected, but to perform on a same level this year was much harder. Beforehand, I considered Greg Van Avermaet and Philippe Gilbert as the most importants riders for the overall victory, they were really in a good shape. But yesterday I made the difference because I did a recon of that stage. That Côte de Saint-Roche appeared to be a key point and I was glad that I'd done the recon.
I have no other choice than to thank the teammates for their work the previous days, they really did an a-ma-zing job. Everyone supported me very well. Greg Henderson, Marcel Sieberg and Stig Broeckx did a lot of work in the beginning of the stages. Afterwards Jens Debusschere, André Greipel and Tiesj Benoot did their work and they did it fantastic. I'm really thankful.
After this Eneco Tour I know that I don't have to aim on a good classification in the Grand Tours. The one-week stage races without the high mountains like Paris-Nice and Tirreno-Adriatico fit me more. For the rest of the season, I hope to maintain the good shape as good as possible. Normally I won't ride in Hamburg, but I will start in Plouay. After that I'm going to Canada for the races in Quebec and Montreal and to prepare myself for the World Championships Team Time Trial. It's not up to me whether I will be selected or not for the road race in Richmond, but if that's the case, I don't have a problem with the fact that I'll have to ride for someone else. After the World Championships, my final race will be Lombardia. But first, I'm going to enjoy this victory."
Greg Van Avermaet:
"We tried to make the race hard to drop Kelderman but we couldn't do it. I am happy with second place and with Manuel winning the stage and me being in fourth today. Everything went pretty well for us and I think we had a good Eneco Tour with the win and also picking up a few WorldTour points."
Wilco Kelderman:
"I'm happy with my third place. After the Tour de France, this is a big boost. I really needed this after the disappointment of the Tour, and the Eneco Tour is an important race.
The race was under strict control and I knew that riders would responded if I went. I toyed with the idea of an attack on the penultimate climb, but when a few others accelerated, I could only react.
I really struggled, but I don't think I did anything wrong this week. Yesterday was just very difficult because there were so many strong riders in the front. The race wasn't controllable. Besides that, there's something extra to being a race leader."
Fabio Felline:
"Today was an important day for me. I wanted to maintain my fifth place at the very least and maybe improve on it if I could. To be honest, I had tired legs from yesterday, and I did not feel sharp in this parcours - in these ramps with the cobblestones. I just didn't have it today and had to race to defend only. I think I did that well, I was able to close the dangerous gaps, but to make the difference with an attack was not possible.
Fifth place in the GC I think is a good result, for me and the team, and this is the first time I experience being the leader for the GC. I think this was a good starting point, and now I hope to progress next time. A big thanks to my teammates, I felt the sensation that they respect me, and this for a rider is very important. They gave the maximum for me…"
RESULTS
STAGE
1
Manuel QUINZIATO
ITA
BMC
36
4:18:18
2
Björn LEUKEMANS
BEL
WGG
38
+3
3
Yves LAMPAERT
BEL
EQS
24
+8
4
Greg VAN AVERMAET
BEL
BMC
30
+38
5
Julian ALAPHILIPPE
FRA
EQS
23
+38
6
Tiesj BENOOT
BEL
LTS
21
+40
7
Filippo POZZATO
ITA
LAM
34
+40
8
Jan BAKELANTS
BEL
ALM
29
+42
9
Philippe GILBERT
BEL
BMC
33
+42
10
Magnus Cort NIELSEN
DEN
OGE
22
+42
FINAL GC
1
Tim WELLENS
Belgium
LTS
24
26:31:59
2
Greg VAN AVERMAET
Belgium
BMC
30
+59
3
Wilco KELDERMAN
Netherlands
TLJ
24
+1:17
4
Philippe GILBERT
Belgium
BMC
33
+1:40
5
Fabio FELLINE
Italy
TFR
25
+1:48
6
Andriy GRIVKO
Ukraine
AST
32
+1:54
7
Michael ROGERS
Australia
TCS
36
+2:02
8
Tiesj BENOOT
Belgium
LTS
21
+2:11
9
Christopher JUUL JENSEN
Denmark
TCS
26
+2:11
10
Julian ALAPHILIPPE
France
EQS
23
+2:11
JERSEYS
..