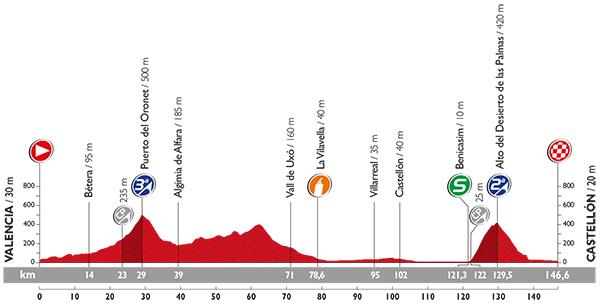 A nervous, fluid, thrilling start.

An early little crash, all back on bike and

the break can't go.

Vasil

Kiryienka

attacks but he's quickly caught.
Puerto del Oronet

- 3th cat, 6 km, avg 4.4% -

a large group

eventually gets a a gap. They are: Cataldo, Montaguti, Henao, Verona, Zoidl, Machado, Navarro, Velits, Craddock, Plaza, Keizer, LL Sanchez, Warbasse, Erviti, Arroyo, Berhane, Van den Broeck, Hardy, Grmay, Amador, Bilbao, Vorganov, Quintero, Monfort, Boswell, Puccio, King, Elissonde, Cummings, Meyer, Moinard, Bennett, Atapuma, Madrazo, Cherel, Villella, Torres Frohlinger Cousin McCarthy.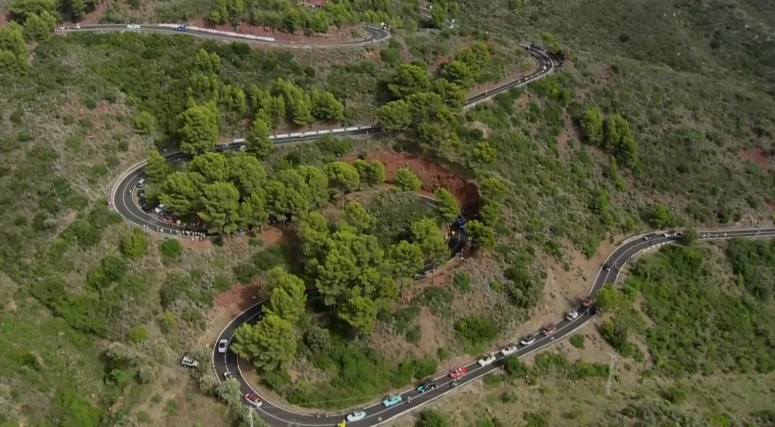 Meanwhile

Caleb Ewan abandons

, "feeling fatigue" GE says. He's just 21 yo this guy. And he has won a stage.
The break has split in to 3 groups

and several riders are dropped, including Meyer, Bennett, Zoidl, Moinard, Elissonde, Cousin, LL Sanchez, Boswell, Torres and Bilbao.

It's a fluid situation and the peloton is close. All together 55 km to go.
Roche crashed

. Boswell, Henao and Puccio - bday guy - are riding hard to get him back. 40 km to go

Terpstra attacks

and is solo in front, with 14" on a chasing group of five - Duque, McCarthy, Paulino, Keisse and Engoulvent - and 35" on the peloton.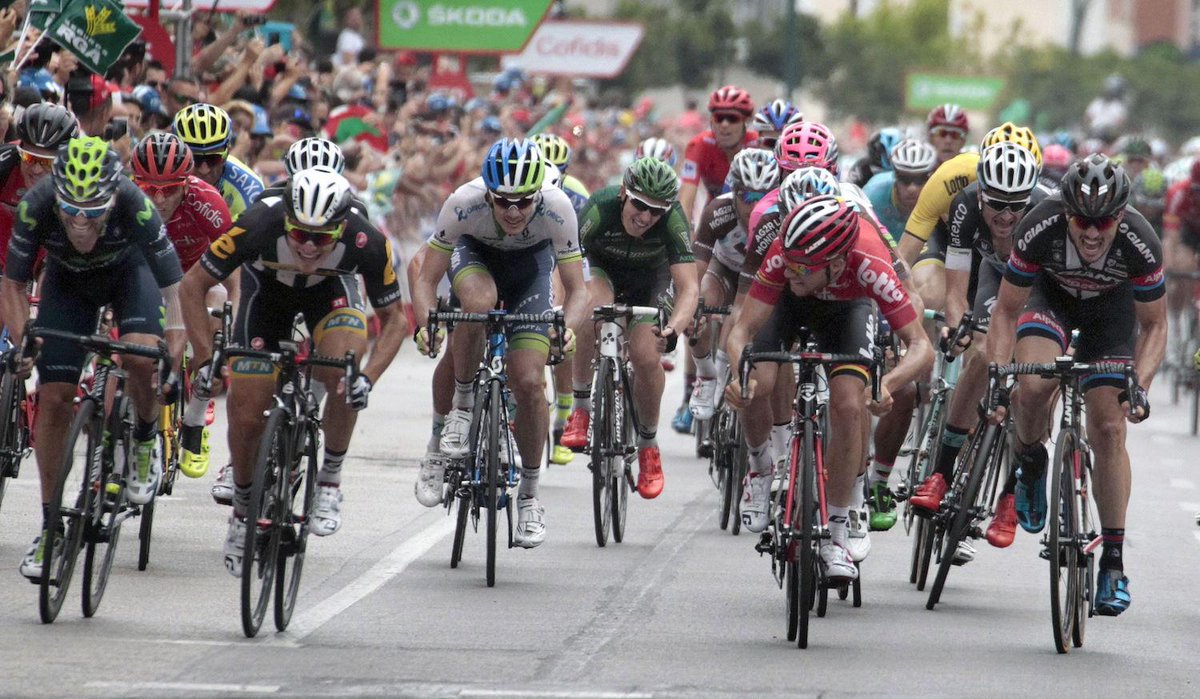 Benicasim. All together again.

There is

no rest and nothing lasts today

. It's the intermediate sprint but nobody notice: it's

full gas all the way

.
24 km to go, Alto del Desierto de las Palmas

- 2th cat, 7km, gem 5.6%). Roche is back in the peloton but

Henao needs a bike change

. 22 km to go

De Marchi attacks, Siccard tries to bridge, Elissonde and Coppel follows.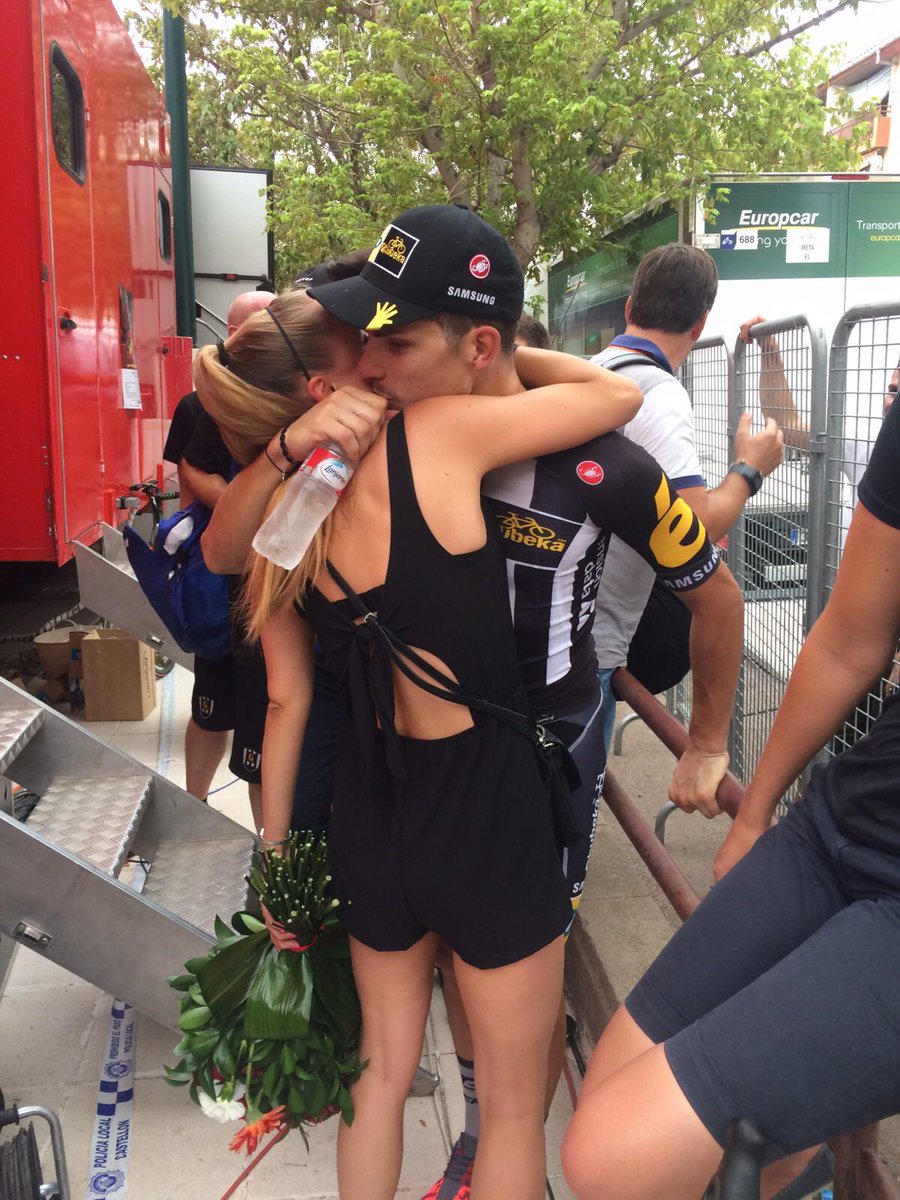 20 km to go,

last climb,

Elissonde joins and immediatelly attacks.

Brambilla

attacks from the peloton.

Descent

.

Henao crashed

, Kiryienka stops to hand him his bike. Definitely NOT Team Sky luky day!

Flat. Brambilla is caught

by a reduced peloton preparing the sprint. 5km to go, all together. The sprint is launched. It looks like Degenkolb...but no!

Sbaragli smited them all

. 'Sbaragliare' in Italian means 'to smite' indead. What's in a name!
Kristian Sbaragli:
"It is a dream come true for me because it's been four times in this Vuelta that I've tried to do my sprint and today when I crossed the finish line, I still cannot believe it.
It is a dream for me and a dream for MTN-Qhubeka.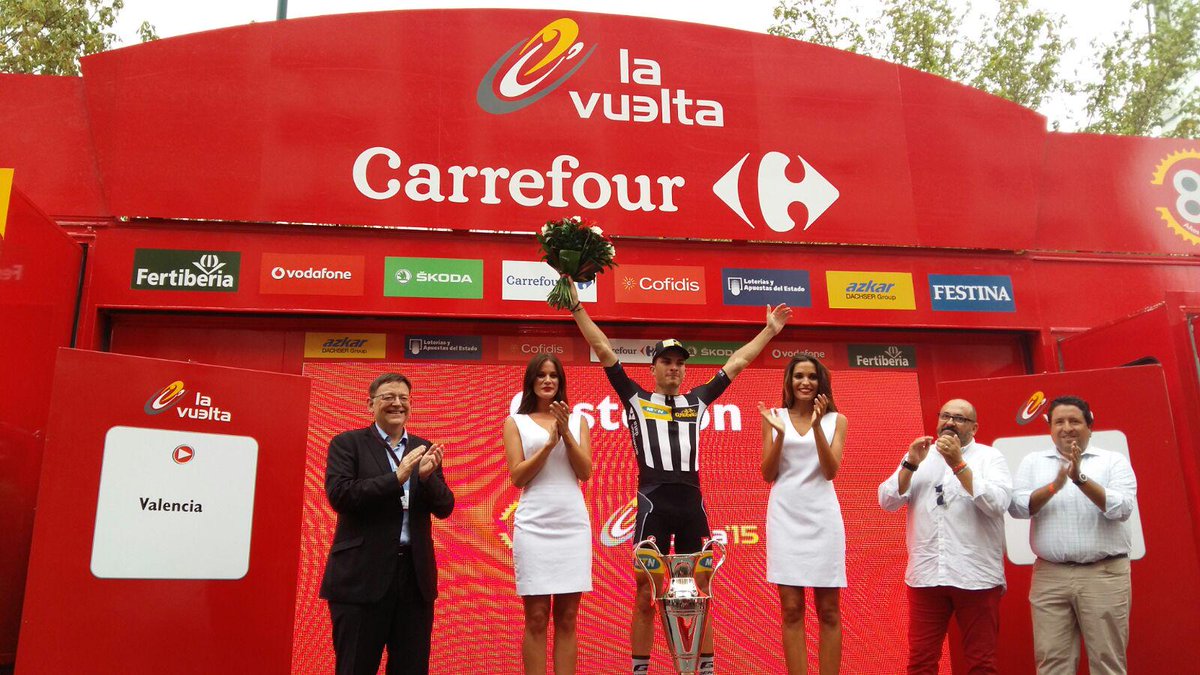 I was feeling really well on the climb and just didn't want to miss out again. I came so close a few times already in this La Vuelta, so I decided to wait until 200 meters to go before leaving it all out there. It's sensational, something I never tasted before. This win is good for our team, but especially for Qhubeka and our 5.000 bikes campaign."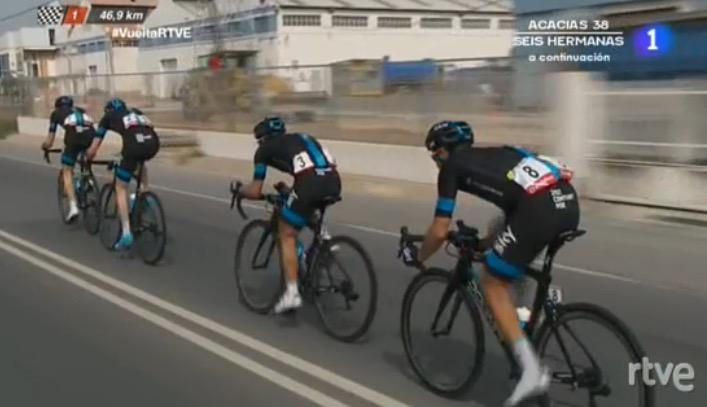 Team Sky DS Dario Cioni about Roche and Henao crashes:
"They both came down pretty hard but thankfully they are both OK. Nico showed great courage to get back in the peloton before the finish, and while that proved to be impossible for Sergio, he was able to finish the stage.
They've both got a few cuts and bruises, and although they will be sore in the morning, we have a rest day now to get them treated and give them some time to recover.
The team deserve praise for the way they handled the situation, and everyone played their part in getting Nico and Sergio to the line whilst keeping Froomey protected at the same time."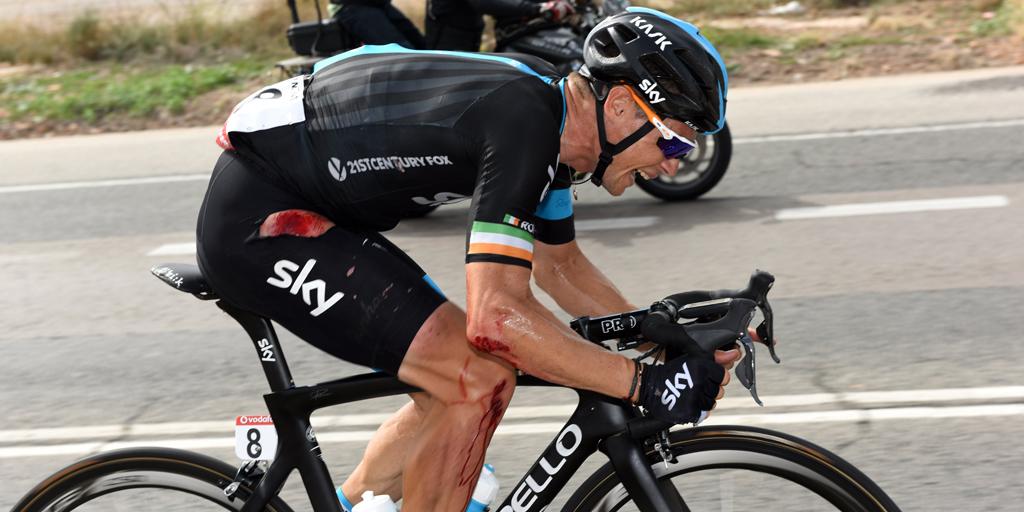 Nicholas Roche:
"Thanks to t guys @TeamSky for helping me after other crash.. Left a fare bit of skin on the way, but #keepfighting"
Chris Froome:
"So @geraintthomas86 would rather drive for 6hrs than take a heli flight to Andorra. We've discovered his weakness 😂 "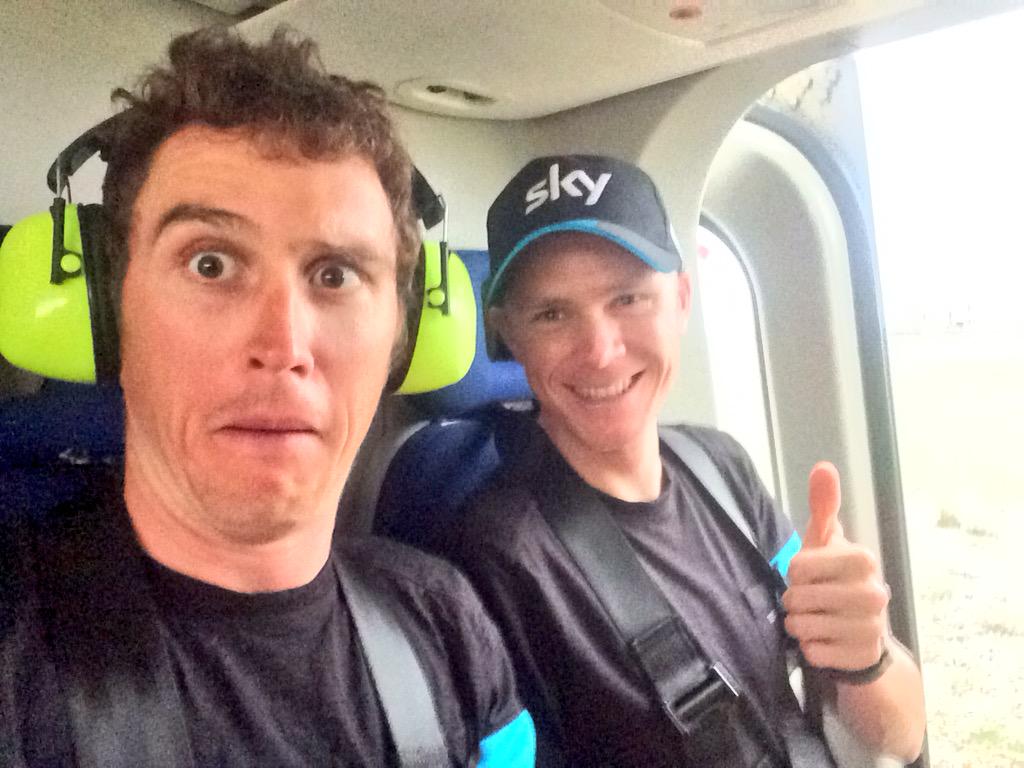 Timo Roosen:
"It was quite tough today," Roosen said. "At first, my legs didn't feel really strong, but I recovered well along the way and I was able to follow the peloton over the two climbs. In the final kilometres, I spoke with George (Bennet, ed.) and we decided that I was going to sprint. He did a good lead-out, but when the pace dropped, I attacked. It was a rash decision and looking back, I don't think it was the best choice, because I didn't get away. I still finished 12th, but I could have done better."
José Joaquín Rojas:
"I was close to the win, but I really sprinted more with my heart than with my legs. This was a stage I kept written down on my to-chase-list, because I had won the Spanish national championships here, but my collarbone hurt really, really much - there's still a lot of inflammation on it. I really wanted to do a good race here, and with painkillers and some guts, I tried to bring the team a stage win, but it vanished on the finish line. I really had legs to win in Murcia and here today, but this time, the collarbone pain was too much. The most important thing is that our team leaders got through the day well, and we've got two weeks ahead to keep chasing this victory and get them to overall success."
Alejandro Valverde:
"Looking at how it could have been, the stage turned out pretty well. I can't complain about how I felt on the bike, I can ride well; the worst time is when I have to raise my arm - it really hurts, there's a lot of things (like taking my musette or having drinks, food) that I have to do with the right hand... it hurts, but what worries me the most is that the body blocks itself to recover. I hope to take advantage of this rest day and do all I can on Wednesday."
RESULTS
STAGE
1 Sbaragli
2 Degenkolb
3 Rojas
4 Van der Sande
5 Goncalves
6 Montaguti
7 Keukeleire
8 Impey
9 Serry
10 Conti
GC
1 Dumoulin
2 Rodriguez +57
3 Chaves +59
4 Aru +1:13
5 Valverde +1:17
6 Quintana +1:17
7 Froome +1:18
8 Majka +1:57
JERSEYS
Red: Dumoulin
Green: Chaves
Polka dot: Fraile