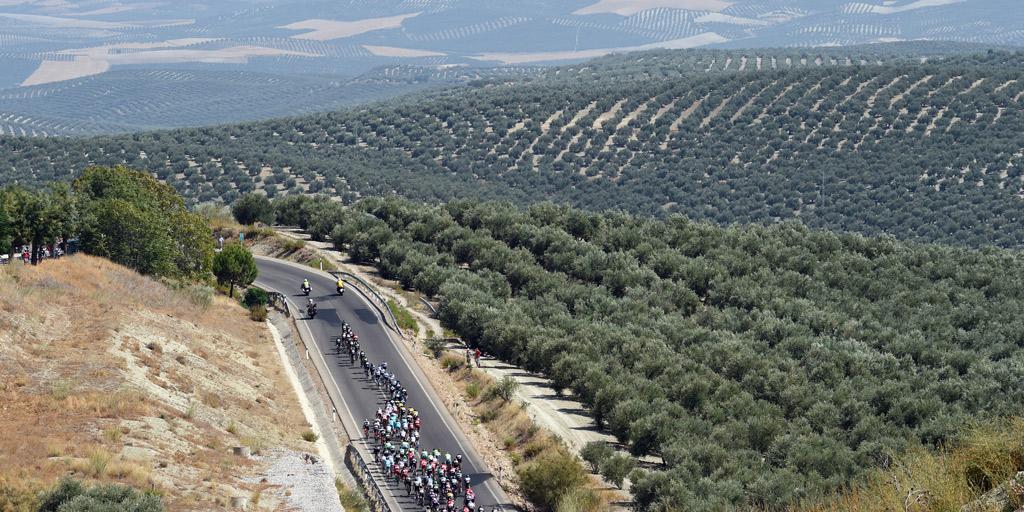 Alto de Capileira

, 40km to go:

Cousin, Txurruka, Quinteo, Lindeman

and

Koshevoy

have a

big advantage

- around 10' - on a peloton that now has started chasing with determination.

Both are flying, break and bunch.

25 km to go gap is down to 6'57".
This is a 1st cathegory climb: a 1st part up to 8.5%, then 4 flat kms and then 9 km up to 14%. Team

Movistar

is leading the chase, Team

Sky

is gathering just at its back and riders are getting dropped one by one. 10 km to go Team

Astana

goes in front and joins the forces. They are now on the

flat

section.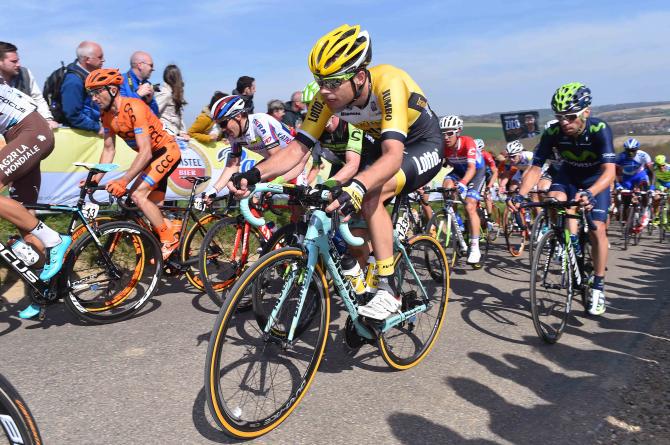 5 km to go Koshevoy

has attacked. Txurruka brings him back, but he attacks again and is solo ahead the race.

Cousin

tries to bridge. 3 km to go they are together. They are

on the steepest

of the climb.

The white village waiting on the rocky slope looks a mirage. They passed by

and so the peloton, decimated but unshattered.
La Alpujarra.

2 km to go

Lindeman joins

but Cousin jumps away. Lindeman doesn't let him go.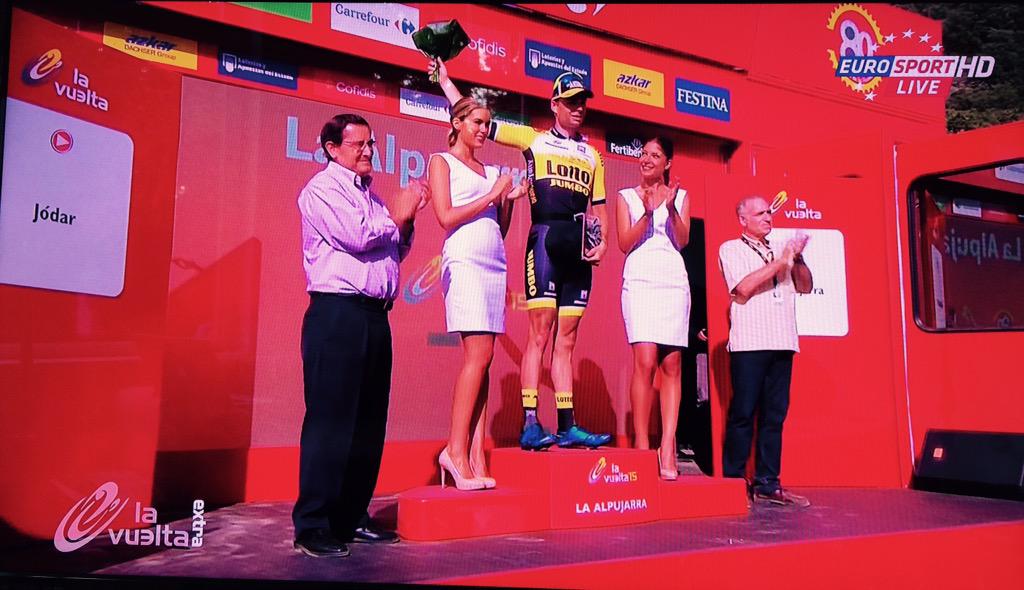 Behind Aru attacks

and Froome gets immediately dropped. 500 m to go

Lindeman

has dropped Cousin. He's

solo. He's won.
Behind Aru

has caught Cousine and

passed the line ahead

the front group, gaining a few nice seconds on the GC contenders, particularly Froome. By this one I expected more.
Bert-Jan Lindeman:
"I played the game. That's also cycling, and not only to be the strongest," Lindeman said. "I got all the support from the team. I felt I had a really good day and started to believe in my chances. Normally, Amets Txurruka (CJR) is the strongest uphill, so I was a little scared. But at some point he and I were dropped. I saw that he was really empty and then I closed the gap alone to Jérôme Cousin (EUC) and Ilia Koshevoy (LAM). Only at the very end did we know that the peloton would not come back and that we could win. Cousin crashed in the last kilometre, and Koshevoy then went full gas. I felt that I had power left, and in the last 200 meters, I could easily pass him.
I've come a long way. I was not a professional anymore in 2014, but luckily I got a new opportunity at LottoNL-Jumbo. And today I win this tough mountain stage. I've been working hard for this result. I was ten days in Davos for a training camp with Martijn Keizer. That paid off now. I am grateful for the confidence this team has in me and now we will enjoy this victory together."
"Ah, it's the first summit finish and I was looking for some answers," Aru said simply after catching his breath. "I haven't been feeling great since the crash [on stage 2 – ed.] and I wasn't great on the shorter climbs but now I'm recovering and that's good. Now we'll just look to recover for the stages to come."
"I haven't seen the classification yet but I'm just thinking about my own race to be honest. We'll see. This is a beautiful Vuelta, really tough and I really like racing in Spain so we'll try to do well.
I gave everything today and we'll see in the coming days. I tried today and I did my own race."
STAGE
1 Lindeman
2 Koshevoy +9
3 Aru +29
4 Cousin +34
5 Majka +36
6 Chaves +36
7 Valverde +36
8 Quintana +36
9 Meintjes +36
GC
1 Chaves
2 Dumoulin +10
3 Martin +33
4 Roche +36
5 Valverde +49
6 Rodriguez +56
7 Quintana +57
8 Aru +57
9 Moreno +1:18