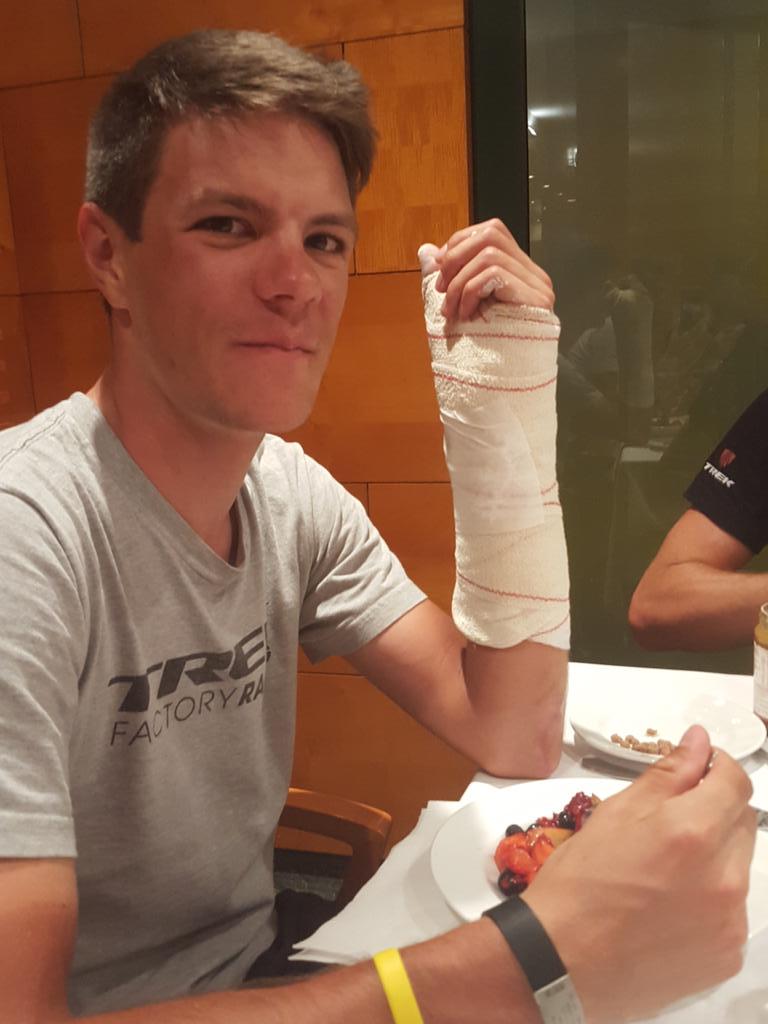 The winner of stage 8th, Jasper

Stuyven

sprinted with a

broken left scaphoid.

Peter

Sagan

instead couldn't sprint at all, taken down by a Shimano neutral service motorbike, now the news that he's

also out.
"Like I said after the finish, I felt my wrist and it was getting more and more painful, so I asked to go to the hospital to make the check. I was already scared that it could be the scaphoid because I know from friends who are cyclists what the pain feels like and where it's located. And, unfortunately, the X-rays confirmed that it is broken and that my Vuelta finishes today.
At first I was of course really disappointed, but then I realized that I really have to enjoy this moment, because now is the time to enjoy my first professional win. For what's next, I will see when I get home and have the surgery."
TFR Team doctor Nino Daniele:
"The fracture is not dislocated, so in fact it won't be difficult to resolve it, but it goes without saying that Jasper cannot ride his bike for now. First of all, it would be very painful, but then it's also possible that the broken bones move and we absolutely want to avoid that. If anything goes well, as I hope, in a couple of weeks, he should be back on the bike and probably sooner on the rollers with his cast."
"Unfortunately, it isn't the first time such an incident happens. Even if motorbikes are forced to go through a group of riders, they should do it very carefully and not recklessly. In my opinion, motorbike drivers don't take the safety of the riders in consideration seriously. Fortunately, my injuries aren't very serious but can you imagine what would have happened if he had ran over me?
If I had crashed alone or with another rider, I would have considered that to be part of the sport. However, being hit by a motorbike of the race organization shouldn't be acceptable. The safety of the riders should be an absolute priority and all vehicle drivers involved in a race must be more attentive. I really hope this incident is the start of a series of necessary changes in the way races are organized.
There was a breakaway in front and, together with a rider from Lotto-Soudal, I was attacking to bridge the gap. Then the group reached us from behind and I was sitting in second place, while another Lotto-Soudal rider came to the front to pull. So, I attacked again to reach him, as he was about ten meters ahead. When I reached him, I signaled to him to go ahead as I was staying on his wheel. I moved to the left and at that moment a motorbike hit me. There was nothing I could do.
I didn't even hear the motorbike coming. I find it unacceptable that a motorbike tries to weave its way into the group at such high speed. They accelerate and try to sneak in when they see an empty space. However, they don't take into consideration that a rider might fall in front of them or change direction. They go extremely fast and the difference of speed compared to the riders is enormous. Last but not least, I go back to the team hotel and I read I was fined 300 francs for insults and threats as well as behavior that damages the image of cycling. I will, obviously, pay it but I consider it unjust."
TEAM TINKOFF PRESS RELEASE:
"Sagan was hit by a reckless auxiliary motorbike in the final kilometers of stage 8 and suffered wounds and burns of first and second degree on the left side of his body, from the hip to the lower leg. In addition, he has a contusion on his left forearm with an intra-muscular hematoma. The team doctor, together with the sport directors at the Vuelta, decided that Sagan cannot safely continue the race with the injuries he suffered. As a result, he will fly back home as soon as possible.
The entire Tinkoff-Saxo team is disappointed and upset that Sagan's participation in the race comes to such an abrupt end. The Vuelta a España is one of the season's most important races and both Sagan and the team had high expectations. At the moment of the incident, Sagan was wearing the green jersey, he had won one stage, was set to target stage 8, while being in serious contention for later stage wins.
Despite this important loss, Tinkoff-Saxo will keep its remaining goals intact and the entire squad will support team leader Rafal Majka in his fight for wins in the mountain stages as well as a top position in the general classification".