Finish is waiting in

Alto de Puig Llorença

. A broken climb, hard, discontinous.

The sea on the distance is confused to the sky, both pale blue.

Bouet is in the break with Serry, Thomas, Cattaneo, Maes, Fraile, Hurel, Jim, Brutt, Manzin, Danny Van Poppel, Bagot and Tjallingii . They have about 5'. Gougeard is chasing and manages to join.
A

crash

brings down several riders, including Thomas Degand who's forced to quit. Fortunately on his foot.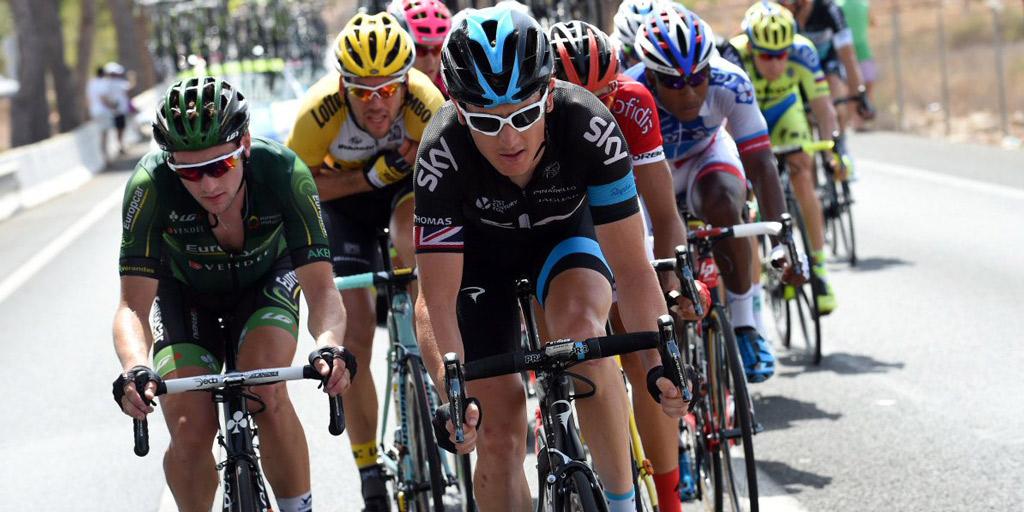 43.9 km to go

the gap is dropping

: only 1'51" when the race start

climbing Alto de Puig Llorença for the first time.
15 km to go

Tjallingii

attacks and is first at the

intermediate sprint.

He doesn't go on and now

Thomas, Bouet

and

Brutt

take a slight advantage. 5 km to go Bouet speeds up but Thomas and Brutt are ready on his wheel.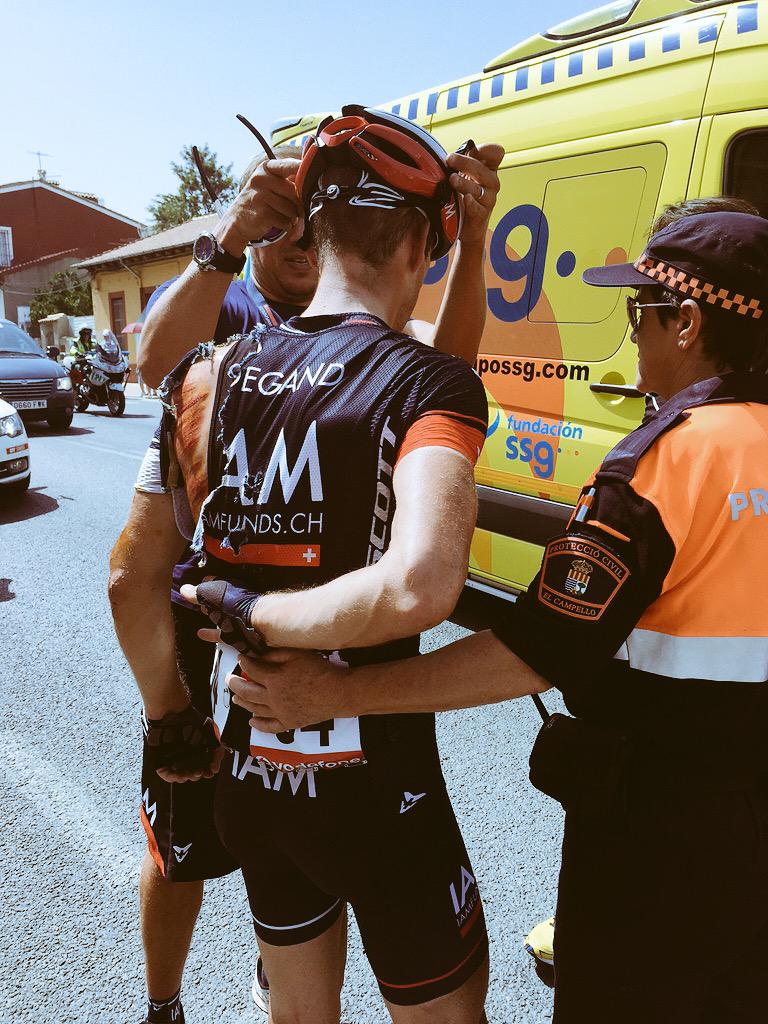 Down toward the sea, toward the mountains again.

The break is caught

and they head all together to

Alto de Puig Llorença for the second time

: 4.1 km, 8.9% average, max 19%.

It's a fireworks finale.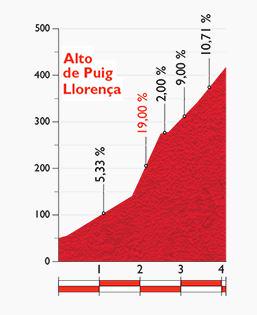 Attacks shoot like bullets indead. And favourites drops one by one.

Valverde, Chaves, Rodriguez and Quintana

are in the lead.

Quintana attacks

.

Aru

and

Majka

are back to the front. 3 km to go

Valverde attacks

. 2 km to go about 15 riders are left in the Red Jersey group. Roche - who crash - and Henao are hanging onto the back while

Froome

is able to bridge over to the lead group.
Dumoulin attacks. He attacks again. He has a gap

.

Froome

leads a

furious chase

up the steep hard climb, with

Rodriguez

and

Majka

They close on Dumoulin.

Rodriguez attacks, Froome on his wheel. Froome goes solo

.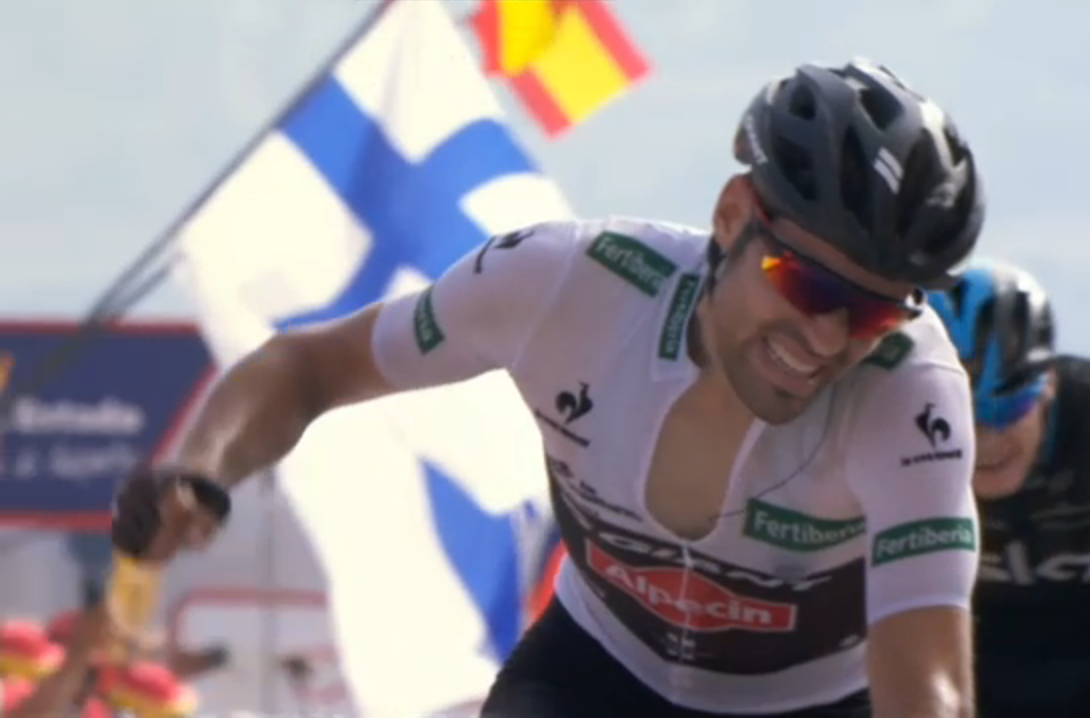 But from behind an

incredible Tom Dumoulin

comes back, passes Rodriguez, passes Froome in the true last meters and

wins. Stage and jersey.


Tom Dumoulin:

"Unbelievable. I could have never imagined this. Yesterday, I had a really bad day. The team told me just to keep going and see how it goes, and today it ended pretty well…

I'm really happy with the first week and my form, as I didn't know exactly what to expect at this Vuelta. I'm proud to be back in the leader's jersey now, and I will see day by day how it goes from here. We are not on the big climbs yet, but my climbing is improving and I'm climbing well."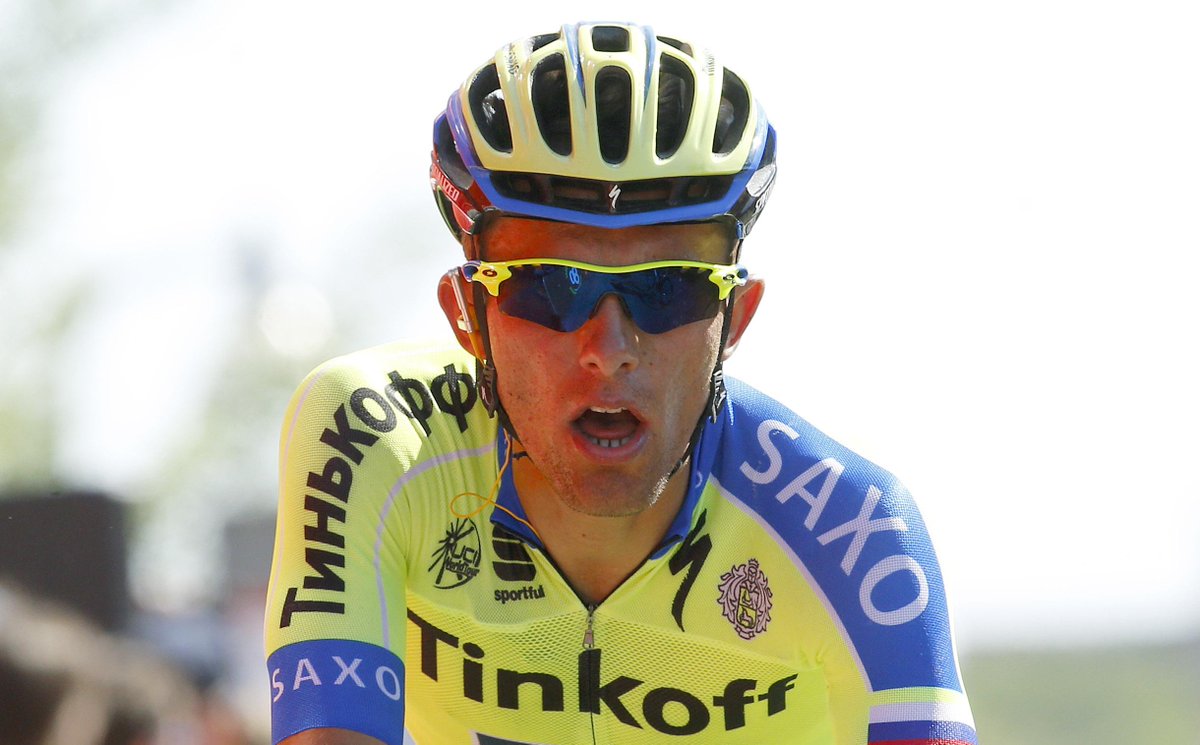 Rafal Majka:
"Today I didn't feel so good and I tried to attack in the finale to gain some meters before the finish. But when the climb is this steep, every hundred meters feels very long but still it's not bad at the end and I finished fifth and move into the top ten in the general classification. We wait for Andorra and the last week, we still have many mountains with longer climbs, which are more different. I'm satisfied with this first week and my teammates have worked for me perfectly.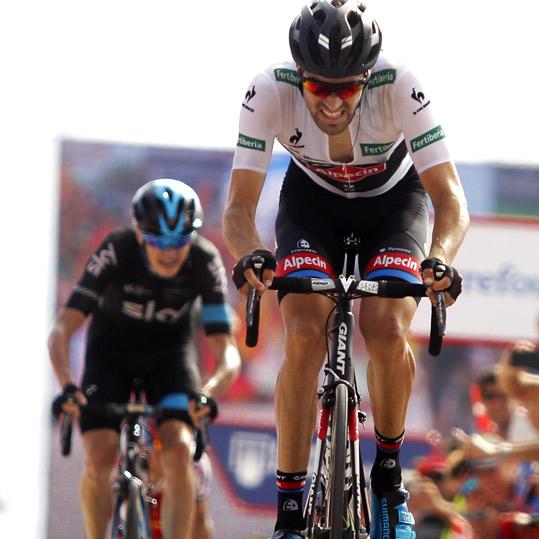 But we have to wait, we also have the long time trial and we have some big favorites here but I'm still there and today I tried. I had an advantage with 700 meters to go but I didn't believe that I would take the win. I told my teammates that I was suffering a bit today and they worked to position me at the front before the final climb. Everybody has bad days and I think I had mine today. It wasn't the same legs as two-three days ago but we have many days to go".
Chris Froome:
"I'm gutted. I thought I had it for a second there. But Dumoulin has shown incredible form in this race and hats off to him. He's a young rider with a bright future ahead of him.
The guys did a fantastic job for me today keeping myself, Nicolas Roche, Mikel Nieve and Sergio Henao - the four climbers - at the front of the race, and bringing us into the climb in a perfect position. So we've got them to thank today for all the hard work they did.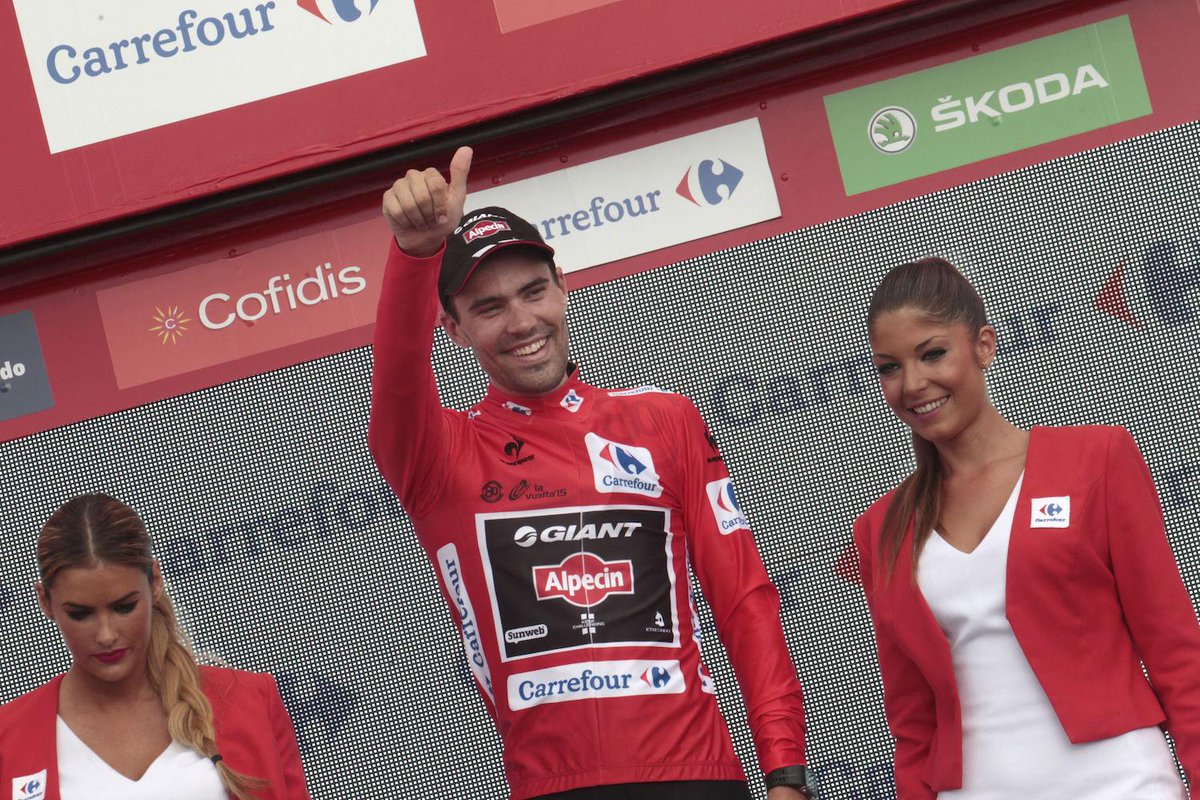 I gave it everything. I did try and ride more conservatively at the bottom to try and save something for an effort at the top if I had the legs. More than anything I'm just happy that I was up there and didn't lose too much time today."
Maarten Tjallingii:
"It was clear that I was going to have a hard time on the climb, so I decided to attack just before the intermediate sprint with 13 kilometres to go. I thought, that way I'll at least win that sprint. With a small lead, you never know what can happen on a final climb like today's. It also provides some extra morale. The climb turned out to be even steeper than indicated in the road book. That is often the case in Spain. All in all, it nevertheless was a nice day. Showing yourself in a grand tour always creates a kind of satisfaction. Hopefully, it's three times lucky for me as well, just as for Bert-Jan Lindeman."

RESULTS
STAGE
1 Dumoulin
2 Froome +2
3 Rodriguez +5
4 Aru +16
5 Majka +18
6 Quintana +20
7 Valverde +20
8 Roche +31
9 Pozzovivo +33
1 Dumoulin
2 Rodriguez +57
3 Chaves +59
4 Roche +1:07
5 Valverde +1:09
6 Aru +1:13
7 Quintana +1:17
8 Froome +1:18