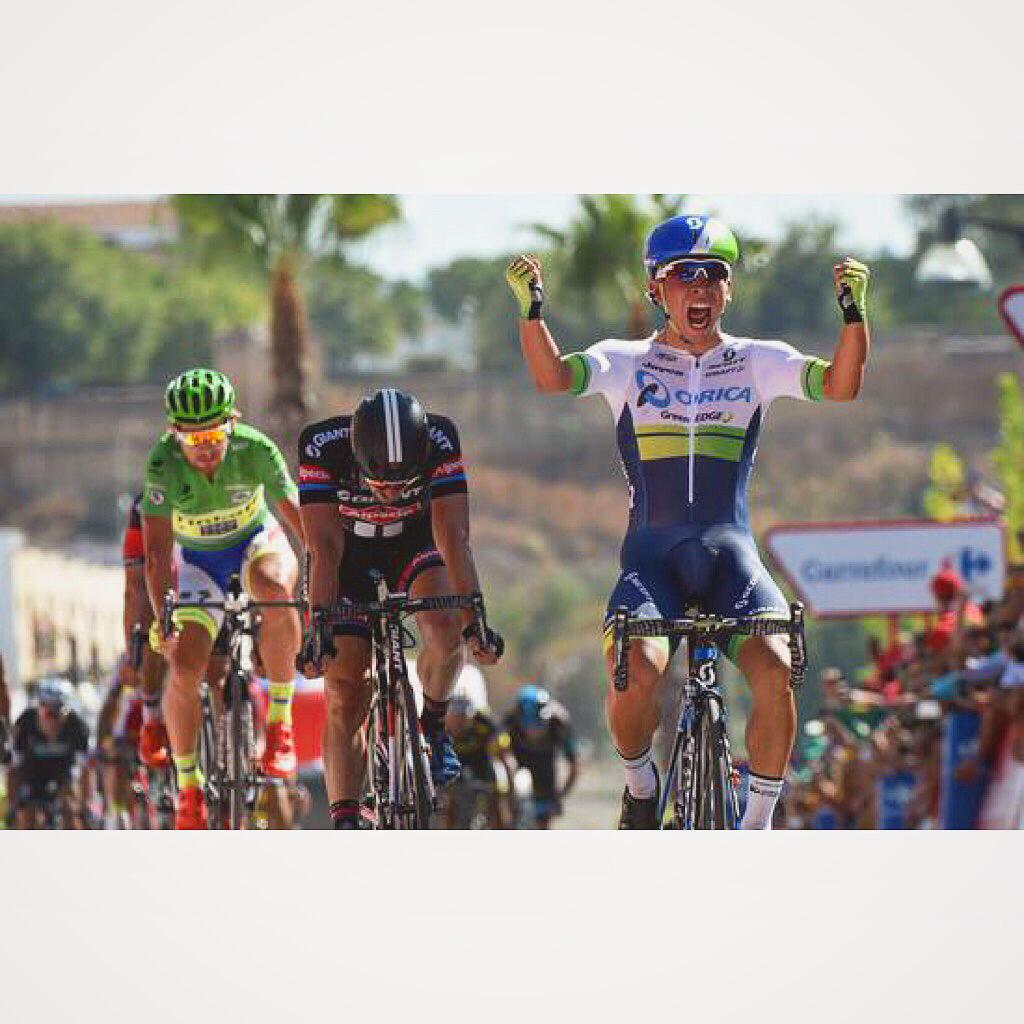 Hey hey hey! I go abroad five days and you manage to

mess it up

that way?!
First of all...

the first stage

of course: neutralised because

the ttt was supposed to run... well... on the beach!

I mean, had anybody noticed it? Anyway the gc guys rode it cautiously waiting for the mountains.
Then BOOM!

two young talents gave GE two big big victories and the leader jersey:

Esteban Chaves and Caleb Ewan

put their name just atop.
Then another BOOM! better a

BUMP! a big big crash

involving almost everybody with riders badly injuried - see poor Tiralongo - and

a complete chaos.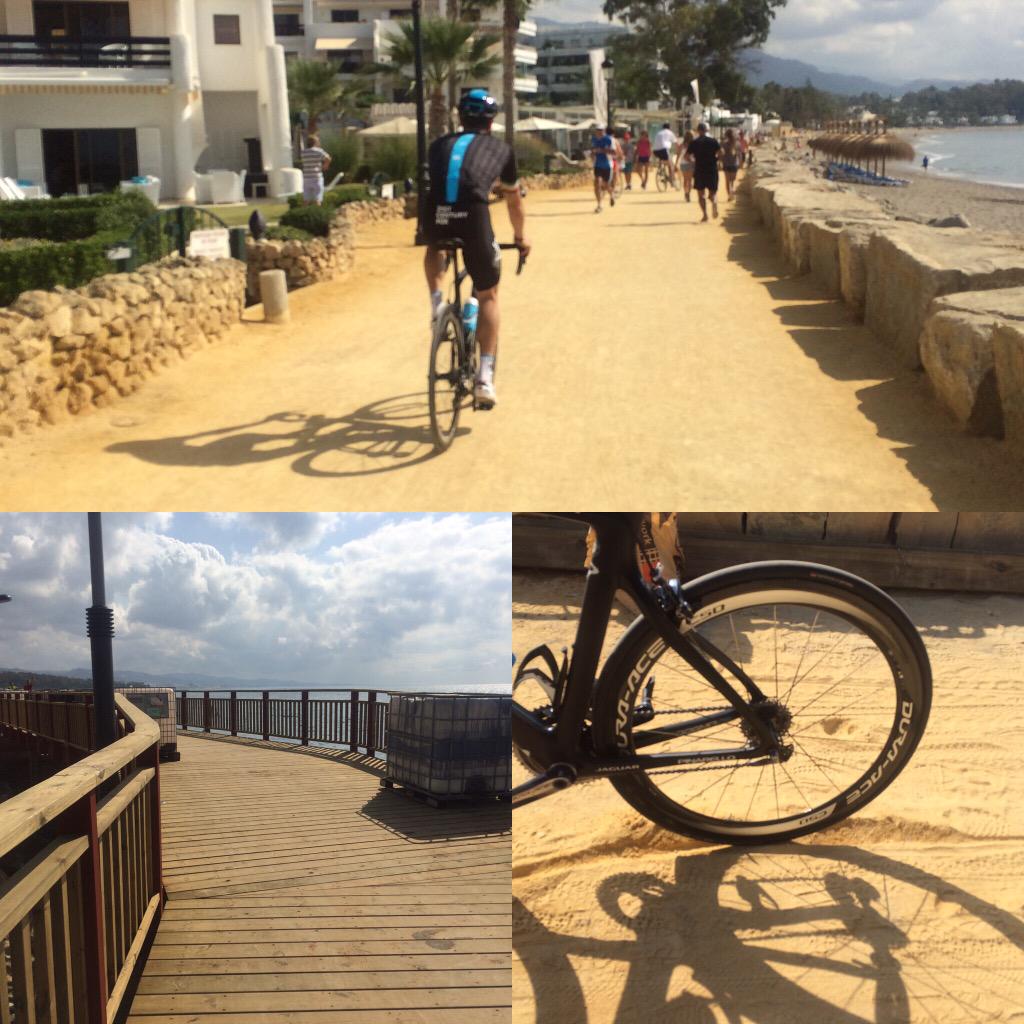 Now we know how those things go.

We are all perfectly aware that in such circumstances riders tend to use all ways to come quickly back to the front

, especially when they are fighting for a result.

BUT the rule is that they can't use any way

, they can't get on the team car nor hanging on it.

Still they do it - c'mon we know they do

- but they avoid to do it openly, they avoid to do it in front of tv cameras. There are pictures of riders doing that on the Stelvio during the Giro etc etc. Yes, they do.
When a rider is caught doing things like that the Jury has no option really: the rider is out

. No discussion.

Vincenzo Nibali

has been caught and consequently thrown out the race.
His 'apology'

sounds to me a little like Pantani's: "Everybody do it". Of course a lift has nothing to do with doping but the fact others do something that is formally forbiden can't allow anybody to expect indulgence.
Is this a wrong, unfair rule? I don't think so. If you think it's wrong, you should talk openly against it. But how could you?

Maybe the UCI should decide that after a big crash the race is always neutralised and riders allowed to regroup.
So far this bad story tells more about

Nibali's mental and physical condition

than about cycling rules. He wants to honour his

contract with Astana

for 2016 - the opposite would be quite expensive for him - but

it's going to be very very stressful.
Esteban Chaves:
"It's an amazing feeling. I want to say thanks to all of my teammates, all the staff, this is unbelievable. It's really important. It's the most important victory of my life. The first road stage of the Vuelta and to take the red jersey… it's unbelievable. The team have all the confidence in me and they did the best today. Thank you mates!"
"This is by far the happiest day in my career. To beat some of the best sprinters in the world, especially guys like Sagan and Degenkolb on an uphill finish, it really means a lot to me. It's an honour to race with those guys and to beat them is just unreal for me. It was a super tough finish, but my teammates did an awesome job of getting me to the bottom in front position. I even had time to stop back a few spots and that always makes it easier than trying to move up. If it wasn't for them, there is no way I could have won today."
Peter Sagan:
"I'm very happy for this victory because I think it's good for the entire team. This is a good start to the Vuelta a España. And finally I had a victory! I'm always trying to get the win and someday it has to come. And it did today, also thanks to my teammates, who were pulling all day and I'm very grateful for their effort. I've had many second places but you cannot always finish second. So today I finished first. That's how cycling is, sometimes you're up and sometimes you're down. I was searching for a victory during the Tour and now it has come.
My team spent a lot of energy, mostly in the last 20km, where we had headwind and we wanted to catch the breakaway. Bennati crashed in the descent so he couldn't be there with me in the final kilometers. Today was also a day for Degenkolb and Bouhanni but their teams didn't work at the front before the last three kilometers and I decided to take Degenkolb's wheel, which was the right decision.
I'm here at the Vuelta to do the best for my team and to get race kilometers into the legs before the World Championships. It's good to know already that I have some speed in the legs and then we'll see how it goes. The Vuelta is very hard but this is a good start for me and my teammates."
After his 2nd on place.
"It was a very hard day, in which I spent a lot of time at the front of the group. I approached Valverde to ask him whether Movistar could help us but they didn't seem very interested.
The last climb was very hard, it was 300 meters up, then a little bit down and then again up. I think I can also be satisfied with he second place as it was extremely hard. I had spent a tremendous amount of energy at the front and in the final stretch I went behind the wheel of Valverde. The last climb, about 400 meters, was horrible for me. I honestly thought that was the end for me. However, when I saw all the climbers passing me, I said to myself I should make a last effort, squeeze out all my forces and push. I stayed behind Valverde but my legs weren't there, so I finished behind him.
The stage was tough and if I knew beforehand the finish would be so hard, I wouldn't have tried. Still, I think second place in such a stage is good", underlines Sagan who now leads the points classification by 10 points.
Vincenzo Nibali:
"Per quello che é successo oggi chiedo veramente a tutti le scuse pubbliche, per chiunque sia indignato o vergognato per me!! Molti di voi non hanno mai corso in bici , altri sono grandi tifosi altri pura passione, ed altri ancora si sono avvicinati negli ultimi anni!! La bici il ciclismo è passione, amore , giornate lontano dalla famiglia con allenamenti estenuanti, sacrifici troppi che iniziano già all'età di 16 anni circa!! Quello che è successo oggi alla Vuelta succede in ogni gara ciò non deve dimostrare che non è sbagliato e devo restare impunito!!! La giusta punizione da scontare la dettano i giudici. Un anno andato male per mille motivi arrivo alla Vuelta con la voglia di riscatto da una stagione infame, mi ritrovo alla prima tappa scusando l'espressione con il culo per terra , ti rialzi aiutato da un compagno sperando di non esserti fatto male,ti guardi le ferite lasciate addosso dall'asfalto rovente e cerchi la tua bici che andata distrutta , panico e caos nel gruppo, tardo a partire ...tanto... Troppo al punto che quando risalgo sulla mia bici ho un ritardo di 1:20 , mi fiondo all'inseguimento senza paura, senza acqua da solo, piano piano guadagno terreno e trovo i miei compagni che mi aspettano lunga la strada , a testa che pensa che devo andare e devo rimanere davanti in corsa per quelle persone che mi guardano, per quelle che mi amano, per mia moglie, mia figlia e per quelli che si staranno domandando come sto , vado avanti per far vedere che non mi sono fatto niente , fino a quello sbaglio che mi costa caro una trainata di 150 metri di cui molti sono pronti a gettare del fango , (è rientrato per che si è attaccato)nessuno sottolinea che è caduto è stato attaccato, è da solo all'inseguimento contro 18 corridori che spingono a tutta davanti!! no signori nel ciclismo la corsa è corsa nessuno ti aspetta!! Nel ciclismo episodi come questi ce ne sono molti a maggior ragione dopo una caduta!! Alla fine tutto avrei pensato una multa salata da pagare ed una penalizzazione come si usa fare per restare fuori classifica!!! Avrei accettato anche una penalità di dieci minuti!! Dopo tutto IO non sarò il primo ne l'ultimo di questa vicenda. Mi scuso ancora per avervi rubato del tempo e grazie del sostegno o meno che mi date !! Buona serata a presto ! Vince"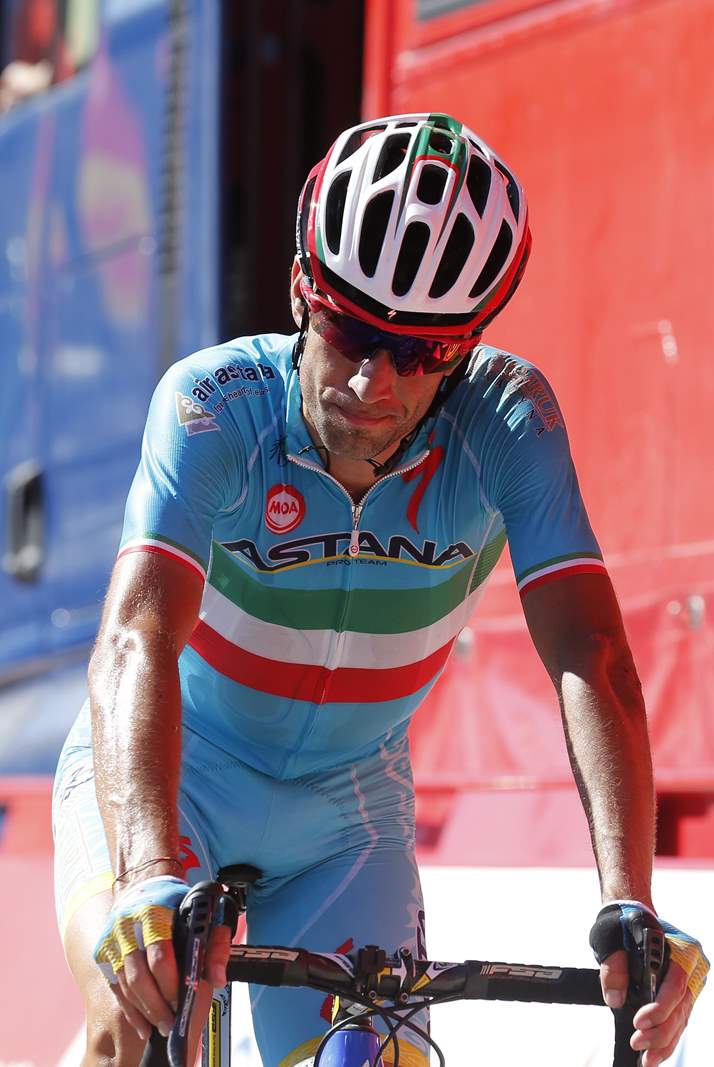 [NdT: I keep it as it is, a little uncorrect."For what has happened today I really want to apologise with all those watching, for anyone who is angry or ashamed for me !! Many of you have never ridden a bike, others are big fans for pure passion, and others have approached cycling in the last years !! Cycling is passion, love, days away from family with grueling training, too many sacrifices starting at the age of about 16 years !! What happened today in the Vuelta happens in every race, this should not prove that it is wrong and I have to go unpunished !!! The Jury decides the fair punishment to be served. This year has been wrong for many reasons, I started the Vuelta with a desire of redemption from an infamous season, I find myself in the first stage - excuse my French - with the butt on the ground, you get up again helped by a mate hoping to not look hurt, you look at your wounds, left by the hot asphalt, and for your bike that's broken, panic and chaos in the peloton, starting again takes a long while... Too much ... to the point that when I go back on my bike I have a delay of 1:20, I chase without fear, without water, only slowly I gain ground and find my mates waiting for me a long way, my head thinking that I have to go and I have to stay ahead in the race for those people looking at me, for those who love me, for my wife, my daughter and for those who are wondering how I am, I go on to show that I do not have anything broken, untill that mistake that costs me so much: a lift 150 meters long about which many are quick to throw mud, (he came back because he was hanging on the car) nobody stresses the fact he fell, he has been attacked, he's all alone chasing against 18 riders who are pushing in front !! there are no gentlemen in a cycling race, nobody is waiting !! In cycling there are many episodes like these and many more so after a crash!! In the end all I would have thought to pay was a hefty fine and a penalty as they do to keep off the gc!!! I wuld have also accepted a penalty of ten minutes !! After all I will not be the first nor the last of this story. I apologise again for having stolen some time and thank you for the support or not you give me !! Good evening See you soon! Vince
]
RESULTS
22.08 Stage 1 (TTT) - Puerto Banús › Marbella BMC Racing Team VELITS Peter 7.4
23.08 Stage 2 - Alhaurín de la Torre › Caminito del Rey CHAVES Johan Esteban CHAVES Johan Esteban 158.7
24.08 Stage 3 - Mijas › Málaga SAGAN Peter CHAVES Johan Esteban 158.4"
25.08 Stage 4 - Estepona › Vejer de la Frontera VALVERDE Alejandro CHAVES Johan Esteban 209.6
26.08 Stage 5 - Rota › Alcalá de Guadaíra EWAN Caleb DUMOULIN Tom 167.3