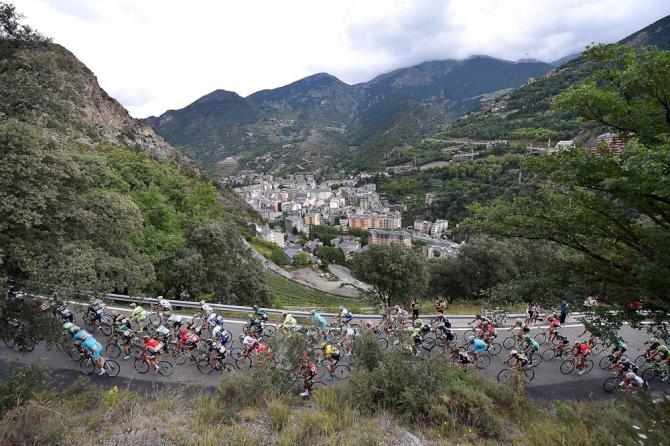 Today everybody is tired, exhausted, empty.

But sprinters know it's one of the few chances they have in this race so yesterday they tried to save some energy, to manage the effort. One especially who starts as

the stage favourite: Danny Van Poppel.
It's a quiet day, just one climb,
blue and white rocky slopes, fields to cross, yellow and burnt brown. Busches and trees of a tender green. Profiles drawn by a fine painter, essetial beauty.
A break: Bouet, Rubiano, Lindeman, Venter and Gougeard.

They couldn't get more than 5' and approaching the finish the gap is down to 2'.

Rubiano is first at the intermediat sprint

, then attacks take the place of collaboration and the peloton comes close.
Sprinters prepare,

trains are launched. DAMN! Not now!

6 km to go a puncure stops Danny Van Poppel! He fights to come back, he's in the cars, he gets the tail of the bunch... but still... it's too late!

You can feel his heart pumping and beating. Too many thoughts in his mind and no idea. Just pushing pushing pushing.

A long sprint from the end of the race to the finish line.

Overtaking everybody. Winning like breathing a long deep breath.
Danny Van Poppel:
"This was my first chance in this Vuelta. I missed the opportunities in the first week because I was not feeling good and struggled with the heat, and I was a little bit angry that I missed those chances. I knew that today was another chance, and I needed to take responsibility, and we as a team did it – it was a great job together!
I felt really strong and then I know it's hard to beat me on a little bit of an uphill. Especially also the guys - when I see the team pulling for me all day that really motivates me; it was really special.
I was not sure at first if I had a puncture, but then I noticed I had a slow leak in the front tire and at first I thought maybe I could continue like that. Then I knew I had to change it, and it was a quick change and I came back behind the cars really quick. Markel and Riccardo had stopped pulling at the front and then Fränk and Popo [Popovych] helped me get back to the front. Popo did a great job, he put me in a really good position right in the wheel of [John] Degenkolb. It was a strange finish, a bit chaotic I think because there were a few attacks.
Degenkolb took the wrong side of the road and I needed to go really early because I was a little bit in the back. So I went full gas and I felt I had a lot of power in the legs and I came really easy over the guys and I won. I am really happy!
I was a little stressed when I had the puncture because it was not far from the finish. But the change was really quick and I know that I am feeling really strong and Josu [Larrazabal, director] and Dirk told me not to panic and be smart in coming back. By the time the team brought me back to the front, the finale started immediately. It was perfect timing.
This is a big win for me - this is WorldTour level, which makes it really important and I did it today – yeah, I am really happy."
Tosh Van der Sande:
"I think I can be happy. I can't make it in a real bunch sprint, so a third place is good. It was an advantage for me that the last 700 metres were uphill. Because Bouhanni, Pelucchi, Ewan and Sagan already left the Vuelta, many riders can get a top result, that makes it even more chaotic. Jelle, Adam and Jasper led me to the front but you always need some luck as well. In the rest of the Vuelta there will be some more opportunities and then we'll go for it again. In the first twelve stages I finished in top ten five times, that proves my condition is good."
Bert-Jan Lindeman:
"We were very active with the team in the beginning of the stage. We were attacking one by one to get into the break. When it was my turn, I got in the right move. I didn't really have a great day, however. Of course, I had a plan for the final kilometres, but the legs couldn't carry it out. I wanted to fight for a second victory today. Having won already is nice, but once you're on your bike, you just want to win as badly as ever."
Maxime Bouet:
"This morning we decided before the stage that we would again enter in the breakaway. Only Nikolas Maes would wait in preparation of a potential sprint, and of course Gianluca Brambilla would conserve his energy, as he was 13th in the overall classification. Between 10 and 15 kilometers into the stage I encouraged the formation of the breakaway, which was five riders. We went away, but we never had more than five minutes of an advantage, as Astana was pulling at the front of the peloton. They didn't give us much room. In the final, the teams who wanted a sprint moved to the front. But we worked well together in the breakaway. In the last 30 kilometers we really went full gas. When they told us at about 18 kilometers to go that we still had two minutes, I started to believe in it, and how I would play the final. I was for sure one of the fastest guys in the group, but I was a little afraid of Bart-Jan Lindeman, who is in great shape. When Alexis Gougeard attacked I followed him, I knew he was a dangerous guy in a final like that. Then, in the last kilomer, when Venter attacked I let him go a little bit and used him as a point of reference. I caught him and tried to go to the finish in front. I tried to not look back, I had a feeling the peloton was catching us, but I gave everything. In the final few hundred meters or so they caught me. Unfortunately I was a few hundred meters short today. I was a little disappointed because we are putting a lot of effort into this Vuelta to always be a protagonist. We probably deserve a nice result after almost two weeks of fighting. Personally I think I am finding the level I was supposed to have. After Paris-Nice the season was always up-and-down, with small problems. But in the last weeks I felt better. I built a good base before coming here. I'm 23rd in the classification, and I am still entering breakaways, so this means my level is good at this moment. I am the kind of guy who likes to try and attack. However, today it hurts a little bit when it doesn't work out. Let's see what the next stages can bring. The fight is not over. I feel good, so why not? We will try again. We always have a plan every day to try and go into the breakaway and go for good results, while also protecting the placement of Brambilla. We have a good atmosphere in the team, from the riders to the staff. I really hope that we can go for a victory as a team. This is the third time we got the red number. I think from tomorrow on, one of the guys can make it."
RESULTS
STAGE
1 D Van Poppel
2 Impey
3 Van der Sande
4 Maes
5 Degenkolb
6 Drucker
7 Van Asbroeck
8 Sbaragli
9 Rojas
10 Duque
GC doesn't change