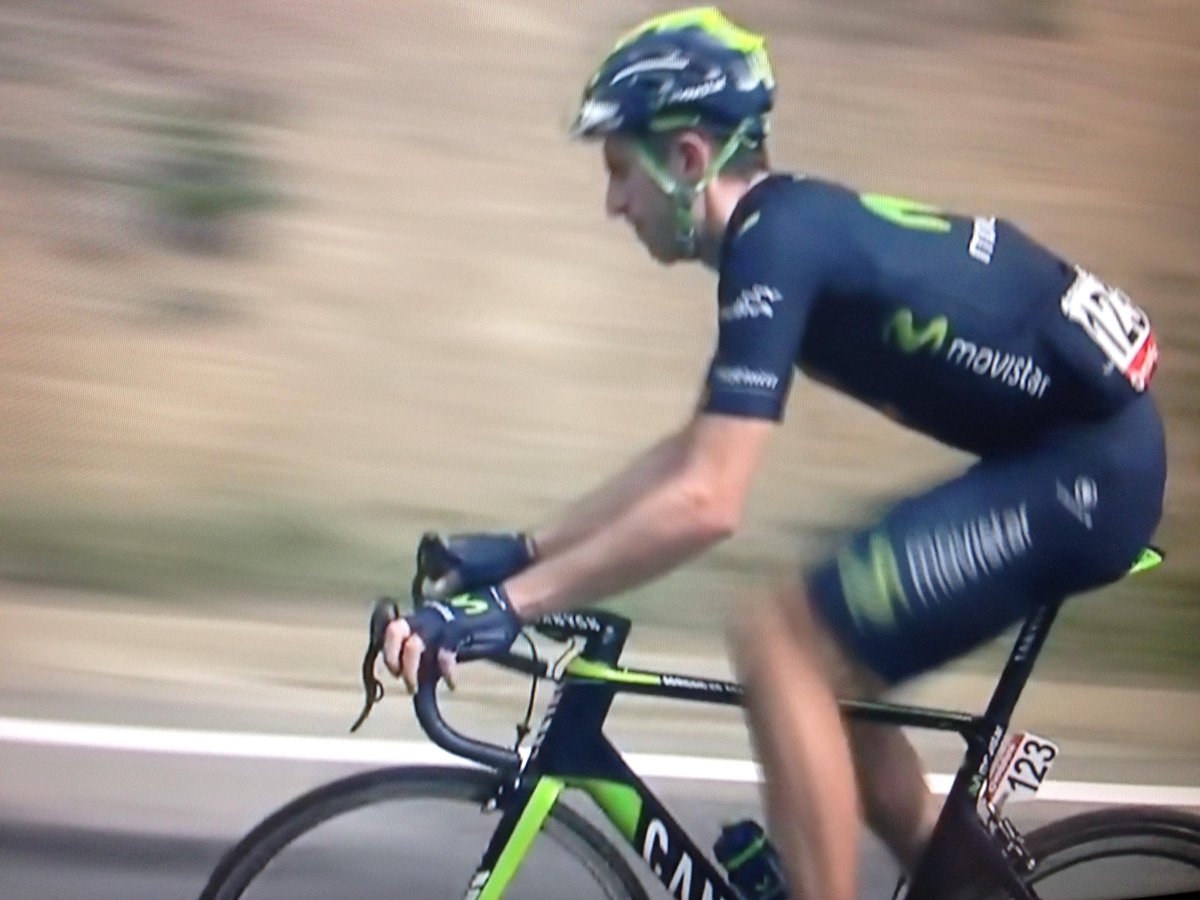 Erviti attacks
Green Andorra, soft forest on the slopes of hard mountains.

The road is like a ribbon in soft gren hair.
Collada de Beixalis. Chris

Froome crashes

and Team Sky stops to bring him back.
Five riders attacks, seven riders are chasing.

The peloton is in pieces.

A front group forms including Oliveira, Atapuma, Montaguti, Moreno, Sicard, Fraile, Poljanski, Losada, Landa, Howson, Coppel, Lemoine, Erviti, Verona, Plaza and Ian Boswell.

Fraile

takes the intermediate sprint points.
Meanwhile

Froome is back

to the main peloton.

Coll d'Ordino

- 9.9 km 7%. Bennet, Goncalves and Cherel join. Gap is 1'28''. Ruben

Plaza

edges Omar Fraile at the KOM and they fly down the descent.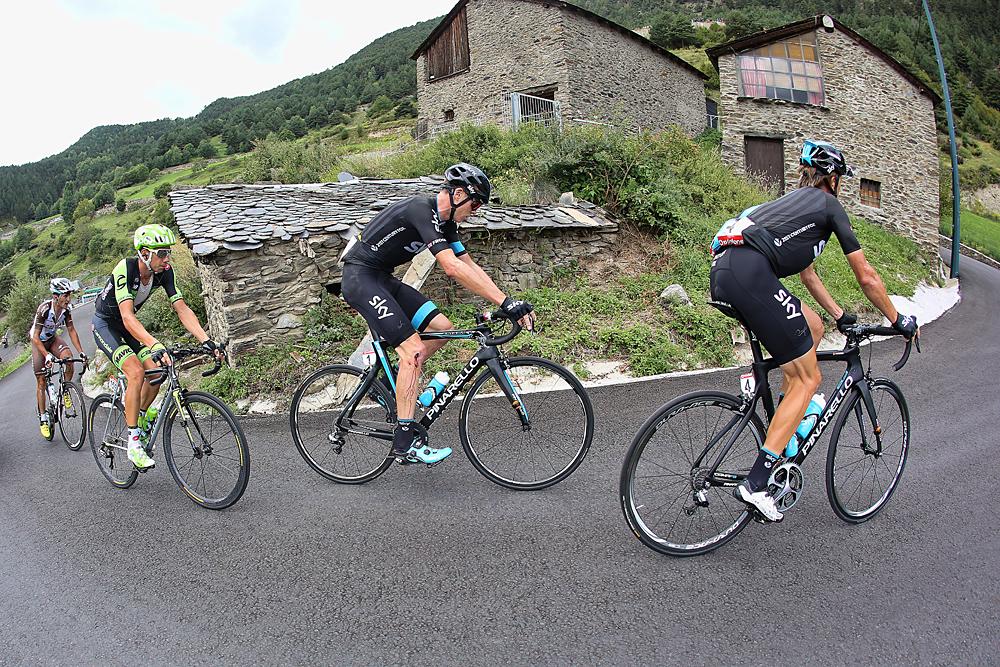 Froome dropped

Coll de la Rabassa

- 13,8km/6,6% -

Erviti

attacked from the break and is

solo

40" ahead. The peloton is more than 4' behind, led by

a determined Team Sky

. Lots of bad luck for the British team... Then Team Movistar comes.
70 km to go Landa, Oliveira and Bennett

get off the front group and try to

bridge to Erviti.

He's already atop.

Descent

. Many riders put the jaket on: high mountain so cold.

Some gray clouds in the sky, near the peaks.

The chase is successful and 57 km to go Erviti is caught.
Collada de la Gallina

: 11,7/85, %. 50 km to go. That hurts and

many riders are dropped. The break splits

: Boswell, Coppel, Sicard, Atapuma and Poljanski have 28" on the chasers and 5'04" on the peloton.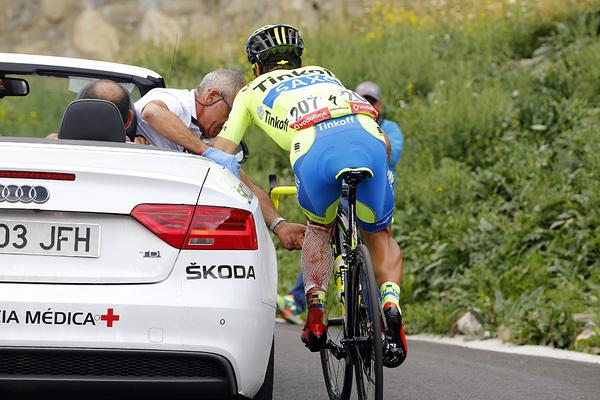 Poor Paulinho

Villages hanging on the rock like natural concrections

. Team Sky keeps pulling the peloton, mostly by Christian

Knees who finaly moves sending kisses to the camera

. 44 km to go it starts raining.

Landa goes solo.

Behind

Froome can't keep the wheels

. Team Astana is setting a fast pace in front and Landa is back with the break.
Note that

Tom Dumoulin is still up there

.

Froome

instead is 2' behind

at the medical car.

In front

Fraile

conquers also this

KOM

.

Valverde

rocks this descent and manages to join the first chasing group, with Rodriguez and Moreno

.

Dumoulin is slightly distanced in a group at 3'53, Froome dropped at more than 6'.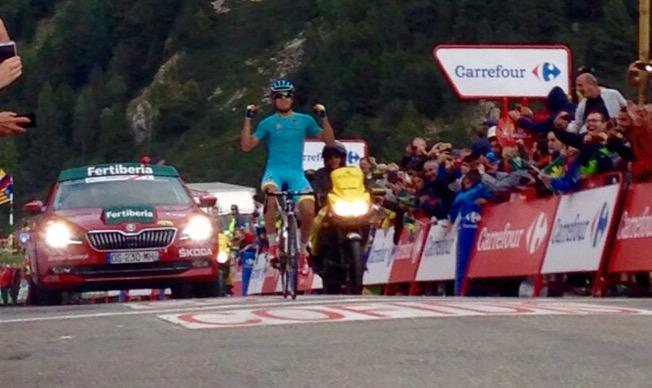 Landa wins

Alto de la Comella

, The group with Doumulin joins the group with Varverde. Incredible but true:

a tv motorbike hit Tinkoff rider Paulinho!

Heading to the

last climb

of the day.

Landa has got a gap.

8 km to go

Aru attacks.

Rodriguez and Moreno

go on counter.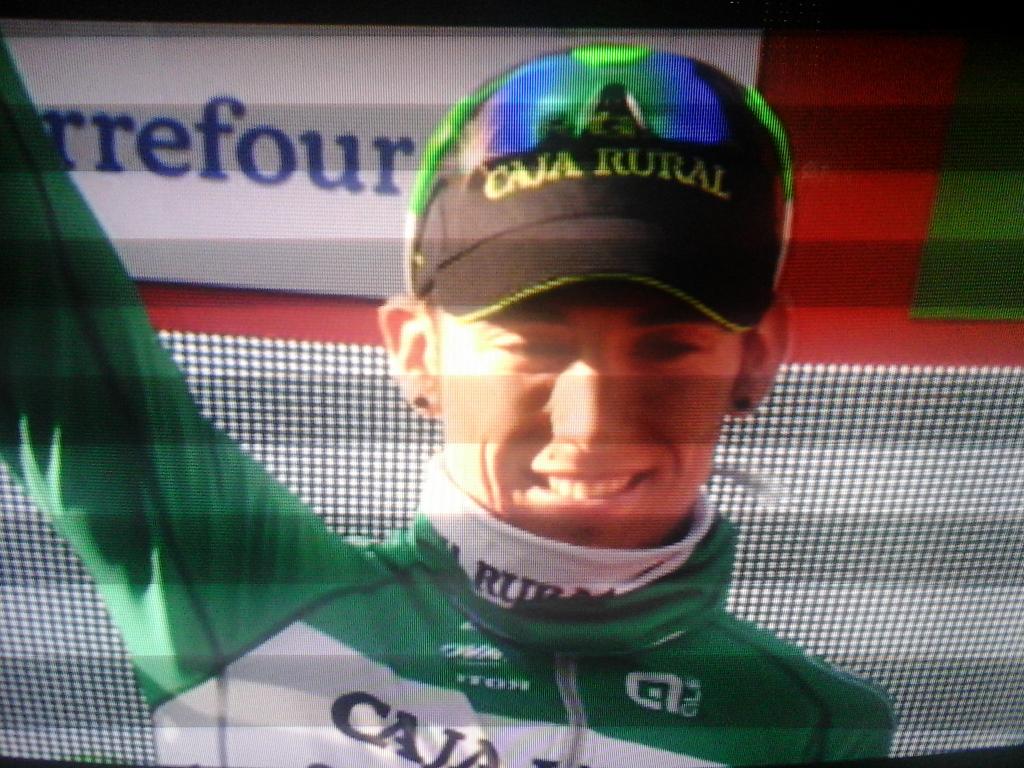 Fraile in Green

5 km to go

Aru attacks again

and this time nobody can stop him. He gets a gap, catches Oliveira., keeps going.

Rodriguez remains on Moreno's wheel

. Behind

Dumoulin is reacting

while Quintana and Valverde are both dropped.

Chaves and Nieve hang on

.
In front

Ian Boswell is trying to stay on the wheel of Aru

who just passed him: what a rider and what a ride!

The Bos! Last km for Landa and a well deserved win, the Aru comes, solo, and solo an oustanding Boswell.

Fabio Aru is the new race leader but Dumoulin didn't sink. Bravo!
Mikel Landa:

"I took it [my freedom].

I decided to go for it. I needed a win so I took my day. I had this day marked down as possible, that's why I was looking for the break.

Three days ago, I lost all options overall, I needed this. The difference was today I enjoyed riding my bike.

The last part of the climb was very hard, but I'm very happy," said Landa, who completed the stage 1:22 ahead of teammate Aru. "When it got to five kilometres to go, I thought I could make it. But the last three kilometres were the toughest of my career.

Astana were driving hard, and I didn't want such a small advantage.

I hope he can keep the lead all the way to the finish."


Ian Boswell:

"I'm happy with my day but getting back onto the bus it's mixed emotions with Froome and Nico (Roche) losing a bit of time. Our goal today was to see how it played out. On that first climb it was pretty full-on and a group went with quite a few riders we were trying to mark. I just happened to be up there and was able to follow it. From there the gap just went.

I guess my day was quite different to the rest of the boys as I had (Team Sky Sports Director) Gabba (Rasch) with me up there, talking me through it and remind me to eat and drink - all the basic things. I guess it's still a nice ride. I'm still learning a lot with every breakaway I get into. It's all experience. And really happy with it but at the same time I learned a lot today about ways I could improve in the future.

That's something I wasn't really sure about. I got to the bottom [of the final climb] and (Sports Director) Dario (Cioni) came up to me and said 'two minutes - race for the stage'. I didn't really expect us to actually stay away, probably until Aru came up to me and then I thought if I could stay with him for a bit I could hang on for a top three. It was a bit surprising in the end - you don't necessarily anticipate that early on. The breakaway won and that doesn't happen very often."
Fabio Aru:
"The team was incredible today. This morning we agreed that Landa would go for the stage and he managed to get into the right break and went on to win what was a really difficult stage.
I've got to thank the whole team who worked for me. Vanotti, Rosa, Cataldo, Zeits and Luis Leon all did some incredible work for me. It was a real demonstration of strength and I'm really happy to be in the leader's jersey. There's still 10 stages to go and so we'll take things day by day but we'll try to defend it."
Tom Dumoulin:
"I suffered. I spent too much energy on the downhill of the 4th climb because I was putting my rain jacket on. I lost some positions and I was behind a gap in front of me, and I couldn't close it. That was really a mistake, I lost some energy there and that was not necessary.
But I think I did well, I lost the jersey but I think that's normal on a day like this. I didn't really surprise myself like with that win [on stage 9]. I think in the Tour de Suisse for example I could also do something like this. But still I'm happy with my shape and my position in GC.
That [the time trial on stage 17] is still my biggest chance of a second victory here. And also a possibility if I'm still in GC to take some time back on the important contenders. But first we're getting some more mountain stage this week so I still have survive those then we'll see after the rest day.
Geraint Thomas:
"Froome obviously had a heavy crash, he said his foot was quite bad, but he said his legs were ok.
On that special category climb he was starting to suffer when Astana really lit it up. He got dropped then, I was about to get dropped myself anyway so I sat up waited for him. He seemed to come round on the last climb but we just had to keep going. Froomey always keeps fighting.
I think he was certainly suffering, certainly in pain. But that's Froomey - he keeps fighting, he doesn't want to give up. He's still in the race, he can still go for stages, but obviously its disappointing to be out of the GC. I think Mikel [Nieve] is still there or thereabouts, but not a good day for Froomey."
Chris Froome:
"Knocked sideways into a barrier stone wall today. Further scans in the morning but start unlikely as I can't walk without crutches."
George Bennett
"It was a very difficult stage. On the first climb I make a tactical error. I jumped too often, and thus missed the right escape. After the descent, I closed gap in the valley to the leading group. That cost a lot of energy. At the foot of the Gallina, I had a bad moment and I was dropped by the breakaway. I was caught by a large group of GC riders, but on the final climb I was completely empty. I am disappointed but also happy with the strength in my legs. I will keep my focus on the right breakaway in the coming days, and then we'll see where this ends."
RESULTS
STAGE
1 Landa
2 Aru +1:22
3 Boswell +1:40
4 Moreno +1:57
5 Rodriguez +1:59
6 Majka +2:10
7 Nieve +2:10
8 Chaves +2:59
9 Dumoulin +2:59
GC
1 Aru
2 Rodriguez +27
3 Dumoulin +30
4 Majka +1:28
5 Chaves +1:29
6 Valverde +1:52
7 Moreno +1:54
8 Nieve +1:58