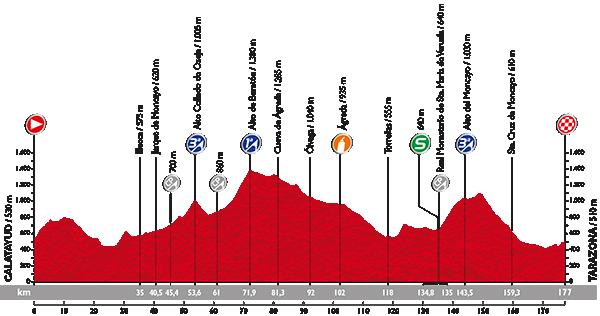 Just and simply flying

from Calatayud to Tarazona, many attacks, no break-away.

Alto Collado de Oseja

(3rd cat, 8.2 km, 3.7%, Alto de Beratón (1st cat, 10.9 km, 4.7%).

Riders try but can't excape.

That makes a very high pace and

Quintana

- amongh others - gets dropped. News comes that he

is sick: fever and stomach ache.

Rubén Plaza

instead was 1st at both the

KOMs.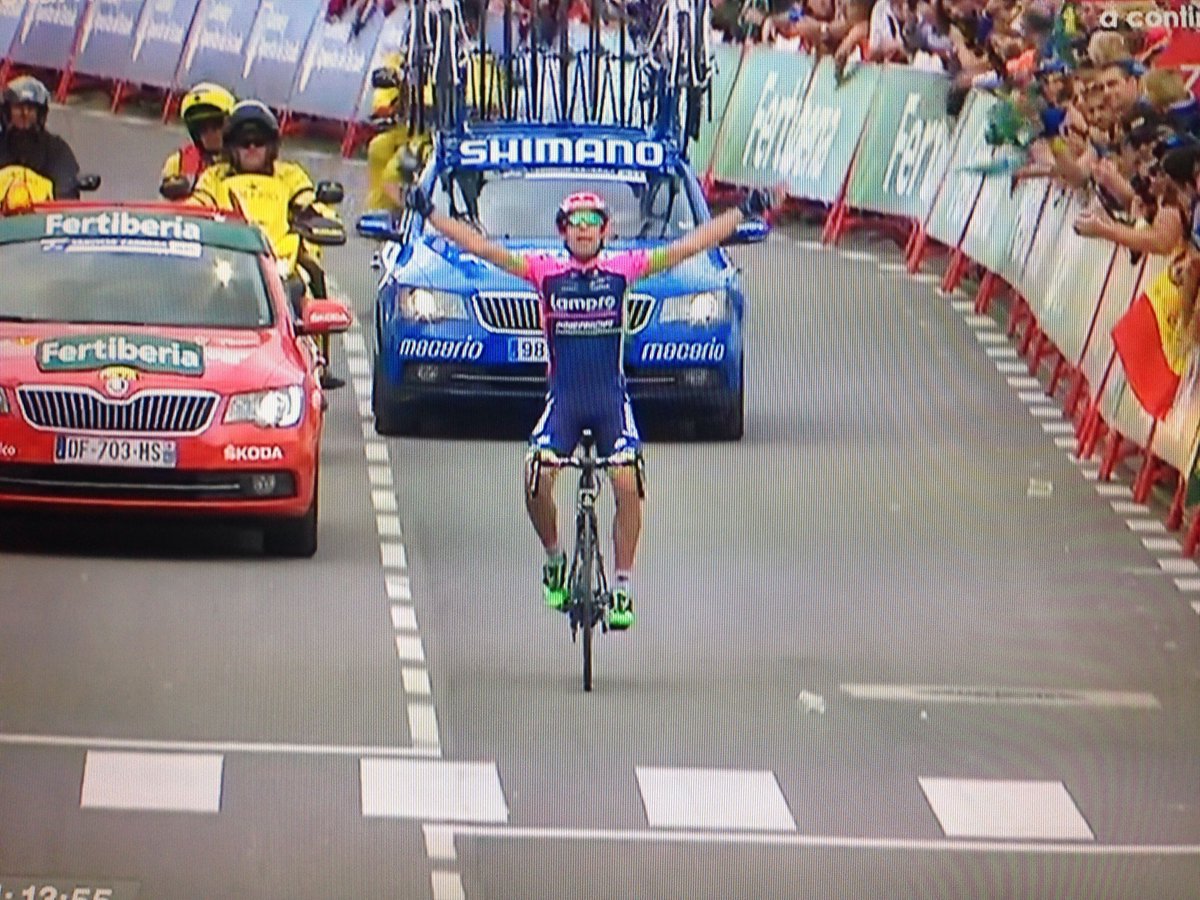 Finally, 70 km to go, a two groups merge in

a large break

, including: Sicard, Brambilla, Elissonde, Roche, Arroyo, Henao, Monfort, Oliveira, Coppel, Chavanel, Poljanski, Simon, Cherel, Plaza, Rojas, Arashiro, Meyer, Nocentini, Cummings, Terpstra, De Marchi, Bagot, Reza and Conti. Their gap remains slight.

It's one of those stages where anything is possible so everybody want to have a go.

It isn't that hard on paper - not even easy - but racing hard makes it harder than some hard stage. Indead Cattaneo and Docker abandon.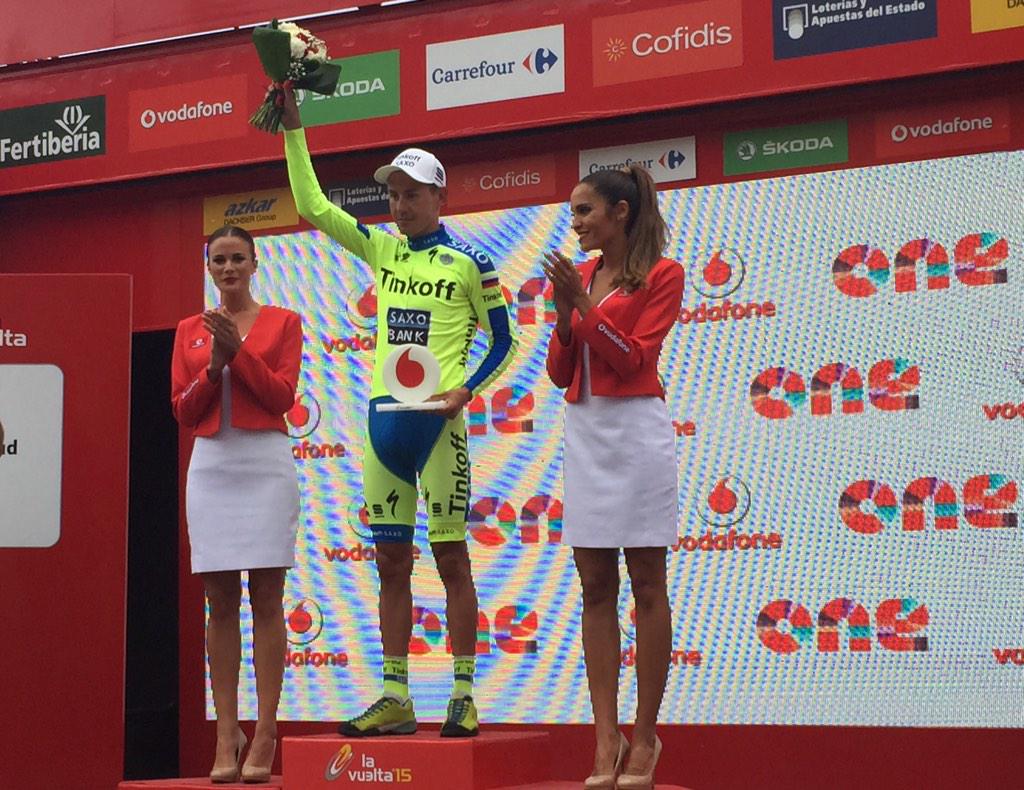 Poljanski most combactive rider

A long descent now

, the break can gain - 77 km to go gap is 4'16" - and the peloton can take a breath a bit. 55km to go break has 4'39".

Brambilla takes the intermediate sprint.

Wide fields, citrus groves.

A bend and up they go on narrower road cutting a dense forest.
38 km to go

Chavanel and Oliveira attacks but gets caught. Poljanski counters

, gets a gap and is first at the

KOM in Alto del Moncayo

(3rd cat, 8.5 km, 4.5%). Astana is pulling, Aru in Red on the wheels of his mates. Then comes Katusha.

It's cold atop. Lost in the forest the race is almost invisible from the sky. And the sky is just a light line above but they are watching down: the road, the garmin, the handlebar.
Descent. Younger sparse trees.

Poljanski is caught, The break has regrouped and now

Oliveira is on the attack.

Chasers are not taking risks. Oliveria is, and 17km to go he has 33" on the first group, 5' on the main peoloton.

Highlands. Tarazona. The man up the road is TT specialist, not easy to catch him.

Gap is 59" with 3.8km to go. 5'11" to the peloton.

To catch him is impossible. Last km. He has won

.
Nelson Oliveira:
"Once I'd got away, I had no idea what the gap was between me and the break behind, so I had to put my head down and hope.
They were the longest 30 kilometres of my career, to be honest I didn't think my move would stick. But [teammates Rubén] Plaza and [Valerio] Conti were in the break with me and they did a great job covering the counter-attacks.
I'd put a cross against this stage when I read the route book and it took some time for the break of the day to get away and form.
Then when I went for it, it was a long way out and it could have been a completely mad attack, but I was finally able to make it work. As my first international win, it's certainly a good one."
Nicolas Roche:
"It was quite a fight to get into the move and the break went after little over an hour of hard riding. I wasn't very active initially as I punctured after about 10 or 15km. It took me quite a long time to get back to the bunch.
Once I got back I'd been fighting for quite a while. Even though I didn't feel quite so fresh at the start of the day I thought it would be good to give the guys a hand and try to get in the break. That's what happened. We were on the long climb and a couple of groups drove along. I followed and all of a sudden we were at the front.
It was difficult for [Oliveira] to stay away with that wind and that many riders chasing behind. Initially the wind was favourable but fair play to him. We did a lot of attacking on the climb and there were four or five of us who were away for quite a bit. We were caught just before the descent. He went alone and opened up the gap. He was extremely strong as there were attacks for a long time.
After putting in that effort on the climb eventually I thought I'd concentrate on sitting back in case everything came back together. At the finish Sergio gave me a hand heading into the finish. I went early in the sprint and it worked out all right."
After a pair of crashes dropped Roche out of an impressive GC position, a strong day out demonstrated the Irishman is recovering well.
Today was much better, especially towards the finish. This morning at the start I really didn't feel that I was pedalling very round. As the stage went on my back started to loosen up. It's been four days now so luckily I seem to have moved on. Yesterday, even though it was a much easier day, I struggled. It was the effects of both going deep the previous day, plus the crash, meant that yesterday was particularly difficult. Today was a bit better."
Maxime Monfort:
"It was war in the beginning of the stage, 150 riders wanted to be in the break. Also we wanted to have a guy in front. It took almost two hours before the big break was formed. This was the toughest start of a stage in this Vuelta so far. Once I was part of the front group, the hardest part was over. There was some time to recover afterwards. At first, I feared the group would be too big, but on the first category climb I noticed everyone did his part of the job and every rider had an interest in staying in front. It wasn't easy as only rider of my team, so I didn't want to miss it if a small group would take off. Oliveira was too strong, we realized quite soon we were riding for the second place. It was a strong effort of him, because we were all chasing hard. It's the first time I'm not riding for a GC in a Grand Tour and that I have a free role, it feels weird. I definitely want to attack again in one of the next stages."
STAGE
1 Oliveira
2 Simon + 1
3 Roche
4 Chavanel
5 Rojas
6 Nocentini
7 Reza
8 Cherel
9 Meyer
10 Monfort.
GC
1 Aru
2 Rodriguez +27
3 Dumoulin +30
4 Majka +1:28
5 Chaves +1:29
6 Valverde +1:52
7 Moreno +1:54
8 Nieve +1:58
9 Brambilla +2:51