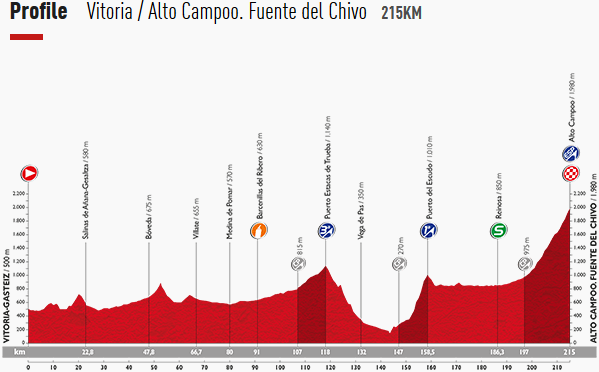 Sometimes there are two races in one race. Sometimes the first one ends and the camera switches to show the second one so the second finisher remains ignored. Sometimes the winner can't have a picture of his victory because he was
just a shadow in the fog.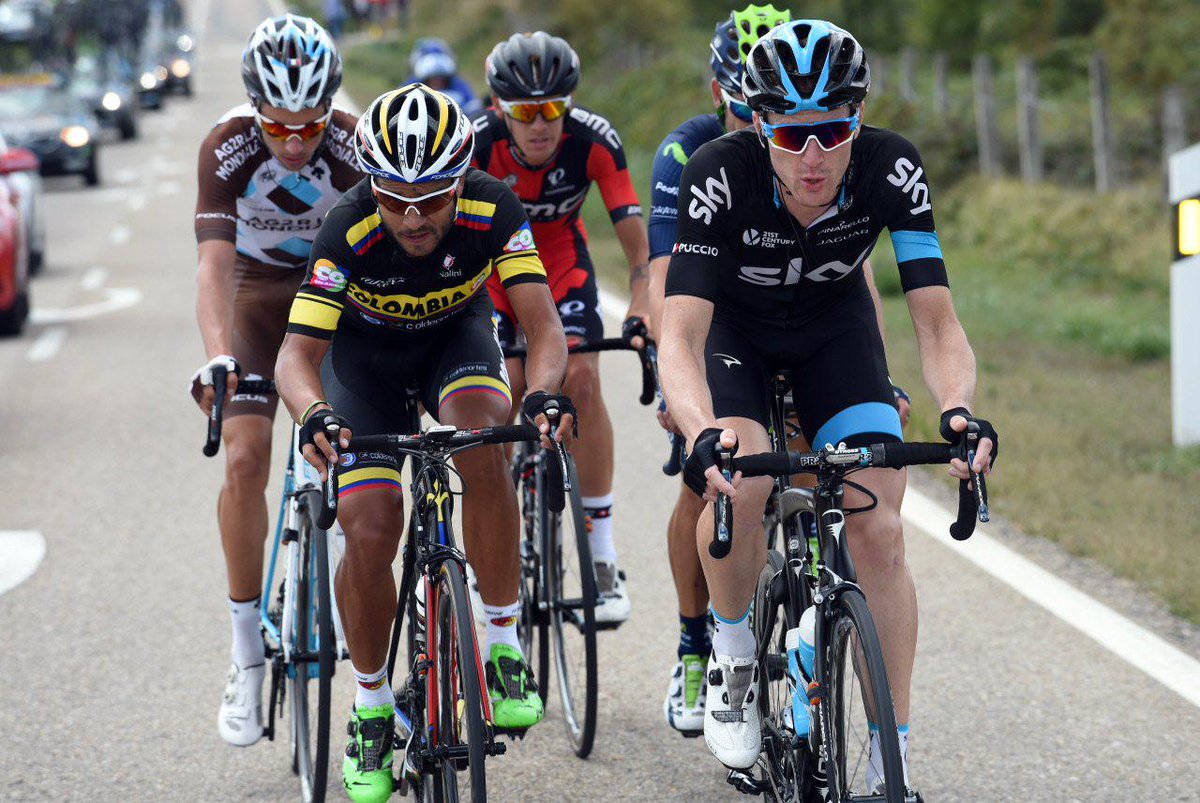 Today

from Vitoria to Fuente del Chivo,

climbing four climbs:

Puerto de Estacas de Trueba

(3rd cat), Puerto del Escudo (11,5k 6,4%)

Alto de Campoo

(18km 5,5%, max 9%) and

the last HC climb,

where the stage finishes and almost the world.
The break-away is classy: Cherel, Rojas, Puccio, De Marchi and Quintero.

Their gap keeps increasing, untill 10'. Team Astana moderately pulls the peloton. It's an high pace in front and a demanding route. After 20 km

Samuel Sanchez abandons, due to a foot finger infection. De Ghendt and Bonet also quit few later.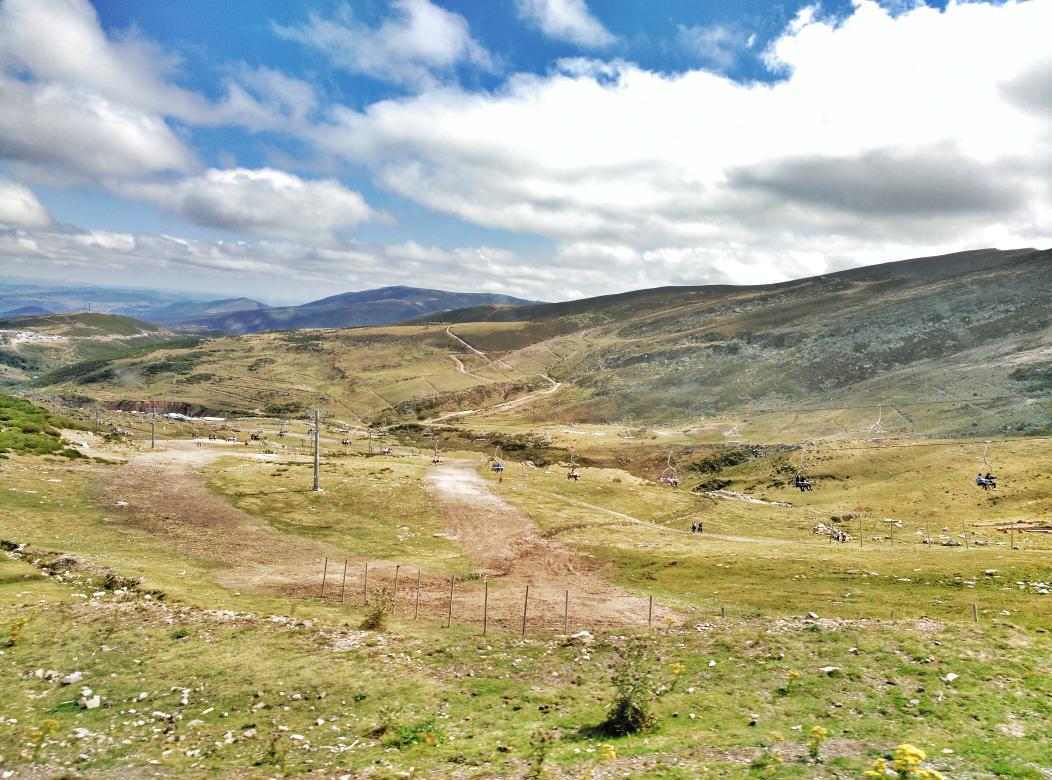 Pic by Laura Meseguer
So they ride across the

beautiful Galizia

. The final climb is up there and when the break is

10 km to go Madrazo attacks from peloton

. Unconcerned, they still has got a 9' gap.

Up they go on the high mountain, gray rocky peaks hiden in the mist.
It's cold and now Astana is chasing: the gap is down to 6' 4 km to go and

Cherel attacks

. De Marchi counters, Quintero and Rojas on his wheel.

Puccio gets dropped

but doesn't give up and

2 km to go they are all back together.

Now

Rojas attacks, Puccio counters, De Marchi bridges

.
Behind

Aru attacked and a selected group formed,

including Quinrana, Majka, Pozzovivo, Rodriguez, Chaves, Valverde, Moreno but

not Dumoulin

. He's going to lose time today.

Nieve

tries to get time instead and

bravely hangs at the back

of this group.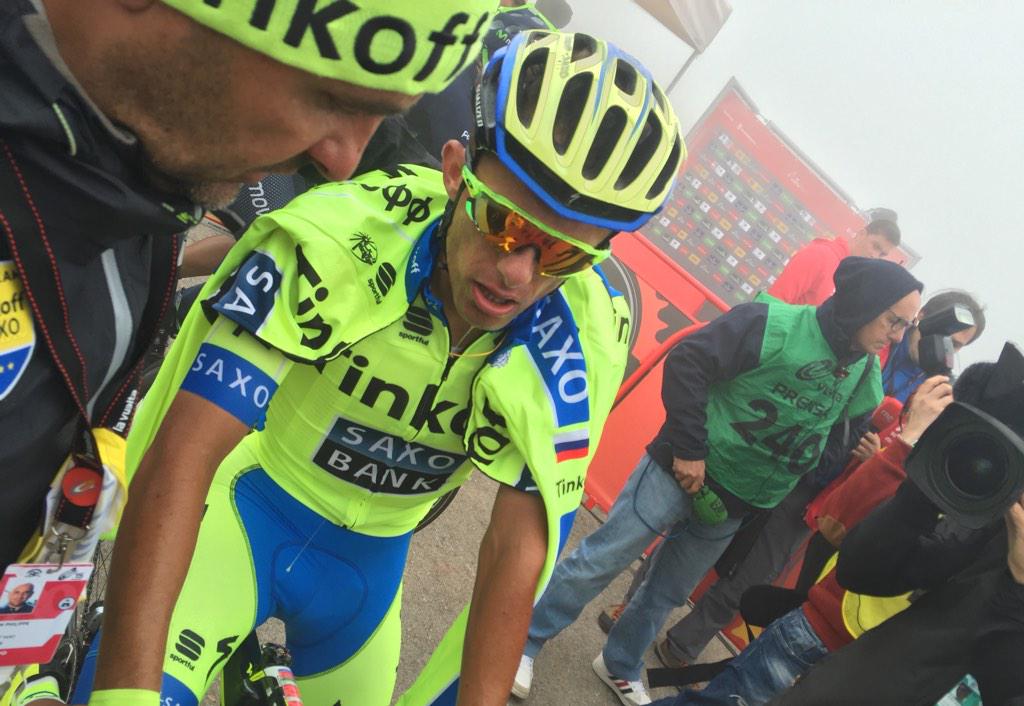 In front

Demarchi is solo.

We see him crossing the line from the tv motorbike because otherway is just and only the fog.
Behind

Quintana and Rodriguez attacked an dropped Aru.

Still no Dumoulin.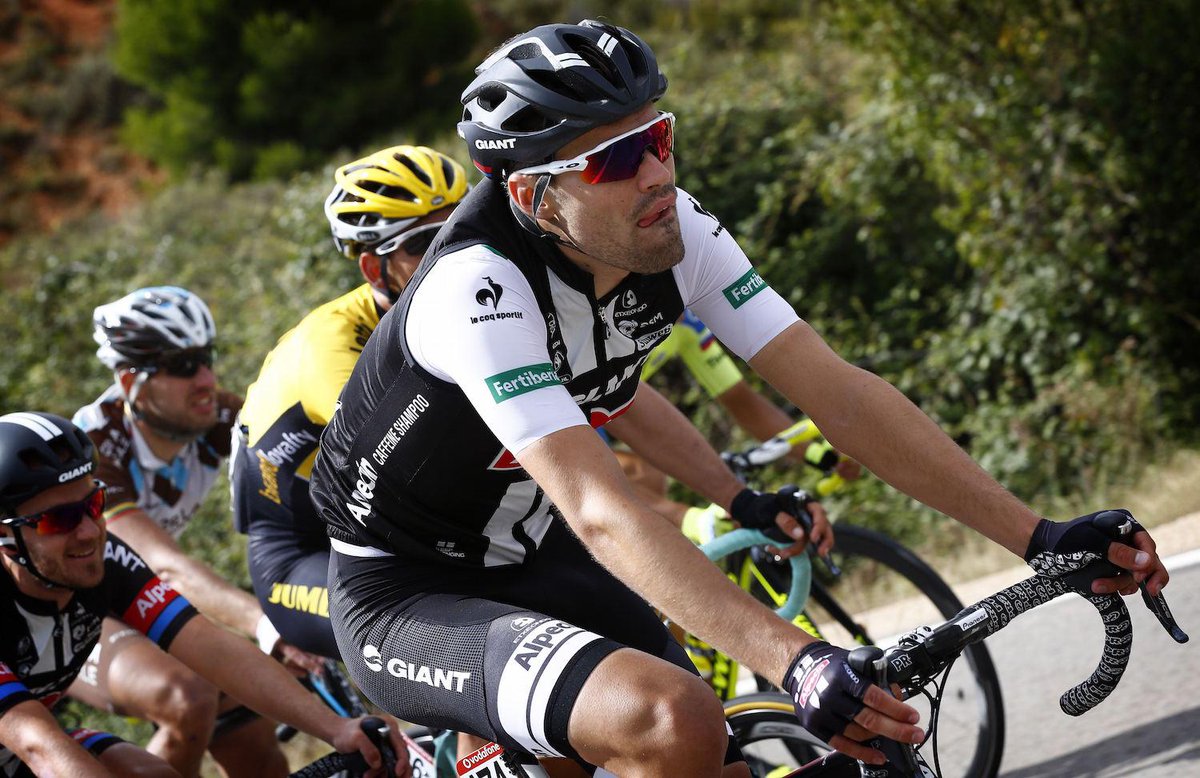 The news comes that Salvatore Puccio was 2nd in the fog. Bravo! And bravo Team Sky that's reacting to the lost of its leader in the best way: attacking.
to victory on a fog-shrouded mountain-top finish Saturday at the Vuelta a España after teammate Samuel Sánchez was forced to withdraw due to an ongoing foot injury.
Alessandro De Marchi:
"With a bit of luck, in the right moment, I had the energy to do a fast attack. I was lucky because I do not think I was the strongest.
I never thought I would be able to win a stage. Today was very difficult, first to get in the breakaway and then to take the win. But everything felt great.
Everybody else was was looking at me, so I had to do the big job to bring them back. Then I had to keep waiting and waiting for the right time."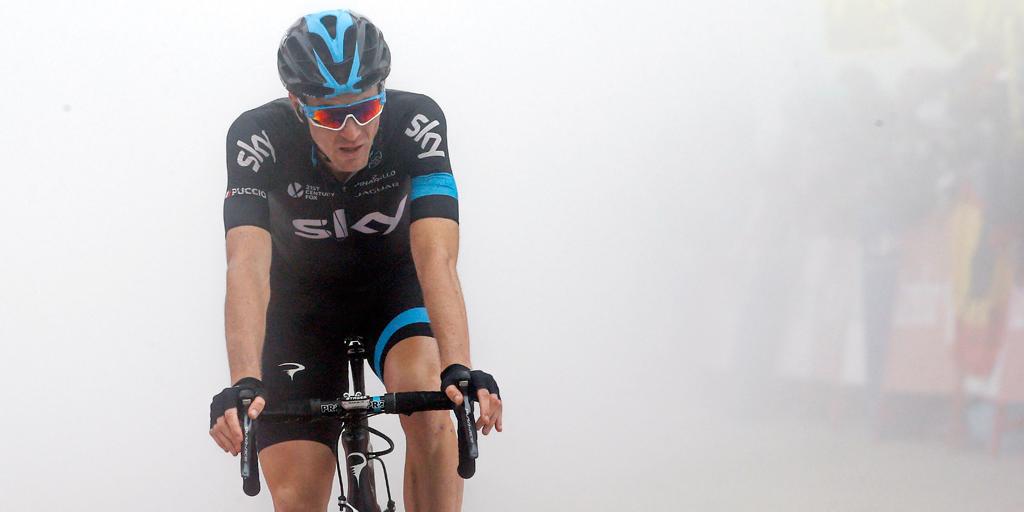 Salvatore Puccio:
"It had always been the plan to put someone in the breakaway today, so I tried my hardest to do that. It took about an hour and a half for the move to actually go, and after a few attempts, I'm glad I was able to make it.
Once it had gone, it was clear we had a good group of strong riders, and knew we had a chance to stay away as no one was a threat to the GC. We rode well together and set a good pace until the attacks started with around 4km to go.
I immediately got dropped, and felt like giving up, but then I thought 'no, I have to keep fighting'. Gabriel [Rasch] was encouraging me as well from inside the team car, and I wasn't going to do that with only 4km left after 211km.
I tried everything I could after that to win the stage, but De Marchi distanced me in the last 800m and all I could do was limited my losses. It was really steep at the end.
It's nice to get the freedom to ride like this as a team, even though we all wish Chris [Froome] was still here with us. We have the chance to get in breakaways and go for stage wins, and obviously, we're still doing everything we can for Mikel as well.
Hopefully we can do more in the days to come and keep making the race exciting."
Samuel Sanchez:
"This is a hard day for me to have to abandon the Vuelta a España," Sánchez said. "The problem with my toenail made it impossible for me to pedal. Yesterday was a really, really hard day for me. I had a lot of pain in my right leg and today it was just impossible after 35 minutes of the race."
Rafal Majka:
"It wasn't my kind of climb, I attacked too early but I'm OK and happy with the team"
José Joaquín Rojas:
"It wasn't that 'special' day for me, as slopes were too steep, but I dug deep until the very end for my team, Eusebio, the team-mates. They gave me confidence and freedom to go after my chances but it wasn't to be, because De Marchi was way stronger. Still, I have no doubts that I will try again.
My real characteristic is fighting spirit. Many people are always trying to rate my performance by what I do as a sprinter, but I always said I'm an allrounder, able to fight in every terrain and also work hard for the team leaders, and that's what I tried to do in this Vuelta: helping out Nairo and Alejandro, as well as profiting from those chances to chase stage wins.
Nairo had spent many days struggling before Andorra, but we were silent so rivals didn't take advantage from that. He was feeling really better during breakfast and has shown to be more than recovered on the climb. Let's hope the best for Movistar is yet to come in this Vuelta."
Tom Dumoulin:
"It went ok today. I didn't have a super day, but I managed to limit my losses."
Esteban Chaves:
"I feel tired. It was a really hard stage, long, and in the final four kilometres Astana was a really strong team, unbelievable.
Today I (could) stay with the best riders and I am really happy. The team worked really hard again and most important is to keep this position on general classification."
Fabio Aru:
"I was
not worried that Purito and Nairo could follow me. I was doing my own race and I wanted to get as much time as possible on Dumoulin.
It was a very difficult climb, but my team-mates were riding hard, so I went for it. H
ow much time do I need to take on Dumoulin before the TT in Burgos?
I have no idea he's a great time triallist but a time trial in the third week is never the same as in the first or second.
Every day I will try to get more time on him, even a few seconds is important".
RESULTS
STAGE
1
Alessandro De Marchi (Ita) BMC Racing Team
5:43:12
2
Salvatore Puccio (Ita) Team Sky
0:00:21
3
Jose Joaquin Rojas Gil (Spa) Team Movistar
0:00:32
4
Mickaël Chérel (Fra) AG2R - La Mondiale
0:00:38
5
Carlos Quintero (Col) Team Colombia
0:01:00
6
Nairo Quintana (Col) Team Movistar
0:03:32
7
Joaquin Rodriguez (Spa) Team Katusha
0:03:38
8
Esteban Chaves (Col) Orica-GreenEdge
0:03:39
9
Fabio Aru (Ita) Astana Pro Team
10
Rafal Majka (Pol) Tinkoff-Saxo
0:03:44
1
Fabio Aru (Ita) Astana Pro Team
57:20:10
2
Joaquin Rodriguez (Spa) Team Katusha
0:00:26
3
Tom Dumoulin (Ned) Giant-Alpecin
0:00:49
4
Esteban Chaves (Col) Orica-GreenEdge
0:01:29
5
Rafal Majka (Pol) Tinkoff-Saxo
0:01:33
6
Mikel Nieve (Spa) Team Sky
0:02:10
7
Alejandro Valverde (Spa) Team Movistar
0:02:11
8
Daniel Moreno (Spa) Team Katusha
0:02:13
9
Nairo Quintana (Col) Team Movistar
0:03:00
10
Romain Sicard (Fra) Team Europcar
0:03:39