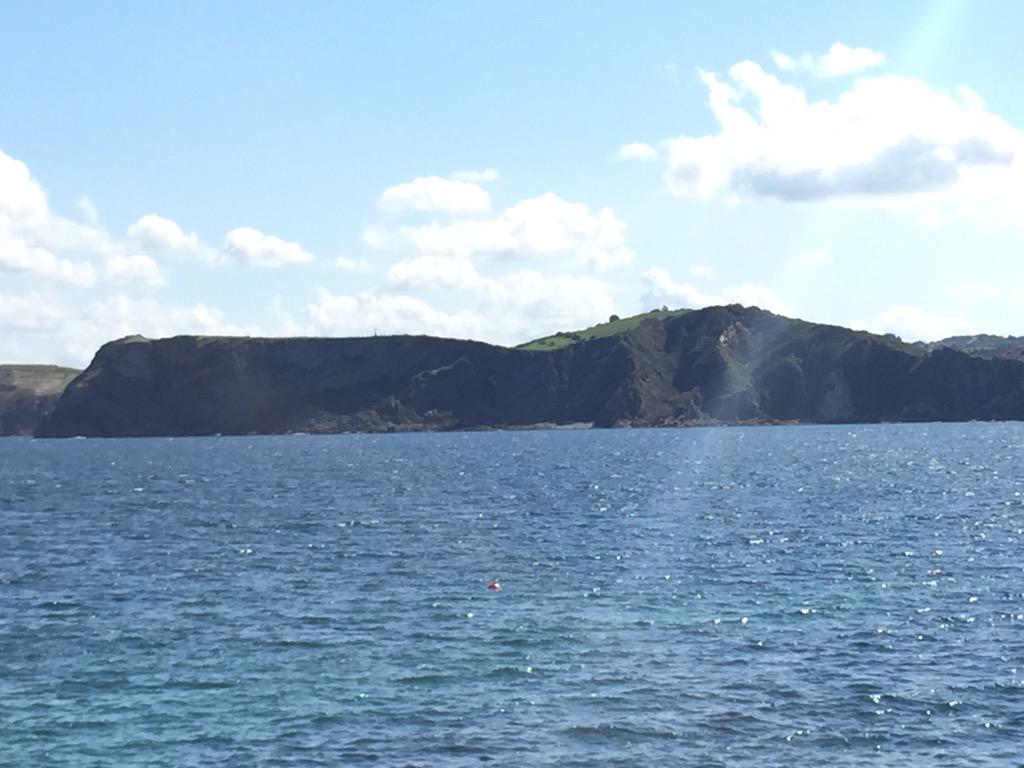 From fairy blue to verdant green

. From

Comillas

' enchanted sea to Sotres Cabrales: feared desired finish.
There is a

break-away

- Berhane, Kadri, Maes, Ramirez, Rolland, Rollin, Tjallingii, Vilela and Zubeldia. They are almost 4' ahead of the peloton when

Rollin

tops 1st the KOM in

Alto del Torno

. But the gap keeps growing, it's 5' 40 km to go.

Now

Movistar has started chasing.

At the foot of the last climb the gap is down to 2 minutes.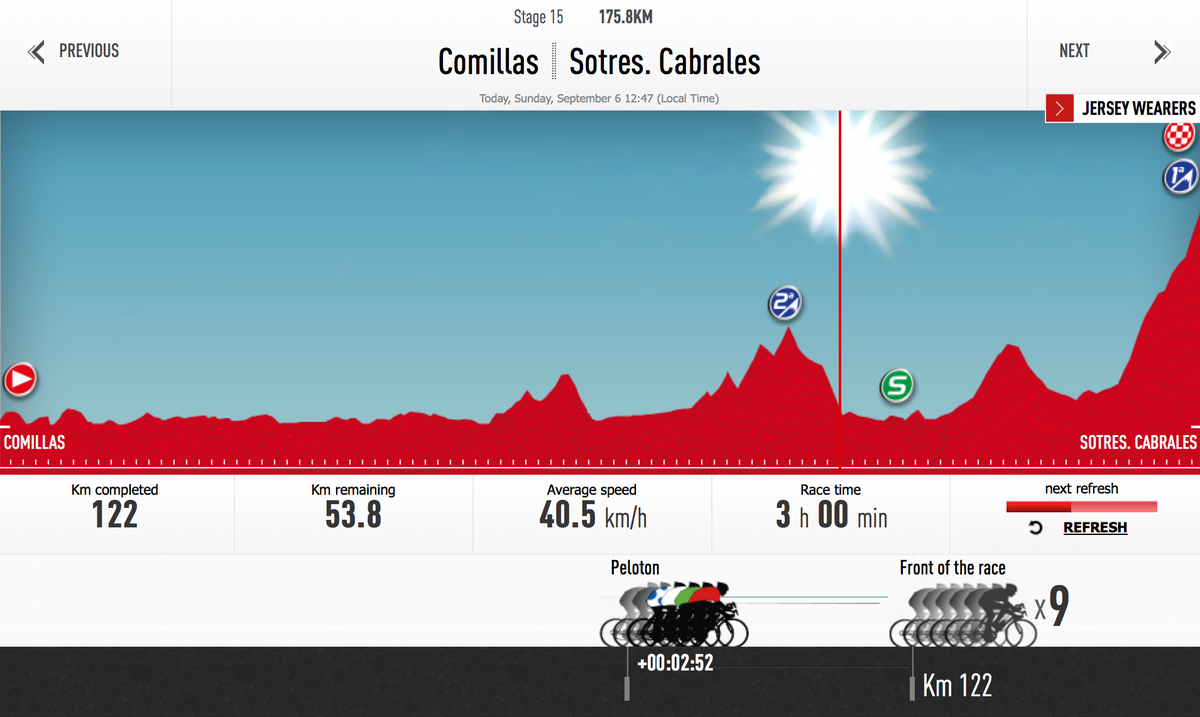 High pace now.

Zubeldia decides to move

but it's still a long way. Behind

Quintana attacks, LL Sanchez on his wheel.

They are quickly caught by the peloton pulled by Team Astana but the attack produced a

big selection.

Now Team Movistar puts

Visconti

in front and he gives it all to chase down the break. The only Zubeldia resists but 3 km to go he must give up.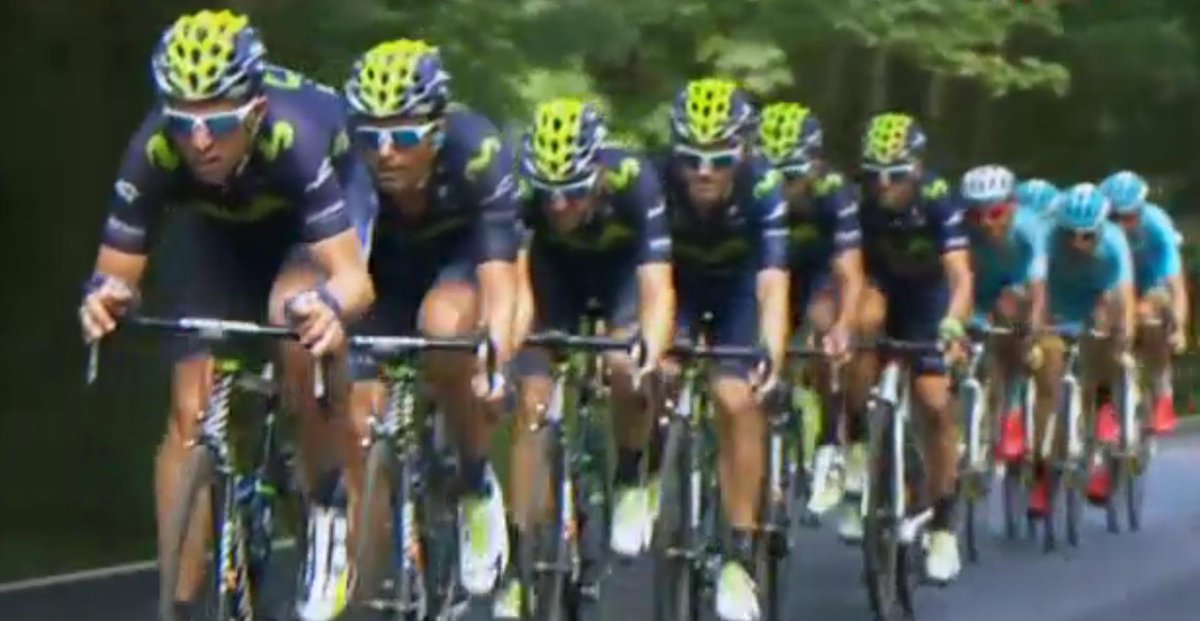 All together they go, on the rocky mountain.

The road ramps toward the finish and

Rodriguez attacks. Quintana and Majka follow, Aru

looks less ready or less strong. Behind

Nieve and Chaves

bravely hang on while

Dumoulin is dropped

once more. Last crowded and screaming and steep km.

Purito

has got a gap and he'll keep it. He won. Just one second still secures Aru the leader jersey. It's few.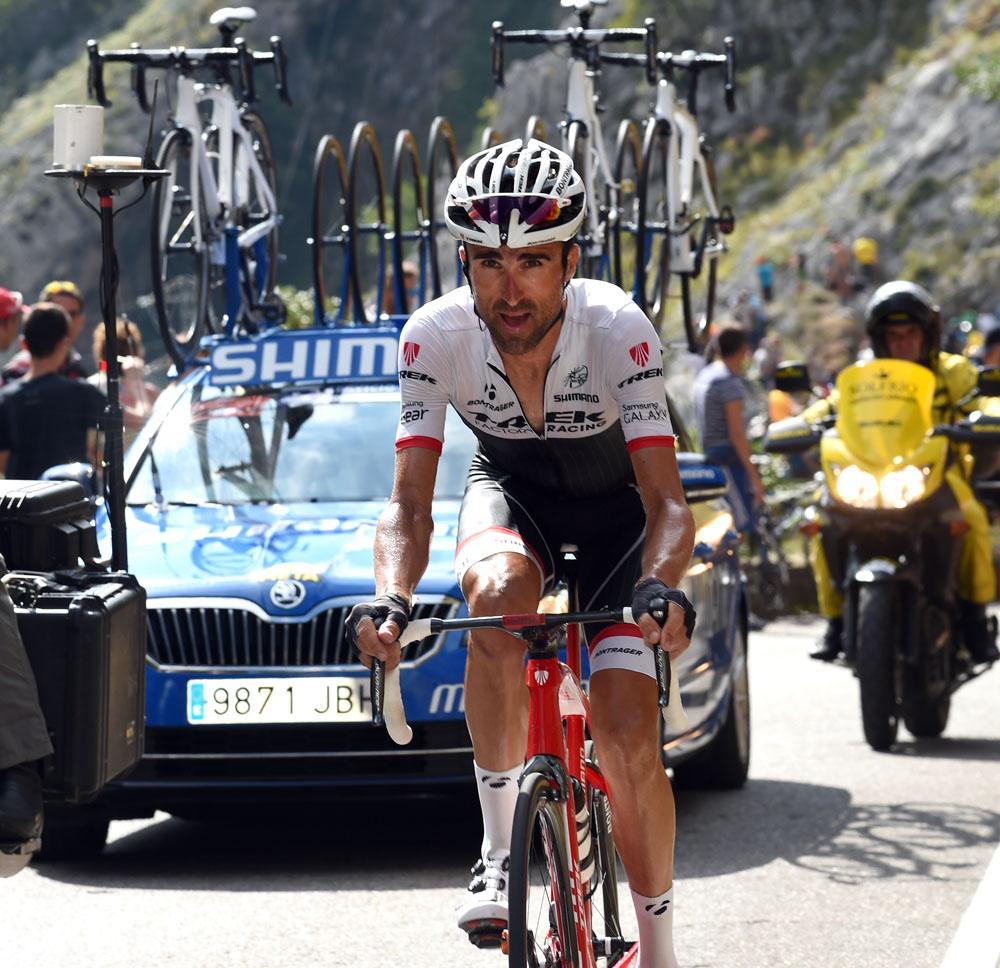 Joaquim Rodriguez:
"This is incredible. What a hard climb but what a nice win too. The cheering fans helped me a lot as well as my teammates. This is a phenomenal Vuelta. The whole Vuelta we were looking for this stage win. Now we have it and we even play a role for the GC. For the moment the situation is perfect for me. I miss one second for the race lead but that is not so important. In the end the strongest rider will win the Vuelta. The good feelings that I have now are more important than that red leader's jersey. Tomorrow we have again a hard stage with possibilities. I will try again but if it doesn't work I will try another day. I don't want to use a calculator to find out how much time I need to take before the time trial in Burgos. In the past I calculated too much and it ended badly. I just look ahead from day to day. We came to this race to arrive on the final podium. We are on our way. Tonight we will shortly celebrate and tomorrow we will suffer again. In this Tour of Spain there are still nice things to come. The race is not over yet. One second behind Aru but 1.23 and 1.24 ahead of Majka and Dumoulin. Especially Dumoulin can still be dangerous. He lost time today but rode very cleverly and he will be hard to beat in the time trial. We'll see.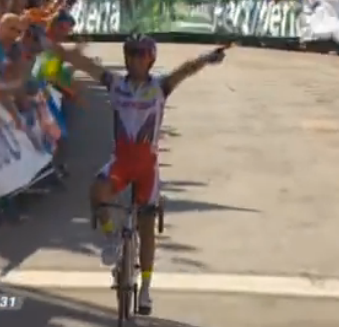 The last five years I finished four times in top 4 overall. Very strange but this Vuelta is the less stressful of all my Vueltas. It is hard to explain, but I hope to continue this way. Very tranquillo"
Haimar Zubeldia:
"We knew straight from the start that Movistar and Katusha would control the race, but it was still worth a try. It worked yesterday, so why not today? For the first part they never gave us more than three minutes, and on the second climb the lead increased a little bit. But we needed a few minutes more by the last climb.
I could feel during the race that I was the strongest climber in the break, and it all came down to the last climb. If they have given us two minutes more I could have done it. I am a climber that needs to find his rhythm, and Josu [Larrazabal, director] told me to find my rhythm and just give everything I had.
I went full gas until they caught me. The gap was at a minute for a while and was not coming down. Then all of sudden it dropped quickly, but both Josu and Dirk kept giving me a lot of hope and motivation over the radio. I believed in it for a while, but I needed more time. It's too bad, but it was good to give it a try. I am not used to race like this, usually I am defending GC [Zubeldia has finished 5 times in the top 10 at the Tour de France – ed] that is what I am known for. But this Vuelta is different with Fränk [Schleck] no longer in the GC.
Dirk [Demol, director] had told me to save energy where possible and not go full gas to try and stay with the GC favorites everyday so that I would have a chance in a breakaway like today. I have been targeting today as a good stage for me.
But it's not finished, there are more hard stages to come, already tomorrow again, and I will try again. Maybe next time they will give us more time and something nice will come out of it."
Maarten Tjallingii:
"You really need a bit of luck in the race to be in the break. I waited a long time until I started attacking. After two, three times, I made the right break. Unfortunately, we didn't get much of a gap. It is always like this, but when you are not in the breakaway, you cannot win the race. So we keep trying, it's our fighting spirit."
Rafal Majka:
"This was not an easy finale but I think that I can be satisfied with finishing 2 nd after Rodriguez. This climb suited me better than yesterday's and I was able to take time on all of my rivals except Rodriguez. I was suffering a little bit on the first climb but in the end I could feel that I had the power to climb well. I have to thank my teammates, because I didn't lose so much energy on the flat sections. It was a very hard finish with a fast pace in the beginning of the climb as well, but both Pawel and Jesper was with me all the time and stayed in the group until there were only a few guys left. Pawel pulled at the front for me, I said that I wanted a hard tempo and I think he put a lot of riders in the red zone.
For sure, I'm happy to be 3 rd overall. In the beginning we talked about top 5 and now it's top 3. Surely I don't fear anybody and I feel stronger but the GC is still very close and it will be very hard. In the end, we have to take more time on Dumoulin - he is still strong and dangerous in the time trial. But I think that tomorrow's stage will be even harder than today's. The climb in the end will be super crazy and we need to wait and see how my legs are".
Nairo Quintana:
"For me it's already a big prize to recover so quickly, remembering how I was badly struggling two days ago, riding between team cars, doing everything I knew to stay into the race... being so sick and thinking of retiring from the race, and seeing how I performed yesterday and today - I think it's quite remarkable. I want to thank the whole team for taking care of me, believing on my chances and working as much as they did to seek for the win and make up a bit of time on the GC. I really wanted to try, but Purito and Aru remain really strong and I'm just getting back to my best form. I have looked at the Alba stage, and I like it, just like with any mountain one. I hope to keep feeling as strong as I did today, or even a bit better. My main goal remains the GC podium."
Alejandro Valverde:
"We must thank all the team-mates for their phenomenal, extraordinary work today. At the end, it was our responsibility to crown that effort with a result, and Nairo was looking pretty well yesterday, but to be honest, Purito was quite superior today - hats off to him. You've got to accept what your real level is at the moment, and value everything that took you to this: it was a long season, a very successful one, with already a stage success here... one is not always as strong as he'd want to be, and we must remain happy. I'm already feeling the wear and tear of the whole season, after all the pressure I had to face until the very end of the Tour, to take that GC podium... it was really a fantastic season and we must applaud those who are strong enough to be ahead of us. We're still aspiring, I hope, to many things in this Vuelta. We'll fight to do so."
Esteban Chaves:
"The last climb was really fast. The Movistar guys started to attack in the first three kilometres.
In the final I was riding a good tempo. The last kilometre was really steep and Purito (Rodriguez) attacked and I don't see him, I stayed still and tried to save my position.
When he attacked he got three or five seconds to me, and in the final it was only about 15seconds. It's a good progression for me."
Fabio Aru:
"I didn't lack anything. It was a great stage for Purito, the final steep part suited him, I couldn't help losing that time.
Today Joaquim did a great stage, and tomorrow's very hard. We'll have to see what happens both there and in the time trial [on Wednesday].
It's not a positive stage because I lost time on Rodriguez. I'm not pleased about that. Dumoulin is also very dangerous.
I am concerned about all of my conteders, not one in particular."
RESULTS
STAGE
1 Rodriguez
2 Majka +12
3 Moreno +14
4 Quintana +15
5 Aru +15
6 Landa +18
7 Chaves +20
8 Nieve +24
9 Valverde +28
10 Pozzovivo +41
GC
1 Aru
2 Rodriguez +1
3 Majka +1:24
4 Dumoulin +1:25
5 Chaves +1:34
6 Moreno +2:08
7 Nieve +2:19
8 Valverde +2:25