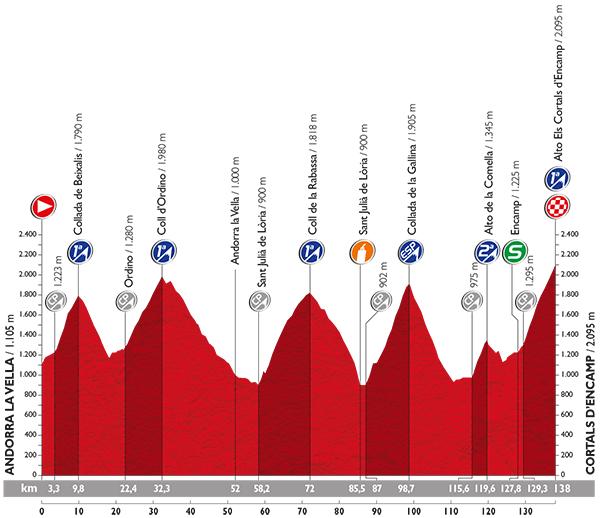 Today stage: bit hilly...
The sun is rising, splendid, and the day is starting.

First week done and dusted

in La Vuelta.

Emotional racing

so far – crashes, disqualifications, abandons and brilliant first career victories.

Too many transfers

– the last one to Andorra: 500 km. A few riders traveled by helicopter, the most of them and all the staff by bus. Too many climbs? I don't think so.

The most demanding mountain stage comes after the first rest day.

La Vuelta is and must be a race for pure climbers, that's why I love it.

No way to hide, no tactical racing here. A good team is basic but the overall contenders must clash at each top finish.
Cyclingnews has got a very complete recap. I'm not going to write something similar. I'm more about the general meaning of the race and I have to say I didn't get it yet.

So far this Vuelta is like a story without a visible plot. Not the cavalcade

of an unstoppable rider toward the final victory – often boring but within the blow of greatness –

not a duel, not a merciless fight not even an exciting open contention

featuring several serious contender. No. Vincenzo

Nibali is out

, as well as Dan

Martin

and Tejay

van Garderen

. Chris

Froome

is there,

unpredictable but obviously tired

.
The first riders in the actual GC are Dumoulin, Rodriguez, Chaves, Aru, Valverde, Quintana, Froome and Majka. I definitely doubt that

Dumoulin

will be wearing that Red tomorrow. I also doubt that the young

Chaves

could get it back: a final top five would be already a great result for him. What about Purito

Rodriguez

? Looking at the stages finish orders he's one of the most regular, a strong climber and experienced rider. In my opinion

Valverde

is stronger and smarter than

Quintana

, in the mountains he looks fresher. Still they are both up there and that makes things hard for Team Movistar, again. You could think that two riders in the top ten is an advantage, and I agree...when it's clear who is the leader, and here it's not. Valverde – I'm sorry to say – is having one of the better seasons of his career while I don't see all that sparkling by Quintana. I could be absolutely wrong, the next days will tell us more. Compared to these, Rafal

Majka

is on a different level, in fact he usually plays a support role.

But La Vuelta is a peculiar race, this Vuelta especially, and with a little good luck Majka could be the man.

Yes, he's racing aggressively, he's in shape and his team lost Sagan so he's the sole leader. He's my outsider: lets see. Fabio

Aru

is now the sole leader too given that Astana has lost Nibali and Landa isn't in shape. He showed something but it wasn't enough. Still it could do if he has got more.
Spain is beautiful, of a violent beauty. Large, various and hard.

Its people are passionate on the road and each summit finish is a fiesta. In Spain

cycling still is the popular show it used to be, a collective ritual bringing everybody at the window and out the door.

It's a pleasure after so many races in the desert, metaphorically and litterally. It's a pleasure to watch, unless a motorbike rides on a rider or dangerous road fornitures make a finale too dangerous.
I'm curious to see how the GC will look tonight!