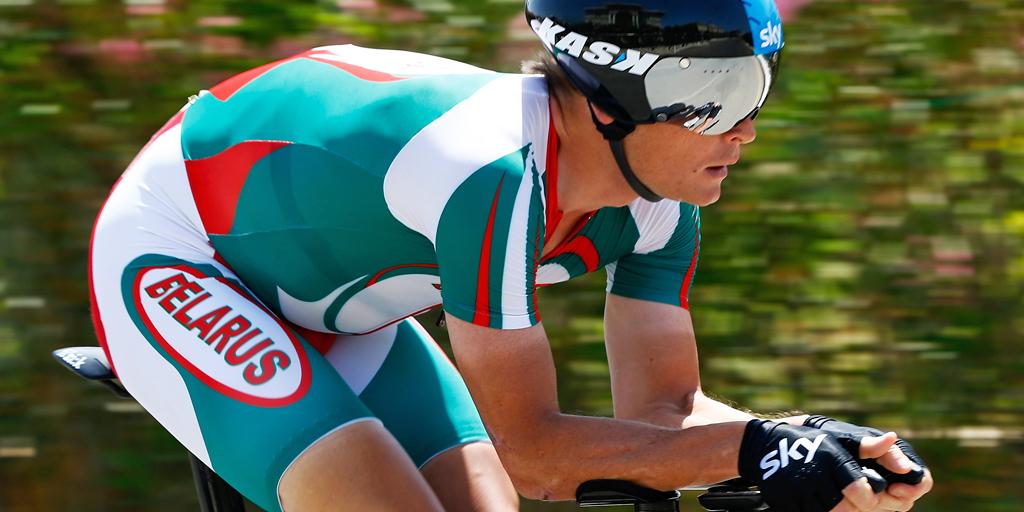 1 Vasil Kiryienka (Belarus)

01:02:29
2 Adriano Malori (Italy)

01:02:38
3 Jerome Coppel (France)

01:02:56
4 Jonathan Nicolas Castroviejo (Spain)

01:02:59
5 Tom Dumoulin (Netherlands)

01:03:30
6 Rohan Dennis (Australia)

01:03:37
7 Tony Martin (Germany)

01:03:46
8 Marcin Bialoblocki (Poland)

01:03:51
9 Maciej Bodnar (Poland)

01:03:46
10 Moreno Moser (Italy)

01:04:01
Vasil Kiryienka:
"I knew it was a good course for me - it's the kind of course that suits meOf course Fabian Cancellara, and Bradley Wiggins were not here, but all of the other great time trial riders were here today. I think the level was very high, and it's of course great to win.
For sure Tony Martin and Tom Dumoulin were the favourites today, but also we have difficulty comparing the last results. Adriano was close to me so it was good for him, but today was my day.
This year I was not in the Tour de France because I was tired from the first part of the season. The last race before I came here was the Vuelta. I actually have to thank my team. They gave me the chance in the Vuelta to not just work for the leaders, but thinking ahead to today for the World Championship. They told me that this could be my year, they had the sense that this could be my chance to be the place where Bradley Wiggins was last year.
I had the splits along the way, and that was important, but it was a race against myself. I knew the splits, but I knew from the beginning that I was feeling very well, and riding very well."
Adriano Malori:
"Ero venuto a questo Campionato del Mondo con l'obiettivo di migliorare il 6° dello scorso anno .....e mi ritrovo con un bellissimo 2° posto a un soffio dalla medaglia d'oro!!!!! Stavolta migliorare sarà più complicato....😉😉😉😉✌✌✌✌come sempre grande Movistar Team !!!!!" [I came to this Worlds with the aim to improve my 6th place of last year... and I find myself with a splendid 2nd place very close to the gold medal!!! impriving will be harder the next time... As always a great Team Movistar!!!]
"I really got on my top speed well from very early into the race, and was able to increase it bit by bit through the route until the end. I gave really everything I got, but it wasn't enough to beat Kiryienka. Probably the final slope was more suited to the Belarusian than me, since he was even trailing on the GPS reference into the flat section before. Still, it has no use to complain after this - I remain really happy with this second place, which gives me a lot of confidence for big races coming in the next years. It's even more important to end a drought like this for italy, 21 years without a rider on the ITT Worlds podium."
Rohan Dennis:
"I had a puncture with about 25km to go. It sucks but you can't do much about it. You just have to move on. Usually you lose 20 to 30 seconds. Kiryienka was on an absolute blinder. Maybe I could have been in the medals, but that's the way it goes. But Tony Martin just came in behind me, so coming in faster than him is a big achievement. He's the benchmark in time trials."
"Before the start it was not in my mind to be on the podium. I wanted to maybe be in the top 10, but I had really good sensations from the very beginning. Riders like Tony Martin and Tom Dumoulin were not on such a good day. In cycling you also need to be lucky and that was the case for me today."
Tom Dumoulin:
"Yesterday I was still struggling with an injury. But I still set the fifth-fastest time, which gives me a feeling of satisfaction. As a professional athlete you always want more, but sometimes you have to accept that more isn't possible."
Tony Martin:
"It was a really strange time trial.For me it was it was a little too fast, like it was on the track. I didn't expect this, because I felt good, even in the first 8 kilometers until a right corner where the tailwind sections started. Up until that point I felt good, and like I could push power. But after that, in the tailwind, I completely lost rhythm. I couldn't handle the speed or play with my power. It just wasn't my day. I'm really disappointed. I was confident going into today and I did everything I could to prepare for the race. I will try to look back in the future and analyze what maybe went wrong, but for now congratulations to Vasil Kiryienka, who was super strong today and deserves the gold medal."
Jonathan Castroviejo:
"It was a surprise, to be honest - I could hardly imagine I'd be up for the podium fight. It was a really demanding TT. I felt myself pretty well, and the tailwinds on the opening 8km made it even better; it was the perfect terrain for me, and I tried to keep that speed, yet saving some energy for the steep finale. Ending up two, three seconds off the podium is awful of course, as it was quite a good opportunity, but it gives me much confidence for the near future."
Alex Dowsett:
"It was alright all things considered. I did what I could, made a good job of it but I wasn't seeing the numbers I'd like to. I guess I'm not overly surprised. I've taken on a lot this season and I think it's just caught up with me a bit."