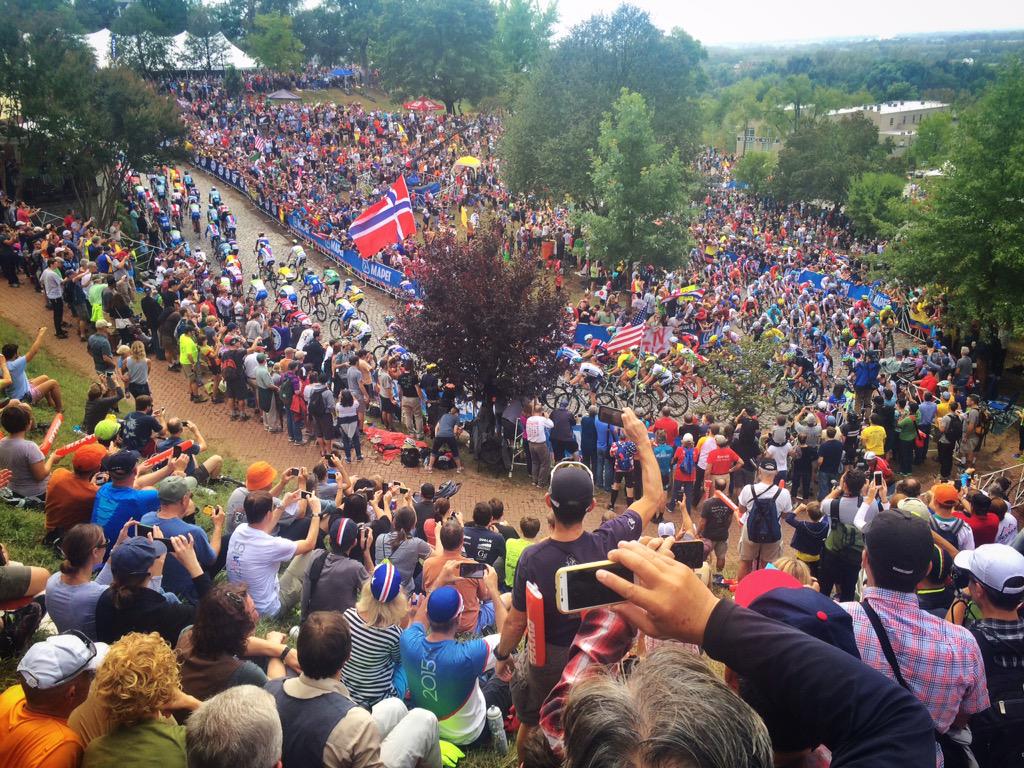 Two laps and

the break

goes away: King (USA), Alzate (COL), Sergent (NZL), Stevic (SRB), Tvetvoc (ROU), Dunne (IRL). They still have 2' 8 laps to go but the chase is on and

6 laps to go

the break away gets

caught

.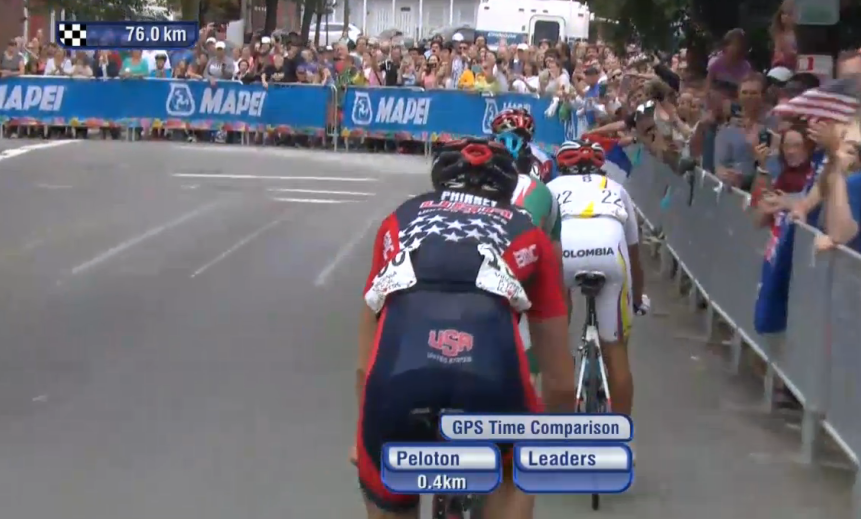 75km to go

a new break forms

:

Pantano, Boivin, Siutsou

and

Phinney.

They have a small gap on the peleton, just 20" and Sep

Vanmarcke

attacks from the peloton with Geschke, Bennati and Stannard.

Pantani dropped

waits for them but they get all caught. 55 km to go

Badgonas

attacks and is trying to bridge to the leading trio when a

c

rash

happens in the feed zone.

Kristoff is also involved.

while

Alaphilippe

, already dropped with Bouhanni,

retires

.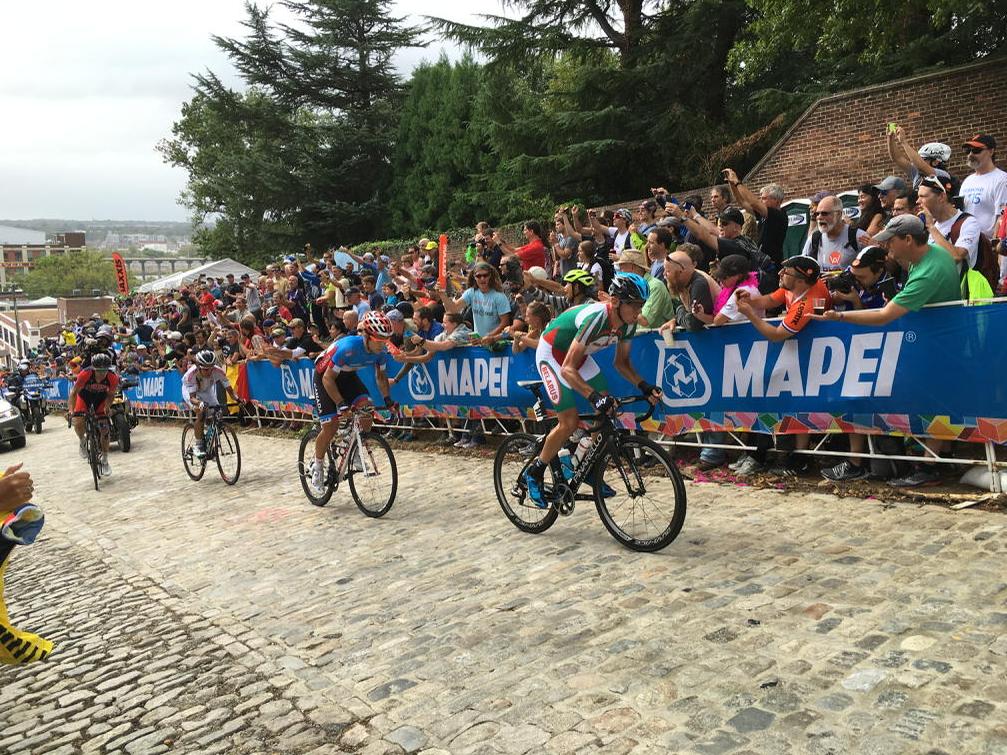 In front

Boivin, Siutsou and Phinney

keep pulling. Rodriguez attacks and splits the group. Spain is making the race hard.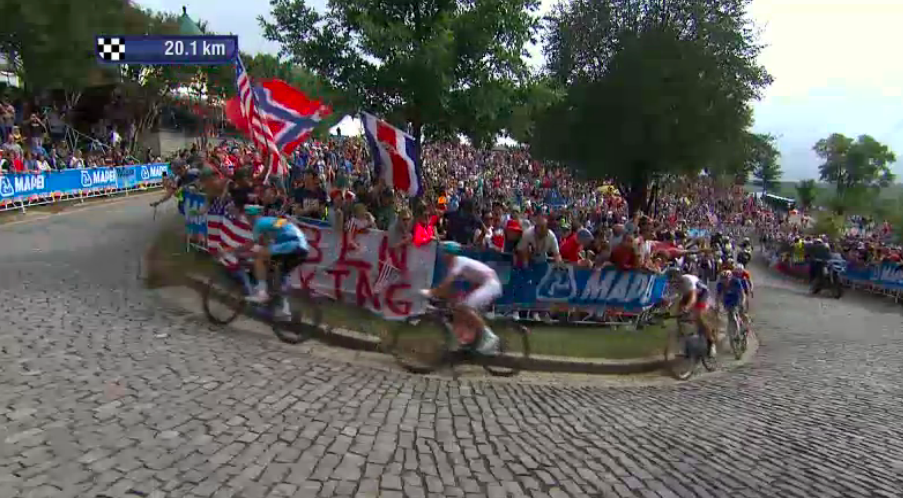 Everything

back together with 35km

to go,

Stannard attacks

on the 23rd street climb, Mollema and Boonen follow. Caught. Mollema goes on counter.

A small group formed

in front, including Andrey

Amador

(CRc), Tom

Boonen

(Bel), Elia

Viviani

(Ita), Michal

Kwiatkowski

(Pol), Ian

Stannard

(GBr), Daniel

Moreno

(Spa) and Bauke

Mollema

(Ned). Germany is leading the chase and 17 km to go the group is caught.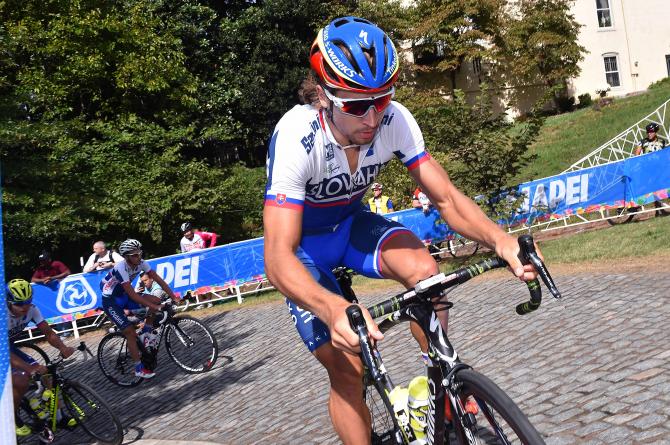 20 riders are now in the lead but

at the bell ring the peloton is compact

and new attacks come. 10 km to go

Sioutsou

attacks and

Farrar

follows. They get a gap but they are

caught 4 km to go. Last passage on the cobbles and Stybar attacks

but can't go away.

Second climb: Sagan attacks and keeps going in the descent.

2 km to go and

he's solo in front. Last climb. It's done.

He walks on the line and many riders arriving go shaking hands with him. he throws away his helmet and rise his ends again toward the crowd.

Michael Matthews is 2nd and Navardauskas 3rd.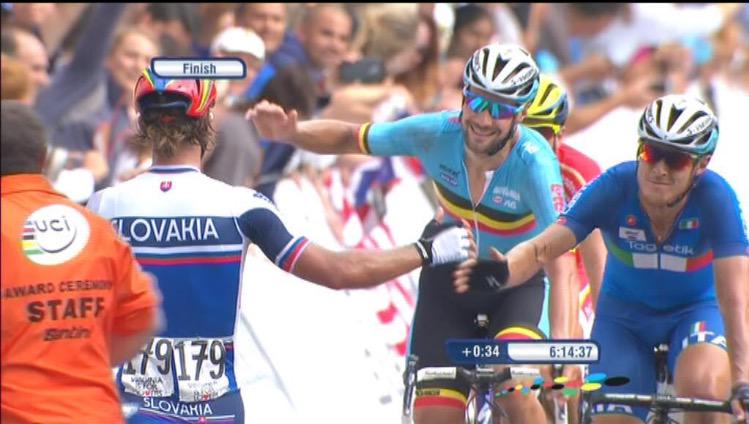 Peter Sagan:
"I think it's the biggest victory of my career, and I'm very happy because I sacrificed a lot these last three weeks after the Vuelta.
It's unbelievable for me.
Today I was just waiting, waiting, I had my brother with me .. my teammates were always with me. If something happend they were always there. It was a little bit crazy in the last laps, and I thought everyone has to be tired. I gave everything on last cobblestone climb and then it was full gas until the finish.
I knew if the group caught me, I was very tired for the sprint. But it was the right attack for me. I saw also a lot of comments from people that I am not good for a long race like this. But now I have this jersey for all next year."
Michael Matthews:
"I think that I had maybe three guys.
Heinrich Haussler and Simon Gerrans. Heinrich did a really good job trying to pull it back a bit on the climb but he was working all through the race for me to keep it together and keep me in position, so he didn't really have much left in the end. Heinrich did a really good job today and kept himself out of trouble and put me in the perfect position, which is a really hard job to do. I'm really grateful for that.
No, Gerrans didn't help me. I think we were sprinting against each other unfortunately. We had two leaders so it is was it is.
Yeah, I'm disappointed. I would have liked the full support but it is what it is. We came in with two leaders.
I actually really enjoyed the race today. It was a really nice course with those cobbles and I've never really raced this sort of circuit before, with uphill cobbles. It was a Flanders sort of race and it was really fun.
Unfortunately it's not the gold. I came here to win the race and I had the legs and had the form to win but Sagan slid away there and we weren't able to catch him.
I was about fifth or sixth wheel when Sagan went and two guys in front of me and the three guys that got away dropped the wheel. I thought that some other guys would close it but obviously they didn't. I thought that we'd catch him with three kilometres to go and it being such a hard race but maybe we underestimated him a little bit. I'm really happy for him actually.
It's good in way [to get another medal] but bad in way because we've not won one yet in these last few years. I think maybe we need a change of strategy.
Should the team work for one leader?
Hopefully."
Ramunas Navardauskas:
"I'm very proud, for myself, I am happy to be third. So far this is the best result in a road race for the team. I'm happy I have this, and I'm happy to bring this home to me country, my family and my team.
The world championships are a one day race, and if you can achieve a medal it's a big thing for you, it can hang on your wall the rest of your life. I think it's better than a stage of the Giro our Tour. It's a bigger event, the world championships is the world championships.
It was a very hard race, until the last two laps it was always at the back of 50 guys in the front of the bunch, and it was very hard to fight for position.
Until the last two laps I couldn't see where I would finish. I thought if they went harder I wouldn't be finishing today. It was a very hard race and in the end I'm happy I was strong enough to come top three.
The Australians had three guys in the end, the Belgian boys were close to each other. [Norwegian Alexander] Kristoff was ready to go full gas. I just tried to stay there and see how it goes. At the last moment you could see there were splits and you didn't know if they would come back together, or everyone come one by one. I was just sitting in waiting until the last sprint. You can just wait, wait and then do your best."
Alexander Kristoff:
"I got fourth but they went quite hard, quite early so from the start I know that it would be quite difficult because with the climbs so close to the finish it was also going be hard and with a guy like Sagan you know that he can stay away.
When Sagan went away he kept the gap and you saw that riders could do that in the U23 race. We tried to neutralise that by sending up Edvald but in the end Sagan was too strong and took the victory.
I wasn't close when the attacks came, and I was just trying to stay in the group. In the sprint I took the wheel of Gilbert and I started with 150 meters to go but I just couldn't hold it. It was a lack of power."
Tyler Farrar:
"I was suffering all day on Libby Hill, so I knew if I waited and waited I would be in the second group. I just didn't have the legs. But on the other climb, it was so short and powerful, no one could drop me there and then the final climb is the final climb.
My tactic was, well if they hesitate just long enough that they catch me with the front group at the top of Libby Hill, then I'm in with a shot there.
It was an insane day out there. I had goosebumps from start to finish. It was nuts. It was deafening on the climbs. Really unbelievable as an American with the World Championships in America. I've never had six hours on the bike go by so fast.
I don't think we had a top favourite in this race, so it was important for us to put on a good show and race aggressively, and we did.
We had Ben [King] riding the early break, Taylor [Phinney] getting out front, and I gave it a go at the end. I think Alex ended up 10th or 11th, so it's not a total wash. I think all things considered we rode the best race we could."
Michal Kwiatkowski:
"For sure I feel unsatisfied. I competed with the aim of defending the rainbow jersey. That was my goal. At the very end there was a real chance, to win maybe not, but for a medal. I had no power in the final sprint.
There was no desire to retreat to the main group. No one in this escape was not going a hundred percent, and we easily won a 30-second advantage. Coming onto a flat stretch the escape was losing strength, but those who chased us lost power after jumping over to our group."
Rigoberto Uran:
"We were good, we intended to be ahead in the final but it wasn't as selective a course as we'd hoped, although it was hard and there was a lot of people. They are special races. I intended on attacking at 800 metres to go and they didn't give me the space but the important thing was to try."
Niki Terpstra:
"I tried, but it was immediately responded and the next attack was immediately good.
Sometimes you have luck behind you if you waited a moment, but that did not happen. The plan was just right, we rode like a real group, we worked really well together. But unfortunately the reward did not come."
Matteo Trentin:
"For the result it wasn't so good because we didn't reach the top ten. Basically if you see the results it wasn't good but we raced in the best way possible and in every action we were there.
From my side I probably made a mistake when I saw the move from Degenkolb and Van Avermaet I went also with them but I spent my bullet at the wrong time and that's all.
Sagan waited and made the best race. What we saw on this parcours was that you had one bullet and once you used it, your race is over.
I think we raced the best way. Of course the best way of racing, normally gets a result, normally, but I think we took the best that was possible.
Giacomo went for the sprint and kept safe the whole day but if you saw from Kristoff it wasn't an easy sprint. It was a really hard race.
We had a really good team and I think we raced well, in my opinion. Instead just the result you really need to see the whole picture. The guys, most of them, are young and born between 1988-91 so it's a young team and we need time to be at the front of these races. We need more time to grow but we're starting to come together.
If you look at one of the great Italian teams from around 2002 from the years of Cipollini and they started to work and grow together. They had some really good results and we need to work towards that. Of course we have passion but we know that we need results too. We don't want to be here to make up the numbers. At this point we just need to analyse everything and then go better next time."
Greg Van Avermaet:
"I think I was really good and I took the right moment to go but then Sagan came over me and on the cobbles it was not so easy. I was just one or two metres behind him over the top but then he had a few pedal strokes stronger than me.
I tried to push with everything that I got but I just didn't have it. It was just a few seconds and I think if I was there I would have been able to sprint for a world title, but he was gone.
It was hard to close it because Boasson Hagen didn't want to work with me and then you know it's hard to stay on the front. If there is one guy on your wheel that doesn't want to work and then there is one guy in front who is going for the world title then my race was over in the moment.
I saw that Boasson Hagen was there, I hoped that he would directly work with me because he's pretty fast also in the sprint but he didn't want to work with me, he just wanted to wait for Kristoff.
If Sagan is gone then the world title is also gone.
I think we did a pretty good race and if we had won everything would be perfect. I tried to win myself and gave everything on the second last climb, I just came up a few metres [short], and I was not good enough to follow Sagan, but then you get back in the peloton and the race was over."
Alejandro Valverde:
"It ended up being a harder circuit than expected - a bit of it due to elimination in the finale, riding under constant danger due to speed and crashes. I consider it was a good result. I already stated it wasn't a route that suited me much, though it's true that it became harder in the end. We were up there once again, giving everything we could, just as much as the rest of the national team.
Almost all sprinters made it to the last sprint, and even with that, we could bring a good result home with that fifth place. When Sagan attacked with Van Avermaet, it wasn't a problem that I was too far behind, I was like eighth at the beginning of the 23rd Street slope, but it was really hard to keep pushing forward, impossible for me at that point.
I didn't lack that energy quite as much in the sprint as there; probably I could have been a bit closer to the medals with better positioning in that sprint, but we shouldn't make up any excuses."
Zdnek Stybar:
"I think I gave everything and I think we had a very good and motivated team, and I think today didn't work out but that's how it is. Sagan definitely deserved the win. Now he makes his palmares complete. I think he was really peaking for this because he was very strong, especially on the steep climb - he was very strong.
I just wanted to go there on the climb because I was there alone from my team. I thought, 'OK, if we make a little selection or if I could do a little selection then it would be easier to make something in the final' but it was just done directly and there was nothing left to do any differently anymore on the last climb.
It was just [after] the attack that I did. When I went, I had lost some positions, and then when he went on the steep climb I was a bit too far back.
You could see that everyone was underneath and when he went I could feel that it would be really difficult to close the gap. It was the only possible thing to do."
RESULTS
1 Peter Sagan (Slovakia)
2 Michael Matthews (Australia)
3 Ramunas Navardauskas (Lithuania)
4 Alexander Kristoff (Norway
5 Alejandro Valverde (Spain)
6 Simon Gerrans (Australia)
7 Tony Gallopin (France)
8 Michel Kwiatkowski (Poland)
9 Rui Costa (Portugal)
10 Philippe Gilbert (Belgium)
11 Tom Dumoulin (Netherlands)
12 Alex Howes (United States)
13 Niki Terpstra (Netherlands)
14 Rein Taaramae (Estonia)
15 Viacheslav Kuznetsov (Russia)
16 Nelson Oliveira (Portugal)
17 Yukiya Arashiro (Japan)
18 Giacomo Nizzolo (Italy)
19 Brent Bookwalter (United States)
20 Edvald Boasson Hagen (Norway)