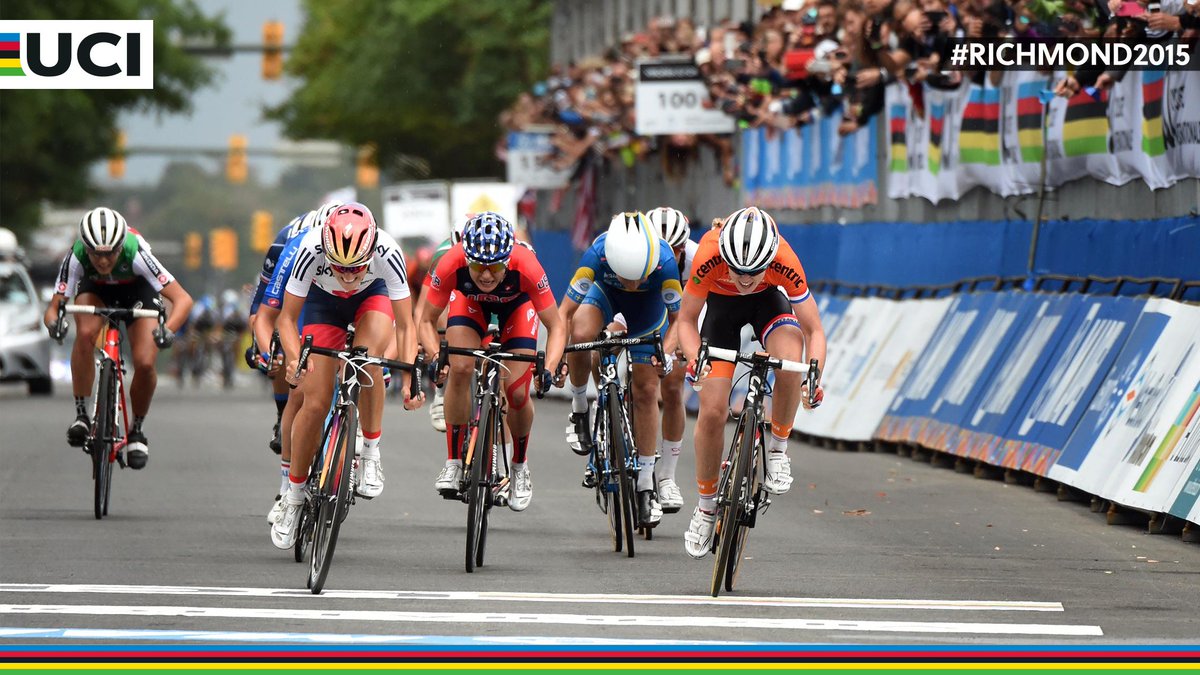 The images running on the screan, I was crying on my own for the last big life change that's probably good but hard to deal with. I couldn't think a thought, I didn't write a word. The poor commentary was like a meaningless noise in the background.
But the images... the images... the images... What a race! it brought me away. I forgot and let it thrill me, the amazing fight, blow by blow.
Valentina

Scandolara

was on fire. Spending too much? jumping on every wheel, covering every attack, attacking herself and

shining like a big star

. Giorgia

Bronzini was waiting

the momement.

A gutsy move and large break

had slow down the race, with almost all nations represented so no really chasing, ponderation. Only the British team had missed it, Lizzie

Armistead looking isolated.
But it was an incredible race, changing and surprising at every lap.

Now all together, now

Armistead attacking

with the Polish

Niewiadoma

, now

a small group approaching the line and the final sprint. Spectacular.
Lizzie's tears and victory. Bronzini walking with her broken bike.

Longo Borghini

doing her best in an unsuitable role.

Van Der Breggen

forced to lead the sprint and

Guarnier

happy to follow.
I feel I'm at the end of a long travel, in front of the last door separing me from the free sunny road running in the country, my road, the road I choose for myself.

A deep breath. I walk alone

.

"It's all you dream about as a cyclist, and it's so strange that it's mine. I won't realise it until tomorrow morning for sure. I knew that the sprint was going to be difficult. I knew I had to lead it out in that situation, so I took it to one side of the road and dictated the sprint. I knew that if I was on one side of the road, they would have to attack me from the other. That was a perfect lead-out, so thank you to Anna.
My plan was always to attack on Governor Street. Probably people thought I should wait for the sprint, but I knew I needed to get rid of Bronzini and Shelley [Olds], and that's what I did. I stuck to my plan."
"I tried to stay on the wheels, but we were too tired to keep up. I'm really happy with my race. My teammate was third until the last meters then got fourth. It was a good race for Italy.
It's a shame Giorgia broke her bike. It could have been much better for us, but that's bike racing."
Anna Van der Breggen:
"Of course I'm disappointed.
I think everybody could feel that [it would be a sprint]. I needed a bit of a longer sprint to go full and to go hard. I think I did good but Lizzie is a very good sprinter. I tried everything to keep her behind me, but it didn't work out. I think I did good, I stuck to the plan, it was a good sprint by me but Lizzie was just faster.
It feels like losing gold because when you are so close that you can smell the jersey, you really go for the jersey.
First of all, we had Amy Pieters in the breakaway and she made it clear it was not a good breakaway for her, so the girls did a good job to close it at the right moment. Then the race was open again and it would be a sprint.
I had most of her teammates around me. I had a good team, a great team, they did the perfect job today. We stuck to the plan. It was a good race and Lizzie is the winner, Lizzie is fast and she is really amazing. I think it was a good race and we need to be happy with it but when you are so close, you are also disappointed.
I think mine was a really good sprint but Lizzie was faster."
"We really wanted to make it a hard race, because we knew it would benefit Anna in the end. She proved that she came really close. She was disappointed she didn't get it, but she can be really proud."
Megan Guarnier:
"The women on the podium are amazing riders, and the calibre of the race was very high. This is a really great result for me, and it's an amazing result for Team USA. I'm proud to be the one on the podium, but everyone was fully in for a result as a team.
I knew my teammates were up there working, and I knew they were up there covering and my job was to be patient and save my energy for the finish. I had a little whoopsie on Libby Hill one time, I was too far back, and that's what happens - I had to unclip. I just stayed cool because I knew my teammates were there.
When we lost Olds we knew that we definitely didn't want a sprint anymore. And when we lost Lauren Stephens that made Coryn Rivera in the front more important because she was out sprinter in case that was the case at the end. We were still comfortable with what was happening in the race and everyone really worked hard today and should be proud of the work that they put in."
Evelyn Stevens:
"It was the perfect example. We worked as a team, and you know Lizzie's had an unbelievable year and she's a worthy champion. I'm thrilled to see Megan get the bronze."
Coryn Rivera:
"There was a chance [it could stick], I thought, but a lot of the hitters were back in the field, so at least it put pressure in the UK, who weren't in the break. There was a small chance, and I knew it was my responsibility to finish it, but as the gap closed down it would go down to Evie and Megan to finish this off.
It was special, I know where to be, I know the lines to take [on the course]. To have that in the back of my head, knowing that I raced on it, it was pretty special. It was cool. It was good to have that experience."
1

Elizabeth Armitstead (Great Britain)

3:23:56
2

Anna Van Der Breggen (Netherlands)
3

Megan Guarnier (United States Of America)
4

Elisa Longo Borghini (Italy)
5

Emma Johansson (Sweden)
6

Pauline Ferrand Prevot (France)
7
Katarzyna Niewiadoma (Poland)
8
Alena Amialiusik (Belarus)
9
Jolanda Neff (Switzerland)
10
Ellen Van Dijk (Netherlands)
0:00:09
11
Joelle Numainville (Canada)
12
Trixi Worrack (Germany)
13
Karol-Ann Canuel (Canada)
14
Ashleigh Moolman-Pasio (South Africa)
15

Christine Majerus (Luxembourg)
16
Lucinda Brand (Netherlands)
17
Tiffany Cromwell (Australia)
18

Elena Cecchini (Italy)

0:00:17
19
Rachel Neylan (Australia)
20
Lizzie Williams (Australia)
21
Malgorzata Jasinska (Poland)
22

Linda Melanie Villumsen (New Zealand)
23

Valentina Scandolara (Italy)

0:00:19
24
Evelyn Stevens (United States Of America)
25
Amalie Dideriksen (Denmark)
0:00:31
26

Emilia Fahlin (Sweden)
27

Giorgia Bronzini (Italy)

0:00:36
28
Lauren Kitchen (Australia)
0:00:46
29
Katrin Garfoot (Australia)
30

Lisa Brennauer (Germany)

0:00:49
31
Romy Kasper (Germany)
0:00:51
32
Leah Kirchmann (Canada)
0:00:52
33
Ganna Solovei (Ukraine)
34
Daiva Tuslaite (Lithuania)
35
Rasa Leleivyte (Lithuania)
36
Alison Jackson (Canada)
37
Emilie Moberg (Norway)
38
Diana Penuela (Colombia)
39
Coryn Rivera (United States Of America)
40
Lotta Lepisto (Finland)
41
Elena Kuchinskaya (Russian Federation)
42
Eugenia Bujak (Poland)
43
Ingrid Drexel (Mexico)
44
Tatiana Antoshina (Russian Federation)
46
Amy Pieters (Netherlands)
47
An-Li Kachelhoffer (South Africa)
48
Amanda Spratt (Australia)
49
Jolien D'hoore (Belgium)
50
Loren Rowney (Australia)
51
Ane Santesteban Gonzalez (Spain)
53
Audrey Cordon (France)
54
Rossella Ratto (Italy)
56
Olga Shekel (Ukraine)
0:01:11
57
Polona Batagelj (Slovenia)
0:01:16
58
Anna Potokina (Russian Federation)
0:01:25
59
Oksana Kozonchuk (Russian Federation)
60
Gracie Elvin (Australia)
61
Chantal Blaak (Netherlands)
0:01:37
62
Tatiana Guderzo (Italy)
0:02:33
63
Eri Yonamine (Japan)
0:03:33
64
Jelena Eric (Serbia)
0:04:52
65
Monika Zur (Poland)
0:05:41
66
Ursa Pintar (Slovenia)
67
Iris Slappendel (Netherlands)
68
Laura Camila Lozano Ramirez (Colombia)
69
Anisha Vekemans (Belgium)
70
Monika Brzezna (Poland)
71
Olivia Dillon (Ireland)
72
Joanne Kiesanowski (New Zealand)
73
Serika Guluma Ortiz (Colombia)
74
Hanna Nilsson (Sweden)
75
Camilla Mollebro (Denmark)
76
Marta Bastianelli (Italy)
77
Tayler Wiles (United States Of America)
78
Rushlee Buchanan (New Zealand)
79
Hayley Simmonds (Great Britain)
80
Doris Schweizer (Switzerland)
81
Roxane Knetemann (Netherlands)
0:07:34
82
Svetlana Vasilieva (Russian Federation)
0:10:11
83
Daniela Reis (Portugal)
86
Lauren Komanski (United States Of America)
87
Jeanne D'arc Girubuntu (Rwanda)
0:11:37
88
Sheyla Gutierrez Ruiz (Spain)
0:14:00
DNF
Claudia Lichtenberg (Germany)
DNF
Sara Mustonen-Lichan (Sweden)
DNF
Alice Barnes (Great Britain)
DNF
Ingrid Lorvik (Norway)
DNF
Martina Ritter (Austria)
DNF
Anna Sanchis Chafer (Spain)
DNF
Amélie Rivat (France)
DNF
Stephanie Pohl (Germany)
DNF

Lucy Garner (Great Britain)
DNF
Enkhjargal Tuvshinjargal (Mongolia)
DNF
Lija Laizane (Latvia)
DNF
Miryan Nunez (Ecuador)
DNF
Cecilie Gotaas Johnsen (Norway)
DNF
Charlotte Becker (Germany)
DNF
Tetiana Riabchenko (Ukraine)
DNF
Kathrin Hammes (Germany)
DNF
Shelley Olds (United States Of America)
DNF
Annelies Dom (Belgium)
DNF
Pascale Jeuland (France)
DNF
Roxane Fournier (France)
DNF
Natalya Saifutdinova (Kazakhstan)
DNF
Zuzana Neckarova (Czech Republic)
DNF
Cherise Stander (South Africa)
DNF
Elise Delzenne (France)
DNF
Jessie Daams (Belgium)
DNF
Kaat Hannes (Belgium)
DNF
Jessie Walker (Great Britain)
DNF
Lauren Stephens (United States Of America)
DNF
Nicole Hanselmann (Switzerland)
DNF
Kathryn Bertine (Saint Kitts and Nevis)
DNF
Nontasin Chanpeng (Thailand)
DNF
Sofie De Vuyst (Belgium)
DNF
Denise Ramsden (Canada)
DNF
Molly Weaver (Great Britain)
DNF
Tereza Medvedova (Slovakia)
DNF
Daria Egorova (Russian Federation)
DNF
Yennifer Cesar (Venezuela)
DNF
Milagro Mena (Costa Rica)
DNF
Katarzyna Wilkos (Poland)
DNF
Fiona Meade (Ireland)
DNF
Olena Demydova (Ukraine)
DNF
Miriam Bjornsrud (Norway)
DNF
Sarah Rijkes (Austria)
DNF
Jutatip Maneephan (Thailand)
DNF
Solymar Rivera (Puerto Rico)
DNS
Laura Vainionpaa (Finland)