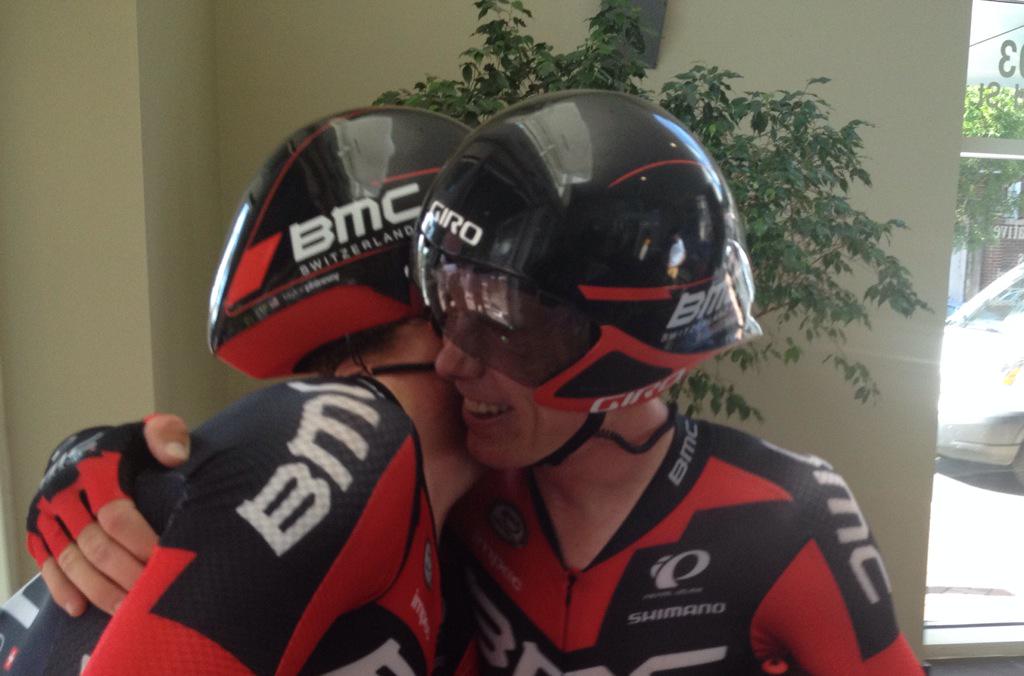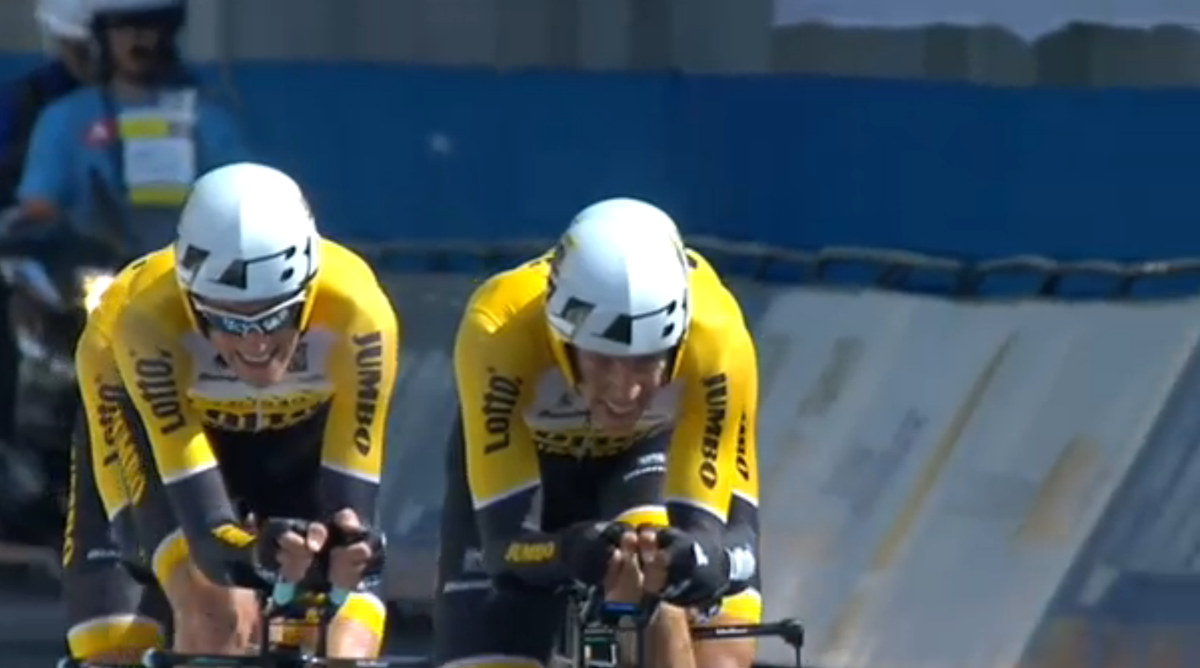 1 BMC
2 Etixx-QuickStep +11.35
3 Movistar +30.11
4 Orica-GreenEDGE +53.73
5 Giant-Alpecin +1:03.69
6 LottoNL-Jumbo +1:17.03
7 Lotto Soudal

0:01:26
8 Astana Pro Team

0:01:37
9 Team Sky

0:01:41
10 Trek Factory Racing

0:01:46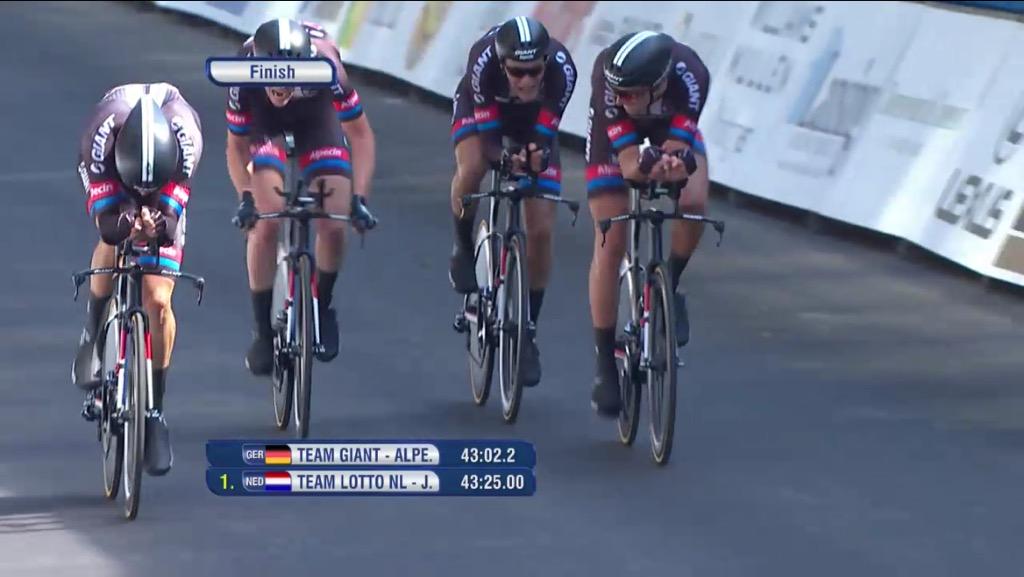 "Everybody was really impressive today, but Rohan Dennis absolutely carried us. He is kind of on another level. But it was great that all six of us stayed together until close to the end. I tried to be conservative in the beginning and then give it some gas toward the finish. But that is always easier said than done.
Peter would easily fit into anybody else's team and he was gracious enough to come here knowing he would be the reserve. He was really helpful for us as a road captain in training."
"Last year when we won, it was a bit of a surprise to a lot of people. To win again really puts our mark on the team time trial on a world level. It is pretty big for BMC."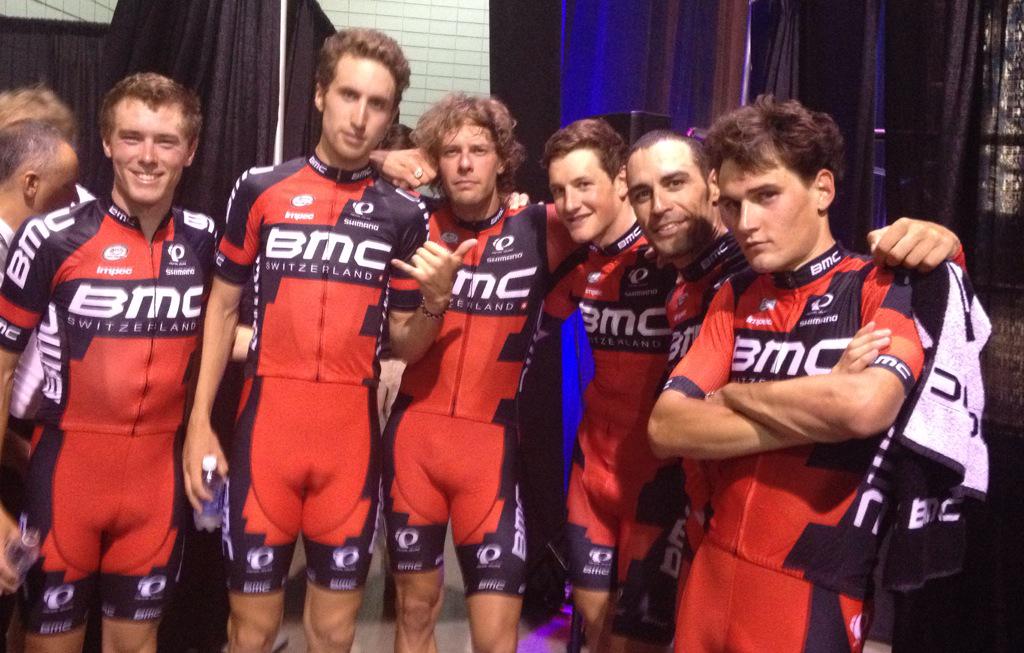 BMC Racing Team Trainer Marco Pinotti:
"It was fast and I did not expect to be that much in front of the other teams. The hardest part was the last part, with a headwind and a slight uphill. The guys kept riding hard and lost a bit. But the other teams were losing even more time. I was sure it was going to be close. When it is close, it is not only about the skill and form, it is about mental strength. The guys kept their focus and this a big achievement."
Tony Martin:
"I'm very happy with the performance of the team and my own performance. We started well, we found a good rhythm, which was in my opinion not too fast and not too slow. We were balanced as a team, with no super strong or weak riders. It was smooth, as it should be in a team time trial. I was a bit surprised about the early split time compared to BMC Racing Team. So, for sure, the morale was a bit affected early on. But then as we went along the parcours, we were gaining seconds back. I think that gave us a small push. We were really fighting, and we had a really strong performance all the way through the finish line. So, I am satisfied about the overall performance. This was also one of my big objectives of the season, and my performance gives me confidence ahead of the UCI World TT Championship on Wednesday. It's hard to analyze myself, but as my teammates said, they were suffering a little bit when I was in front (laughs). So, I'm sorry for that. But it means I am in a good way, it gives me a good feeling for my next objective. I will go for it. I am disappointed for the team in that we didn't win, but we did our best, and my own performance boosted my morale before Wednesday. We will see what can happen in a few days."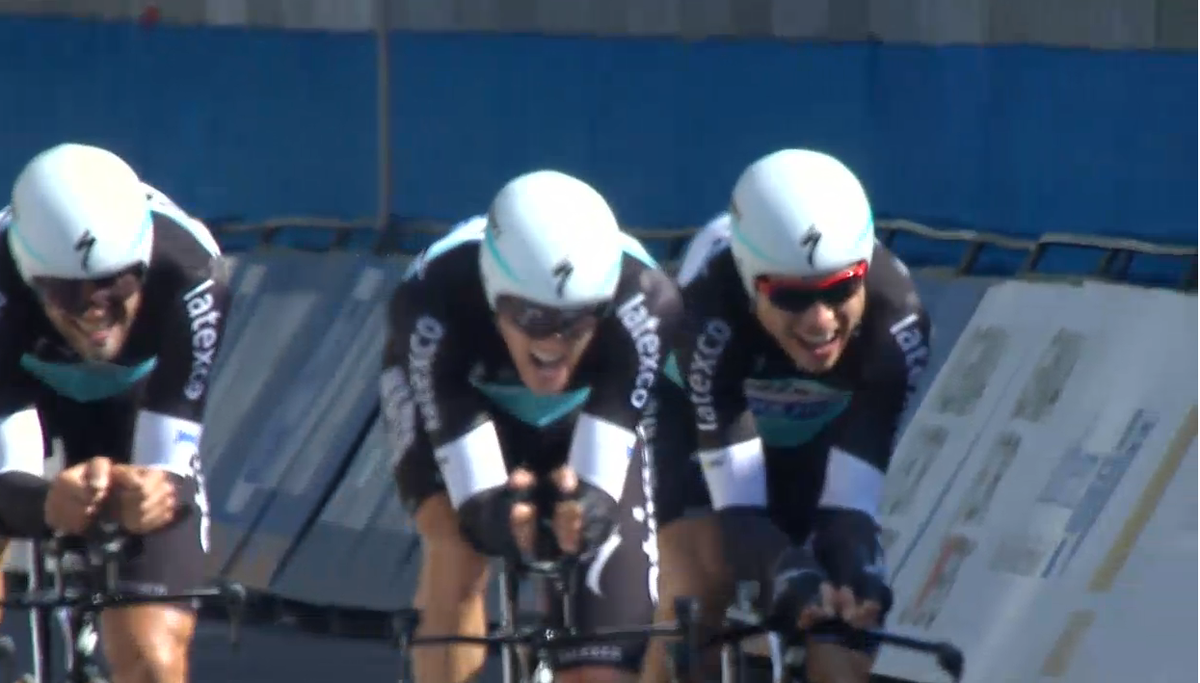 Michal Kwiatkowski:
"I'm really happy about the performance of the team here in Richmond. We did the best we could. The team was really motivated. I did my best, as did everyone. Yves, Rigo, Tom, Tony, Niki, we all worked really well together on this parcours. We tried to go for the victory, but BMC Racing Team was the strongest today. Congratulations to them. As for me, I had great sensations today. I did even better than I expected. I think we all really performed at our highest level possible. The fastest team won today. That's sport."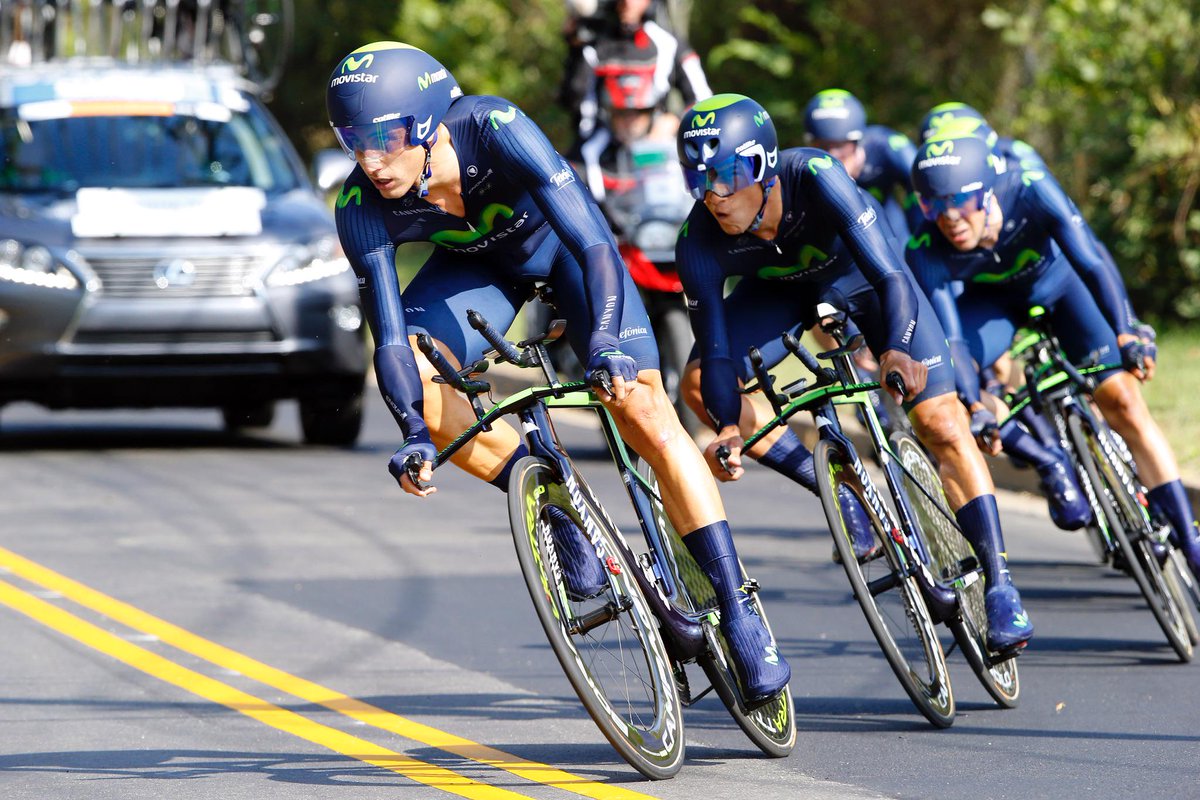 Alex Dowsett:
"We rode as a team and rode well together.
I'd say that it was one of our better time trial performance. I was all right but struggled a bit in the first half. Then when the roads became a bit tougher I was able to contribute a lot more and then before the climb to the finish it came over the radio that I should go flat out before the final climb and then sit up. I just went as hard as I could.
This is up there with the top ones in terms of wins. It's obviously nice to do well when it's solo but it's really cool being up there on the podium with my teammates. It's pretty special. A podium was our aim today and we knew that QuickStep and BMC would be hard to beat but we can all be very happy with how we performed.
It's been a good year. I had really rough period, I guess, after the Tour de France and before this but next year I'm just looking forward to getting going. I want to have a winter without having to train for the Hour Record. I think that will stand me in good stead and I'm really excited about next year. This really tops off the year for me.
In the ITT I'm just going to go out there and do whatever I can do. Like I said before a top ten and anything better than that would be a bonus. You have to have good legs on the day and there's a selection of us that can all beat each other."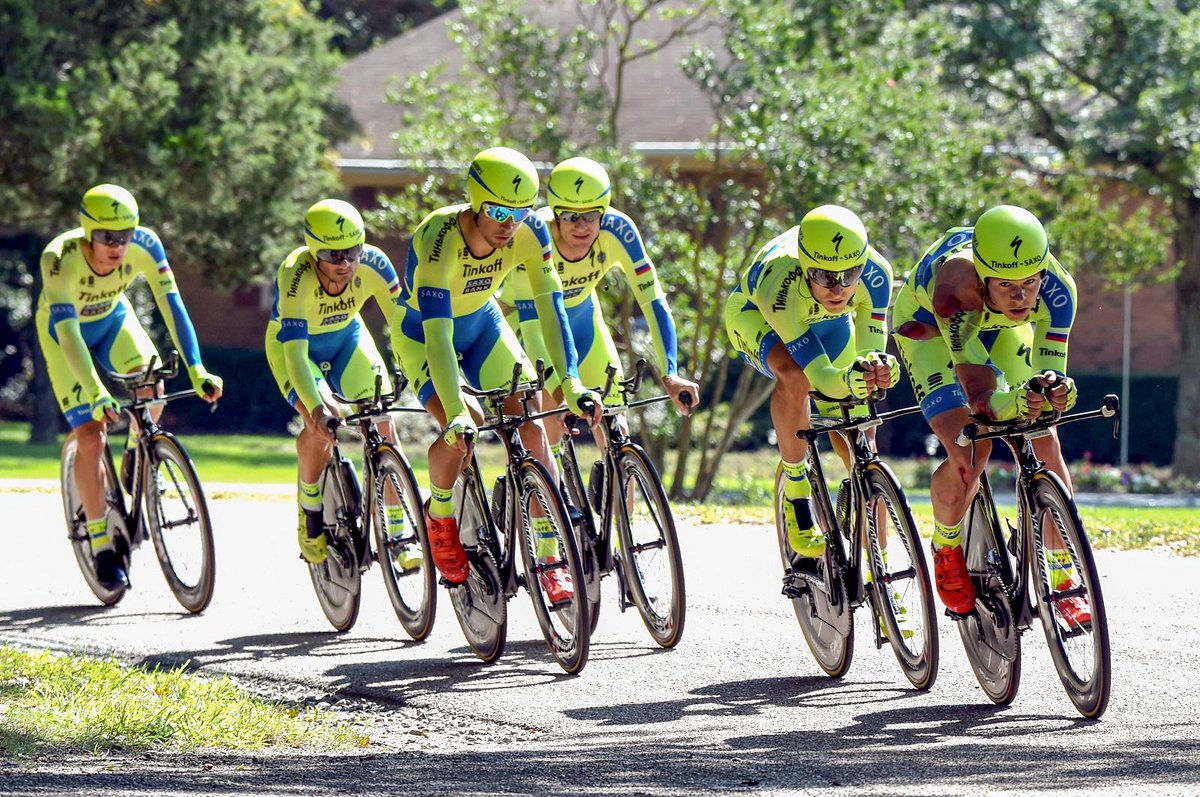 Tinkoff Saxo DS
Sean Yates:
"We are all very disappointed after many days of perfect training and build-up. No one are blaming Valgren for the crash, as we all know that it's something that can happen in these flat-out team time trials. We were approaching the second split time and Michael Valgren touched the wheel in front of him and that caused him to fall. Mick Rogers was on his wheel and they both hit the deck hard. They were moving at 60km/h so they naturally suffered a hard crash but nothing is, fortunately, broken.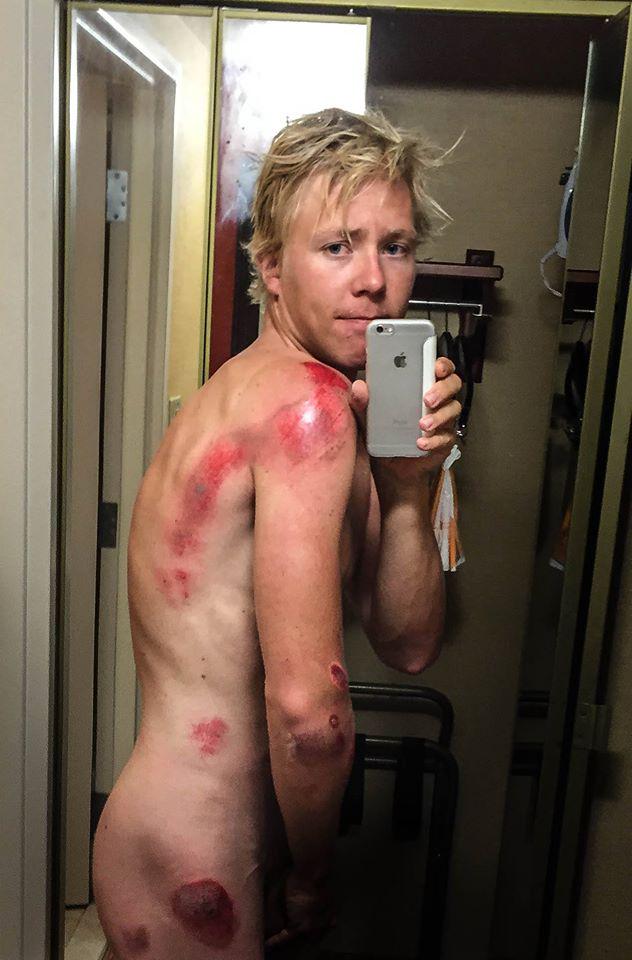 The boys were on their way to a good split time. However, we had already lost Boaro to a mechanical after just one kilometer of racing. But with five strong guys left including Sagan and Bodnar, who were going like machines, they stood a chance of reaching a good result. Valgren had to make up a few meters after the final corner before the intermediate check and he was on his limit, as he got back up. That might have caused him to lose concentration for a second. So to sum up – nothing really went our way, it simply didn't come together.
Rogers and Valgren have both suffered superficial injuries but nothing is broken. It's always going to hurt, when you crash at that kind of speed but we are naturally relived that both of them didn't sustain any major injuries. Rogers is pretty cut up with a wound on his hand. A large part of Valgren's shoulder is scratched up and his mood also took a tumble. It's not the scenario we were hoping for, the boys were all very motivated and they had all approached this TTT in a really professional manner. Our preparations went smoothly but in the decisive moment it didn't come together. Now, we just got to look forward".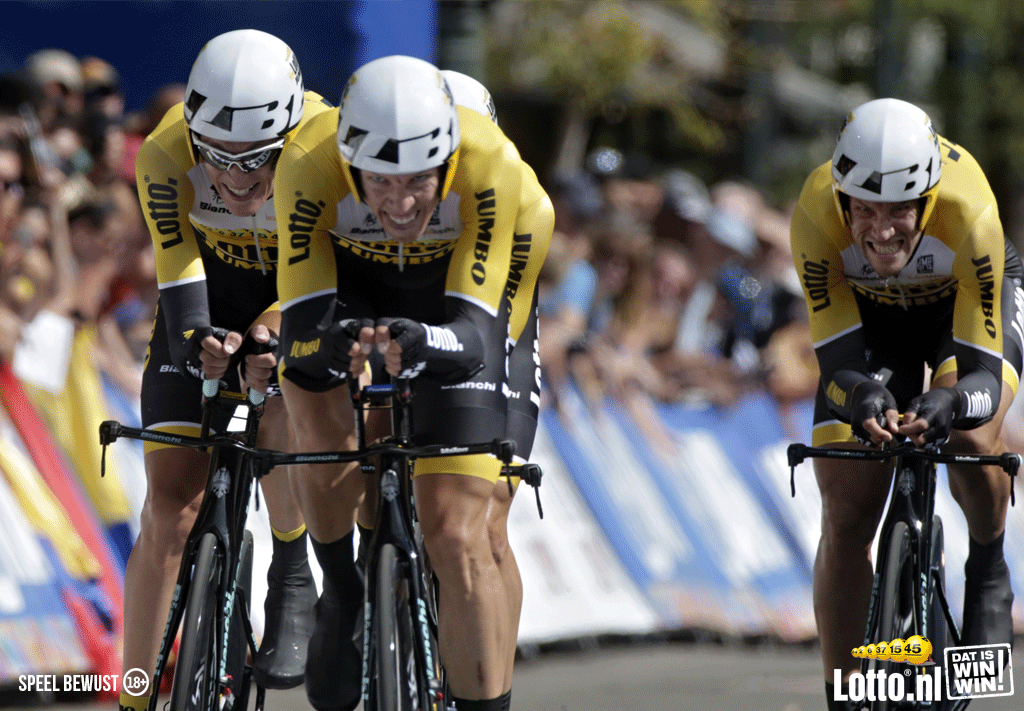 Maarten Tjallingii
"I really had strong legs today and real power. Too bad we lost Jos. We really needed him in the second part of the race. We have paid great attention to the bike and the aerodynamics and worked closely with sponsor Bianchi. You can see it in the results."
Sep Vanmarcke:
"
We can be proud with that 6th spot in the TTT! After losing an important soldier way to early with a flat tire, we still made a good result!"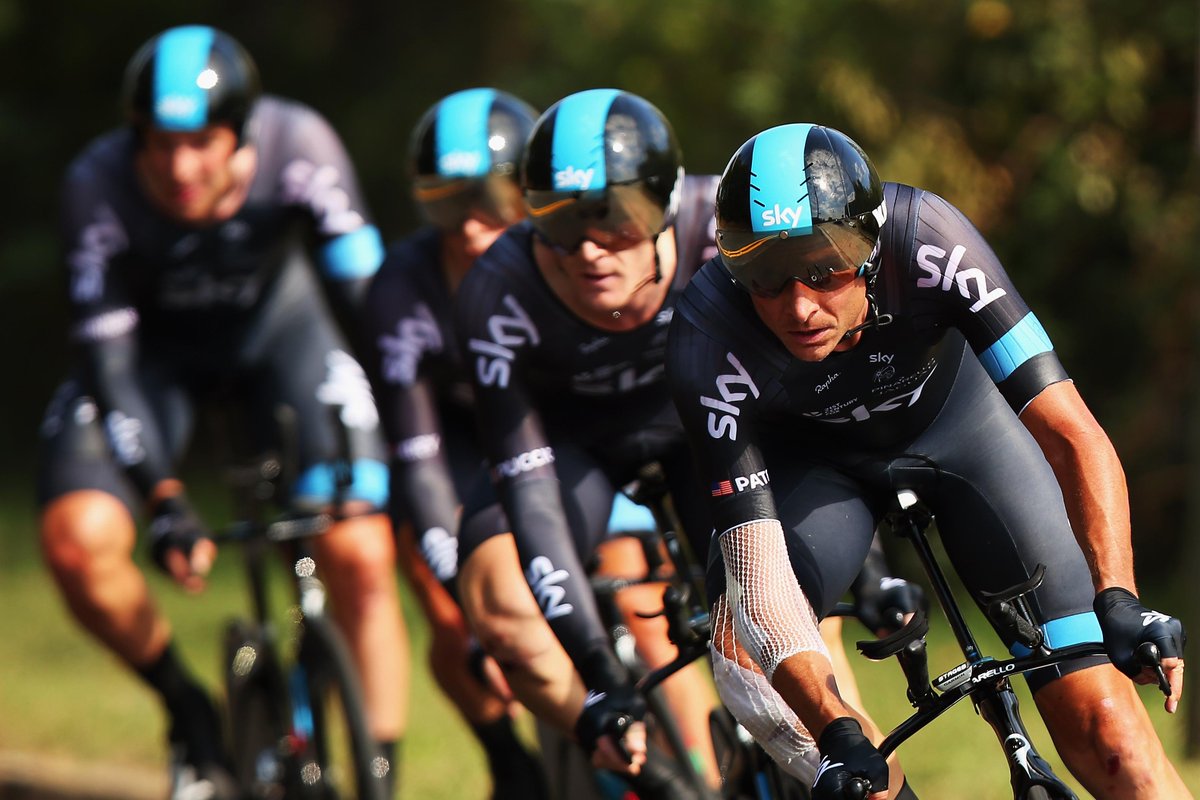 Team Sky DS Nicolas Portal:
"Given what happened yesterday [a massive crash during the recon], I thought that was a good ride. Elia did a strong pull at the beginning and Danny fought all the way until the end. Luke contributed before he was dropped and Ian was his usual strong self. Salva has come out of the Vuelta in really good form and Kiry was just a machine. No one could pass him on the front and he's looking great for Wednesday's individual time trial.
Before the crash, I think we were looking at a podium position here so it's a shame the way things turned out.
Elia was taking some long, hard turns before he dropped back, and that's a good sign. He's got a week to recover now and we're all hoping for that he can come good. He he was in fantastic shape at the Tour of Britain last week and this is a big goal for him.
Danny Pate deserves some praise as well. He was really motivated to do a good ride in front of his home crowd, and he showed a lot of bravery to still be in the first four at the finish. Chapeau to him."
Lotto-Soudal DS Herman Frison:
"We are very satisfied with this seventh place. Before the race, a top ten place was the goal we had set. We were hugely disappointed last year, so this result is very good. The preparation for the team time trial was perfect, the past week we could train in a serene atmosphere and work on the automatisms. All guys rode the races in Canada so they didn't need to adapt to the time zone anymore. They were fresh and motivated, we deliberately chose not to select anyone who rode the Vuelta, and I think that was the right choice. The course suited us, it was relatively flat with a few tougher sections
I thought we got in the right rhythm quite soon. With only six riders in the team you have to make sure you don't lose someone very early in the race, but still you need to develop a pace as high as possible, knowing that the course wasn't easy at the end. The intermediate times gave us an idea of our position and that result was confirmed at the finish. The four expected teams were the best and behind them the others were close together. Tim got dropped with ten kilometres to go and was disappointed about it, but that's not what counts in a team time trial. Everyone is riding at his limit. Other teams already lost riders earlier. We didn't panic, not even when Jürgen was distanced a bit later as well. In the final phase the pain was big, but the result is good!"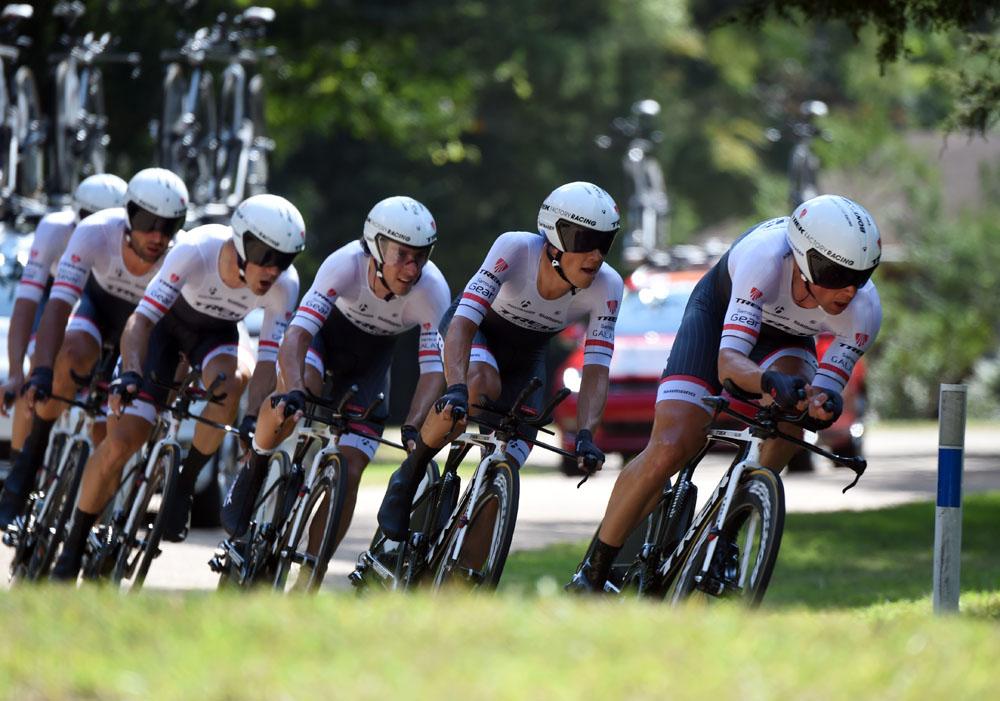 Jesse Sergen:
"Today I was probably the weakest guy. I didn't quite have the real power you need to be on the front. I have been fighting a stomach bug the last few days and lost weight, and I tried to put on a brave face today and do the best I could. I had some power, but not the real punch you need for a team time trial and especially for a course like this.
My pulls were a bit shorter, and times where we needed to speed up I could not do what I would have liked or usually do in team time trials, and that was a little bit hard on the head as well, but I kinda did just what I could. I did it for the guys that are here, they all did a really strong ride. Marco [Coledan] and Markel were probably the real strong men in the team today, so good on them."
Stijn Devolder:
"I felt good at the start, and decided to take longer pulls. But I regretted that in the second part. I was really suffering and I was hanging on for dear life. Markel was very strong today – he did one big pull into the last climb to launch us and then dropped off."
Markel Irizar:
"I think we missed a little bit, especially in the headwind we missed a little bit of speed, but we did our best and we didn't make many mistakes. We were more or less smooth the entire way. Definitely I was feeling good and it was the best TT for me in a couple of years where I had the best feeling. I had good legs, but I wanted to finish further ahead with the team…today it was not possible."