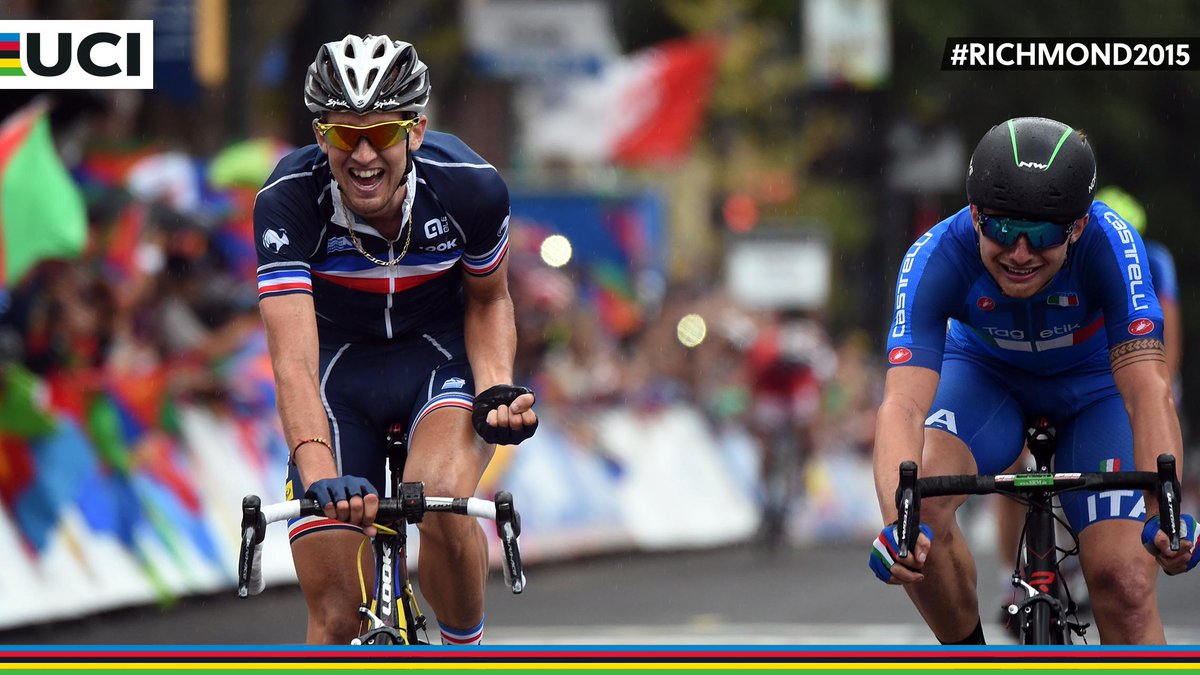 It's fair to say that

crashes and mechanicals affected the results of several riders and teams, especially Italia

, that was attacking from the break away with

a superb Martinelli

in an important phase of the race. Unfortunately his gear broke and he was

forced to change his bike

. In spite of this he was very active also in the finale. A second silver medal for Italia is no doubt a good result, still it could have been gold.
France completes the podium with Ledanois

- who fought shoulder to shoulder to get a gap in the final km -

and Turgis

, who won the sprint in the front group. The Italian

Consonni wasn't happy with his second place

and hit his handlbar in rage.
Cobbled climbs had a role but didn't decide the race.
1 Kevin Ledanois (France)

3:54:45
2 Simone Consonni (Italy)
3 Anthony Turgis (France)

0:00:02
4
Gianni Moscon (Italy)
5
Alexander Kamp Egested (Denmark)
0:00:05
6
Fabian Lienhard (Switzerland)
7
Michal Schlegel (Czech Republic)
8
Lucas Gaday Orozco (Argentina)
9
Adam De Vos (Canada)
0:00:10
10

Lennard Kamna (Germany)

0:00:12
11

Merhawi Kudus Ghebremedhin (Eritrea)
12
Tom Bohli (Switzerland)
13
Jack Haig (Australia)
14
Tim Kerkhof (Netherlands)
0:00:13
15
Mihkel Raim (Estonia)
16
Michal Paluta (Poland)
17
Benjamin Declercq (Belgium)
18
Jakub Kaczmarek (Poland)
19
Maxime Farazijn (Belgium)
20
Miguel Angel Benito Diez (Spain)
0:00:16
21
Alexander Wachter (Austria)
22
Sam Oomen (Netherlands)
23
Twan Brusselman (Netherlands)
24
Imanol Estevez (Spain)
25
Rok Korosec (Slovenia)
0:00:24
26
Benjamin Perry (Canada)
27
Lucas Eriksson (Sweden)
28
Felix Grossschartner (Austria)
29
Soren Kragh Andersen (Denmark)
30
Sebastian Schonberger (Austria)
31
Ignacio Prado (Mexico)
32
Fabien Grellier (France)
0:00:29
33
Stylianos Farantakis (Greece)
34
Josip Rumac (Croatia)
35
Jan Dieteren (Germany)
0:00:35
36
Dylan Page (Switzerland)
0:00:37
37
Laurens De Plus (Belgium)
38
Truls Engen Korsaeth (Norway)
39
Nuno Matos (Portugal)
40
David Per (Slovenia)
41
Cristian Raileanu (Republic of Moldova)
42
Anders Skaarseth (Norway)
43
Metkel Eyob (Eritrea)
0:00:48
44
Hector Saez Benito (Spain)
45
Yuri Kobashi (Japan)
46
Samir Jabrayilov (Azerbaijan)
47
Erik Baska (Slovakia)
48
Daniel Eaton (United States Of America)
49
Gasper Katrasnik (Slovenia)
50
Nils Politt (Germany)
51
Michael Gogl (Austria)
52
Oliviero Troia (Italy)
0:00:59
53
Josten Vaidem (Estonia)
0:01:03
54
Sergey Luchshenko (Kazakhstan)
0:01:07
55
Rui Carvalho (Portugal)
0:01:09
56
Nicholas Schultz (Australia)
0:01:12
57
Ildar Arslanov (Russian Federation)
58
Amanuel Ghebreigzabhier (Eritrea)
59
Hugo Hofstetter (France)
60
Guy Gabay (Israel)
61
Toshiki Omote (Japan)
62
Yevgeniy Gidich (Kazakhstan)
63
Ryan Gibbons (South Africa)
64
Daan Myngheer (Belgium)
65
Maximilian Schachmann (Germany)
66
Davide Martinelli (Italy)
67
Gregor Muhlberger (Austria)
68
Artem Nych (Russian Federation)
69
Roman Kustadinchev (Russian Federation)
70
James Oram (New Zealand)
0:01:17
71
Anass Ait El Abdia (Morocco)
0:01:20
72
Jose Luis Rodriguez (Chile)
0:01:25
73
Daniel Hoelgaard (Norway)
74
Odd Christian Eiking (Norway)
75
Wilmar Paredes (Colombia)
76
Oleg Zemlyakov (Kazakhstan)
77
Lennard Hofstede (Netherlands)
78
Harry Carpenter (Australia)
0:01:48
79
Patrick Muller (Switzerland)
0:02:08
80
Juan Felipe Osorio (Colombia)
0:02:20
81
Marcus Faglum Karlsson (Sweden)
0:02:22
82
Nathan Van Hooydonck (Belgium)
0:02:49
83
Adrian Banaszek (Poland)
0:03:02
84
Dion Smith (New Zealand)
85
Daniel Turek (Czech Republic)
86
Josef Cerny (Czech Republic)
0:03:31
87
Logan Owen (United States Of America)
88
Leonardo Basso (Italy)
0:03:32
89
Jayde Julius (South Africa)
0:03:34
90
Colin Joyce (United States Of America)
91
Markus Hoelgaard (Norway)
0:04:11
92
Owain Doull (Great Britain)
0:04:25
93
Michael Carbel Svendgaard (Denmark)
0:04:40
94
Krists Neilands (Latvia)
95
Gustav Hoog (Sweden)
96
Davide Ballerini (Italy)
0:05:17
97
Bonaventure Uwizeyimana (Rwanda)
0:05:42
98
Thery Schir (Switzerland)
0:06:11
99
Pedro Rodriguez (Ecuador)
0:06:53
100
Fabrizio Von Nacher Suess (Mexico)
0:08:14
101
Juraj Bellan (Slovakia)
0:08:51
102
Stepan Astafyev (Kazakhstan)
0:09:46
103
Esteban David Villareal Almeida (Ecuador)
104
Joao Rodrigues (Portugal)
105
Abderrahmane Mansouri (Algeria)
0:10:44
106
Aksel Nommela (Estonia)
107
Ludvig Bengtsson (Sweden)
108
Eddie Dunbar (Ireland)
109
Adil Barbari (Algeria)
110
Dmitriy Lukyanov (Kazakhstan)
111
Mamyr Stash (Russian Federation)
DNF
Jonas Gregaard Wilsly (Denmark)
DNF
Lubos Malovec (Slovakia)
DNF
Franck Bonnamour (France)
DNF
Hayden Mccormick (New Zealand)
DNF
Juan Ignacio Curuchet (Argentina)
DNF
Roy Goldstein (Israel)
DNF
Yonas Tekeste Haile (Eritrea)
DNF
Tao Geoghegan Hart (Great Britain)
DNF
Ruben Guerreiro (Portugal)
DNF
Aviv Yechzkel (Israel)
DNF
Yuma Koishi (Japan)
DNF
Jhonatan Ospina (Colombia)
DNF
Tyler Williams (United States Of America)
DNF
Valens Ndayisenga (Rwanda)
DNF
Scott Davies (Great Britain)
DNF
Alex Peters (Great Britain)
DNF
Alejandro Morales (Chile)
DNF
Tom Wirtgen (Luxembourg)
DNF
Salvador Martinez (El Salvador)
DNF
Jonas Koch (Germany)
DNF
Martin Laas (Estonia)
DNF
Marlen Zmorka (Ukraine)
DNF
Sergiy Kozachenko (Ukraine)
DNF
Nigel Ellsay (Canada)
DNF
Ruslan Giliazov (Russian Federation)
DNF
Alexander Cataford (Canada)
DNF
Marc Fournier (France)
DNF
Suguru Tokuda (Japan)
DNF
Mads Wurtz Schmidt (Denmark)
DNF
Caio Godoy Ormenese (Brazil)
DNF
Gregory Daniel (United States Of America)
DNF
Xavier San Sebastian (Spain)
DNF
Rustom Lim (Philippines)
DNF
Atsushi Oka (Japan)
DNF
Alvaro Jose Hodeg Chagui (Colombia)
DNF
Jean Bosco Insengiyumva (Rwanda)
DNF
Gabriel Cullaigh (Great Britain)
DNF
Nikolay Cherkasov (Russian Federation)
DNF
Frantisek Sisr (Czech Republic)
DNF
Andrej Petrovski (Macedonia)
DNF
Fridtjof Roeinaas (Norway)
DNF
Dominic Perez (Philippines)
DNF
Sebastian Molano (Colombia)
DNF
Dominique Mayho (Bermuda)
DNF
Miles Scotson (Australia)
DNF
Jhon Mark Camingao (Philippines)
DNF
Jefferson Cepeda (Ecuador)
DNF
Oskar Nisu (Estonia)
DNF
Gerardo Medina (Mexico)
DNF
Nassim Saidi (Algeria)
DNF
Narankhuu Bat-Erdene (Mongolia)
DNF
Abderrahmane Bechlaghem (Algeria)
DNF
Omer Goldstein (Israel)
DNF
Nickolas Dlamini (South Africa)
DNF
Kolya Shumov (Belarus)
DNF
Jhonatan Restrepo (Colombia)
DNF
Elias Abou Rachid (Lebanon)
DNF
Steven Lammertink (Netherlands)
DSQ
Alistair Donohoe (Australia)