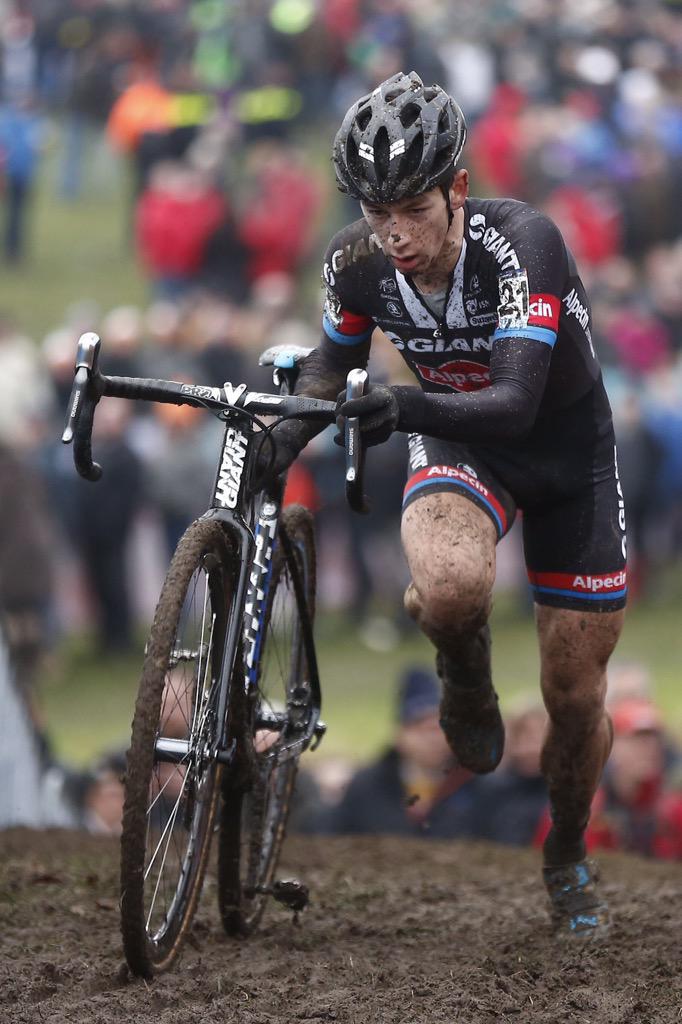 Three times in a row.

Three triumphes for Lars van der Haar

in HIS race: Valkenburg World Cup. Amazing.
He took off immediatelly and 5 laps to go his advantage was already 30''.

Chasers weren't going to see him again before the finish

, and they were Wout van Aerts and Sven Nys.
Lars van der Haar:
"I felt good today, and I'm happy with the good week of training and rest that I've had. I wanted to ride my own race on this parcours, rather than sitting on others' wheels, as it suits me really well.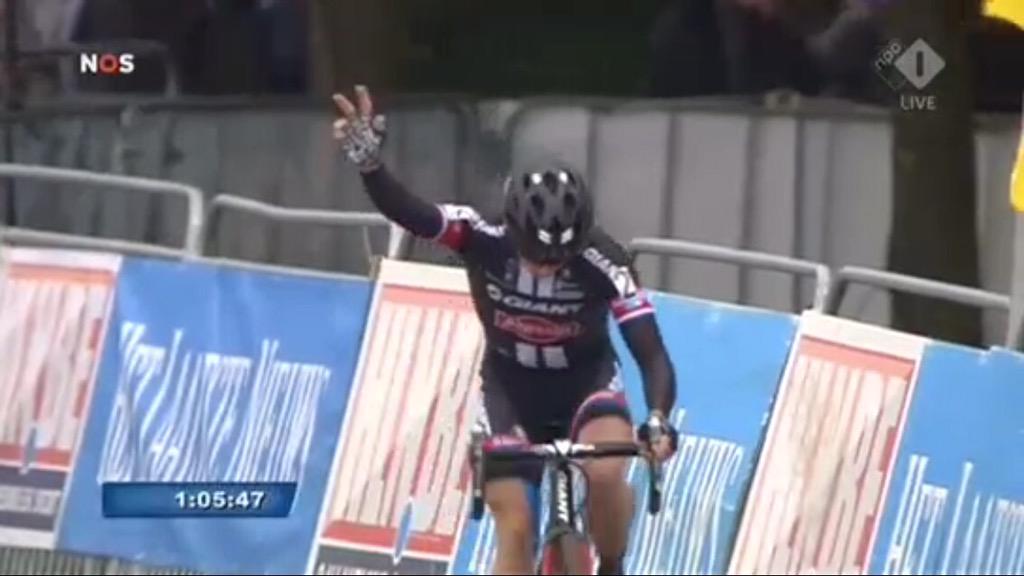 Wout went first and I was able to close the gap, which felt good. When he asked me to take over I immediately went full gas and didn't look back.
Until the final lap I gave my all, and I recovered a bit so that I could go fast on the hard sections. Taking the victory here is a great feeling."
2 Wout Van Aert (Bel)

0:00:24
4
Kevin Pauwels (Bel)
0:00:59
5
Julien Taramarcaz (Swi)
0:01:40
6
Michael Vanthourenhout (Bel)
0:01:59
7
Corne Van Kessel (Ned)
0:02:05
8
Clément Venturini (Fra)
0:02:06
9
Diether Sweeck (Bel)
0:02:13
10
Laurens Sweeck (Bel)
0:02:18
11
Marcel Meisen (Ger)
0:02:25
12
Tim Merlier (Bel)
0:02:31
13
Francis Mourey (Fra)
0:02:49
14
Thijs Van Amerongen (Ned)
0:02:56
15
Tom Meeusen (Bel)
0:03:18
16
Rob Peeters (Bel)
0:03:21
17
Toon Aerts (Bel)
0:03:24
18
Jens Adams (Bel)
0:03:28
19
Sascha Weber (Ger)
0:03:33
20
Stan Godrie (Ned)
0:03:41
21
Niels Wubben (Ned)
0:03:50
22
Fabien Doubey (Fra)
0:03:55
23
Vincent Baestaens (Bel)
0:04:05
24
Michael Boros (Cze)
0:04:10
25
Gianni Vermeersch (Bel)
0:04:21
26
Marcel Wildhaber (Swi)
0:04:32
27
Ian Field (GBr)
0:04:43
28
David Van Der Poel (Ned)
0:05:03
29
Jim Aernouts (Bel)
0:05:05
30
Martin Haring (Svk)
0:05:16
31
Simon Zahner (Swi)
0:05:21
32
Gert-Jan Bosman (Ned)
0:05:39
33
Javier Ruiz De Larrinaga Ibanez (Spa)
0:05:48
34
Philipp Walsleben (Ger)
0:05:51
35
Severin Saegesser (Swi)
0:06:07
36
Nicolas Samparisi (Ita)
39
Lukas Winterberg (Swi)
45
Lorenzo Samparisi (Ita)
47
Patrick Van Leeuwen (Ned)
49
Michael Wildhaber (Swi)
53
Vladimir Kyzivat (Cze)
61
Vincent Dias Dos Santos (Lux)
DNF
Radomir Simunek (Cze)
DNS
Klaas Vantornout (Bel)
2 Kaitlin Antonneau (USA)

0:00:10
3 Pavla Havlikova (Cze)

0:00:21
4
Sanne Cant (Bel)
0:00:40
5
Amanda Miller (USA)
0:00:48
6
Nikki Harris (GBr)
0:01:10
7
Ellen Van Loy (Bel)
0:01:23
8
Helen Wyman (GBr)
0:01:29
9
Jolien Verschueren (Bel)
0:01:35
10
Sanne Van Paassen (Ned)
0:02:02
11
Femke Van Den Driessche (Bel)
0:02:14
12
Crystal Anthony (USA)
0:02:30
13
Katherine Compton (USA)
0:03:22
14
Alice Maria Arzuffi (Ita)
0:03:35
15
Maud Kaptheijns (Ned)
0:04:12
16
Loes Sels (Bel)
0:04:24
17
Bethany Crumpton (GBr)
0:04:35
18
Jana Czeczinkarova (Cze)
0:04:38
19
Lucia Gonzalez Blanco (Spa)
0:04:44
20
Maëlle Grossetête (Fra)
0:04:47
21
Nikola Noskova (Cze)
0:04:51
22
Karen Verhestraeten (Bel)
0:04:57
23
Lizzy Witlox (Ned)
0:05:01
24
Janka Keseg Stevkova (Svk)
0:05:08
25
Marlene Petit (Fra)
0:05:14
26
Yara Kastelijn (Ned)
0:05:27
27
Hannah Payton (GBr)
0:05:32
28
Aida Nuno Palacio (Spa)
0:05:39
29
Marlène Morel Petitgirard (Fra)
0:05:44
30
Inge Van Der Heijden (Ned)
0:05:49
31
Arley Kemmerer (USA)
0:05:56
32
Martina Mikulaskova (Cze)
0:06:13
33
Laura Perry (Fra)
0:06:35
34
Margriet Helena Kloppenburg (Den)
0:06:43
36
Adela Safarova (Cze)
0:07:07
37
Esmee Oosterman (Ned)
0:07:25
38
Asa Maria Erlandsson (Swe)
0:07:42
39
Manon Bakker (Ned)
0:08:27
40
Courtenay Mcfadden (USA)
43
Alicia Gonzalez Blanco (Spa)
45
Christine Vardaros (USA)
46
Patrycja Lorkowska (Pol)
47
Elizabeth Ungermanova (Cze)
49
Karolina Perekitko (Pol)
DNF
Lise-Marie Henzelin (Swi)
DNF
Laura Verdonschot (Bel)
DNF
Juliette Labous (Fra)
DNS
Thalita De Jong (Ned)
DNS
Hanka Kupfernagel (Ger)