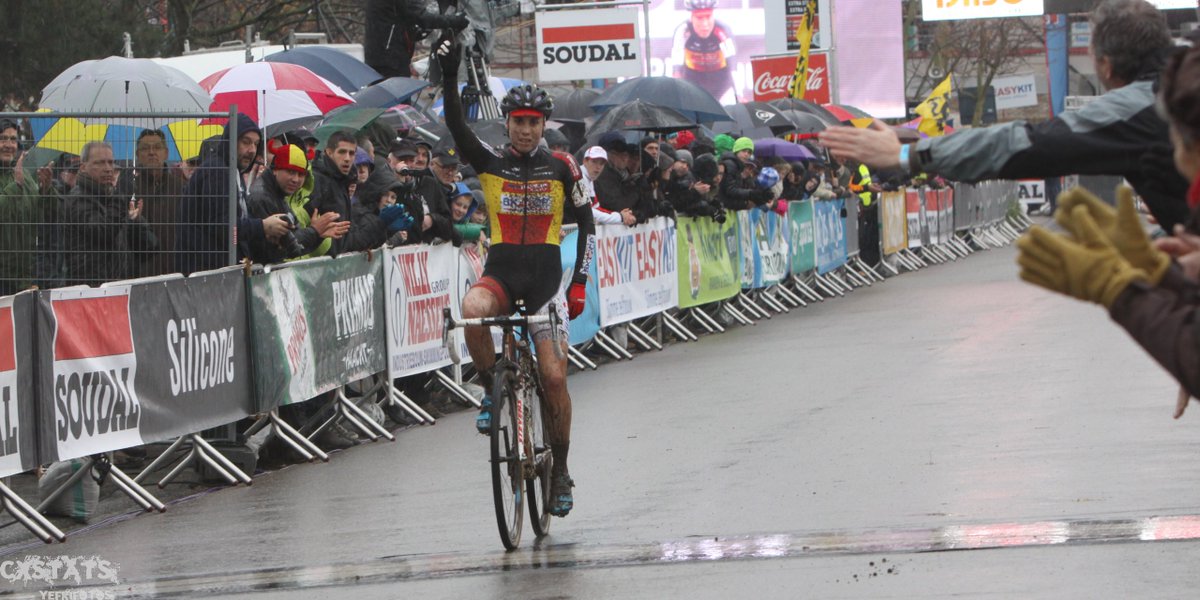 As far as women, YES SHE CAN-T! Obviously

SANNE Cant

. Obviously SOLO. What a rider!

As far as men...

Sven Nys

takes the lead since the start,

Tom Meeusen

follows and they get a gap in the first lap already.

Kevin Pauwels

is just behind and quickly joins. 6 laps to go they have 12'' on the first chasing group. 5 laps to go, Van Amerongen and Diether Sweeck attacked from behind and come closer to the leading trio.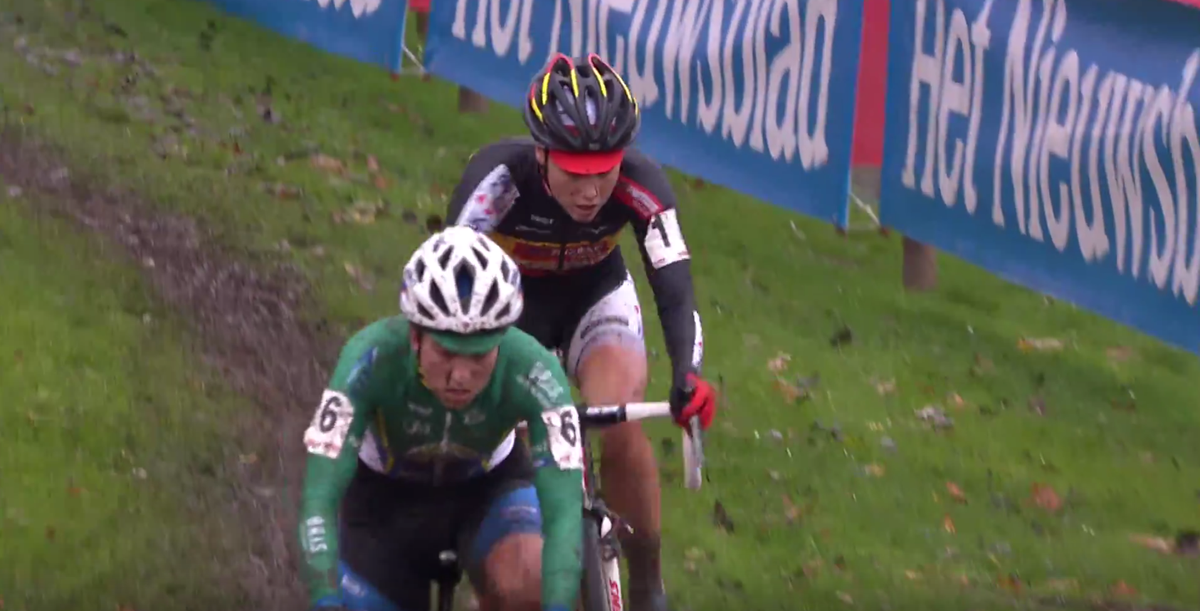 Things are muddy in Hasselt: Pauwels and Meeusen change their bike but Nys decides to not

and tries to break away. He goes.

Things are also slippery

so it's hard to drive the bike, but

Nys shows all his skill, a perfect balance, a perfect control

. Small mistakes can't stop his great excape. And things are slippery for everybody.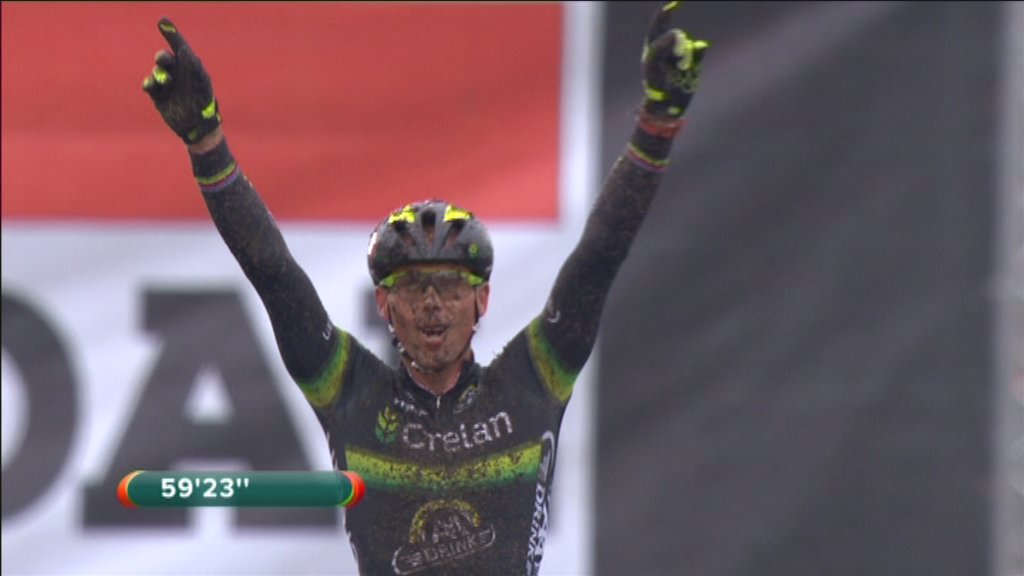 However Pauwels and Meeusen well know their job. Nys is caught and they are

back together

4 laps to go.

Time to attack again for Sven Nys

, time to open a new gap. He goes. But

Pauwels follows

. Now

Meeusen is slightly dropped

. It's 3 laps to go. Tom

Meeusen didn't give up

, he kept pulling and caught again Pauwels' wheel. Three riders in front again: is this the podium? probably. Or not? Suddenly

D.Sweeck gets in the framming

! 2 laps to go he's only 6'' behind. It's a lawless fight: a rider falls and first he puts his bike in front of his opponents. Say Meeusen, say Nys. But that has been Pauwels and Nys before.
Last lap: Sweek is 8'' down.

Meeusen is racing aggresively and manages to put his wheel again in front of Nys.

What a race!

On the barriers, it's shoulder against shoulder and Nys goes ahead again. Basicly a BIG SLAP.

Then Nys gains meters and seconds,

wins solo while Meeusen defeated claps on the line

.
Sevn Nys: Source: http://sporza.be/cm/sporza/wielrennen/veldrijden/1.2502461

"I'm incredibly happy.

I still enjoy such a victory, despite my age.

I worked all year go home at least once with the flowers. That's a great victory that I didn't get as a gift.

This is not a ranking cross but I still enjoy this victory 100 %,

in spite of my age.

That's my strength: I'm as happy as a 25 yo boy to win a cross. And I must admit that such a crowd supporting me... it's a goosebumps moment.

I felt I was very close the last week. My opponents were a bit stronger. I'm very pleased that it worked well today and this gives morale for tomorrow.

People often ask me why I'm always so hard on myself. I think I have to. I'm going to close my career in a beautiful way.

I have to wait until the weather changes, but that's Sven Nys at its best.

I felt I had a lot of strength in my legs. In some places it was really hard to keep a balance. The last stretch, where I went away and secured the victory, suited me very well. I also tried to ride constantly in front so if I made a mistake the rest had to get off the bike.

Tom Meeusen is a guy with a lot of technique, sometimes it was very difficult for me to keep his wheel, but in the end I just had a little more power in the legs."

[I already apologise for my poor translation: be tollerant ;) ]
On twitter he wrote: "No words just act!"

RESULTS
WOMEN
2 Maud Kaptheijns (AA Drink-Kalas Cycling Team) 0:00:17
3 Ellen Van Loy (VZW Young Telenet Fidea Cycling Team) 0:00:33
4 Helen Wyman (Kona Factory Team) 0:00:33
5 Bianca Van Den Hoek 0:03:11
6 Manon Bakker 0:03:37
7 Floor Weerink 0:03:41
8 Lindy Van Anrooij (ZRTC Theo Middelkamp) 0:03:44
9 Linda Ter Beek (WSV Emmen) 0:03:48
10 Pauline Delhaye 0:05:03
11 Shana Maes (AA Drink-Kalas Cycling Team) 0:05:15
12 Veerle Goossens 0:05:45
13 Maaike De Heij (WV De Valleirenners) 0:06:02
14 Evy Kuijpers 0:06:25
15 Senna Feron (WV Zwee) 0:06:32
16 Elena Valentini 0:06:50
17 Birgit Massage 0:07:00
18 Jinse Peeters 0:07:00
19 Sophie Thackray 0:07:58
20 Demi De Jong 0:09:15
21 Judith Visser -1 v
22 Mara Schwager -1 v
23 Brenda Kaczmarczyk (Cyclo Bike Limburg) -2 v
DNF Lizzy Witlox (TWC de Kempen)
DNF Nathalie Bex
1
Sven Nys (Bel) Crelan - AA Drink Team
0:59:30
2
Tom Meeusen (Bel) Telenet Fidea Cycling Team
0:00:07
3
Kevin Pauwels (Bel) Sunweb - Napoleon Games Cycling Team
0:00:12
4
Diether Sweeck (Bel) Era - Murprotec
0:00:33
5
Laurens Sweeck (Bel) Era - Murprotec
0:00:38
6
Thijs Van Amerongen (Ned) Telenet Fidea Cycling Team
0:00:46
7
Jens Adams (Bel) Vastgoedservice - Golden Palace Cycling Team
0:00:52
8
Julien Taramarcaz (Sui) Era - Murprotec
9
David Van der Poel (Bel) BKCP - Corendon
10
Radomir Simunek (Cze) Era - Murprotec
0:01:25
11
Vincent Baestaens (Bel) BKCP - Corendon
0:01:52
12
Klaas Vantornout (Bel) Sunweb - Napoleon Games Cycling Team
0:01:59
13
Joeri Adams (Bel Vastgoedservice - Golden Palace Cycling Team
0:02:17
14
Jan Denuwelaere (Bel) Vastgoedservice - Golden Palace Cycling Team
0:02:52
15
Niels Wubben (Ned) Telenet Fidea Cycling Team
0:03:02
16
Marcel Meisen (Bel) Team Kuota Lotto
0:04:24
17
Adam Toupalik (Cze) BKCP - Corendon
0:04:40
18
Mariusz Gil (Pol) Project Cross Racing
0:05:17
19
Michiel van der Heijden (Ned)
0:05:47
20
Jens Teirlinck (Bel) Van Assche-Alpha Motorhomes Cycling Team
0:06:06
21
Kyle De Proost (Bel) Kon. Balen B.C. V.Z.W.
0:06:35
22
Edwin De Wit (Bel) Rupelspurters Boom
-1
23
Loïc Hennaux (Bel)
24
Glen Kinning (Irl)
-3
25
Luc Turchi (Lux)
26
Maximilian Holz (Ger)
-4
27
Bennati Riccardo (Ita)
-5
28
Kristafs Kipurs
DNF
Michael Boros (Cze) BKCP - Corendon
DNF
Rob Peeters (Bel) Vastgoedservice - Golden Palace Cycling Team
DNF
Jim Aernouts (Bel) Telenet Fidea Cycling Team
DNF
Yves Coolen (Bel) Rock Werchter-Toekomstvrienden
DNF
Sascha Weber (Ger) Veranclassic-Doltcini Cycling Team