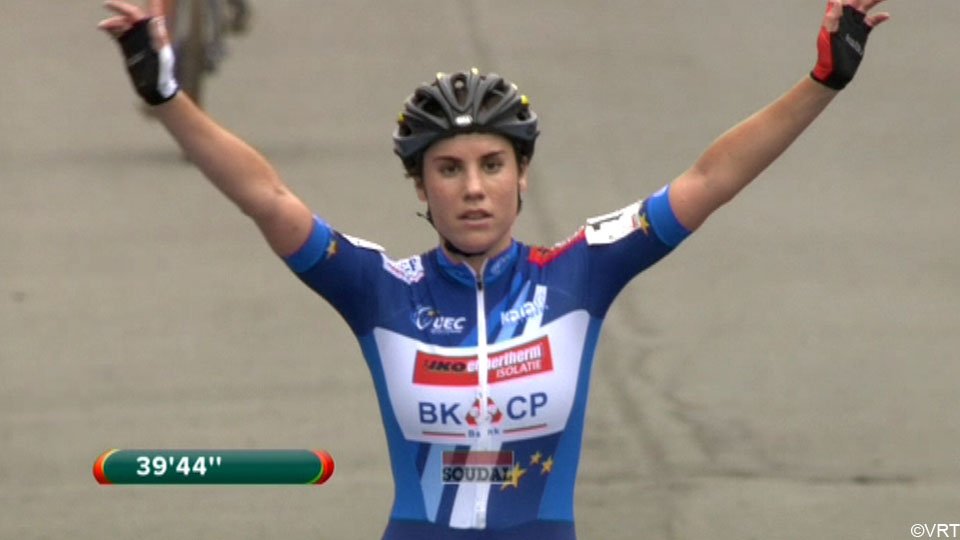 Note the jersey ;)
The cross in the factory. A rude one.
As far as women

: another stunning solo victory by my lady

Sanne Cant!

No words!
Must be said that Helen Wyman crashed out.



As far as Men

: one lap gone and

Nys' already leading: no gap but others' faces say it all.

No Wout and no Lars.

Tom Meeusen keeps the wheel when Sven speeds up. L. Sweeck chases and joins.

Behind: D.Sweeck at 12". Boros, Vantornout, Van der Poel, Merlier and Simunek at 18".

Suddenly a small mistake and Nys goes down, on Sweeks' way.

Both are back in the chassing group and

Meeusen is leading solo

. 7 laps to go Meeusen's first chasers are L.Sweeck and Merlier at 10". Then Nys, D.Sweeck, Simunek, and Pauwels come at 15". D. van den Poel was in this group too but got a mechanical problem.

Nys and Pauwels are giving it all and manage to join L.Sweeck and Merlier

. Four men chasing, still Meeusen goes. 6 laps to go and

Merlier is dropped.

Instead Nys, Pauwels and Sweeck joined Meeusen

. 5 laps to go

Pauwels attacks, Meeusen on his wheel

. Sven

Nys

is at the back of this group and

a new small mistake

up the climb brings him down again: the big favourite for the day doesn't look very focused... Now

Pauwels has got a gap.

4 laps to go his gap is about 20''. On the line Nys joins and drops Meeusen.

Nys wants this race but Meeusen doesn't let him go

. Pauwels runs, they bunnyhop. 3 laps to go Pauwels' advantage is still the same and he dares to bunnyhope. Nys and Meeusen are chasing together... but fighting already for 2nd.

Pauwels wins solo

. Meeusen masters the sand pit but let Nys get first on the tarmac. At the sprint Meeusen takes 2nd by a powerful progression. Not Nys' day.
MORE TO COME
RESULTS
WOMEN
1. Sanne Cant,
2. Jolien Verschueren,
3. Nikki Harris
MEN
1. Kevin Pauwels
2. Tom Meeusen
3. Sven Nys
4.L.Sweeck,
5.Merlier,
6.Jens Adams,
7.Denuwelaere,
8.Vantornout,
9.Boros,
10.D.Vanthourenhout.