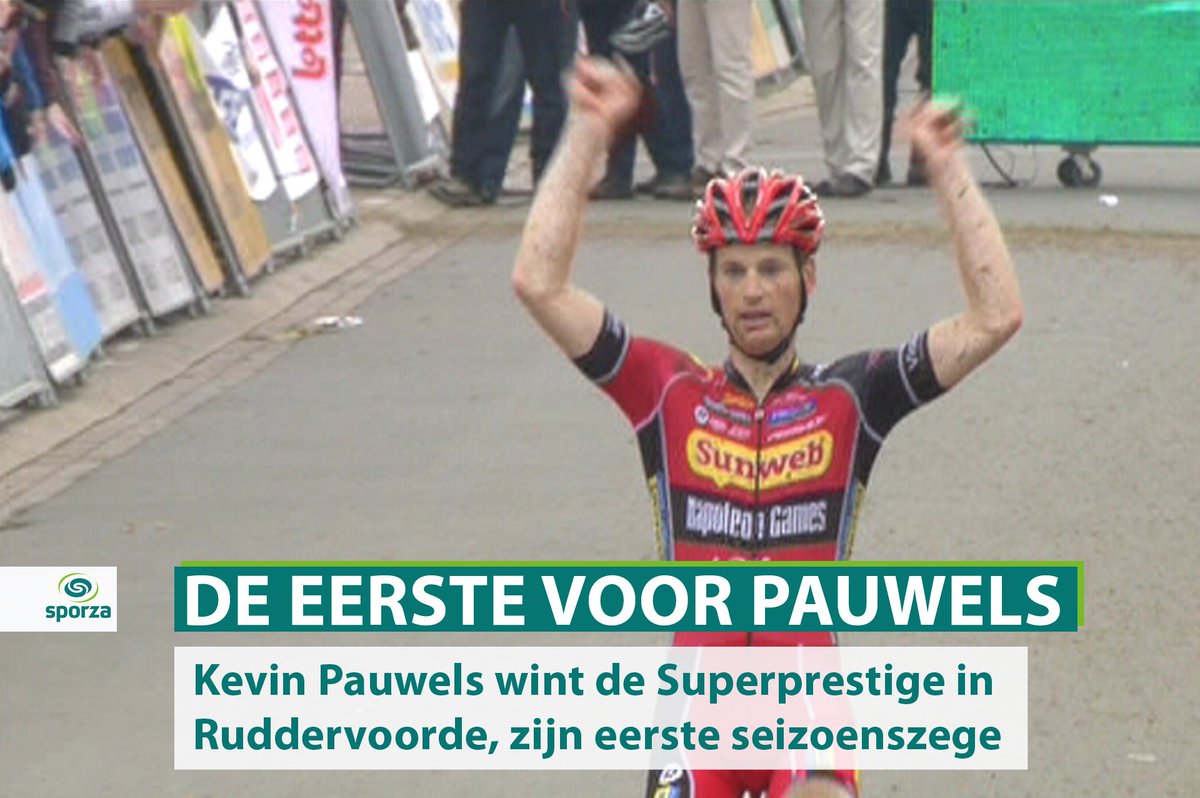 Soft sand. Hard race. Dry. The

front group

included Pauwels, Nys and Meeusen. Van Aert, Vantornout and Simunek are at 5", Van Kessel and Vanthourenhout at 14", van der Haar at 19".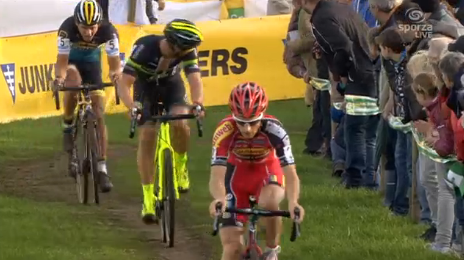 6 laps to go a sparkling Kevin

Pauwels crosses the line with Sven Nys on his wheel.

Tom Meeusen got dropped. Van Aert and Vantornout are at 15", Simunek at 24", van Kessel and van der Haar at 28".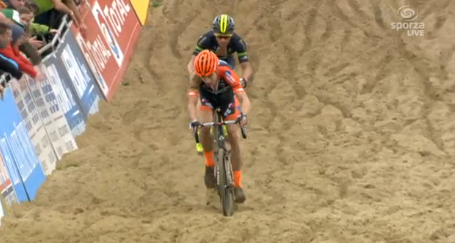 Suddenly a bad mistake

brings

Nys down

and he's now chasing

with Meeusen. Pauwels goes

. A

bad crash for Simunek

: he remains on the ground surrounded by medical personel. Note that Lars van der Haar won the European title yesterday, but

Kevin Pauwels

was 3rd, so you can't say he saved his energy for today race: outstanding! He

rocks the sand descent

and

4 laps to go

crosses the line

solo

.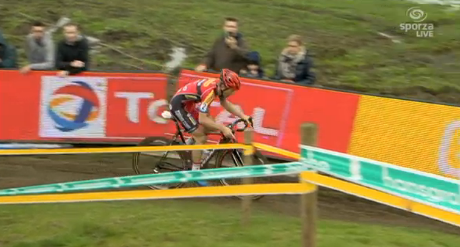 Wout

van Aert is chasing hard

and he manages to join Sven Nys. Then Meeusen comes. Then Vantornout and van der Haar. 2 laps to go

Pauwels flies

, 16'' ahead van Aert and Nys. Behind,

Vantornout joined an exhausted Meeusen.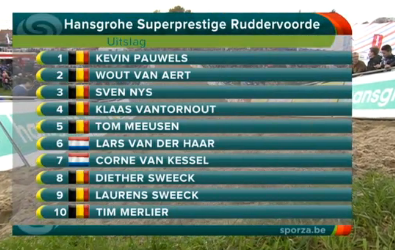 Last lap and Pauwels is still increasing his advantage. Nys and van Aert are chasing together. I bet Nys sprints for 2nd... but no, I'm wrong:

Pauwels wins solo, van Aert drops Nys

and this is the podium. In the women race,

anther stunning victory by Sanne Cant

!

Eli Iserbyt

wins in the U23 Men race and

Jappe Jaspers

is 1st in the Junior Men's one.
Lars van der Haar: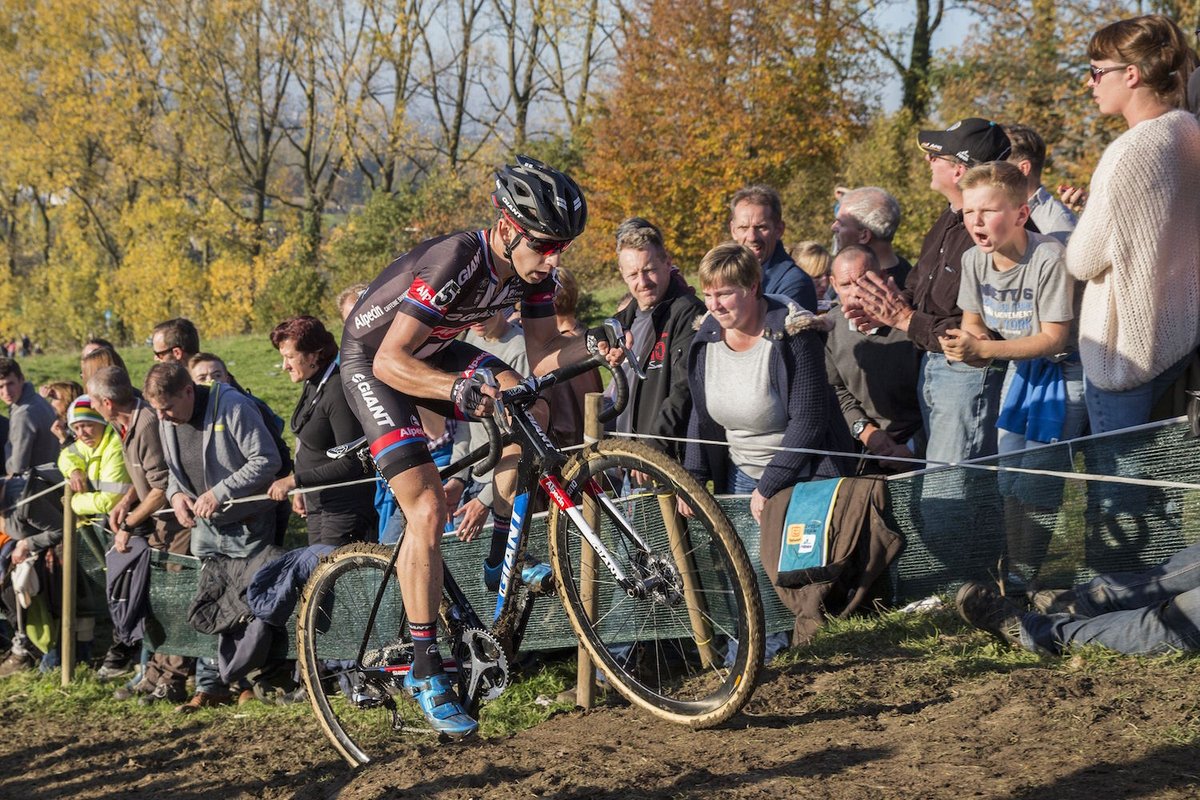 "6th in Ruddervoorde. Not what I came for. But I didn't feel good. Missed the race feeling a bit today! But I've a title so on to the next!!
"
Kevin Pauwels:
"I had to wait quite a long time for this because Wout and Lars [Van der Haar] were so good. This win makes up a lot for that.
Maybe it seemed simple but it was very hard. To me the race was endless. I feared Wout Van Aert who came closer. Once the gap remained the same I knew it was possible. I was suffering but knew it was going to work out."
Sven Nys:
"Kevin was impressive today. I've not often seen him riding this well in Ruddervoorde. It wasn't my goal to ride away but I felt good and at my pace I wasn't hitting the red zone. At a heart rate of 180 my stomach struggles with water. I don't take it in. I was nearly suffering from cramps in the final lap. I was sweating a lot. I rode on normal tubulars while others used rhino profile. I was going fast on the long straight sections but I had to work a lot after the corners to close the gaps. I got the maximum out of it."
Wout Van Aert:
"On this course it's hard for me to use my power. The first few laps weren't good and then my legs got going. I lost 10-15 seconds on Kevin and that gap remained the same. I couldn't go any faster and a a few laps before the end I realized that I wasn't going to win.
I'm still very disappointed with yesterday's defeat. I'm pleased that I showed character and finished second today. I did a good job classification-wise. It's on a bad day that one can take control of the series."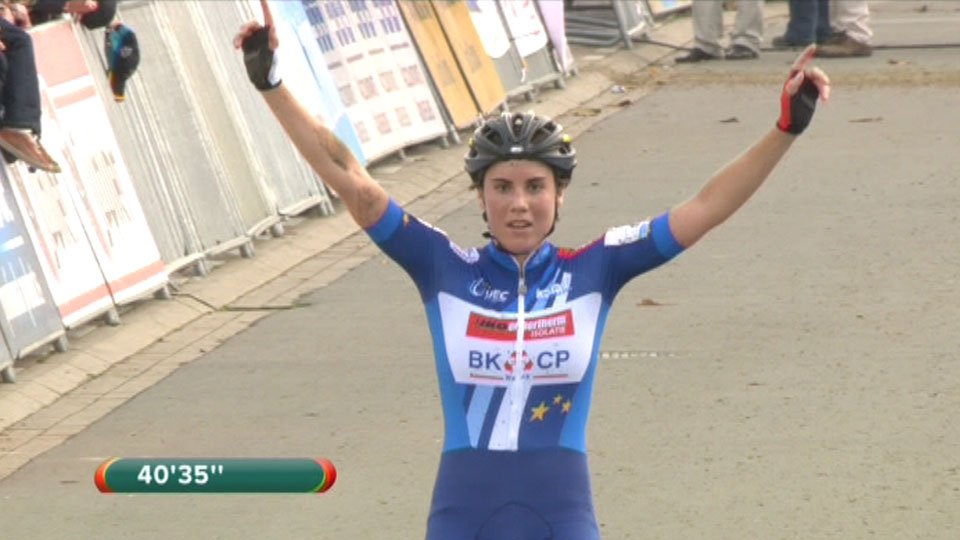 Sanne Cant:
"I felt good straight from the start and these were a fun 40 minutes. It's the first time this season that I felt powerful. I just had to make sure that I rode my own pace and arrive fresh at the sand section. Each time I was able to extend my lead over there."
Ellen van Loy:
"I crashed at a difficult corner. After a near standstill you had to turn and I overdid it there. I was riding on my limit and still had to close those 10 seconds on Cant. The sand isn't my preferred area and she rode through it every lap."
Jolien Verschueren:
"Once again the start was a problem. I didn't get away well and ended up at the back. Then you make stupid mistakes to get to the front. I crashed too. Then I focused on passing rider per rider. I no longer believed in the podium. The crowds kept shouting that it was possible. I'm satisfied with third place."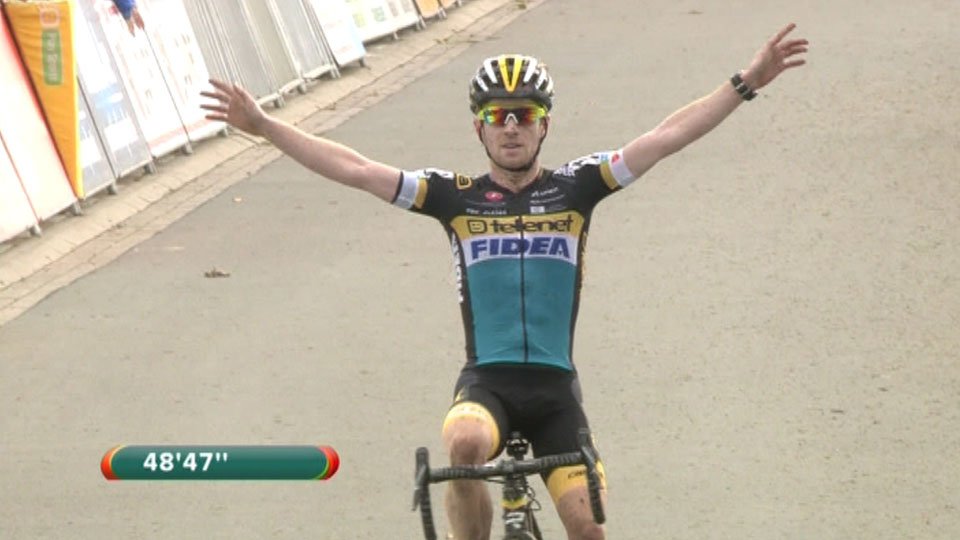 RESULTS
JUNIOR MEN
1. Jappe Jaspers
2. Thijs Wolsink
3. Seppe Rombouts.
U23 MEN
1. Eli Iserbyt
2. Quinten Hermans
3. Gioele Bertolini
ELITE WOMEN
1. Sanne Cant
2. Van Loy
3.Verschueren
ELITE MEN
1
Kevin Pauwels (Bel) Sunweb Napoleon Games Cycling Team
1:01:05
2
Wout Van Aert (Bel) Vastgoedservice Golden Palace Ct
0:00:15
3
Sven Nys (Bel) Crelan Aa Drink Team
0:00:29
4
Klaas Vantornout (Bel) Sunweb Napoleon Games Cycling Team
0:01:07
5
Tom Meeusen (Bel) Telenet Fidea Cycling Team
0:01:17
6
Lars Van Der Haar (Ned) Team Giant - Alpecin
0:01:36
7
Corne Van Kessel (Ned) Telenet Fidea Cycling Team
0:02:01
8
Diether Sweeck (Bel) Corendon-Kwadro
0:02:07
9
Laurens Sweeck (Bel) Corendon-Kwadro
0:02:10
10
Tim Merlier (Bel) Vastgoedservice Golden Palace Ct
0:02:13
11
Clément Venturini (Fra) Cofidis Solutions Credits
0:02:15
12
Jens Vandekinderen (Bel) Telenet Fidea Cycling Team
0:02:20
13
Joeri Adams (Bel) Vastgoedservice Golden Palace Ct
0:02:33
14
Marcel Meisen (Ger) Kuota Lotto
0:02:36
15
Stan Godrie (Ned) Rabobank Development Team
0:02:41
16
Jens Adams (Bel) Vastgoedservice Golden Palace Ct
0:02:44
17
Toon Aerts (Bel) Telenet Fidea Cycling Team
0:03:02
18
Thijs Van Amerongen (Ned) Telenet Fidea Cycling Team
0:03:13
19
Vanthourenhout (Bel) Crelan Aa Drink Team
0:03:48
20
Philipp Walsleben (Ger) Bkcp-Corendon
0:04:17
21
Niels Wubben (Ned) Rabobank Development Team
0:04:28
22
Michael Boros (Cze) Bkcp-Corendon
0:04:52
23
Vinnie Braet (Bel) Colba Superano Ham
0:05:10
24
Stijn Huys (Bel) Bruynooghe Cycling Team
0:05:32
25
David Van Der Poel (Ned) Bkcp - Powerplus
0:05:51
26
Jan Denuwelaere (Bel) Vastgoedservice Golden Palace Ct
0:05:54
27
Kenneth Van Compernolle (Bel) Colba Superano Ham
0:06:25
28
Patrick Van Leeuwen (Ned) Zzpr.Nl-Orange Babies
-1 lap
29
Jakub Skala (Cze) Cez Cyklo Team Tabor
30
Niels Koyen (Bel) Bike Experience Cycling Team
-2 laps
31
James Spragg (GBr) Cct P/B Champion System
-3 laps
32
Martin Eriksson (Swe) Cykloteket Racing Team
33
Dimitri Corriette (Fra) Cl Barlin
34
Pascal Colaert (Bel) Dovy Keukens - Fcc
-4 laps
35
Fabian Obrist (Swi) Veloplus
36
Jorge Garcia Rodriguez (Spa) Stecchino Mtb Club
37
Manikas Domas (Ltu) Mtbcc
38
Kristaps Kipurs (Lat) Ct Pajuris
-5 laps
39
Felix Fuentes Sanchez (Spa) Stecchino Mtb Club
40
Manuel Jiminez Martin (Spa) Stecchino Mtb Club
41
Fernando Jiminez Rodrigues (Spa) Stecchino Mtb Club
DNF
Gianni Vermeersch (Bel) Sunweb Napoleon Games Cycling Team
DNF
Julien Taramarcaz (Swi) Era Real Estate-Murprotec
DNF
Rob Peeters (Bel) Vastgoedservice Golden Palace Ct
DNF
Radomir Simunek (Cze) Corendon-Kwadro
DNF
Jim Aernouts (Bel) Telenet Fidea Cycling Team
DNF
Yu Takenouchi (Jpn) Veranclassic-Ekoi
DNF
Quincy Vens (Bel) Colba Superano Ham
DNF
Michael Vanthourenhout (Bel) Sunweb Napoleon Games Cycling Team