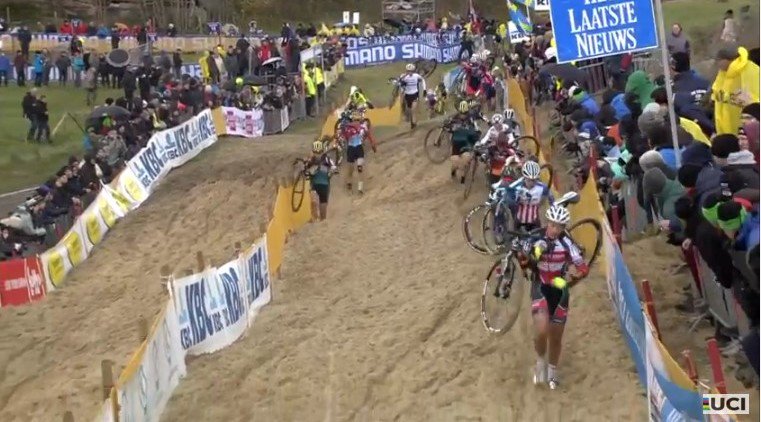 Cold. Very cold. Icy cold. Almost hailing indead.

As far as

U23 Men

... confirmed:

Eli Iserbyt

is a first size star. Have a look here and see how he won today, outsprinting Hoeyberghs just on the line.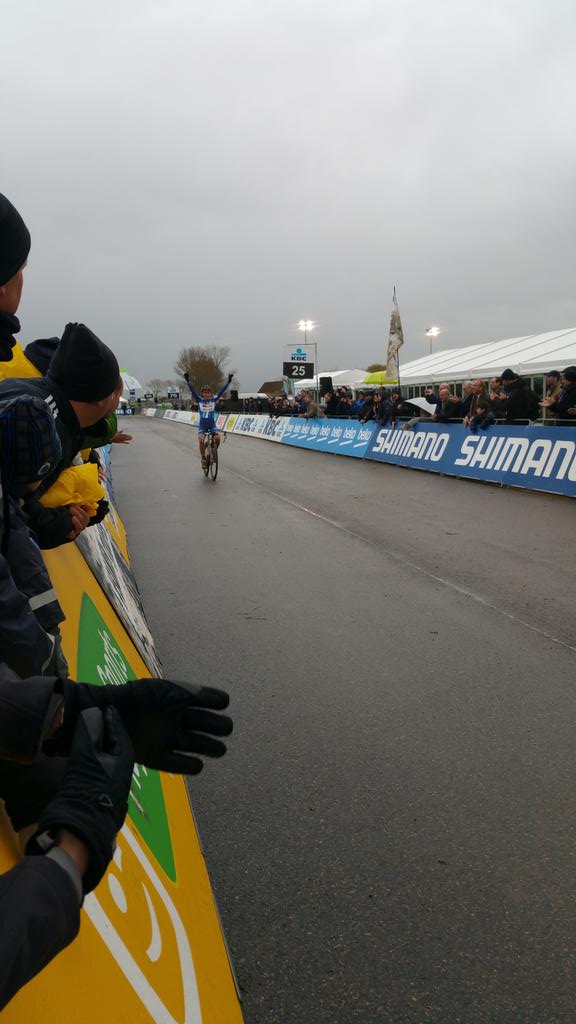 As far as

Elite Women

... super fast start for Sophie De Boer but she's finally caught by Compton, Cant and Harris. The last two get a gap while Compton, De Boer and Havlikova are 5" behind. And there we go: Cant breaks free while Havlikova is dropped by the chasing group, but it takes her few to come back and attack. 2 laps to go Sanne Cant is leading solo, Havlikova is chasing at 15", Compton and Harris at 20". Now Harris speeds up and is 16" to Cant. Compton and Havlikova drop back at 33". Exciting race! At the last lap both Harris and Compton are loosing time on Cant who's flying toward a new solo victory. Solo she wins.

Sanne Cant

IS the STAR.
Sanne Cant:

"This is really good, I didn't expect it. I thought Lechner would be good today. This course really suits me. Keeping the jersey will not be easy. Namur is not a race for me. I will fight. I really want to hold onto it.

I think it was a bit of a false start. I reached the first sand section outside the top 10. Everybody was riding on the left and I rode by them on the right hand side."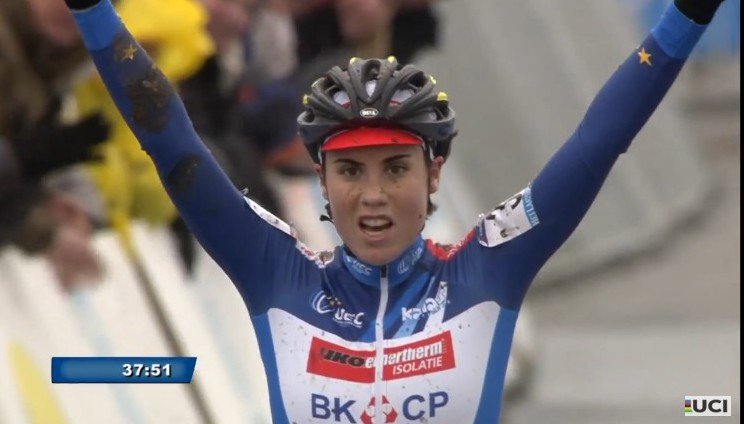 Nikki Harris:

"Dam puncture !!!!such a great race, and at last cross conditions!happy to take 2nd given the circumstances. Good legs finally #koksijde "


A far as

Elite Men

: not yet one lap and

Mathieu van der Poel

is already solo ahead the bunch. But the bunch doesnt let him go. Sunny now, still cold. Muddy and sandy. After one lap the front group is

van Aert, M. van der Poel, L. Sweeck, van Kessel, van der Haar

. Their gap is slight. Now Lars van der Haar takes the lead, van der Poel is second, bike on his shoulder, then a long line.

Muddy conditions mean frequent bike changes

and van der Haar is the first one to do so. Van der Poel is leading again but the peloton didn't split yet. 6 laps to go van der Poel and van Aert have a 9'' gap on van der Haar leading the first chasing group.

Sven Nys feels good: with van der Haar on his wheel he pulls the chasing group across the leaders.

Van aert is going solo, Nys is second, the van der Poel and van der Haar.

On a triky muddy corner van der Haar crashes.

Back on bike but he has to chase.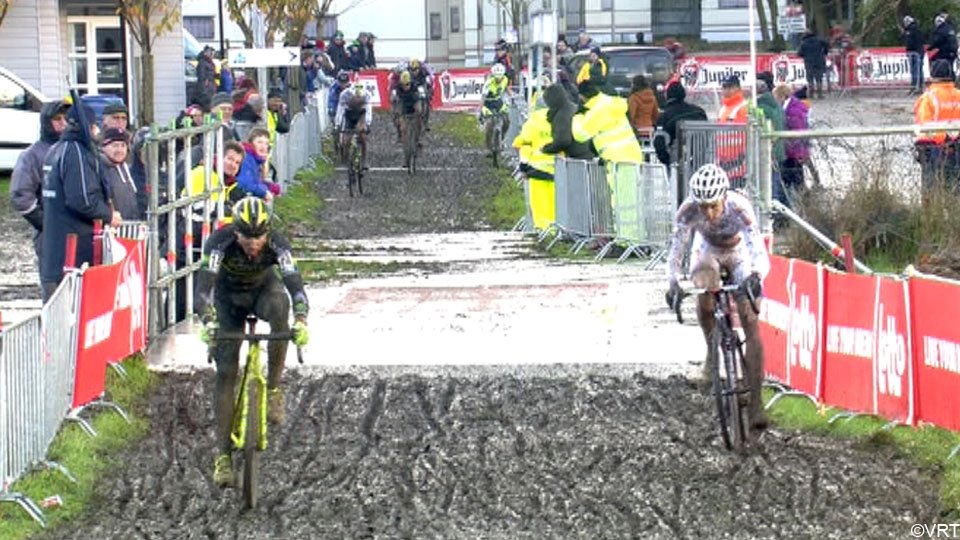 Amazing!

Sven Nys joins van Aert and is now leading the race.

5 laps to go they cross the line 12'' ahead the chasing group with van der Haar and van der Poel. Nys attacks on the sand, passes van Aert atop the ramp. Van Aert passes him again. Behind Lars van der Haar is tring to bridge. 4 laps to go van Aert and Nys increased them gap on the chasing group now led by Kevin Pauwels, including van der Haar and Meeusen. 3 laps to go Nys and van Aert has got a 21'' gap on Kevin Pauwels. Then Meeusen comes (31''), then van der Haar (35'') NOT in his best day.

Nys attacks, van Aert punctures!

he changes his bike but Nys goes. His technique is SO good! but van Aert didn't give up:

2 laps to go they are back together.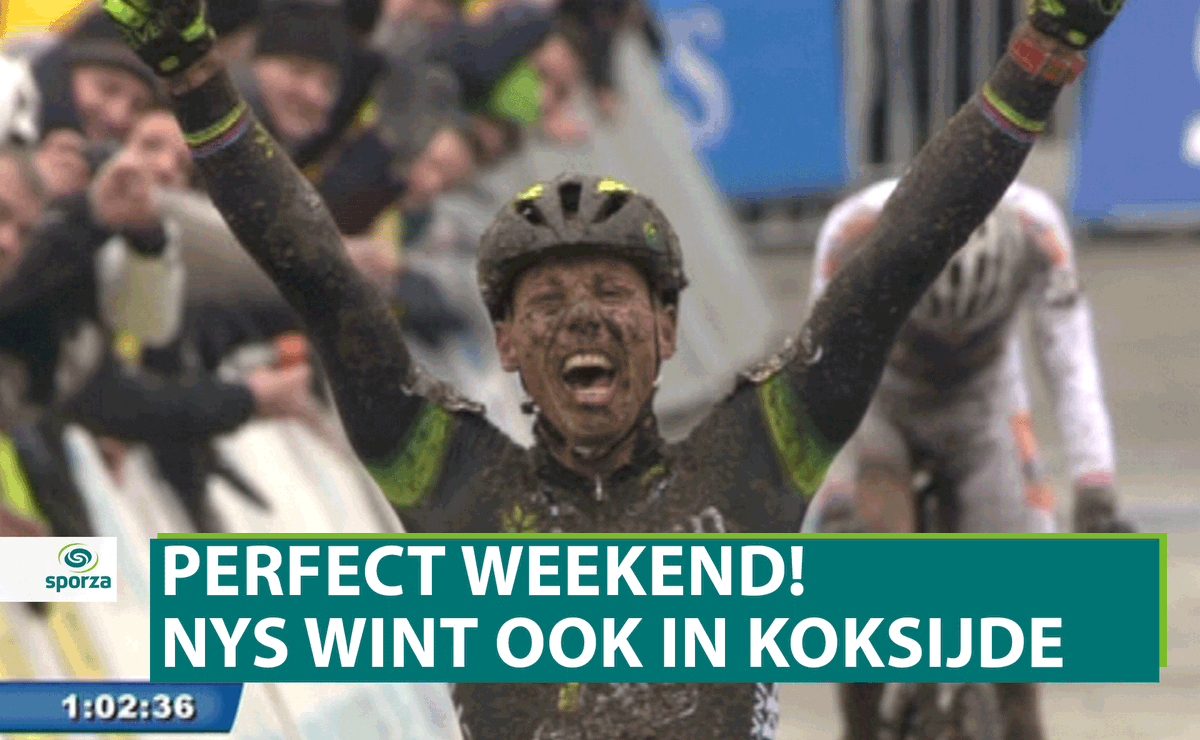 Meanwhile a very

heavy crash

involved

Michael Vanthourenhout

. Pauwels, Zweek and Meeusen are fighting for the 3rd place. Lars van der Haar is dropped. A small mistake by van Aert in the sand and Nys attacks again. Behind van der Poel and van der Haar joined again the chasing group.

At the last lap van Aert and Nys has got a huge gap. Van der Poel attacks

trying to secure a podium spot.
It's an incredible finish.

Sven Nys and Wout van Aert fight should against shoulder,

like in

a trak race in the mud.

Thrilling, amazing, stunning!

Finally Nys puts his wheen in front and gets first on the finish tarmac stretch.

He can't believe, yes he can, he now nows: he has won. A the top of the game AGAIN.

Hat off for the cannibal from Baal.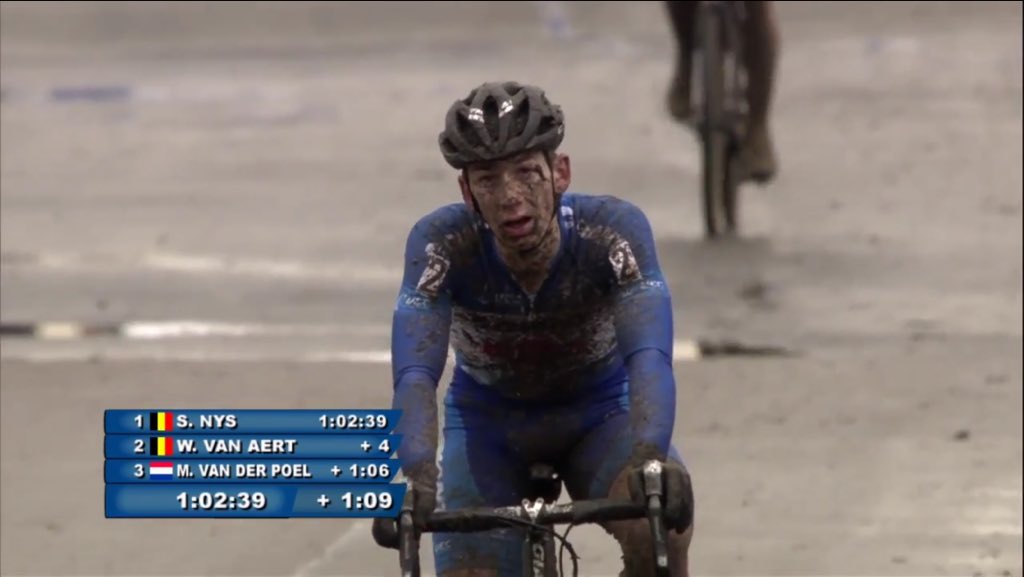 Behind van der Poel has made his way to the podium. He closes his jersey to show the rainbow, a muddy one. Behind a muddy blue jersey, the European champion Lars van der Haar. Not happy. But to get this 4th he gave it all.

Wout van Aert

keeps the World Cup leader's white jersey.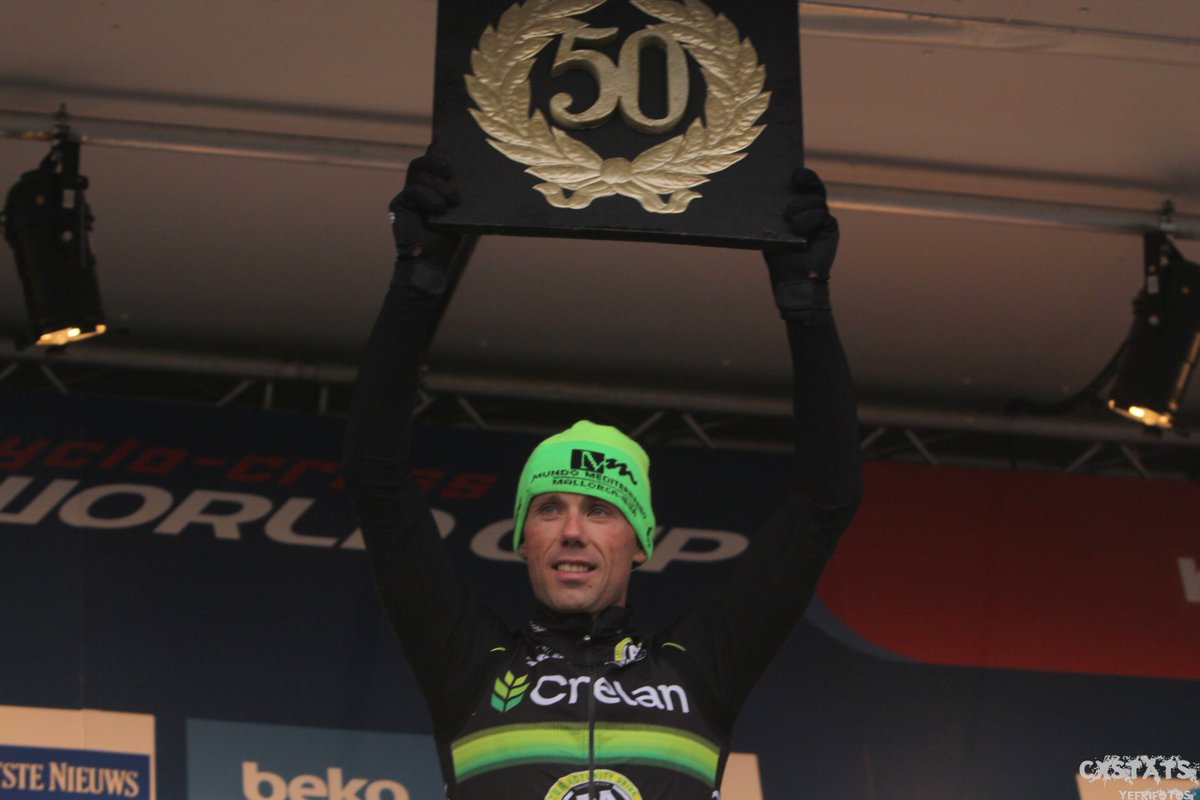 In the interview

Sven Nys sounds a bit critical about riders NOT doing all the races

: yesterday he won in Hasselt while nor van Aert nor van der Poel nor van der Haar were there. According to his team,

Michael Vanthournhout

after a nasty crash that left him with

a painful hip and knee

has been taken to the hospital in Roeselare for further examinations. Last news say NOTHING BROKEN.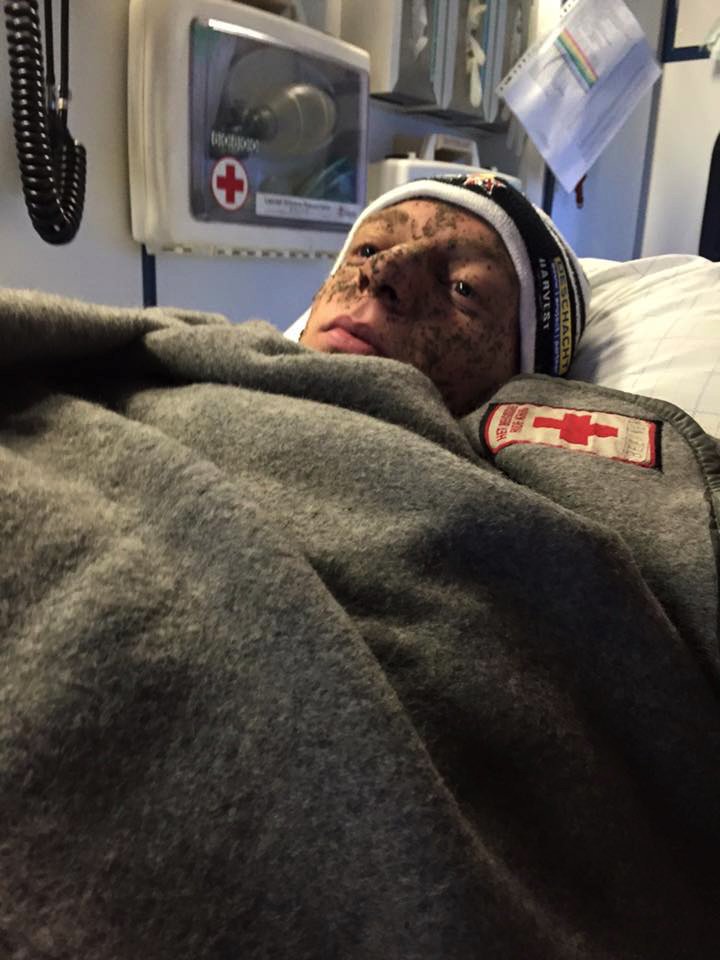 Michael Vanthourenhout :(
Sven Nys:
"It's awesome. It's a great feeling because it's a victory against the best of the world at the moment. He won so many races with power, with technique, on fast courses, from the beginning of the season up until now. In a really hard race which was cold, muddy and technical, I can win with an acceleration in the final 200-300 metres. That's crazy in my last season."
Wout van Aert:
"Ouch ouch my legs! Battled with what I had but it was not enough for the win today. Congratulation Sven Nys!"
Lars van der Haar:
"4th in Koksijde. Could have been podium. But a flat tire on bad moment took that away. So after long fight of coming back Im happy with 4th! Thanks to the Belgium Police and all the volunteers, for making and keeping the cross safe today! #thanks #respect"
RESULTS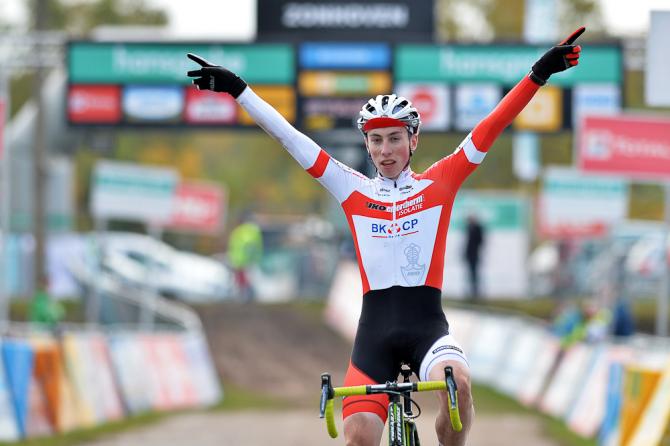 Jens Dekker
Junior Men
1 DEKKER Jens NETHERLANDS / PAYS-BAS 0:42:26 60
2 JASPERS Jappe BELGIUM / BELGIQUE +00:24 50
3 GROOT Mitch NETHERLANDS / PAYS-BAS +00:26 45
4 TURGIS Tanguy FRANCE / FRANCE +00:27 40
5 KUHN Kevin SWITZERLAND / SUISSE +00:31 35
6 VANDEBOSCH Toon BELGIUM / BELGIQUE +00:36 30
7 VERMEERSCH Florian BELGIUM / BELGIQUE +00:41 28
8 ARENSMAN Thymen NETHERLANDS / PAYS-BAS +00:49 26
9 DHOORE Alessio BELGIUM / BELGIQUE +01:02 24
10 CRISPIN Mickael FRANCE / FRANCE +01:14 22
1
Eli Iserbyt (Belgium)
0:57:00
2
Daan Hoeyberghs (Belgium)
3
Daan Soete (Belgium)
0:00:20
4
Clement Russo (France)
0:00:37
5
Joris Nieuwenhuis (Netherlands)
0:00:41
6
Yorben Van Tichelt (Belgium)
0:00:44
7
Quinten Hermans (Belgium)
0:00:47
8
Johan Jacobs (Switzerland)
0:00:49
9
Logan Owen (United States)
0:00:55
10
Braam Merlier (Belgium)
0:01:02
11
Yannick Peeters (Belgium)
0:01:21
12
Jelle Schuermans (Belgium)
0:01:26
13
Kevin Suarez Fernandez (Spain)
0:01:36
14
Sieben Wouters (Netherlands)
0:01:47
15
Martijn Budding (Netherlands)
0:02:02
16
Jonas Degroote (Belgium)
0:02:04
17
Thijs Aerts (Belgium)
0:03:14
18
Timon Ruegg (Switzerland)
0:03:33
19
Gioele Bertolini (Italy)
0:03:35
20
Lucas Dubau (France)
0:03:49
21
Richard Jansen (United States)
0:03:59
22
Nicolas Cleppe (Belgium)
0:04:03
23
Curtis White (United States)
0:04:16
24
Yannick Gruner (Germany)
0:04:17
25
Joshua Dubau (France)
0:05:35
26
Gosse Van Der Meer (Netherlands)
0:05:52
27
Romain Boutet (France)
0:06:20
28
Max Lindenau (Germany)
29
Adrian Sirek (Czech Republic)
30
Paul Lindenau (Germany)
31
Georg Egger (Germany)
32
Stepan Schubert (Czech Republic)
33
Berne Vankeirsbilck (Belgium)
34
David Montgomery IRELAND
35
Daniel Mayer (Czech Republic)
36
Grant Ellwood (Unied States)
37
Nicholas Barnes (Greece)
38
Tom Rees (Luxembourg)
Adam Toupalik (Czech Republic)
Felix Drumm (Germany)
Maik Van Der Heijden (Netherlands)
1
Sanne Cant (Bel)
37:56:00
2
Nikki Harris (GBr)
0:12:00
3
Katherine Compton (USA)
0:42:00
4
Pavla Havlikova (Cze)
1:00:00
5
Sophie De Boer (Ned)
1:18:00
6
Helen Wyman (GBr)
1:59:00
7
Ellen Van Loy (Bel)
2:12:00
8
Loes Sels (Bel)
2:18:00
9
Eva Lechner (Ita)
2:47:00
10
Christine Majerus (Lux)
2:48:00
11
Sanne Van Paassen (Ned)
3:04:00
12
Maud Kaptheijns (Ned)
3:05:00
13
Laura Verdonschot (Bel)
3:22:00
14
Ellen Noble (USA)
3:34:00
15
Alice Maria Arzuffi (Ita)
3:37:00
16
Jolien Verschueren (Bel)
3:54:00
17
Martina Mikulaskova (Cze)
3:58:00
18
Karen Verhestraeten (Bel)
4:05:00
19
Jessica Lambracht (Ger)
4:18:00
20
Hannah Payton (GBr)
4:29:00
21
Lise-Marie Henzelin (Swi)
4:49:00
22
Aida Nuno Palacio (Spa)
4:56:00
23
Esmee Oosterman (Ned)
5:08:00
24
Bianca Van Den Hoek (Ned)
5:30:00
25
Femke Van Den Driessche (Bel)
5:33:00
26
Emma White (USA)
6:10:00
27
Amira Mellor (GBr)
6:25:00
28
Margriet Helena Kloppenburg (Den)
6:35:00
29
Inge Van Der Heijden (Ned)
6:39:00
30
Olivia Hottinger (Swi)
6:46:00
31
Lizzy Witlox (Ned)
6:50:00
32
Stefanie Paul (Ger)
7:29:00
33
Asa Maria Erlandsson (Swe)
7:50:00
34
Kathryn Cumming (USA)
7:51:00
35
Bethany Crumpton (GBr)
7:53:00
36
Katrien Thijs (Bel)
7:58:00
37
Mercedes Pacios Pujado (Spa)
38
Elena Valentini (Ita)
39
Christine Vardaros (USA)
40
Suzie Godart (Lux)
Elite Men
1
Sven Nys (Bel)
1:02:39
2
Wout Van Aert (Bel)
0:00:04
3
Mathieu Van Der Poel (Ned)
0:01:06
4
Lars Van Der Haar (Ned)
0:01:12
5
Laurens Sweeck (Bel)
0:01:19
6
Tom Meeusen (Bel)
0:01:31
7
Toon Aerts (Bel)
0:01:34
8
Kevin Pauwels (Bel)
0:01:46
9
Corne Van Kessel (Ned)
0:02:00
10
Julien Taramarcaz (Swi)
0:02:06
11
Thijs Van Amerongen (Ned)
0:02:27
12
Tim Merlier (Bel)
0:02:43
13
Klaas Vantornout (Bel)
0:03:10
14
Rob Peeters (Bel)
0:03:15
15
David Van Der Poel (Ned)
0:03:31
16
Jens Adams (Bel)
0:03:42
17
Marcel Meisen (Ger)
0:04:07
18
Diether Sweeck (Bel)
0:04:17
19
Niels Wubben (Ned)
0:04:28
20
Michael Boros (Cze)
0:04:31
LIKED IT? WATCH IT AGAIN
HERE