Me with Angus Edmond after the race
It's late and I'm

exhausted

: we woke up early to be in

Loenhout

at the start of the

Azencross

where I was finally going to meet

Angus Edmond.

It was more or less one year since the last time I have seen him, in Diegem and I was looking forward.
I spent all the day glued to him so you'll have a full reportage as soon as I edit my
tons of pictures. And some story too.
The race wasn't that good:
a cloudygray sky, some rains, some sun, a beautiful sunset on the green land dotted of small houses and cows. The church. A fast and tricky circuit.
I'm glad that

Sanne Cant

won even if I saw few of it because I was with Angus at the

Malteni-Niner

car. It has been interesting to follow from close a cross rider's day. And a pleasure of course given that he's a dear friend!
Sanne Cant
Sanne Cant:
"I wanted to say goodbye to the Belgian tricolore jersey in style. From Baal on I have to ride in the European jersey."
Tom Meeusen:
"2015 has been a difficult year for me. It's nice to conclude it in this way. My rivals sincerely congratulated me here at the finish with being back at my level. I'm pleased to be back at my level too. The win came partly due to my technical skills and due to the timing of my attack but I won a round in the series anyway, I'm happy.
I knew that once I had a bonus of 15 seconds it would be hard to get me back. I'm not losing time on the technical sections. If the chasers go faster than me on the long straight sections they pay the price in the technical sections. It's a vicious circle but it helped that the chase was slacked up.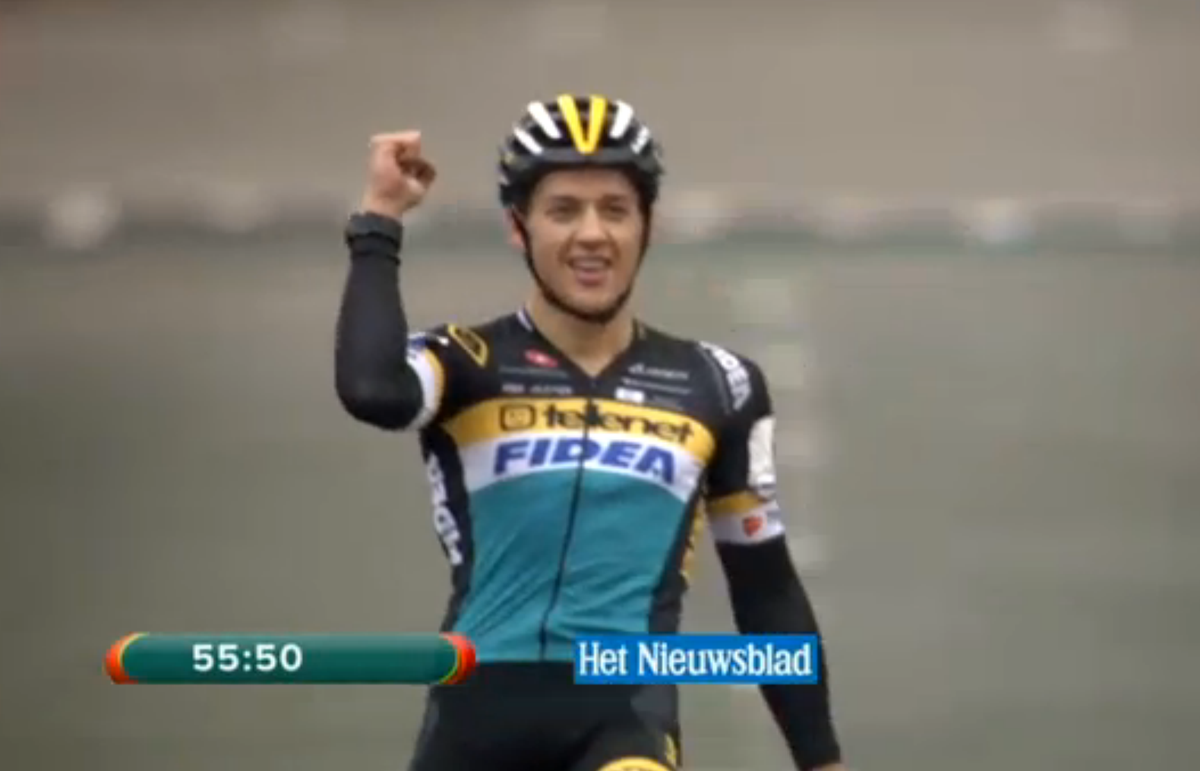 Tom Meeusen
Tim Merlier:
"Just before hitting the final lap Wout rode by and told me he would lead out the sprint for me. I thought 'oh no, just let me do my thing' but it's great we managed second and third place."
"What a horrible cross #azencross. Without mud it's to dangerous. Last lap I lost all control with jumping. Pfffff 14th in this bmx road race."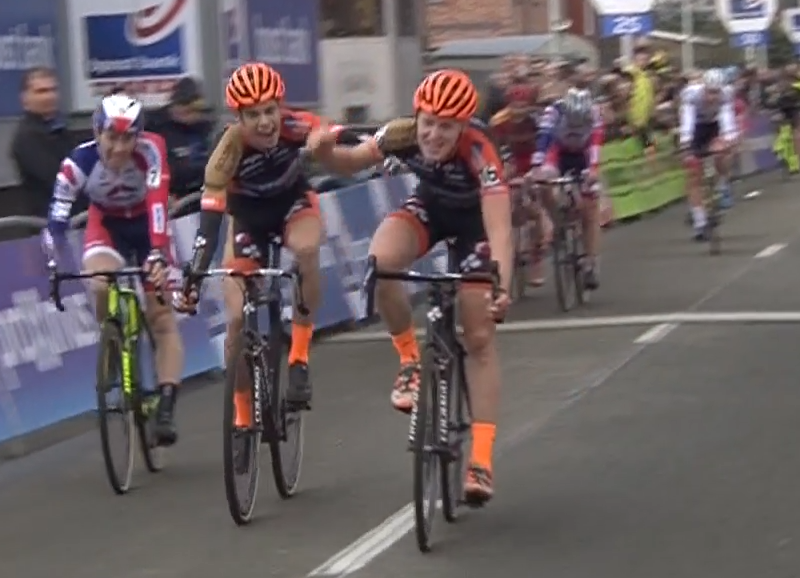 RESULTS
Junior Men
1.Thijs Wolsink
2. Spencer Petrov
3.Jari De Clercq
U23 Men
1.Daan Hoeyberghs
2.Quinten Hermans,
3.Daan Soete
Elite Women
Elite Men
1
Tom Meeusen (Bel) Telenet Fidea Cycling Team
0:55:53
2
Tim Merlier (Bel) Vastgoedservice - Golden Palace Cycling Team
0:00:18
3
Wout Van Aert (Bel) Vastgoedservice - Golden Palace Cycling Team
4
Laurens Sweeck (Bel) Era - Murprotec
5
Radomir Simunek (Cze) Era - Murprotec
0:00:19
6
Gianni Vermeersch (Bel) Sunweb - Napoleon Games Cycling Team
7
Mathieu Van der Poel (Ned) BKCP - Corendon
8
Corne Van Kessel (Ned) Telenet Fidea Cycling Team
0:00:20
9
Julien Taramarcaz (Sui) Era - Murprotec
0:00:21
10
Sven Nys (Bel) Crelan - AA Drink Team
0:00:22
11
Michael Vanthourenhout (Bel) Sunweb - Napoleon Games Cycling Team
0:00:23
12
Kevin Pauwels (Bel) Sunweb - Napoleon Games Cycling Team
0:00:24
13
Toon Aerts (Bel) Telenet Fidea Cycling Team
14
Lars Van Der Haar (Ned) Team Giant - Alpecin
0:00:25
15
David Van der Poel (Ned) BKCP - Corendon
0:00:37
16
Vincent Baestaens (Bel) BKCP - Corendon
0:01:01
17
Twan Van Den Brand (Ned) Orange Babies Cycling Team
18
Diether Sweeck (Bel) Era - Murprotec
0:01:02
19
Jan Denuwelaere (Bel) Vastgoedservice - Golden Palace Cycling Team
0:01:16
20
Jim Aernouts (Bel) Telenet Fidea Cycling Team
0:01:20
21
Sven Vanthourenhout (Bel) Crelan - AA Drink Team
22
Rob Peeters (Bel) Vastgoedservice - Golden Palace Cycling Team
0:01:30
23
Thijs Van Amerongen (Ned) Telenet Fidea Cycling Team
0:01:39
24
Joeri Adams (Bel) Vastgoedservice - Golden Palace Cycling Team
0:02:23
25
Niels Wubben (Ned) Telenet Fidea Cycling Team
0:02:36
26
Hendrik Sweeck (Bel) Era - Murprotec
0:03:16
27
Patrick Van Leeuwen (Ned) Orange Babies Cycling Team
0:03:31
28
Dieter Vanthourenhout (Bel) Sunweb - Napoleon Games Cycling Team
0:03:33
29
Michael Boros (Cze) BKCP - Corendon
0:03:59
30
Philipp Walsleben (Ger) BKCP - Corendon
0:04:02
31
Lars Boom (Ned) Astana
0:04:07
32
Michael Van Den Ham (Can)
0:04:10
33
Dave De Cleyn (Bel) Cycling Team Zemst VZW
0:04:11
34
Niels Koyen (Bel) CCN - Metalac Cycling team
0:04:23
35
Severin Saegesser (Sui)
0:04:27
36
Nicolas Samparisi (Ita)
0:04:38
37
Travis Livermon (USA)
0:05:14
38
Quentin Jauregui (Fra)
0:05:26
39
Martin Eriksson (Swe)
-1 Lap
40
Garry Millburn (Aus)
41
Jeremy Martin (Can)
42
Fabian Obrist (Sui)
-2 Laps
43
Markus Schulte-Luenzum (Ger)
44
Edwin De Wit (Bel) Rupelspurters Boom
45
Mark Mcconnell (Can)
46
Yannick Mayer (Ger)
47
Christophe Cavazzana (Fra)
-3 Laps
48
Angus Edmond (Aus)
49
Gilles Tresserre (Fra)
-4 Laps
50
Shinya Ikemoto Chn)
51
Shintaro Nakama (Chn)
52
Mario Matijevic (Bel)
-5 Laps
DNF
Florent Ligney (Fra)
DNF
Kevin Cant (Bel) Era - Murprotec
DNS
Lorenzo Samparisi (Ita)