What a

sun in Zolder

today! And what a race! We left Namur at dawn and took a train to Leuven where we dropped our backpacks and we ran to catch the train to Zolder. From the rail station to the race circuit is a long way, we started walking but fortunately we found a lift.
At 3 pm we where at the barrier and the elite men race was on. Unfortunately we missed the previous ones. Among the

U23 Men Eli Iserbyt crashed out

when he was very well placed and

the victory went to Joris Nieuwenhuis.

Among the

Elite Women Sanne Cant

won.
A

cyclocross live

is always great but today it was simply

amazing

because of the glorious weather and the fact that almost immediately

Lars van der Haar

was

in front and leading.
Kind

like always he came to pose for pictures with fans, children expecially. I said hi and gave me back

a big smile.
Then, a long way back to Leuven: by bus to Hasselt and from there by train. A perfect dinner in the center of Leuven crowned a perfect day.

Only regret, Angus Edmond didn't start

, he isn't feeling good. But I hope he's fine tomorrow and we'll meet in Diegem.
I have many pictures and stories in store for when I will be at home,
that's just an appetiser!
"It was really hard to make a difference. It was just before the hardest part of the course with the running section and the uphill I saw that Lars had a flat tyre. I thought that it was the right moment to make the move because I had the feeling that Lars was the strongest, a bit stronger than me this day [sic]. It's a race that really suits him
I knew Pauwels rode his own pace. What I predicted ahead of the race came true, that Kevin and Lars would be my biggest rivals on this course.
I felt good but not super. I knew it would be hard in the final lap because Kevin was pushing on. I had to dig deep again. I'm really confident now. The conditions can be very different in seven weeks. There can be snow as well. I'm more confident now than if I would be tenth."
1
Mathieu Van Der Poel (Ned) BKCP-Corendon
1:09:03
2
Kevin Pauwels (Bel) Sunweb - Napoleon Games Cycling Team
0:00:02
3
Lars Van Der Haar (Ned) Team Giant - Alpecin
0:00:46
4
Tom Meeusen (Bel) Telenet Fidea Cycling Team
0:01:10
5
Klaas Vantornout (Bel) Sunweb - Napoleon Games Cycling Team
0:01:11
6
Clement Venturini (Fra) Cofidis, Solutions Credits
0:01:17
7
Tim Merlier (Bel) Vastgoedservice - Golden Palace Continental Team
0:01:20
8
Wout Van Aert (Bel) Vastgoedservice - Golden Palace Continental Team
9
Corne Van Kessel (Ned) Telenet Fidea Cycling Team
10
Sven Nys (Bel) Crelan-AA Drink
0:01:21
11
Toon Aerts (Bel) Telenet Fidea Cycling Team
12
Michael Boros (Cze) BKCP-Corendon
0:01:28
13
Laurens Sweeck (Bel) Era Real Estate - Murprotec
0:01:29
14
Gianni Vermeersch (Bel) Sunweb - Napoleon Games Cycling Team
0:02:08
15
Stan Godrie (Ned) Rabobank Development Team
0:02:20
16
Jeremy Powers (USA) Aspire
0:02:24
17
Vincent Baestaens (Bel) BKCP-Corendon
0:02:25
18
Michael Vanthourenhout (Bel) Sunweb - Napoleon Games Cycling Team
20
Jim Aernouts (Bel) Telenet Fidea Cycling Team
0:02:26
21
Julien Taramarcaz (Swi) Era Real Estate - Murprotec
0:02:30
22
Marcel Wildhaber (Swi) Scott-Odlo MTB Racing Team
0:02:33
23
Stephen Hyde (USA) Cannondale-Cyclocrossworld
0:02:35
24
Rob Peeters (Bel) Vastgoedservice - Golden Palace Continental Team
0:03:30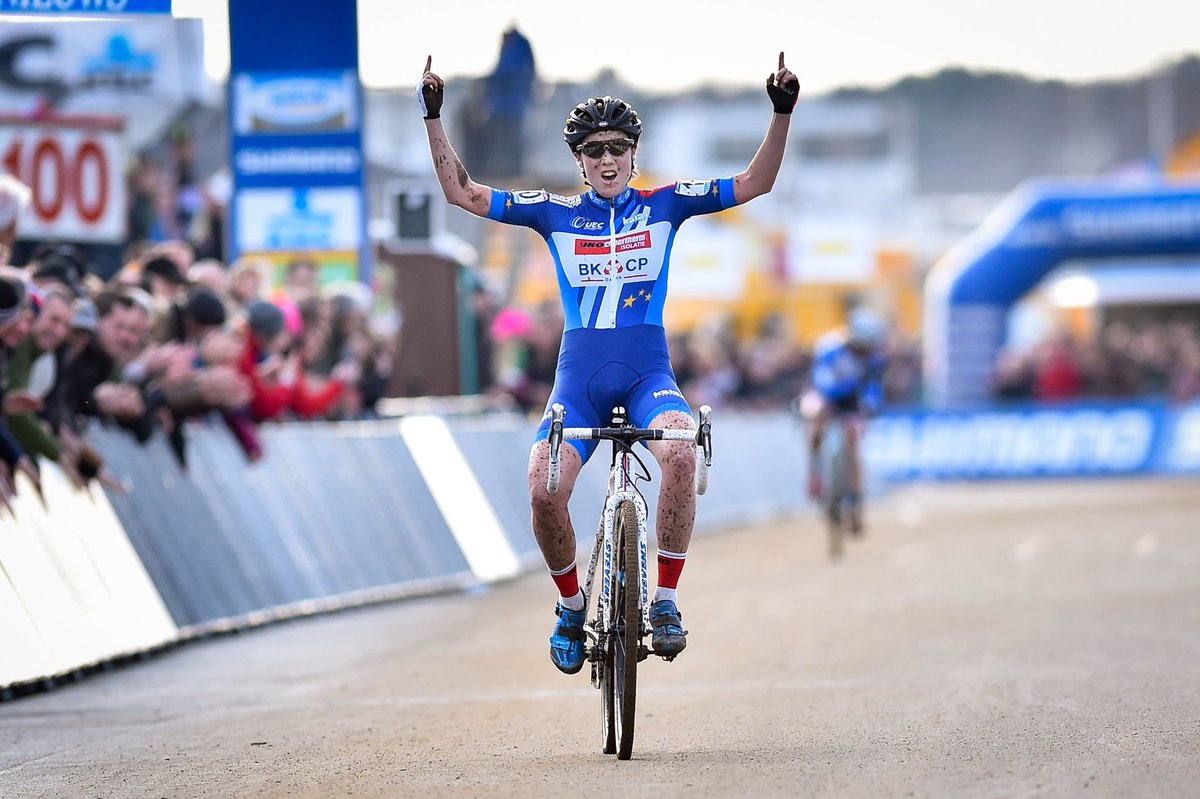 Sanne Cant
25
Steve Chainel (Fra)
0:03:41
26
Ismael Esteban Aguando (Spa)
0:03:49
27
Sascha Weber (Ger) CCT p/b Champion System
0:04:10
28
Tomas Paprstka (Cze) Remerx-Merida Team Kolin
0:04:20
29
Niels Wubben (Ned) Telenet Fidea Cycling Team
0:04:29
30
Jens Vandekinderen (Bel) Telenet Fidea Cycling Team
31
Ian Field (GBr)
0:04:30
32
Thijs Van Amerongen (Ned) Telenet Fidea Cycling Team
0:05:05
33
Mariusz Gil (Pol)
0:05:29
34
Vojtech Nipl (Cze)
0:05:38
35
Severin Saegesser (Swi)
0:05:40
36
Javier Ruiz De Larrinaga Ibanez (Spa)
0:05:56
37
Travis Livermon (USA)
0:06:01
38
Ole Quast (Ger)
0:06:11
39
Aaron Schooler (Can)
0:06:22
40
Michael Van Den Ham (Can)
0:06:38
41
Vincent Dias Dos Santos (Lux)
0:06:47
42
Nicolas Samparisi (Ita)
0:07:03
43
Lars Boom (Ned) Astana Pro Team
0:07:15
46
Vladimir Kyzivat (Cze)
49
Lorenzo Samparisi (Ita) Merida Italia Team
52
Yu Takenouchi (Jpn) Veranclassic - Ekoi
53
Christian Helmig (Lux) Team Differdange - Losch
58
Yannick Mayer (Ger) Bike Aid
59
Christophe Cavazzana (Fra)
60
James Spragg (GBr) CCT p/b Champion System
61
Daniel Ania Gonzalez (Spa)
1
Thomas Bonnet (Fra) France
0:41:13
2
Jappe Jaspers (Bel) Belgium
0:00:02
3
Tanguy Turgis (Fra) France
0:00:03
4
Mickael Crispin (Fra) France
0:00:29
5
Gage Hecht (USA) United States of America
0:00:39
6
Seppe Rombouts (Bel) Belgium
7
Florian Vermeersch (Bel) Belgium
0:00:40
8
Toon Vandebosch (Bel) Belgium
0:00:44
9
Thymen Arensman (Ned) Netherlands
0:00:45
10
Kevin Kuhn (Swi) Switzerland
0:00:48
11
Spencer Petrov (USA) United States of America
0:00:50
12
Quentin Navarro (Fra) France
0:01:01
13
Mitch Groot (Ned) Netherlands
0:01:14
14
Thijs Wolsink (Ned) Netherlands
0:01:29
15
Reno Bauters (Bel) Belgium-B
0:01:30
16
Jarne Driesen (Bel) Belgium
17
Jokin Alberdi (Spa) Spain
0:01:40
18
Thomas Pidcock (GBr) Great Britain
0:01:47
19
Marino Noordam (Ned) Netherlands
0:01:48
20
Niklas Markl (Ger) Germany
0:01:52
21
Antonio Folcarelli (Ita) Italy
0:01:53
22
Andreas Lund Andresen (Den) Denmark
0:01:54
23
Jarno Liessens (Bel) Belgium
0:01:56
24
Vaclav Sirucek (Cze) Czech Republic
0:01:57
25
Daniel Tulett (GBr) Great Britain
0:01:58
26
Eric Brunner (USA) United States of America
0:02:00
27
Timo Kielich (Bel) Belgium-B
0:02:02
28
Matthieu Legrand (Fra) France
0:02:07
29
Alex Colman (Bel) Belgium-B
0:02:10
30
Jakob Dorigoni (Ita) Italy
0:02:13
31
Jofre Cullell Estape (Spa) Spain
32
Ben Turner (GBr) Great Britain
0:02:20
33
Tijl Pauwels (Bel) Belgium-B
0:02:21
34
Maximilian Mobis (Ger) Germany
0:02:33
35
Cameron Beard (USA) United States of America
0:02:43
36
Paul Rudolph (Ger) Germany
0:02:50
37
David Honzak (Cze) Czech Republic
0:02:51
38
Denzel Stephenson (USA) United States of America
0:03:03
39
Jari De Clercq (Bel) Belgium-B
0:03:09
40
Michel Ries (Lux) Luxembourg
0:03:22
41
Jan Gavenda (Cze) Czech Republic
0:03:32
42
Jan Novak (Cze) Czech Republic
43
Yannick Vrielink (Ned) Netherlands
0:03:34
44
Felix Keiser (Lux) Luxembourg
0:03:38
45
Arne Vrachten (Bel) Belgium-B
0:03:41
46
Edoardo Xillo (Ita) Italy
0:03:45
47
Misch Leyder (Lux) Luxembourg
0:04:00
48
Tarik Haupt (Ger) Germany
0:04:06
49
Evan Clouse (USA) United States of America
0:04:08
50
Ken Conter (Lux) Luxembourg
0:04:15
51
Hynek Palicka (Cze) Czech Republic
0:04:29
52
Noah Fries (Lux) Luxembourg
0:04:41
53
David Jary (Cze) Czech Republic
0:04:58
54
Juri Hollmann (Ger) Germany
0:05:06
55
Ted Pettersson (Swe) Sweden
0:05:13
56
Jack Kok (Swe) Sweden
0:05:26
57
Felix Schreiber (Lux) Luxembourg
0:05:33
58
Noah Barrow (Aus) Australia
0:06:03
59
Carl Soerensen (Den) Denmark
0:06:41
60
Hakon Aalrust (Nor) Norway
0:07:04
61
Gunnar Holmgren (Can) Canada
0:07:11
62
Ben Walkerden (Aus) Australia
0:07:12
63
Brody Sanderson (Can) Canada
0:08:12
1
Joris Nieuwenhuis (Ned) Netherlands
0:47:56
2
Daan Hoeyberghs (Bel) Belgium
0:00:02
3
Adam Toupalik (Cze) Czech Republic
0:00:04
4
Quinten Hermans (Bel) Belgium
0:00:07
5
Clement Russo (Fra) France
0:00:10
6
Felipe Orts (Spa) Spain
0:00:12
7
Gioele Bertolini (Ita) Italy
0:00:19
8
Martijn Budding (Ned) Netherlands
0:00:21
9
Simon Andreassen (Den) Denmark
0:00:22
10
Sieben Wouters (Ned) Netherlands
11
Daan Soete (Bel) Belgium
0:00:23
12
Nicolas Cleppe (Bel) Belgium
0:00:41
13
Timon Ruegg (Swi) Switzerland
0:00:54
14
Kevin Suarez Fernandez (Spa) Spain
15
Joshua Dubau (Fra) France
0:00:55
16
Thijs Aerts (Bel) Belgium-B
0:01:11
17
Lucas Dubau (Fra) France
0:01:13
18
Curtis White (USA) United States of America
0:01:20
19
Yorben Van Tichelt (Bel) Belgium
0:01:25
20
Maik Van Der Heijden (Ned) Netherlands
0:01:29
21
Tobin Ortenblad (USA) United States of America
0:01:33
22
Stijn Caluwe (Bel) Belgium-B
0:01:37
23
Felix Drumm (Ger) Germany
0:01:38
24
Yannick Gruner (Ger) Germany
25
Braam Merlier (Bel) Belgium-B
0:01:40
26
Gosse Van Der Meer (Ned) Netherlands
0:01:41
27
Nadir Colledani (Ita) Italy
0:01:42
28
Mathieu Morichon (Fra) France
0:01:48
29
Jelle Schuermans (Bel) Belgium-B
0:02:06
30
Arne Tureluren (Bel) Belgium-B
31
Berne Vankeirsbilck (Bel) Belgium-B
0:02:32
32
Andrew Dillman (USA) United States of America
0:02:42
33
Kelvin Bakx (Ned) Netherlands
0:02:47
34
Max Lindenau (Ger) Germany
0:03:03
35
Yannick Peeters (Bel) Belgium
0:03:05
36
Adrian Sirek (Cze) Czech Republic
0:03:35
37
Lukas Meiler (Ger) Germany
0:03:38
38
Stepan Schubert (Cze) Czech Republic
39
Adrian Garcia (Spa) Spain
0:03:52
40
Grant Ellwood (USA) United States of America
0:04:05
41
Manuel Muller (Ger) Germany
0:04:13
42
Daniel Mayer (Cze) Czech Republic
0:04:19
43
Nicholas Smith (Aus) Australia
0:04:20
44
David Montgomery (Irl) Ireland
45
Joel Grab (Swi) Switzerland
0:04:53
46
Dennis Wahlqvist (Swe) Sweden
0:04:55
47
David Eriksson (Swe) Sweden
0:04:58
48
Gavin Haley (USA) United States of America
0:05:28
49
Ola Jorde (Nor) Norway
0:05:58
50
Luc Turchi (Lux) Luxembourg
0:06:14
51
Mario Junquera (Spa) Spain
0:07:00
52
Tom Rees (Lux) Luxembourg
0:07:35
53
Isaac Niles (Can) Canada
0:07:50
54
Rasmus Goetke (Den) Denmark
55
Trevor O'donnell (Can) Canada
1
Sanne Cant (Bel)
0:45:02
2
Katherine Compton (USA)
0:00:07
3
Ellen Van Loy (Bel)
0:00:24
4
Thalita De Jong (Ned) Rabo Liv Women Cycling Team
0:00:27
5
Caroline Mani (Fra)
0:00:48
6
Pavla Havlikova (Cze)
0:00:50
7
Sabrina Stultiens (Ned) Team Liv-Plantur
0:00:52
8
Eva Lechner (Ita) Team Colnago Sudtirol
0:00:53
9
Sophie De Boer (Ned) Parkhotel Valkenburg Continental Team
0:00:55
10
Nikki Harris (GBr)
0:01:04
11
Sanne Van Paassen (Ned) Boels Dolmans Cycling Team
0:01:10
12
Helen Wyman (GBr) Kona Factory Team
0:01:32
13
Chiara Teocchi (Ita) Bianchi I.Idro Drain
0:01:38
14
Loes Sels (Bel)
0:01:43
15
Maud Kaptheijns (Ned)
0:01:52
16
Jolien Verschueren (Bel)
0:02:00
17
Elisabeth Brandau (Ger)
0:02:14
18
Kaitlin Antonneau (USA) Twenty16 - Ridebiker
0:02:21
19
Juliette Labous (Fra)
0:02:26
20
Nikola Noskova (Cze)
0:02:28
21
Alice Maria Arzuffi (Ita) Lensworld-Zannata
0:02:29
22
Femke Van Den Driessche (Bel)
0:02:36
23
Lucia Gonzalez Blanco (Spa) Lointek Team
0:02:40
24
Aida Nuno Palacio (Spa) Lointek Team
0:02:52
25
Meredith Miller (USA)
0:03:05
26
Nadja Heigl (Aut)
0:03:14
27
Amanda Miller (USA)
0:03:22
28
Courtenay Mcfadden (USA)
0:03:25
29
Emma White (USA)
0:03:29
30
Lisa Jacobs (Aus)
0:03:30
31
Ellen Noble (USA)
0:03:37
32
Hannah Payton (GBr)
0:03:39
33
Mical Dyck (Can)
0:03:50
34
Esmee Oosterman (Ned)
0:03:55
35
Joyce Vanderbeken (Bel)
0:03:58
36
Crystal Anthony (USA) Optum p/b Kelly Benefit Strategies
0:04:00
37
Laura Verdonschot (Bel)
0:04:07
38
Alicia Gonzalez Blanco (Spa) Lointek Team
0:04:08
39
Lise-Marie Henzelin (Swi)
0:04:09
40
Bianca Van Den Hoek (Ned) Parkhotel Valkenburg Continental Team
0:04:10
41
Karen Verhestraeten (Bel)
0:04:24
42
Maelle Grossetete (Fra)
43
Evita Muzic (Fra)
0:04:29
44
Asa Maria Erlandsson (Swe)
0:04:31
45
Laure Bouteloup (Fra)
0:04:32
46
Fleur Nagengast (Ned)
0:04:36
47
Marlene Petit (Fra)
0:04:58
48
Audrey Menut (Fra) Scott Creuse Oxygene Gueret
0:05:02
49
Amira Mellor (GBr)
0:05:38
50
Margriet Helena Kloppenburg (Den)
0:05:43
51
Stefanie Paul (Ger)
0:05:45
52
Martina Mikulaskova (Cze)
0:06:14
53
Denisa Lukesova (Cze)
0:06:21
54
Lucie Chainel-Lefevre (Fra)
0:06:45
55
Irene Trabazo Bragado (Spa)
0:06:59
56
Anna Schappert (Can)
0:07:03
57
Denisa Minarikova-Svecova (Cze)
0:07:26
58
Edie Antonia Rees (Lux)
0:07:56
59
Elena Valentini (Ita) Team Vitalogic Astrokalb Nö Radunion
0:08:37
60
Angelica Edvardsson (Swe)
0:09:21
63
Monica Carrascosa (Spa)