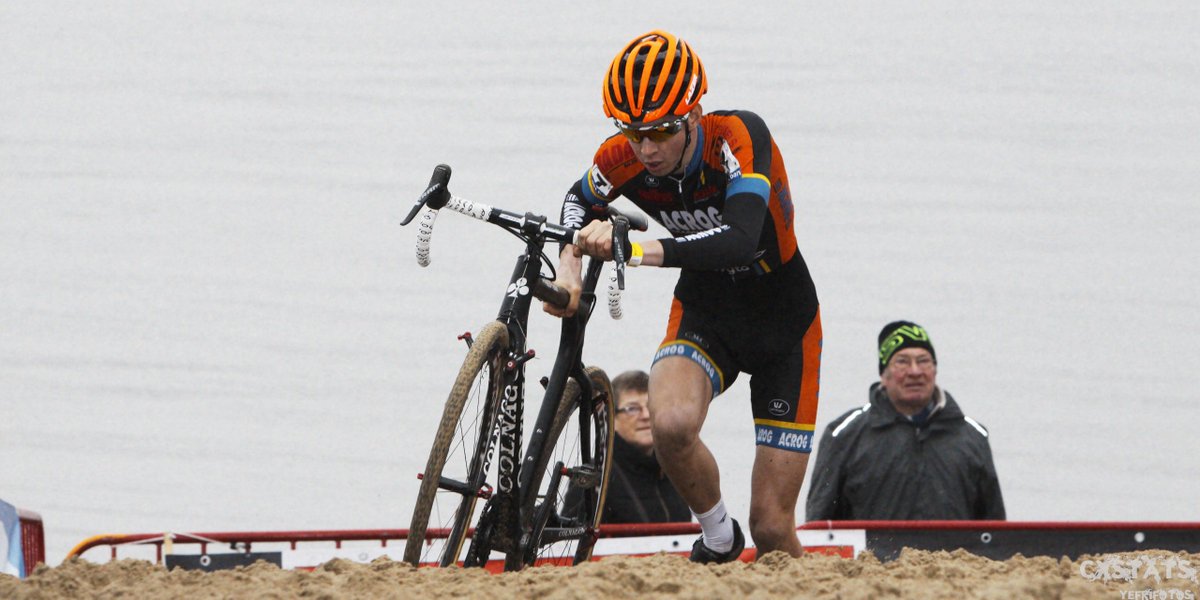 Reno Bauters
Sunny, warm and dry.

As far as

Junior Men, Bauters

won while the European champion

Herman

was 1st in the

U23 Men

race.
As far as

Elite Women

...

Sanne Cant

is back!
Sanne Cant: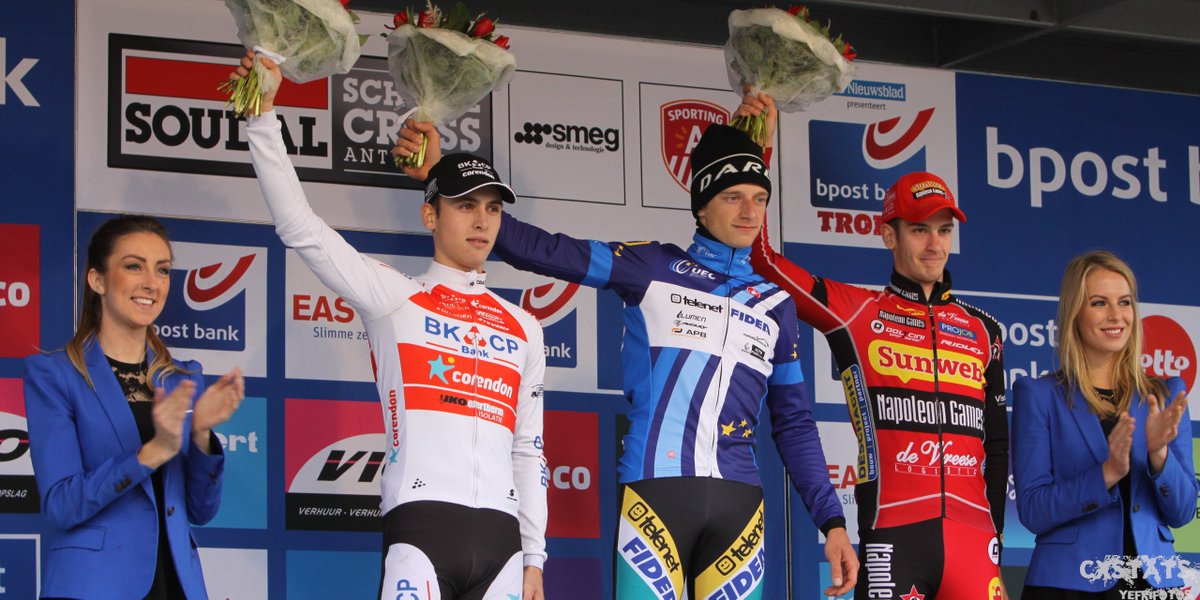 The U23 Men Podium
"It was good fun but super hard. I clearly felt that I lacked race rhythm. Of course it was fun to win anyway," Cant told Sporza. The Belgian and European champion skipped racing last weekend due to a rib injury. "I felt it more than I hoped for, having pangs of pain at my side. Hopefully it'll be better tomorrow."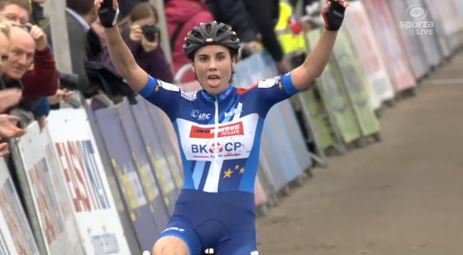 Elite Men are about to start... Start! at the first lap

a large group pulled by Merlier

leads the race and the sole

Sven Nys is dropped

in a second group.

Bonifications

go to Tim Merlier (15"), Mathieu van der Poel (10") and Michael Vanthourenhout (5").

Groups merged

,

Pauwels

is now

in front

with Van Aert, both the Van der Poel bros, van der Haar, van Kessel, Simunek, L.Sweeck, Vermeersch and Michael Vanthourenhout. It's a speedy race! In a sandy corner

David van der Poel

attacks and Mathieu plays stopper. Lars van der Haar who was on 3rd position works to close the gap. Chase done,

van der Haar

is leading the front group. 5 laps to go van der

Haar crash and van der Poel attacks, van Aert follows.

4 laps to go van der Poel and van Aert have a 22' advantage on the peloton including Lars van der Haar, furiously chasing. I often have the impression Sven is helping Lars against van der Poel and so it's now.

No time and van der Haar is 3rd, trying to bridge solo.

3 laps to go the gap is 15'.

Van Aert

doesn't wait for him, drops van der Poel - who did a mistake - and goes solo.
Meanwhile Nys and Pauwels joined van der Haar. At the last lap they are 39' down on van Aert. In the middle there is van der Poel at 15'. Nys slightly dropped Pauwels and van der Haar are fighting for the 3rd place. Or not?

Van Aert

is 1st on the line, the a smiling

van der Poel

comes.

Kevin Pauwels doesn't sprint and Lars van der Haar gets a well deserved 3rd.

Somebody is sporty, somebody else is not.
"Happy to come third after the crash I had, where I popped my shoulder half out the socket. Got hit from the back. No change to stay up! #AU"
"It was a very fast course today with a couple of tough- uphill and sand sections. Jumping over the bars went well, which was satisfying.
I've had a good start and kept myself steadily in the front of the race until shortly after halfway the race. Wout [van Aert] had a chain problem in front of me and jumped off his bike, so I had to brake too. Because of that I got hit by a rider behind me and I dislocated my shoulder. I sat down to get it in again and took my bike to continue.
The pain quickly disappeared and I gave my all until the finish. I am super happy with my third place. The pain is slowly coming back so I hope it will now affect tomorrow's World Cup race in Namur."
Wout van Aert:
"Of course I'm pleased with this victory. On a course like today it's always going to be hard because you don't know what to expect. Today the differences weren't big. Only deep into the race when everybody was getting tired I was able to make the difference."
Mathieu Van der Poel:
"Normally I'm not happy with second place. This time I'm pleased to see how my body responds on a hard week of training. I learned from the past and didn't try to follow him. He's better right now."
RESULTS
1. Reno Bauters
2. Tijl Pauwels
3. Jente Tielemans
U23 Men
1.Hermans,
2.Hoeyberghs,
3.Van Tichelt,
4.Schuermans,
5.Cleppe,
6.Toupalik,
7.Aerts,
8.Caluwe,
9.Merlier,
10.Tureluren.
1.Cant,
2.Wyman,
3.DeBoer,
4.Kaptheijns,
5.Harris,
6.Van Loy,
7.Verschueren,
8.Havlikova,
9.Sels,
10.Verhestraeten.
1.Van Aert,
2.M.van der Poel,
3.Van der Haar,
4.Pauwels,
5.Nys,
6. Michael Vanthourenhout,
7.Vermeersch,
8.D.van der Poel
9.Taramarcaz,
10.L.Sweeck