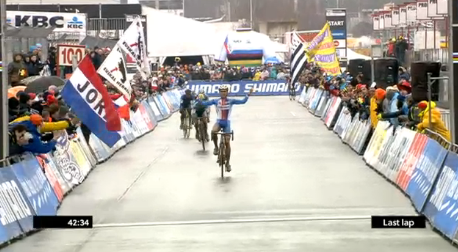 U23 Men race:

Toupalik rises his arms... one laps to go! Eli Iserbyt

instead rises his arms at the right time:

World Champion!

Amazing race. Italian

Bertolini crashed

downhill when he was in front and finished 7th.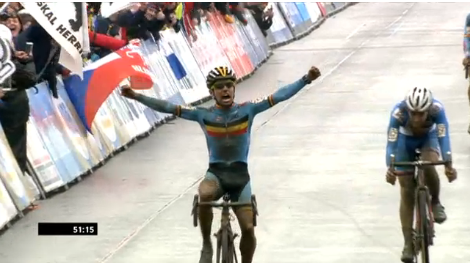 Eli Iserbyt:
"My legs weren't great at the start… I kept my focus… I knew [Toupalik] wasn't that good anymore so it worked out perfectly."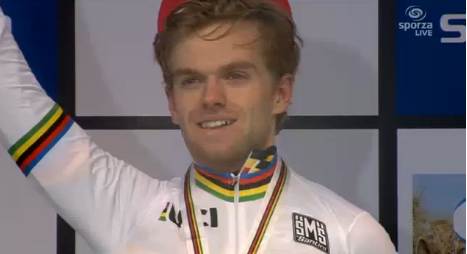 "I didn't expect it; early on I was really bad. My heart rate was five beats lower than usual. In the end, I saw Toupalik raising his hands one lap too early and I realized his best strengths were gone. Then, on the last lap, I started to believe in it and found my good legs again. I knew Toupalik's focus was gone, even though he bridged back up. I had to await the sprint.
That's right. I died three to four times, but I also started to get stressed because of the crowd. My ears were hurting. Luckily we had a moment of silence at the Sacramentsberg."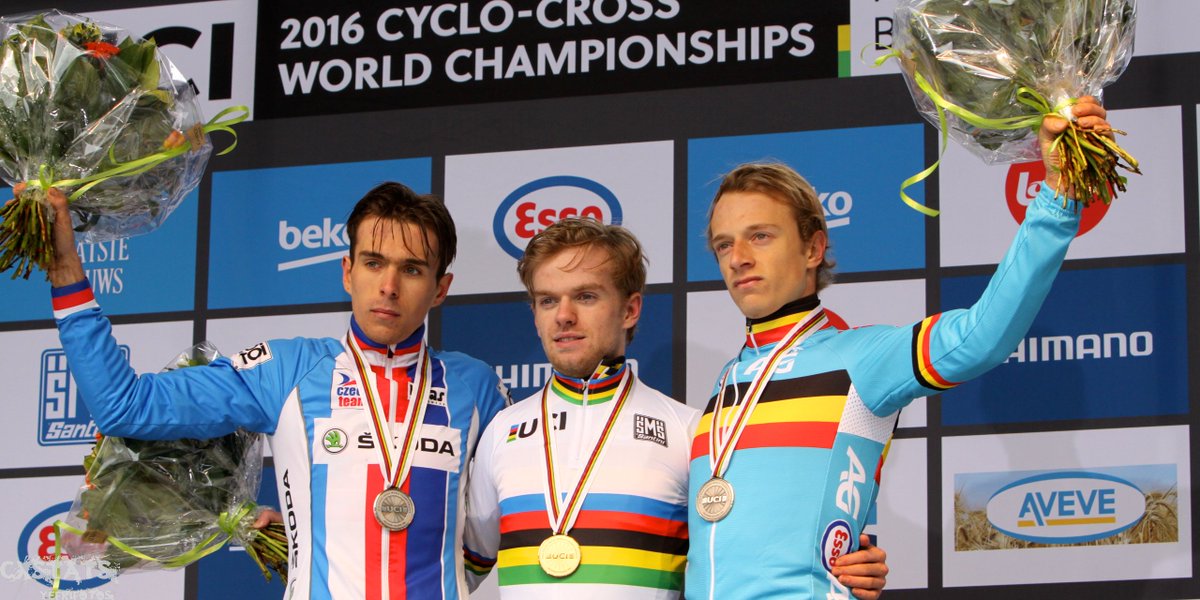 Adam Toupalik: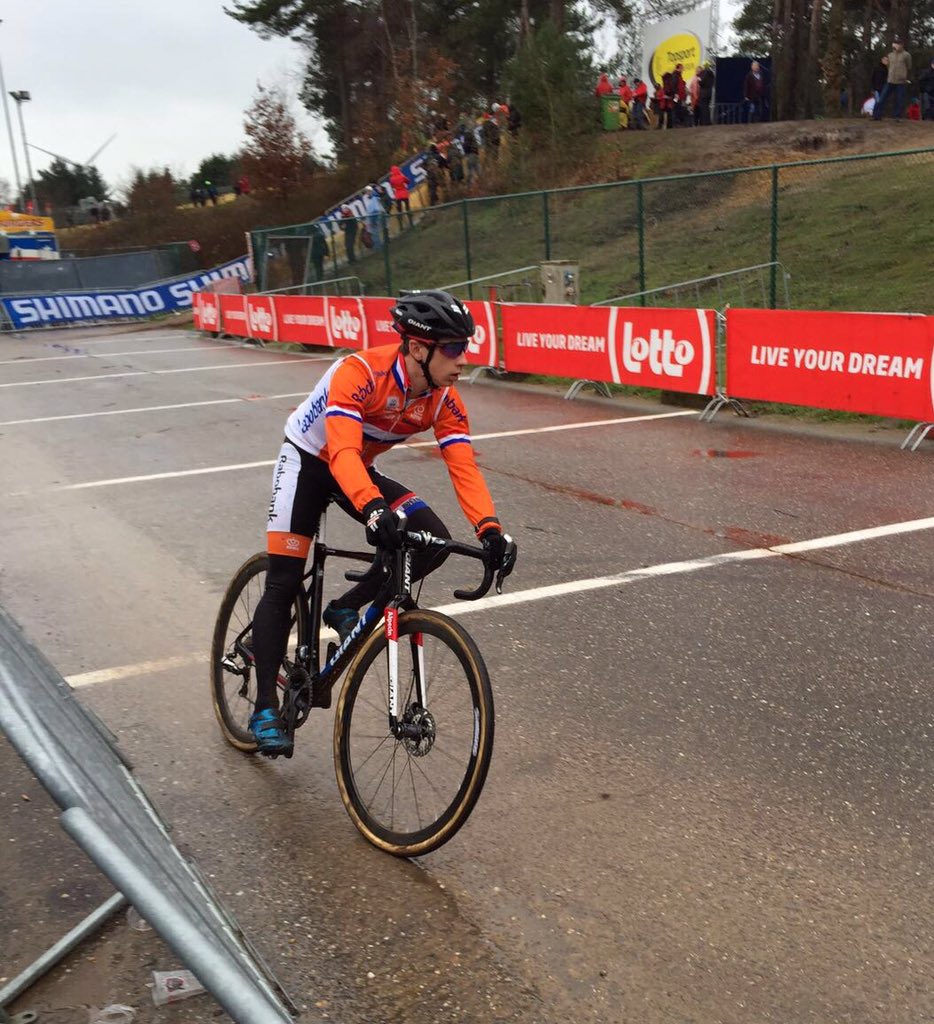 "I'm probably the biggest idiot in the world. During the penultimate lap I thought it was the last lap, and I heard somebody shouting 'last lap' at me, but it was the penultimate lap. It was my mistake. I lose the world title. I raised my hands, but that's sport. I learned that I have to keep my focus and check the numbers."
The

Elite Men

race is about to start.
Off they are, fast and hard. Five riders have a slight gap:

van der Haar is there with van der Poel and van Aerts.

These three attack and go away together. Not even one lap yet!
The chasing group is led by Simunek. Troubles for Tom Meeusen instead who got a mechanical.
It's raining and

van Aert attacks.

The two Dutch riders follow. They don't let him go.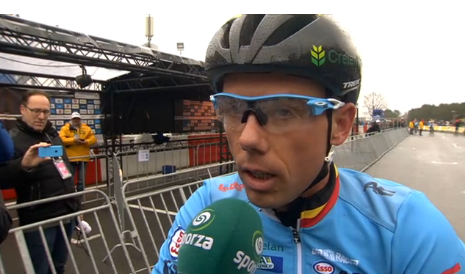 Now

Kevin Pauwels and Laurens Sweek bridge

to the front group. It's very muddy!
Five laps to go Lars van der Haar attacks and splits the front group again! Back together and

Sven Nys joins

. He races aggresively and is quickly second in the front troup.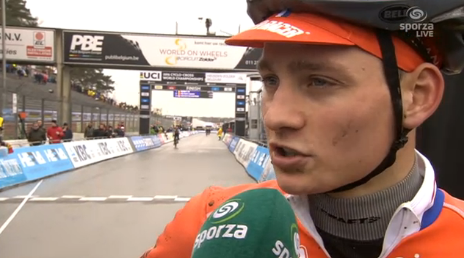 Lars van der Haar took an higher line on a camber section and gained some positions.

Nys attacks and gets a gap

.
Back together on the line, 4 laps to go the front group includes van
Aert, van der Poel, van der Haar, Pauwels, Sweeck and Nys. Tom Meeusen and D.van der Poel are at 10", Venturini and Simunek at 20".
Meeusen and D. van der Poel joined.
Meanwhile the UCI is checking bikes at the pits...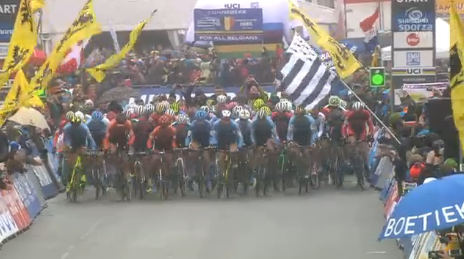 OMG!

M. van der Poel almost fell on van Aert and one of his feet gets stucked in the Belgian's front wheel! Lars van der Haar goes

.
Two laps to go van der Haar is leadinsolo, van Aert is at 9", Nys at 20".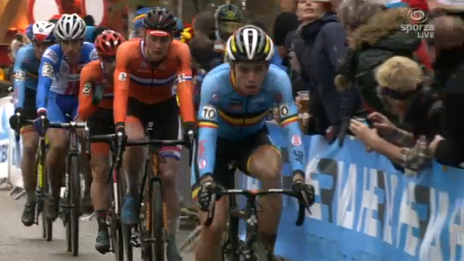 Wout van Aert managed to join Lars van der Haar

who opens the gas.

Last lap: van der Haar and van Aert are togethe

r, M. van der Poel and Nys chasing.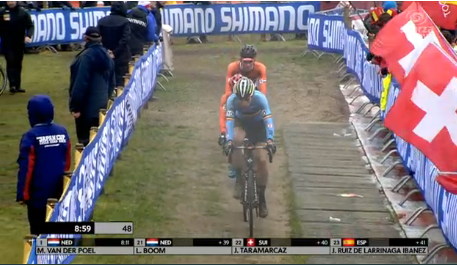 In a muddy descent van der Haar passes van Aert but he's slower in the following passage.

Van Aert takes a gap and kept it

till the line. Van der Haar gives it all but can't catch him anymore.

Incredible race!

I stopped breathing.

Kevin Pauwels

apears from behind the last turn and that is worth a medal.

Sven Nys

4th celebrates too sending kisses to crowd in his last World Championship.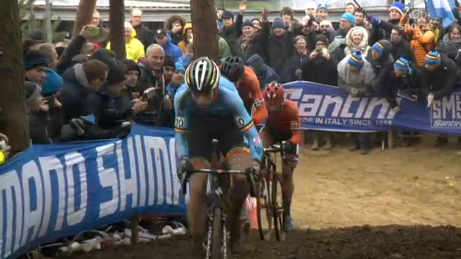 Lars van der Haar: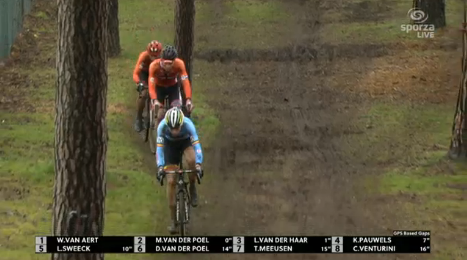 "My mistake was that I was on the big ring on the final climb. You see me looking down, wondering what was going on and then I see the chain on the big ring. That bothers me most. I don't know if I would've beaten him. I'm proud that I rode the race what I wanted to race. It's a stupid mistake. I clicked but maybe not enough and it wasn't on the small ring. It's a crucial error,"
About the crowd throwing at him empty glasses: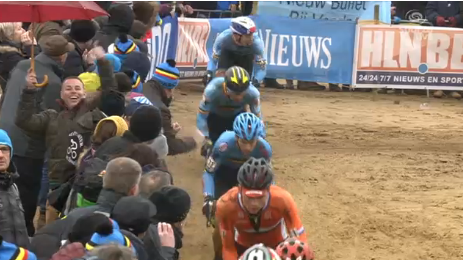 ""Beer? Yes and spit. That's no fun because you don't want to head home with hepatitis B. I had cups thrown at me all over the place. There was so much booing that I realized they were afraid.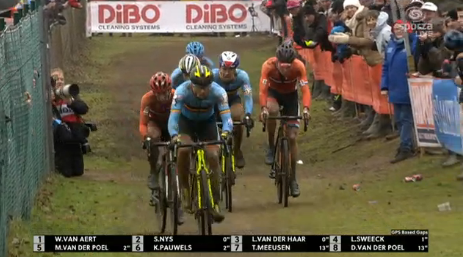 I had a good gap but then the gap wasn't growing and then a strong rider was coming closer. I rode at a pace that I could maintain but not increase. I decided to recover so that I could answer his acceleration."
Wout van Aert: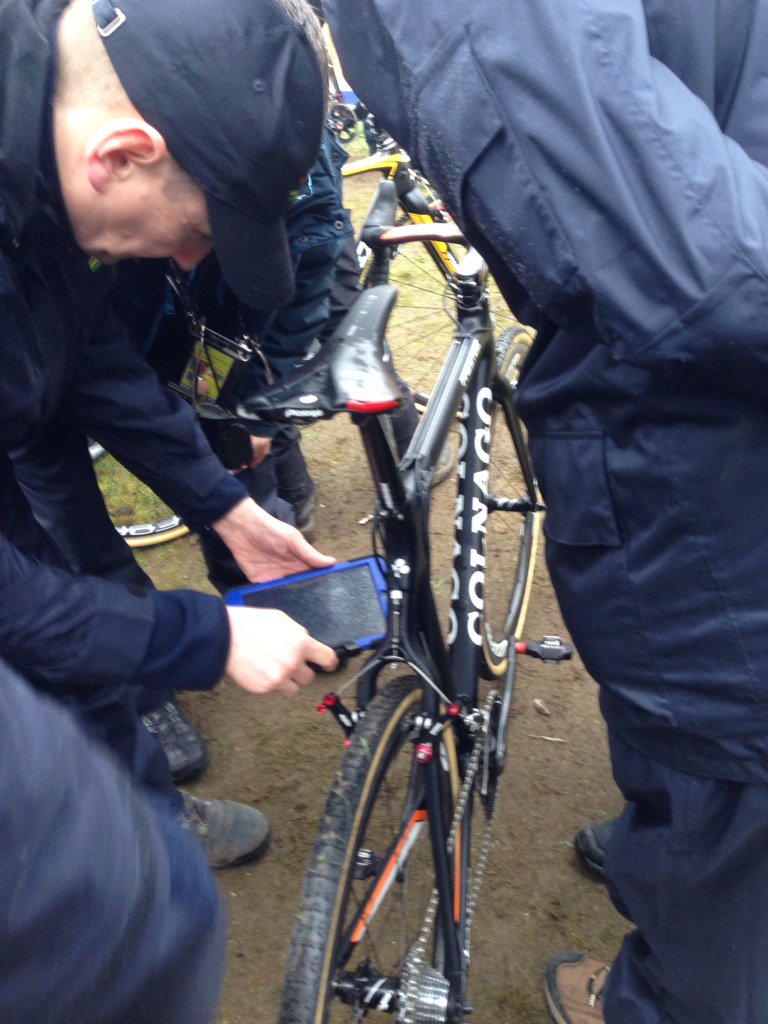 "Nothing compares to this feeling. Last year's defeat is forgotten now. I was surprised that Mathieu closed the door before the off-camber section. I have to thank him. Because I got stuck in his wheel I finally got into my rhythm. Merci Mathieu. I tried to take my time to get into the rhythm and bridged up with Laurens Sweeck who brought me back to the front. It's in my character never to give up. I don't race to sit up after five laps.
Van der Haar is not an easy rival. At the European championships I was beaten by Lars. I felt really strong at the back-end of the course. In Spain I trained really hard on that short steep climb.
He surprised me in the descent which I didn't expect. But I still had a chance in the running section. On the climb I had to hop off the bike and thought I lost it, but when I looked it was enough to get the last bit of power out of my legs, thinking that I couldn't give this away. It was a fight until the end".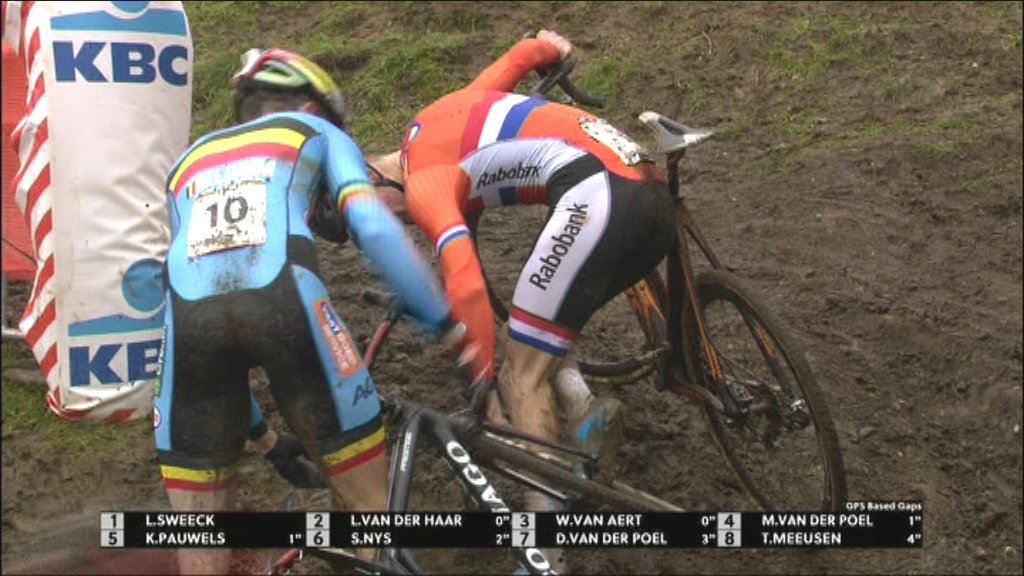 Kevin Pauwels:
"It was never possible. I felt early on that I wasn't super. That's what you need on a day like today. It was hard straight from the start. It wasn't easy today. It's hard, especially at the championships they ride really hard".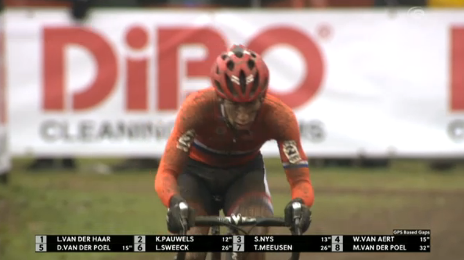 Sven Nys:
"I didn't think I would be emotional but when I saw Paul [Van den Bosch, coach] it happened. I was beaten on the steep climb but I'm very happy with my performance. A fourth place in this field at my age. There's no better way to end my career."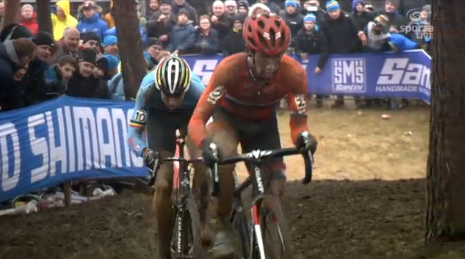 RESULTS
U23 Men
1
Eli Iserbyt (Belgium)
0:51:18
2
Adam Toupalik (Czech Republic)
0:00:01
3
Quinten Hermans (Belgium)
0:00:05
4
Thijs Aerts (Belgium)
0:00:11
5
Clement Russo (France)
0:00:12
6
Felipe Orts (Spain)
0:00:15
7
Gioele Bertolini (Italy)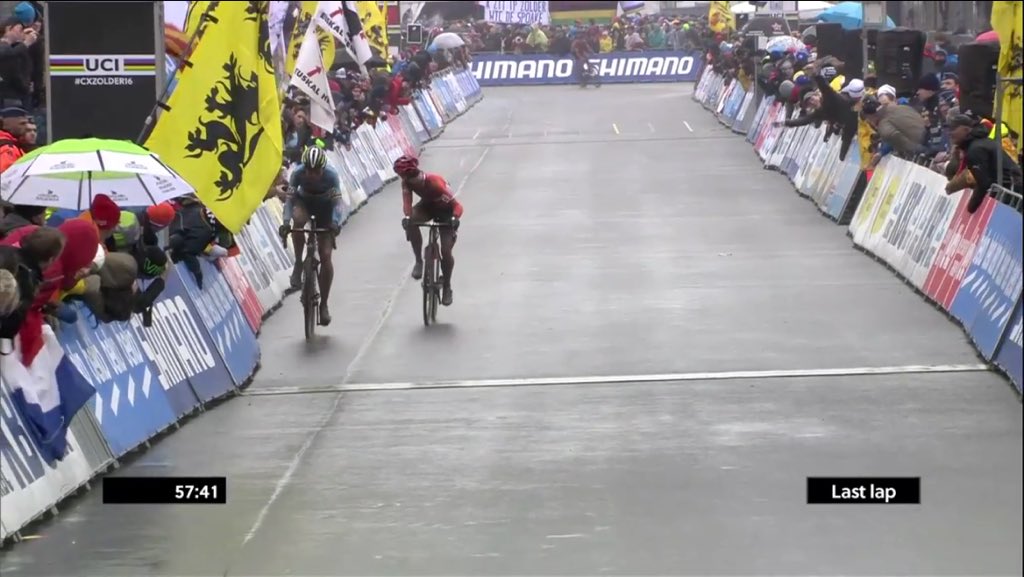 8
Martijn Budding (Netherlands)
0:00:24
9
Sieben Wouters (Netherlands)
0:00:29
10
Daan Soete (Belgium)
0:01:07
11
Daan Hoeyberghs (Belgium)
0:01:17
12
Simon Andreassen (Denmark)
0:01:19
13
Logan Owen (United States Of America)
0:01:22
14
Joris Nieuwenhuis (Netherlands)
0:01:30
15
Nadir Colledani (Italy)
0:01:31
16
Johan Jacobs (Switzerland)
0:01:43
17
Nicolas Cleppe (Belgium)
0:01:46
18
Curtis White (United States Of America)
0:01:51
19
Gosse Van Der Meer (Netherlands)
0:01:52
20
Kevin Suarez Fernandez (Spain)
0:02:05
21
Timon Ruegg (Switzerland)
0:02:17
22
Felix Drumm (Germany)
0:02:18
23
Lucas Dubau (France)
0:02:19
24
Joshua Dubau (France)
0:02:28
25
Mathieu Morichon (France)
0:02:30
26
Yannick Gruner (Germany)
0:02:38
27
Andrew Dillman (United States Of America)
0:02:55
28
Yannick Peeters (Belgium)
0:03:05
29
Maik Van Der Heijden (Netherlands)
0:03:13
30
Stepan Schubert (Czech Republic)
0:03:25
31
Stefano Sala (Italy)
0:03:44
32
Marceli Boguslawski (Poland)
0:04:00
33
Grant Ellwood (United States Of America)
0:04:04
34
Toki Sawada (Japan)
0:04:07
35
Tobin Ortenblad (United States Of America)
0:04:20
36
Bartosz Mikler (Poland)
0:04:44
37
Simon Vozar (Slovakia)
0:04:54
38
Nicholas Barnes (Great Britain)
0:04:55
39
David Eriksson (Sweden)
0:05:05
40
Matej Ulik (Slovakia)
0:05:13
41
Henrik Jansson (Sweden)
0:05:17
42
Christopher Aitken (Australia)
0:05:29
43
Scott Smith (United States Of America)
0:05:41
44
Max Lindenau (Germany)
0:05:49
45
Nicholas Smith (Australia)
0:05:50
46
Ondrej Glajza (Slovakia)
0:05:59
47
Adrian Sirek (Czech Republic)
0:06:02
48
Ola Jorde (Norway)
0:06:07
49
Trevor O'Donnell (Canada)
0:07:16
50
Luc Turchi (Luxembourg)
0:07:27
51
Isaac Niles (Canada)
0:07:45
52
Davis Persevics (Latvia)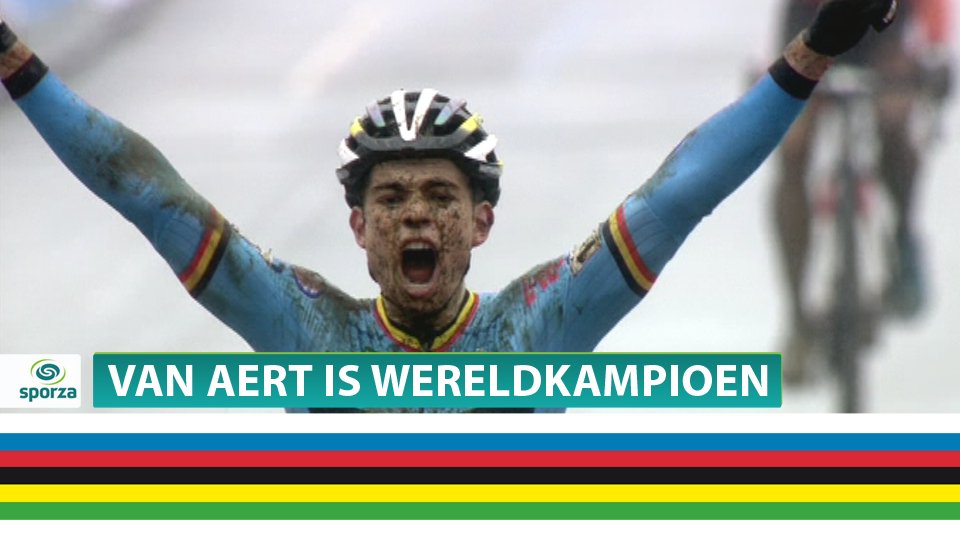 1
Wout Van Aert (Belgium)
1:05:52
2
Lars Van Der Haar (Netherlands)
0:00:05
3
Kevin Pauwels (Belgium)
0:00:35
4
Sven Nys (Belgium)
0:00:39
5
Mathieu Van Der Poel (Netherlands)
0:00:47
6
David Van Der Poel (Netherlands)
0:01:03
7
Laurens Sweeck (Belgium)
0:01:11
8
Tom Meeusen (Belgium)
0:01:23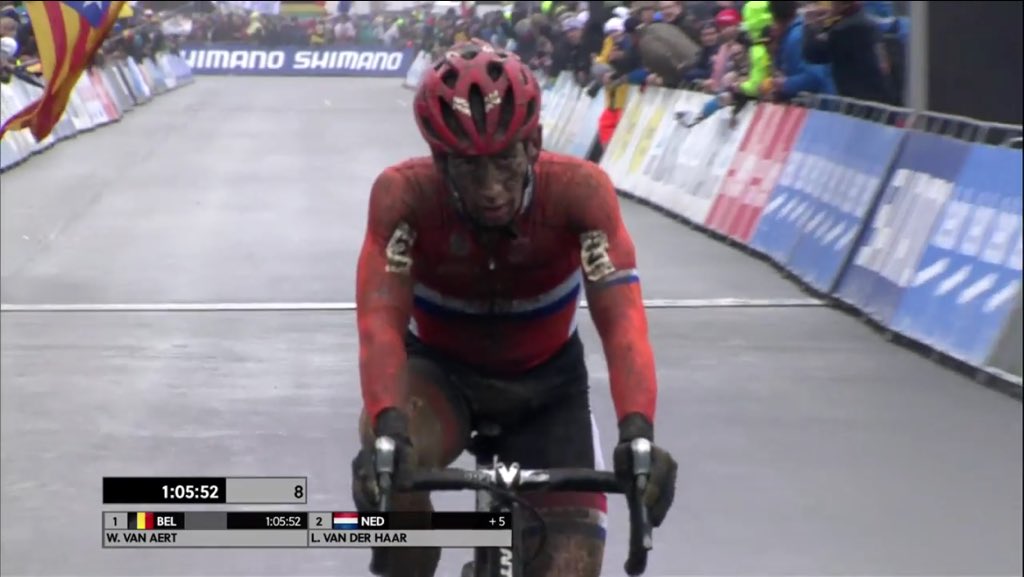 9
Radomir Simunek (Czech Republic)
0:01:37
10
Marcel Meisen (Germany)
0:01:43
11
Clement Venturini (France)
0:02:01
12
Michael Vanthourenhout (Belgium)
0:02:15
13
Stan Godrie (Netherlands)
0:02:28
14
Lars Boom (Netherlands)
0:02:37
15
Francis Mourey (France)
0:02:43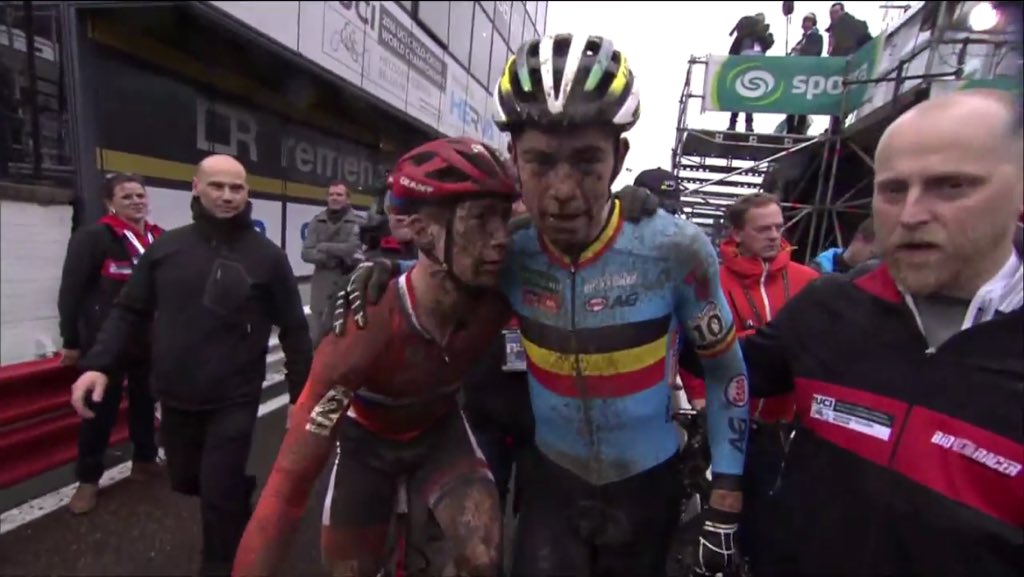 16
Michael Boros (Czech Republic)
0:02:46
17
Thijs Van Amerongen (Netherlands)
18
Corne Van Kessel (Netherlands)
0:02:50
19
Philipp Walsleben (Germany)
0:03:00
20
Steve Chainel (France)
0:03:08
21
Sascha Weber (Germany)
0:03:15
22
Julien Taramarcaz (Switzerland)
0:03:21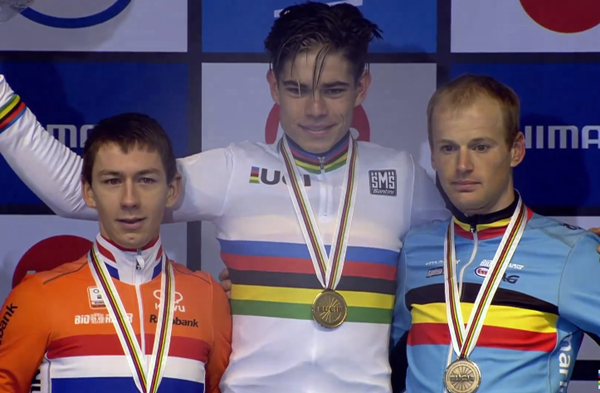 23
Stephen Hyde (United States Of America)
0:03:31
24
Simon Zahner (Switzerland)
25
Niels Wubben (Netherlands)
0:03:40
26
Tim Merlier (Belgium)
0:03:43
27
Javier Ruiz De Larrinaga Ibanez (Spain)
0:03:56
28
Ian Field (Great Britain)
0:04:04
29
Martin Haring (Slovakia)
0:04:26
30
Lukas Winterberg (Switzerland)
0:04:29
31
Lars Forster (Switzerland)
0:04:46
32
Ismael Esteban Aguando (Spain)
0:05:10
33
Severin Saegesser (Switzerland)
0:05:28
34
Jeremy Powers (United States Of America)
0:05:29
35
Yannick Eckmann (United States Of America)
0:06:45
36
Chris Jongewaard (Australia)
0:07:00
37
Liam Killeen (Great Britain)
0:07:04
38
Garry Millburn (Australia)
0:07:13
39
Travis Livermon (United States Of America)
0:07:14
40
Aaron Schooler (Canada)
41
Allen Krughoff (United States Of America)
0:07:39
42
Jeremy Martin (Canada)
-1 Lap
43
Anthony Clark (United States Of America)
44
Christian Helmig (Luxembourg)
45
Michael Van Den Ham (Canada)
46
Gusty Bausch (Luxembourg)
47
Kenneth Hansen (Denmark)
-2 Laps
48
Mariusz Gil (Poland)
49
David Fletcher (Great Britain)
50
Angus Edmond (New Zealand)
51
Cameron Jette (Canada)
52
Martin Eriksson (Sweden)
53
Fredrik Haraldseth (Norway)
54
Hikaru Kosaka (Japan)
55
Yu Takenouchi (Japan)
56
Jeremy Durrin (United States Of America)
57
Mark McConnell (Canada)
-3 Laps
58
Karl Heinz Gollinger (Austria)
59
Philipp Heigl (Austria)