In Gent
Counting midnight
First day of the new year. At the airport in

Charleroi and feeling sad

: "I don't want to go back to Italy! " I write "Great memories stay with me but

you don't live on memories, at least I don't.

I had a sweet dream tonight and occurred to me that

happiness can be mesured by the gap between your dreams and your real life.
Then I check my fb account and I find this poem:
"Quanto tempo a rincorrersi.
Basterebbe fermarsi, guardarsi negli occhi, dirsi tutto.
Per non perdersi.
Che il mondo è pieno di emozioni perdute,
di abbracci mancati,
di parole taciute."
(by Angelo De Pascalis).
I try to translate it and it sounds like that:
"How many time spent on running after each other.
We should just stop, look each other in the eye, tell everything each other.
For not to get lost.
The world is full of missed emotions,
of missed hugs,
of never told words."
My favourite shoes last travel. But they have seen a lot of the world!
Yes indead. We should just tell everything each other but we don't dare and keep a painful silence. A saying says if you don't ask the answer will be always no.
On the boat
I have a look to the results of the

cyclocross race in Baal

. There is Angus Edmond on line and I'm curious to know how he did in

Pétange

. "
It was great!" he says "I finished!! Crazy course!! Soooo hilly!".
It's time to get on the plane. What a long day it has been! Last night we spent the

New Years Eve in Gent

weith our host Sander and his friends and this morning we went back to the city center for

a boat trip on the canals

. It was icy cold but so beautiful!
............
Ehm...

Almost midnight, on a bus bringing me from Pisa to

Florence

. Very sleepy but feeling better: much more than memories I keep and dreams tell what you really want. I'll go for it, day by day, from now.
TONS TO PICTURES TO EDIT, STAY TUNED
1
Sanne Cant (Bel) Enertherm - BKCP
0:45:58
2
Ellen Van Loy (Bel) VZW Young Telenet Fidea Cycling Team
0:00:18
3
Helen Wyman (GBr) Kona Factory Team
0:00:47
4
Sophie De Boer (Ned) Kalas-NNOF Cycling Team
0:01:02
5
Pavla Havlikova (Cze) MRM-Avalon Pro Cycling
0:01:06
6
Jolien Verschueren (Bel) VZW Young Telenet Fidea Cycling Team
0:01:40
Bus to Florence:
7
Loes Sels (Bel) VZW Young Telenet Fidea Cycling Team
0:02:15
8
Elle Anderson (USA)
0:02:33
9
Maud Kaptheijns (Ned) AA Drink-Kalas Cycling Team
0:03:10
10
Mical Dyck (Can)
0:03:26
11
Bianca Van Den Hoek (Ned)
0:04:32
12
Pauline Delhaye (Fra)
0:04:48
13
Asa Maria Erlandsson (Swe)
0:06:08
14
Alba Teruel Ribes (Spa)
0:06:11
15
Linda Ter Beek (Ned) WSV Emmen
0:06:17
16
Ceylin Alvarado (Ned)
0:07:29
17
Allison Arensman (USA)
0:08:50
18
Hannah Arensman (USA)
0:08:53
19
Katrien Thijs (Bel) Kleur Op Maat cyclingteam
0:09:22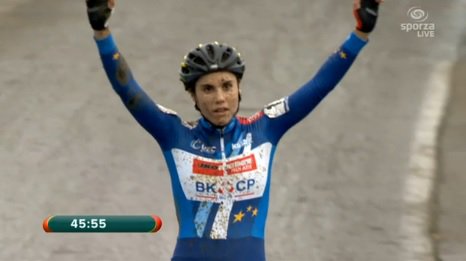 Sanne Cant
20
Delia Debbis (GBr)
0:09:32
21
Anna Schappert (Can)
0:09:33
22
Nathalie Redmond (USA)
0:09:46
23
Sofia Revert Rodriguez (Spa)
-1 Lap
26
Nele Van Maldeghem (Bel) FUJI Medista MTB Team - Neeroeteren
-2 Laps
27
Claire-Jane Beaumont (GBr)
28
Aurélie Vermeir (Bel) VC Meetjesland Knesselare
Wout van Aert in the new jersey
1
Wout Van Aert (Bel) Vastgoedservice - Golden Palace Cycling Team
1:00:39
2
Sven Nys (Bel) Crelan - AA Drink Team
0:01:13
3
Toon Aerts (Bel) Telenet Fidea Cycling Team
0:01:15
4
Michael Vanthourenhout (Bel) Sunweb - Napoleon Games Cycling Team
0:01:18
5
Klaas Vantornout (Bel) Sunweb - Napoleon Games Cycling Team
0:01:19
6
Gianni Vermeersch (Bel) Sunweb - Napoleon Games Cycling Team
0:01:21
7
Lars Van Der Haar (Ned) Team Giant - Alpecin
8
Corne Van Kessel (Ned) Telenet Fidea Cycling Team
0:01:36
9
Laurens Sweeck (Bel) Era - Murprotec
0:02:01
10
Kevin Pauwels (Bel) Sunweb - Napoleon Games Cycling Team
0:02:10
11
Diether Sweeck (Bel) Era - Murprotec
0:02:19
12
Tom Meeusen (Bel) Telenet Fidea Cycling Team
0:02:27
13
Julien Taramarcaz (Sui) Era - Murprotec
0:02:33
14
Rob Peeters (Bel) Vastgoedservice - Golden Palace Cycling Team
0:02:49
15
Philipp Walsleben (Ger) BKCP - Corendon
0:02:57
16
Thijs Van Amerongen (Ned) Telenet Fidea Cycling Team
0:03:07
17
Joeri Adams (Bel) Vastgoedservice - Golden Palace Cycling Team
0:03:16
18
Tim Merlier (Bel) Vastgoedservice - Golden Palace Cycling Team
0:03:56
19
Twan Van Den Brand (Ned) Orange Babies Cycling Team
0:04:11
20
Jim Aernouts (Bel) Telenet Fidea Cycling Team
0:04:22
21
Vincent Baestaens (Bel) BKCP - Corendon
0:05:08
22
Niels Wubben (Ned) Telenet Fidea Cycling Team
0:05:51
23
Kevin Cant (Bel) Era - Murprotec
0:06:02
24
Michael Boros (Cze) BKCP - Corendon
0:07:15
25
Ivan Gicquiau (Fra)
-1 Lap
26
Nicolas Samparisi (Ita)
28
Miguel Fillaut (Aus)
-2 Laps
29
Garry Millburn (Ger)
-3 Laps
31
Lorenzo Samparisi (Ita)
32
Fabian Obrist (Sui)
-4 Laps
DNF
Jan Denuwelaere (Bel) Vastgoedservice - Golden Palace Cycling Team
DNF
Patrick Van Leeuwen (Ned) Orange Babies Cycling Team
DNF
Radomir Simunek (Cze) Era - Murprotec
DNF
Sven Vanthourenhout (Bel) Crelan - AA Drink Team
Angus Edmond in Pétange
1
MEISEN Marcel
GER
57:22
2
MOUREY Francis
FRA
00:58
3
PAPRSTKA Tomas
CZE
01:22
6
MARECAILLE Antonin
FRA
02:15
7
DE CLEYN Dave
BEL
02:28
10
VANDEVELDE Ruben
BEL
02:51
11
VAN COMPERNOLLE Kenneth
BEL
03:03
12
GRUNER Yannick
GER
03:03
13
PETRUS Lubomir
CZE
03:18
14
SPRAGG James
GBR
03:31
16
MALÍK Michal
CZE
03:49
17
DIAS DOS SANTOS Vincent
LUX
03:56
18
HELMIG Christian
LUX
04:08
19
NISSEN Sören
DEN
04:59
20
KYZIVAT Vladimir
CZE
05:20
21
BAUSCH Gusty
LUX
05:27
24
VAN LAER Ward
BEL
07:52
25
VAN DEN HAM Michael
CAN
08:04
27
PIERRON Raphaël
FRA
09:40
1
DE JONG Thalita
NED
37:20
2
MAJERUS Christine
LUX
01:31
3
VERHESTRAETEN Karen
BEL
04:09
4
VERHOEVEN Suzanne
NED
04:40
5
KLOPPENBURG Margriet
DEN
05:45
6
VAXILLAIRE Stéphanie
FRA
06:28
7
REES Edie Antonia
LUX
06:58
9
SCHWAGER Mara
GER
08:30
10
VARDAROS Christine
USA