U19 Men podium

Technical race

in

Leuven

. Alessio

Dhoore

won among the

U19 Men

while a

crash

disrupted the

Elite Women

finish, with

Sophie De Boer beating

Sanne Cant at the sprint

. With several main contenders not starting Sven Nys and Klaas Vantornout are the main favouritre in the

Elite Men

race. After the first lap Simunek, Iserbyt, Aerts, Taramarcaz and Vanthourenhout have a 9" lead on Vantornout, Aernouts, Nys, Baestaens and Meeusen.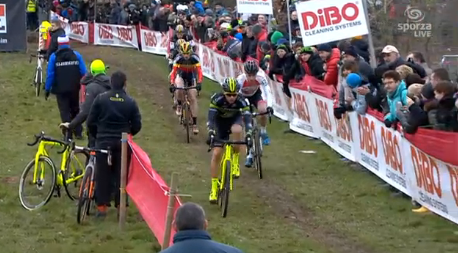 8 laps to go the situation already changed:

Toon Aerts is leading solo

, 6'' ahead Taramarcaz, Iserbyt, Vanthourenhout, Simunek Nys, Baestaens, Meeusen, Vantornout and Aernouts. 7 laps to go Toon Aerts' advantage is up to 15". Nice to see

Eli Iserbyt

back racing at the front!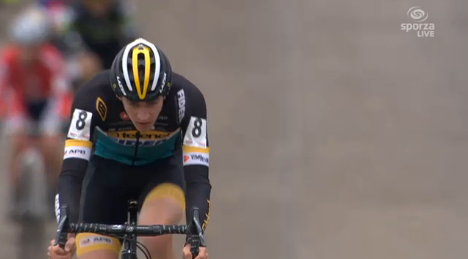 Klaas

Vantornout had a mechanical

and changed his bike but now he has to chase. Troubles also for Sven

Nys

who

hit the back wheel of van Baestaens

and looks

in pain.

In front

Eli Iserbyt is chasing solo

at 17" from Toon Aerts. Simunek, Taramarcaz, Nys, Meeusen and Baestaens are at 36".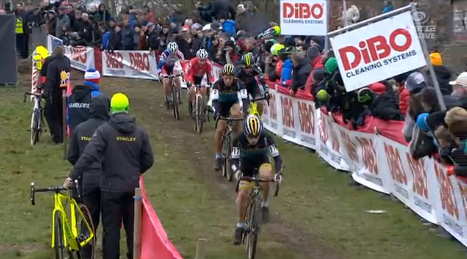 5 laps to go Iserbyt is

caught

and a compact chasing group pulled by Sven Nys is at 35'' from Aerts. Simunek got a mechanical and is stucked.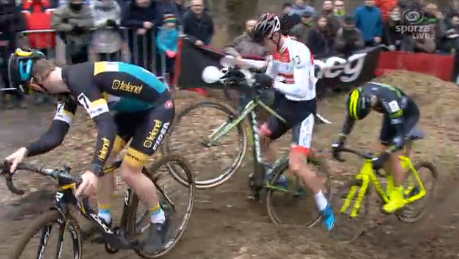 4 laps to go

the chase isn't gaining

on Aerts, they are loosing instead and cross the line 41" down.

Meeusen attacks and gets a gap.

Nys and Taramarcaz are slightly dropped. 3 laps to go Meeusen is at 34" from Toon Aerts, Iserbyt, Baestaens, Nys and Taramarcaz follow at 1'. Full podium for Telenet-Fidea? it would be cool! Sven Nys changed his bike and lost terrain.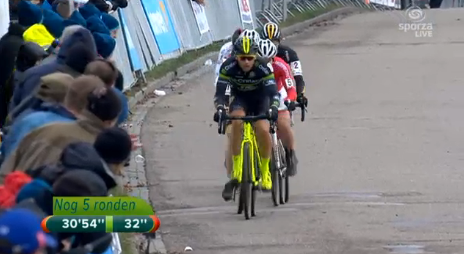 Last lap: Toon Aerts crashes!

but he's back on bike and has got a good gap. Tom

Meeusen

is closer now, he

isn't chasing hard

though. Toon Aerts can enjoy a

solo victory

, Tom Meeusen also claps on the line as 2nd. Eli Iserbyt fails to win the sprint and is 5th. The last spot on podium goes to

Vincent Baestaens

.

Klaas Vantornout: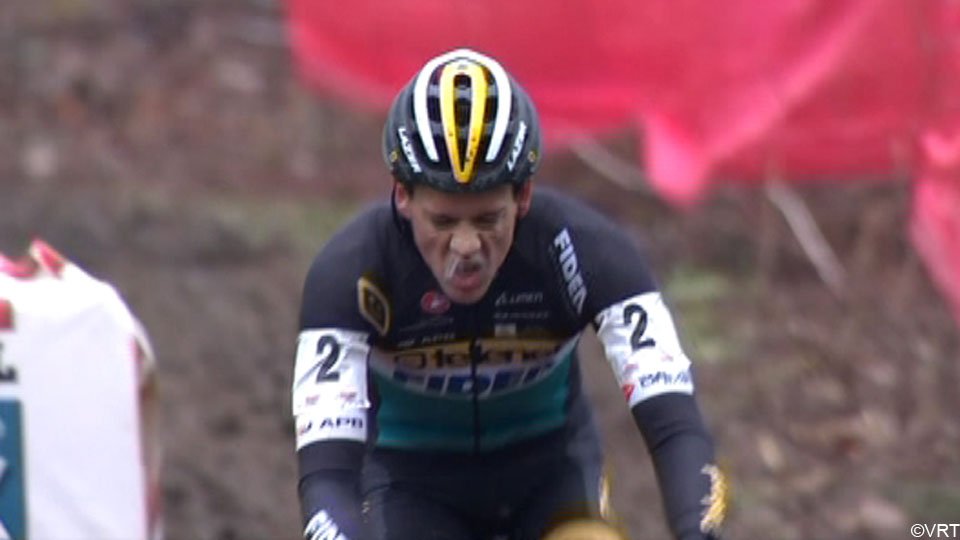 "Lekke tube op een slecht moment, al waren de benen ook niet hersteld! Nu een rustige week gepland. #leuven @MAR_NAPG_CT" [
Flat tyre at a bad time,legs also were not completely recovered! Now a quiet week is planned."]
Toon Aerts: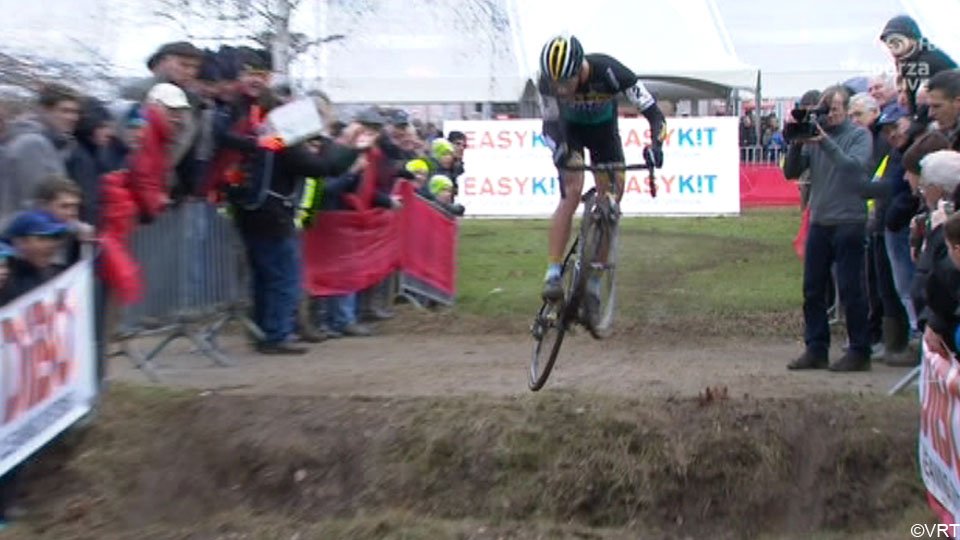 "Through my first gear (lap) I immediately felt that I had good legs.
It started in the penultimate lap when I was in the lead. I maybe started too early, to think of the victory, and was not riding [technically] well. In the last lap I made another tumble. I tried as quickly as possible to get the rhythm back and the lead, that I had to keep still. I felt really strong today.
The intention was to get into the technical area and to immediately sit up front. At one point I was in the lead. I pulled through and immediately felt that I had good legs. I had no doubts. Through the speaker I heard that I had increased my lead. I set the pace and could hold it to the end, but all in all this is still an unexpected victory."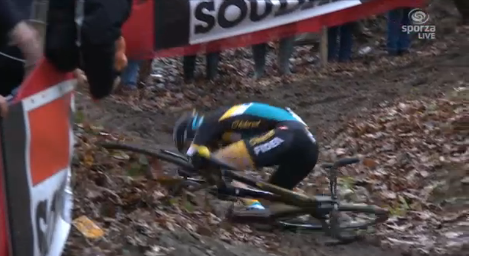 Eli Iserbyt:
"Geweldig gevoel om zo te presteren tussen de profs! #5e"
["Great feeling so to perform between the pros! #5e"]
MORE TO COME
RESULTS
U19 Men
1 DHOORE Alessio
2 VANDEBOSCH Toon
3 VANDEBOSCH Victor
4 JASPERS Jappe
5 VRACHTEN Arne
6 WOLSINK Thijs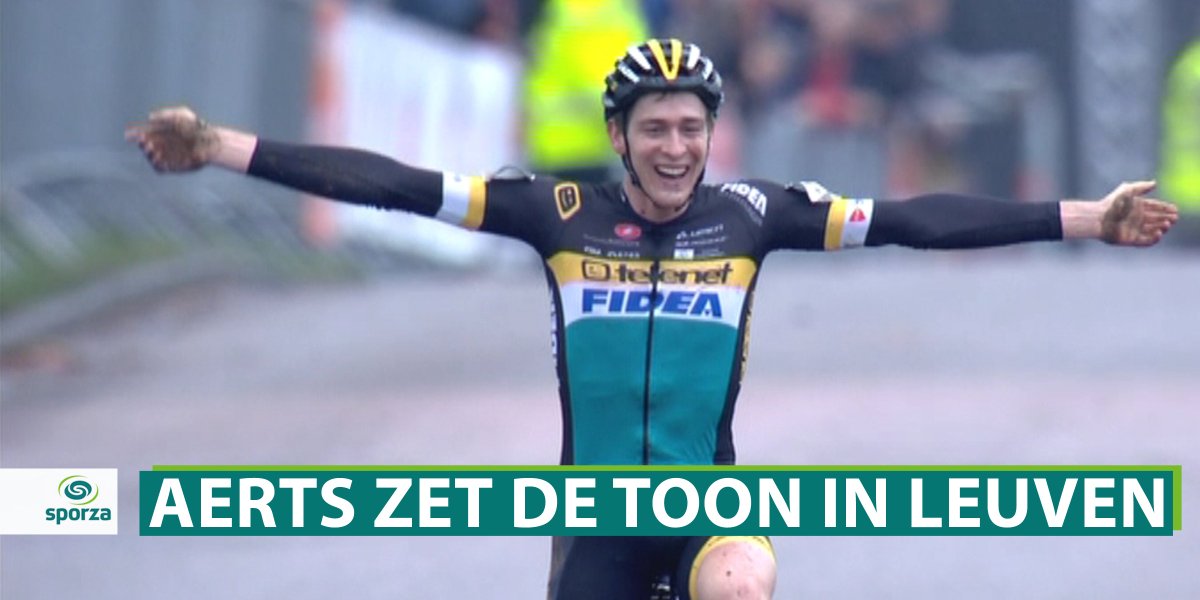 7 VERMEERSCH Florian
8 DRIESEN Jarne
9 GROOT Mitch
10 CAMPS Jelle
11 TIELEMANS Jente
12 COLMAN Alex
13 BEKAERT Yentl
14 PEMEN Diederik
15 GOEMAN Andreas
16 SERRE Stef
17 HOLMGREN Gunnar
18 SANDERSON Brody
19 BRAES Brent
20 STUER Kwinten
21 LOBET Robin
22 ARKESTEYN Aron
23 DESCHEPPER Ward
24 VERDONCK Loeka
25 GARCIA ETXEGUIBEL Gontzal
26 ARNOETS Yoran
27 VANDENKERCKHOVE Stan
Source
http://www.cxstats.com/soudal-cyclocross-leuven-2016-resultats/
Elite Women
1
Sophie De Boer (Ned) Kalas-NNOF Cycling Team
0:44:32
2
Sanne Cant (Bel) Enertherm - BKCP
0:00:01
3
Ellen Van Loy (Bel) VZW Young Telenet Fidea Cycling Team
0:00:18
4
Femke Van Den Driessche (Bel) VZW Lotto-Ladiescycling
0:00:33
5
Jolien Verschueren (Bel) VZW Young Telenet Fidea Cycling Team
0:00:38
6
Loes Sels (Bel) VZW Young Telenet Fidea Cycling Team
0:00:40
7
Sabrina Stultiens (Ned) Rabobank Women Team
0:00:57
8
Christine Majerus (Lux)
0:01:11
9
Mical Dyck (Can)
0:02:12
10
Joyce Vanderbeken (Bel) Wielerteam Decock-Woningbouw Vandekerckhove
0:02:35
11
Bianca Van Den Hoek (Ned)
0:02:50
12
Karen Verhestraeten (Bel) Kleur Op Maat cyclingteam
0:03:58
13
Pauline Delhaye (Fra)
0:04:18
14
Alba Teruel Ribes (Spa)
0:04:36
15
Lisa Jacobs (Aus)
0:04:51
16
Anna Schappert (Can)
0:05:37
17
Jinse Peeters (Bel)
18
Shana Maes (Bel) AA Drink-Kalas Cycling Team
0:06:02
19
Axelle Bellaert (Bel) AA Drink-Kalas Cycling Team
0:06:18
20
Nathalie Redmond (Bel)
0:06:36
21
Delia Beddis (GBr)
22
Claire-Jane Beaumont (GBr)
23
Kristien Nelen (Bel)
24
Yenthe Boons (Bel)
25
Meg De Bruyne (Bel) VD Hauwe CT - Gentse VS
26
Tine Verdeyen (Bel) Cycling Team Zemst VZW
27
Sofia Revert Rodriguez (Spa)
28
Sara Beeckmans (Bel) W.A.C. Team Hoboken (Kon.) V.Z.W.
29
Cindy Diericx (Bel) Coolens Cycling Team
30
Dagnija Auzane (Pol)
DNF
Lindy Van Anrooij (Ned)
DNF
Senna Feron (Ned) WV Zwee
DNF
Joyce Heyns (Ned)
Elite Men
1
Toon Aerts (Bel) Telenet Fidea Cycling Team
1:02:09
2
Tom Meeusen (Bel) Telenet Fidea Cycling Team
0:00:14
3
Vincent Baestaens (Bel) BKCP - Corendon
0:01:17
4
Julien Taramarcaz (Sui) Era - Murprotec
5
Eli Iserbyt (Bel) VZW Young Telenet Fidea Cycling Team
6
Sven Nys (Bel) Crelan - AA Drink Team
0:01:45
7
Radomir Simunek (Cze) Era - Murprotec
0:01:52
8
Klaas Vantornout (Bel) Sunweb - Napoleon Games Cycling Team
0:01:57
9
Jim Aernouts (Bel) Telenet Fidea Cycling Team
0:02:27
10
Jan Denuwelaere (Bel) Vastgoedservice - Golden Palace Cycling Team
0:03:02
11
Sven Vanthourenhout (Bel) Crelan - AA Drink Team
0:03:04
12
Jens Vandekinderen (Bel) Kalas-NNOF Cycling Team
0:03:19
13
Niels Wubben (Ned) Telenet Fidea Cycling Team
0:04:46
14
Thomas Joseph (Bel) Lares - Doltcini Cycling Team
0:04:51
15
Dave De Cleyn (Bel) Cycling Team Zemst VZW
0:04:57
16
Ivan Gicquiau (Fra)
0:05:11
17
Tony Periou (Fra)
0:05:24
18
Lander Loockx (Bel) Kalas Cycling Team 99 Schriek
-1 Lap
19
Pieter Van Roosbroeck (Bel) VA-Cycling Team Zele
-2 Laps
20
Niels Koyen (Bel) CCN - Metalac Cycling team
21
Jeremy Martin (Can)
22
Kyle De Proost (Bel) Kon. Balen B.C. V.Z.W.
-3 Laps
23
Hendrik Sweeck (Bel) Era - Murprotec
24
Mark Mcconnell (Can)
25
Edwin De Wit (Bel) Rupelspurters Boom
26
Senne De Meyer (Bel) K. Edegem Bicycle Club - BMX R
27
Valentin Lucas (Fra)
28
Yannick Mayer (Ger)
-4 Laps
29
Nicholas Smith (Aus)
30
Wouter Goosen (Bel) Zannata Cycling Team
31
Yelle Learts (Bel) WSC Hand In Hand Baal
-5 Laps
32
Trevor O'Donnell (Can)
33
Isaac Niles (Can)
34
Alex Forrester (GBr)
-6 Laps
DNF
Joeri Adams (Bel) Vastgoedservice - Golden Palace Cycling Team