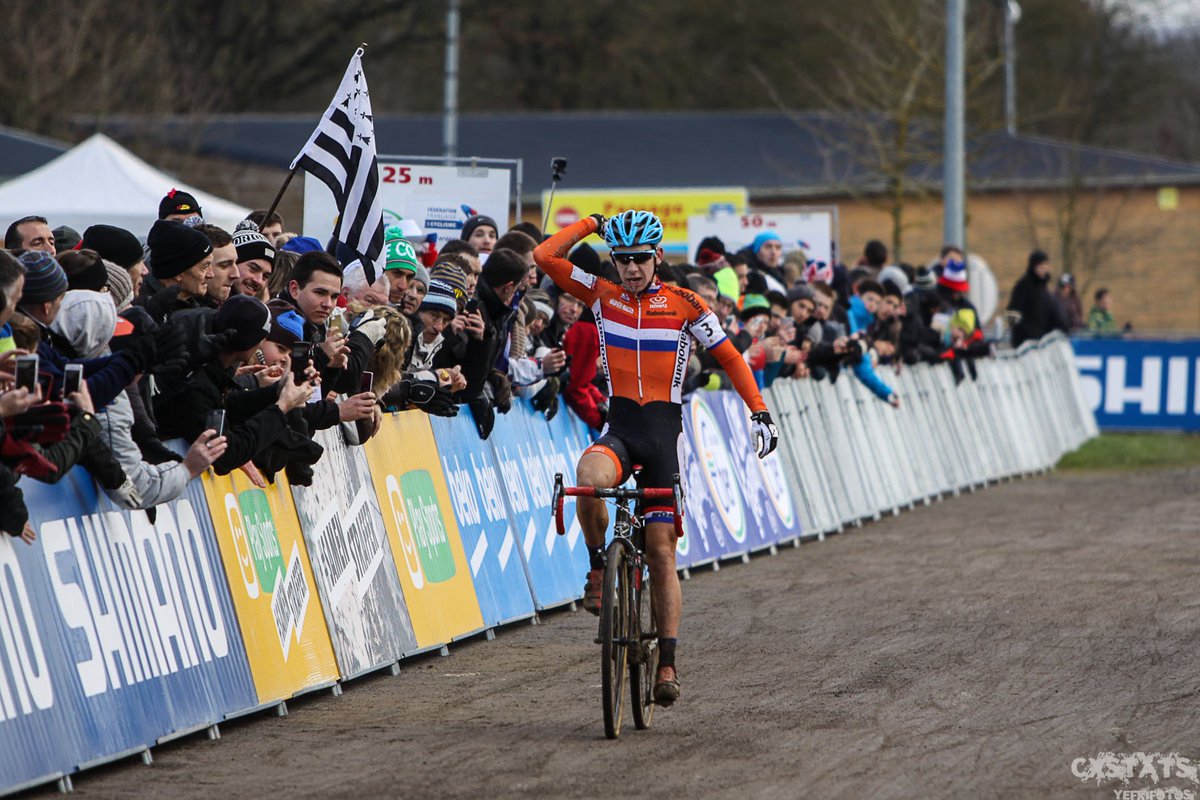 Still firmly

on the muddy side

of cycling:

Lignieres-en-Berry

, France. After a long transfer - for cross standards! - and a quick recon,

the big game is on

.
As far as

U19 Men

the Dutch

Groot

won. As far as

U23 Men

I'm happy to say that my rider

Eli Iserbyt

won.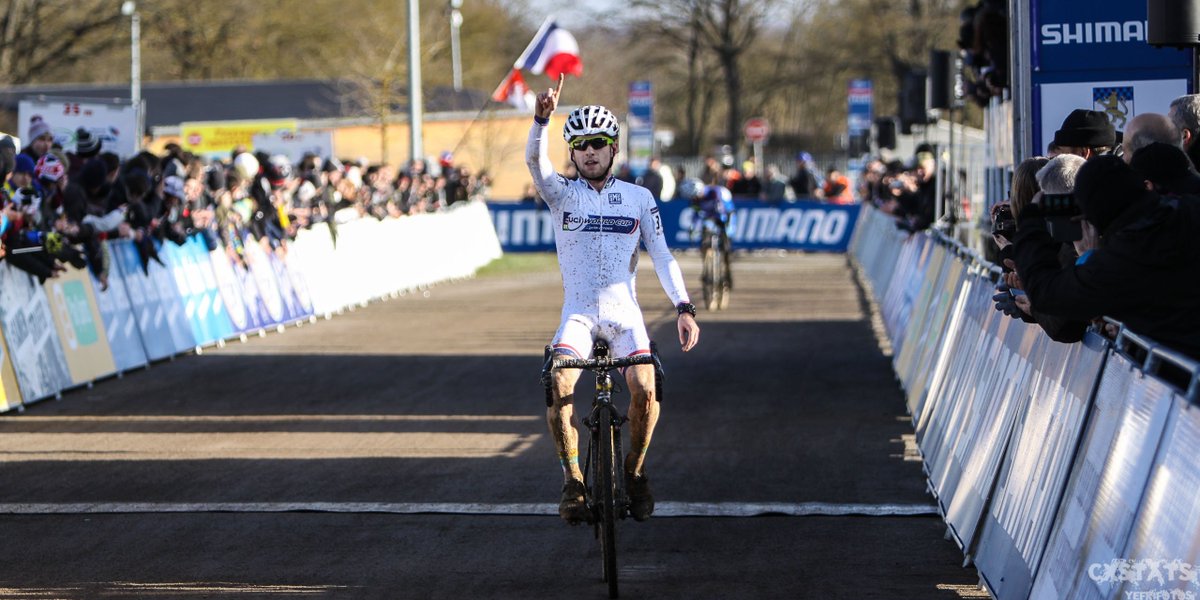 In the Elite Women's race

Sanne Cant

won, and again I'm happy. So now it's just Lars van der Haar whom I'm expecting :)
Sanne Cant: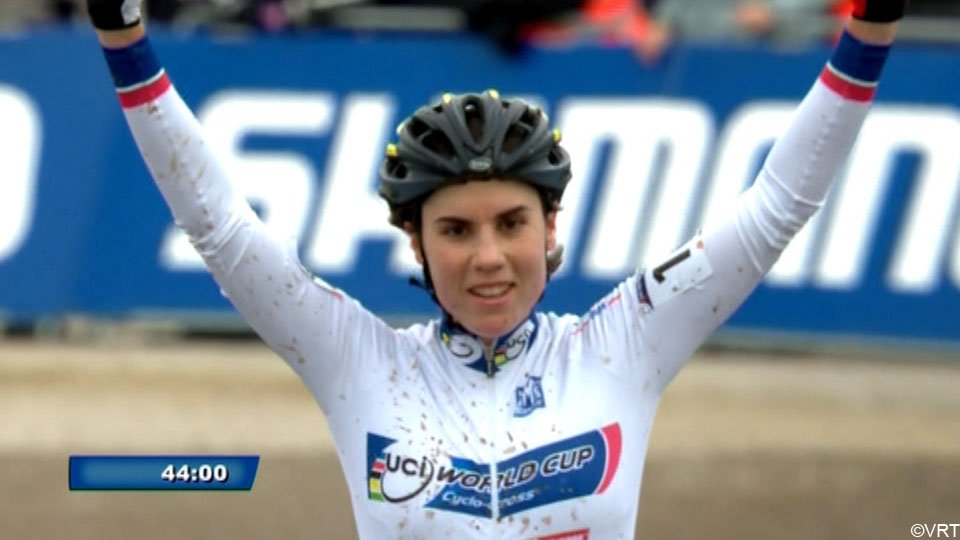 "It wasn't my best feeling. I had a good race. I just rode on my own so I didn't have mistakes. It was a nice course. I'm happy that I could win. If I can train two more weeks really well, then maybe I can win in Zolder. I've worked the whole year for that. I hope I can win. I wanted to make the least possible mistakes while riding at the limit for most of the race. It's been a while since I did that. Ellen rode really fast during the opening lap. Then I took a pull. It's too bad Ellen wasn't able to keep up. It would've been a good race with the two of us."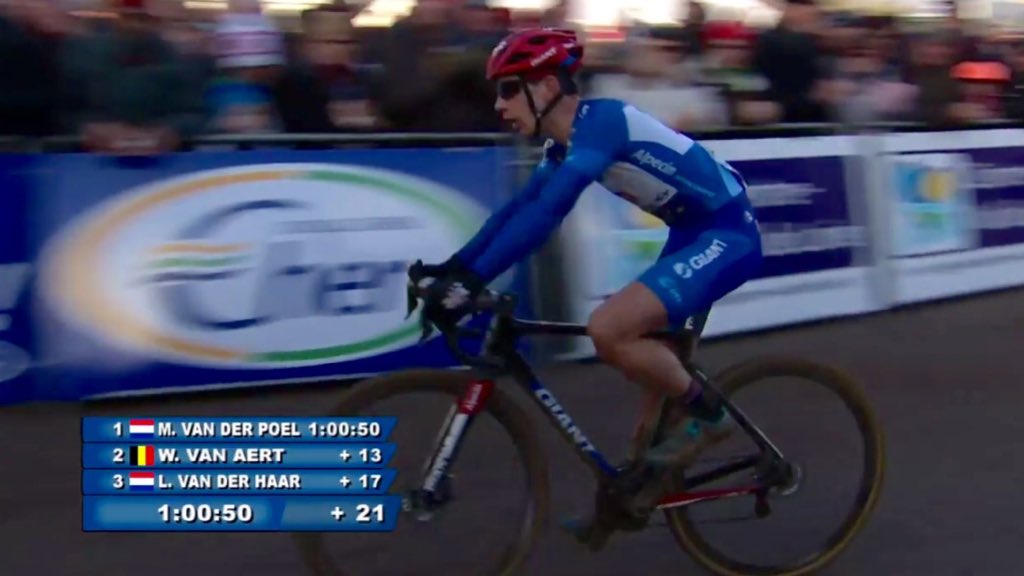 So there we go:

Elite Men

race, sunny and flat. After a great start and just a lap

Lars van der Haar is leading with Wout van Aert

and they have a gap. Van der Poel instead is far behind. The chasing group makes contact, now Laurens Sweeck is at the front. Van der Poel is coming back, still slightly dropped. After two laps there are ten riders in front, including also the French man Venturini. On a short muddy climb Sven Nys gets stucked and creates a gap: van der Poel, at the back of this grup, is cut behind. Five remained in front: Sweeck, van Aert, van der Haar, Venturini and Meeusen.
Five laps to go Nys, van der Poel and Pauwels finally joined. Sweeck is on the attack, van der Haar follows. Four laps to go the front group is compact and pulled b y van der Haar. On the line van der Poel attacks. Van der Haar follows.

On the same short muddy climb van Aert falls and the two Dutch riders go

. 3 laps to go

van der Poel has got a gap on van der Haar and van Aert

, chasing together at 10''. Remember that van deh Haar is 2nd to van Aert in the World Cup overall. 2 laps to go the gap grew to 16''.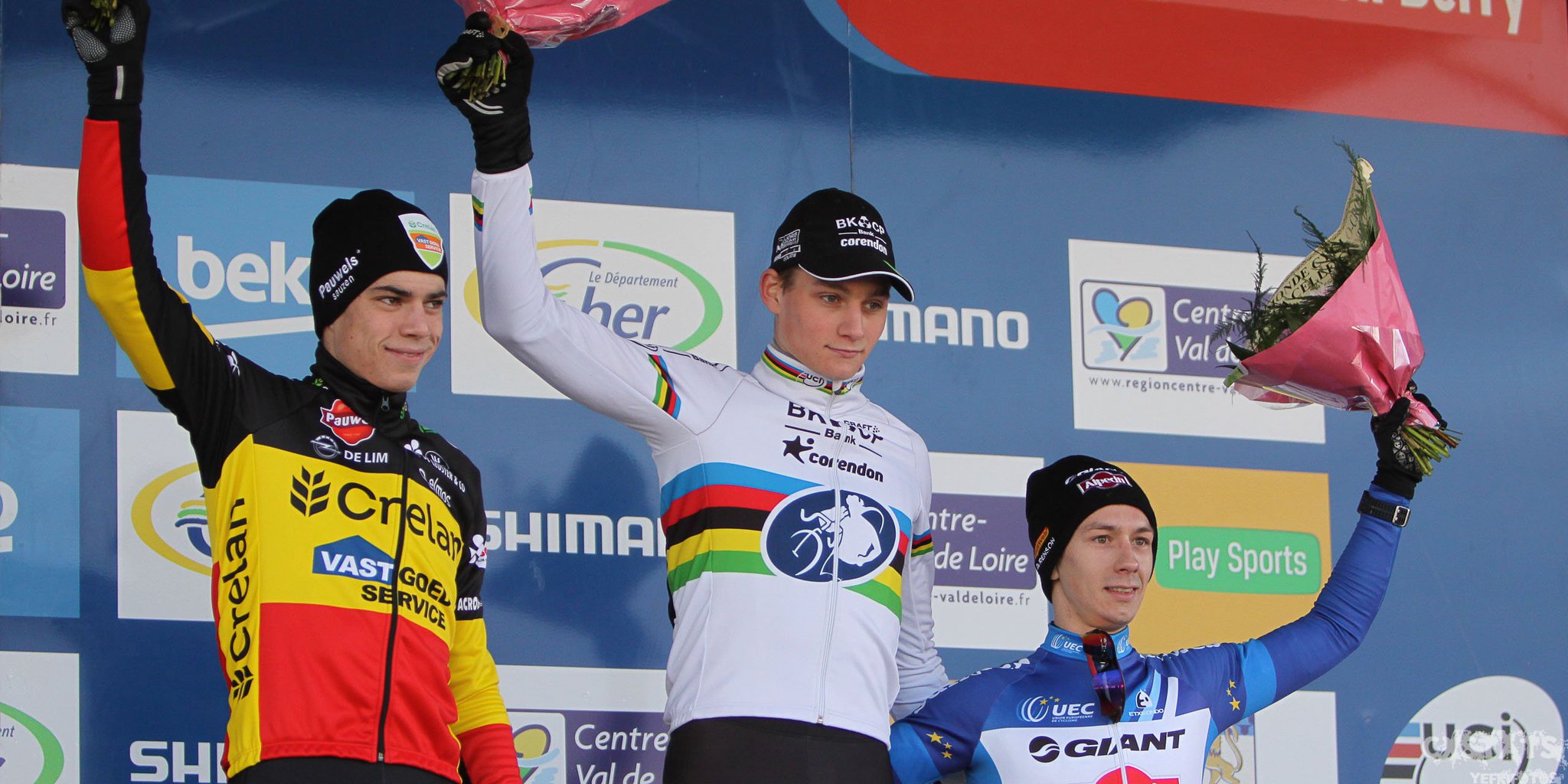 Last lap: van der Poel for the victory but the battle for the title is behind.

Still together van der Haar and van Aert cross the line, in this order so far. Van Aert attacks, van der Haar responds. Still glued.

Van Aert attacks again and this time he gets a gap

. In this order they finish and van Aert keeps his jersey.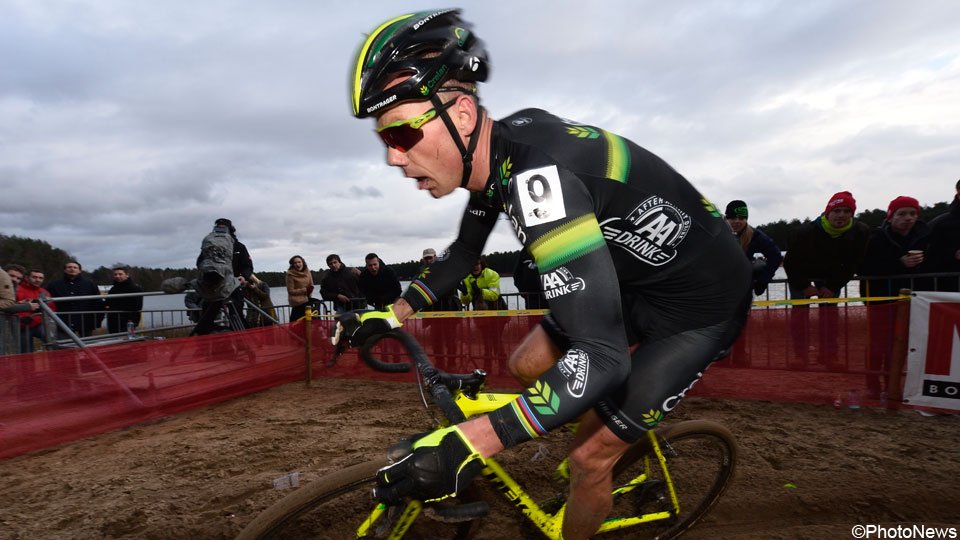 Sven Nys:
"I felt awfully. Where I used to be so good, in the cornering, now I always lose time. It's a few weeks that I feel like that. I have the legs to join the front, for a third or fourth place. But I fail to because I ride on the bad wheel, make mistakes, lose my pedals... That's just very frustrating."
Lars van der Haar:
"
Had fun today! Third place. Hoped for more. But happy with my form. Almost reaching my best shape again! :-) Now the long trip home..."
Mathieu van der Poel:
"It was a hard race. I got boxed in at the start. I had to come from far. I couldn't ride my own line because there were some guys ahead of me. It was a bit frustrating at the beginning. I just took it easy. I rode my tempo from the beginning to the end. I saw the guys in front sticking together. I knew the tempo wasn't high enough. I rode my own tempo to the front. It was quite easy to come back."
Wout van Aert:
"The gap isn't huge but today I did a good job.
The sensations were good but I made too many mistakes on the technical sections. My pedals were troubling me and I switched bikes. That's when Mathieu attacked. Quickly it was clear that we were riding for second place. I tried to keep the pressure on but without a mistake from Mathieu he would be the deserving winner. I'm happy with the race. You can't win everything."
RESULTS
U19 Men
1
Mitch Groot (Ned) Netherlands
0:41:42
2
Jakob Dorigoni (Ita) Italy
0:00:10
3
Mickael Crispin (Fra) France
4
Tanguy Turgis (Fra) France
0:00:17
5
Thijs Wolsink (Ned) Netherlands
0:00:37
6
Matthieu Legrand (Fra) France
0:00:38
7
Kevin Kuhn (Swi) Switzerland
8
Simon Lepoittevin Dubost (Fra) France-B
0:00:41
9
Antoine Benoist (Fra) France-B
0:00:42
10
Alessio Dhoore (Bel) Belgium
0:00:43
11
Thomas Bonnet (Fra) France
0:00:45
12
Antonio Folcarelli (Ita) Italy
0:00:49
13
Seppe Rombouts (Bel) Belgium
0:00:50
14
Florian Vermeersch (Bel) Belgium
0:00:51
15
Toon Vandebosch (Bel) Belgium
0:00:52
16
Jappe Jaspers (Bel) Belgium
0:01:02
17
Quentin Navarro (Fra) France
0:01:05
18
Maxime Bonsergent (Fra) France
0:01:09
19
Jari De Clercq (Bel) Belgium
0:01:22
20
Jofre Cullell Estape (Spa) Spain
0:01:25
21
Michele Bassani (Ita) Italy
0:01:28
22
Niklas Markl (Ger) Germany
0:01:29
23
Maxime Gagnaire (Fra) France-B
0:01:55
24
Vaclav Sirucek (Cze) Czech Republic
0:02:09
25
Antoine Raugel (Fra) France-B
0:02:10
26
Victor Vandebosch (Bel) Belgium
0:02:19
27
Mauro Schmid (Swi) Switzerland
0:02:24
28
Jan Gavenda (Cze) Czech Republic
0:02:35
29
Jokin Alberdi (Spa) Spain
0:02:51
30
Jeremy Montauban (Fra) France-B
0:03:01
31
Noah Barrow (Aus) Australia
0:03:10
32
Lois Dufaux (Swi) Switzerland
0:03:13
33
Nicolas Guillemin (Fra) France-B
0:03:29
34
Inigo Altuna Maeztu (Spa) Spain
0:03:47
35
Richard Brun (Spa) Spain
0:04:12
36
David Jary (Cze) Czech Republic
0:04:57
37
Fabian Bramer (Ger) Germany
0:05:05
38
Jan Novak (Cze) Czech Republic
0:06:22
39
Ben Walkerden (Aus) Australia
U23 men
1
Eli Iserbyt (Bel) Belgium
0:48:21
2
Quinten Hermans (Bel) Belgium
0:00:08
3
Joris Nieuwenhuis (Ned) Netherlands
0:00:19
4
Daan Hoeyberghs (Bel) Belgium
0:00:25
5
Adam Toupalik (Cze) Czech Republic
0:00:27
6
Daan Soete (Bel) Belgium
0:00:49
7
Clement Russo (Fra) France
0:00:57
8
Yannick Peeters (Bel) Belgium
0:01:04
9
Gioele Bertolini (Ita) Italy
0:01:09
10
Martijn Budding (Ned) Netherlands
0:01:22
11
Nicolas Pruvot (Fra) France-B
0:01:25
12
Yan Gras (Fra) France
0:01:30
13
Kevin Suarez Fernandez (Spa) Spain
0:01:34
14
Timon Ruegg (Swi) Switzerland
0:01:37
15
Lucas Dubau (Fra) France
0:01:38
16
Nicolas Cleppe (Bel) Belgium
0:01:40
17
Eddy Fine (Fra) France
0:01:41
18
Maik Van Der Heijden (Ned) Netherlands
0:01:47
19
Thijs Aerts (Bel) Belgium
0:01:56
20
Sieben Wouters (Ned) Netherlands
0:01:57
21
Romain Boutet (Fra) France-B
0:01:58
22
Gosse Van Der Meer (Ned) Netherlands
0:02:14
23
Felipe Orts (Spa) Spain
0:02:25
24
Joshua Dubau (Fra) France
0:02:45
25
Clement Normand (Fra) France
0:02:54
26
Quentin Simon (Fra) France-B
0:03:06
27
Joris Ryf (Swi) Switzerland
0:03:08
28
Nadir Colledani (Ita) Italy
0:03:12
29
Maxime Derouint (Fra) France-B
0:03:32
30
Stepan Schubert (Cze) Czech Republic
0:04:29
31
Sandy Dujardin (Fra) France-B
0:05:05
32
Adrian Sirek (Cze) Czech Republic
0:05:08
33
Mario Junquera (Spa) Spain
0:05:37
34
Christopher Aitken (Aus) Australia
0:05:49
Elite Women
1
Sanne Cant (Bel)
0:44:03
2
Ellen Van Loy (Bel)
0:00:21
3
Eva Lechner (Ita)
0:00:24
4
Caroline Mani (Fra)
0:00:43
5
Kaitlin Antonneau (USA) Twenty16 - Ridebiker
0:00:49
6
Sophie De Boer (Ned)
0:00:55
7
Helen Wyman (GBr)
0:01:07
8
Pavla Havlikova (Cze)
0:01:15
9
Joyce Vanderbeken (Bel)
0:01:20
10
Nikki Harris (GBr) Boels Dolmans Cycling Team
0:01:23
11
Chiara Teocchi (Ita)
0:01:28
12
Christine Majerus (Lux) Boels Dolmans Cycling Team
0:01:39
13
Femke Van Den Driessche (Bel)
0:01:44
14
Alice Maria Arzuffi (Ita) Lensworld-Zannata
0:01:54
15
Elisabeth Brandau (Ger)
0:01:59
16
Nikola Noskova (Cze)
0:02:04
17
Maud Kaptheijns (Ned)
0:02:10
18
Mical Dyck (Can)
0:02:36
19
Elle Anderson (USA) Rally Cycling
0:02:44
20
Laura Verdonschot (Bel)
0:02:50
21
Karen Verhestraeten (Bel)
0:02:57
22
Loes Sels (Bel)
0:03:01
23
Aida Nuno Palacio (Spa)
24
Nadja Heigl (Aut)
0:03:13
25
Maelle Grossetete (Fra)
0:03:40
26
Hannah Payton (GBr) Drops Cycling Team
0:03:58
27
Juliette Labous (Fra)
0:04:06
28
Amanda Nauman (USA)
0:04:09
29
Alicia Gonzalez Blanco (Spa) Lointek
0:04:10
30
Lucia Gonzalez Blanco (Spa) Lointek
0:04:14
31
Bianca Van Den Hoek (Ned)
0:04:15
32
Anais Morichon (Fra)
0:04:20
33
Katherine Compton (USA) Trek
0:04:35
34
Lise-Marie Henzelin (Swi)
0:04:40
35
Lisa Jacobs (Aus)
0:04:44
36
Evita Muzic (Fra)
0:04:47
37
Esmee Oosterman (Ned)
0:05:15
38
Gaelle Carreau (Fra)
0:05:22
39
Kathryn Cumming (USA)
0:05:23
40
Olatz Odriozola Mujika (Spa)
0:05:38
41
Margriet Helena Kloppenburg (Den) Team Bms Birn
0:06:04
42
Lizzy Witlox (Ned)
0:06:23
43
Denisa Lukesova (Cze)
0:07:36
44
Cyriane Muller (Fra)
0:07:46
45
Suzie Godart (Lux)
0:08:19
46
Karla Kortazar Unzaga (Spa)
47
Monica Carrascosa (Spa)
Elite Men
1
Mathieu Van Der Poel (Ned) BKCP - Corendon
1:00:50
2
Wout Van Aert (Bel) Crelan-Vastgoedservice Continental Team
0:00:13
3
Lars Van Der Haar (Ned) Team Giant - Alpecin
0:00:17
4
Kevin Pauwels (Bel) Marlux-Napoleon Games Cycling Team
0:00:45
5
Tom Meeusen (Bel) Telenet Fidea Cycling Team
0:00:56
6
Laurens Sweeck (Bel) Era - Murprotec
0:01:01
7
Sven Nys (Bel) Crelan-AA Drink
0:01:03
8
Gianni Vermeersch (Bel) Marlux-Napoleon Games Cycling Team
0:01:10
9
Clément Venturini (Fra) Cofidis, Solutions Credits
10
Michael Vanthourenhout (Bel) Marlux-Napoleon Games Cycling Team
0:01:26
11
Toon Aerts (Bel) Telenet Fidea Cycling Team
0:01:42
12
Tim Merlier (Bel) Crelan-Vastgoedservice Continental Team
0:01:57
13
Corne Van Kessel (Ned) Telenet Fidea Cycling Team
14
David Van Der Poel (Ned) BKCP - Corendon
0:01:58
15
Jim Aernouts (Bel) Telenet Fidea Cycling Team
0:02:20
16
Klaas Vantornout (Bel) Marlux-Napoleon Games Cycling Team
0:02:31
17
Diether Sweeck (Bel) Era - Murprotec
0:02:36
18
Marcel Meisen (Ger)
0:02:40
19
Dieter Vanthourenhout (Bel) Marlux-Napoleon Games Cycling Team
0:02:45
20
Simon Zahner (Swi)
0:02:49
21
Stan Godrie (Ned) Rabobank Development Team
0:02:56
22
Thijs Van Amerongen (Ned) Telenet Fidea Cycling Team
0:03:01
23
Jeremy Powers (USA)
0:03:09
24
Vincent Baestaens (Bel) BKCP - Corendon
0:03:13
25
Rob Peeters (Bel) Crelan-Vastgoedservice Continental Team
0:03:15
26
Sascha Weber (Ger)
0:03:16
27
Lukas Fluckiger (Swi)
0:03:19
28
Twan Van Den Brand (Ned) Cyclingteam Jo Piels
0:03:40
29
Francis Mourey (Fra) Fortuneo - Vital Concept
0:03:59
30
Ismael Esteban Aguando (Spa)
0:04:03
31
Javier Ruiz De Larrinaga Ibanez (Spa)
0:04:05
32
Miguel Martinez (Fra)
0:04:12
33
Severin Saegesser (Swi)
0:04:36
34
Lukas Winterberg (Swi)
0:04:39
35
Julien Taramarcaz (Swi) Era - Murprotec
0:04:42
36
Michael Boros (Cze) BKCP - Corendon
0:04:49
37
Niels Wubben (Ned)
0:05:06
38
Philipp Walsleben (Ger) BKCP - Corendon
0:05:11
39
Ian Field (GBr)
0:05:14
40
Jens Vandekinderen (Bel)
0:05:16
41
Cristian Cominelli (Ita)
0:05:19
42
Alois Falenta (Fra)
0:05:28
43
Aitor Hernandez Gutierrez (Spa)
0:05:29
44
Nicolas Samparisi (Ita)
0:05:32
45
Michael Van Den Ham (Can)
0:05:33
46
Andreas Moser (Swi)
0:05:49
47
Garry Millburn (Aus)
0:06:24
48
Julien Roussel (Fra)
0:06:34
49
Ludovic Renard (Fra)
0:06:46
50
Lorenzo Samparisi (Ita)
51
Aaron Schooler (Can)
52
Inigo Gomez Elorriaga (Spa)
53
Mark Mcconnell (Can)
54
Asier Arregui Dominguez (Spa)
55
Matej Lasak (Cze)
56
Yu Takenouchi (Jpn)
57
Michal Malik (Cze)
58
Philipp Heigl (Aut)
59
Wolfram Kurschat (Ger)