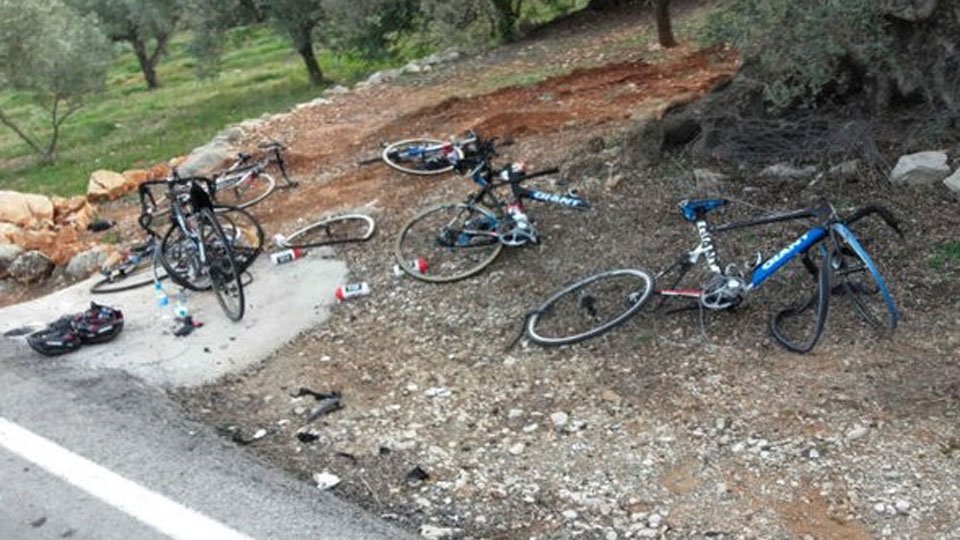 According to Diario Informacion, and the Team itself "the crash took place at 15:15 local time, and involved a vehicle on CV-720

in the town of Benigembla, in the hills above Calpe.

[...] Local emergency services said that

the car was driven by an English woman who invaded the opposite side of the road

."
Tom Dumoulin and Roy Curvers should be fine,

Warren Barguil injured

. It seems that one rider "was airlifted from the scene of the accident to a hospital in Sant Joan de Alacante, while others were taken to a

hospital

in Denia."
Source http://www.cyclingnews.com/news/giant-alpecin-riders-injured-in-training-camp-accident/
GIANT-ALPECIN PRESS RELEASE:
"Six Team Giant-Alpecin riders were involved in a crash in training during the team training camp near Calpe, Spain, today. During the training ride, a car coming the other direction rode into the group of riders head on. The riders were riding side by side on their own side of the road.
The riders involved in the crash were Warren Barguil (FRA), John Degenkolb (GER), Chad Haga (USA), Fredrik Ludvigsson (SWE), Ramon Sinkeldam (NED) and Max Walscheid (GER).
All the riders involved in the crash went to two hospitals and all of them are in stable condition.
"Everyone on the team is in shock right now, and there are some major issues that we need to take care of, but we also realize that we have had some luck on our side," said team physician Anko Boelens (NED). "Everyone is conscious, stable and approachable, but we are waiting for the latest information and consult the doctors in those hospitals about the treatments needed for the riders."
As soon as more medical information and the prognosis is known, we will provide an update."
Shane Stokes
http://cyclingtips.com/
:
"Barguil's agent/uncle confirms it was a head on collision, riders had no chance to avoid it"
MORE UPDATE HERE
MORE INFO HERE
In short:
Chad Haga

: "was airlifted to hospital, suffering from neck and facial injuries and has an orbital fracture which needs surgery. His mother revealed the details of his injuries on Facebook, saying: "Chad's first surgery to repair veins and arteries is done. There were no tendons, bones or major arteries severed in the crash but Chad Haga does have a deep wound involving his chest, neck, chin and lip." He is in Valencia but is in a stable condition."
John Degenkolb:
"In light of the many get-well wishes and messages I wanted to get in touch. I am doing well under the circumstances.
Earlier (on Saturday) I had a full anesthesia so that the wounds on my thing, underarm and lips could be stitched. Now I am an ambulance on the way to Valencia, where my left index finger should be fixed in a larger hospital. It is only hanging on by a thread. I can't remember much about the accident. I wish all the other guys the best too. I will be back in touch."
"Warren Barguil

suffered a fractured scaphoid in his wrist, while

Walscheid

fractured his hand and tibia.

Ludvigsson

and

Sinkeldam

escaped with multiple scratches and bruises."
Fredrick
Ludvigsson:
"It's a shock that will sit for a long time, should not have to happen, completely straight road and a car driving on the wrong side of us, impossible to protect themselves. For all who wondering, I'm after all pretty good with nothing broken, just pain, I'm lucky we all are alive,Thank you for all messages!!"
Warren Barguil's uncle and agent Sebastien Michon:
"Warren is shocked but he'll come out of it okay. He's fractured his wrist and hurt his knee.
He said he hit the car face on and that the driver didn't brake and that the impact was brutal. He was also thinking about his teammates. He knows what they avoided."
Fingers crossed for everybody!