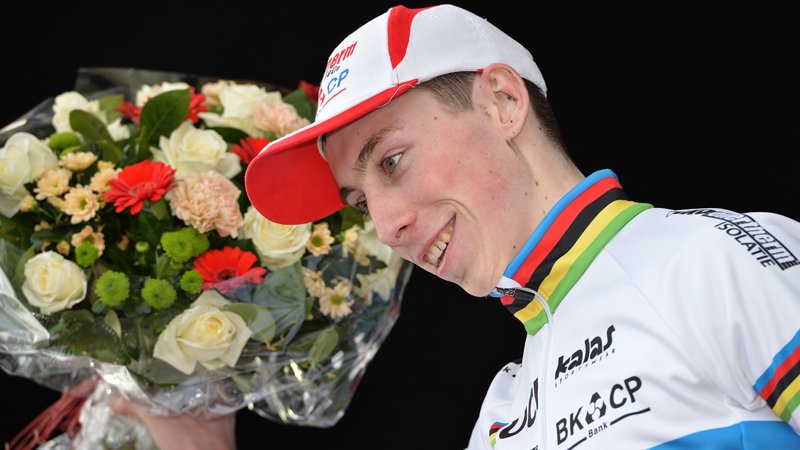 Rain

. A brutal race this one, lots of running and soft sand. No surprises so far with

Dekker, Iserbyt and Cant

winners in their categories.
Jens Dekker: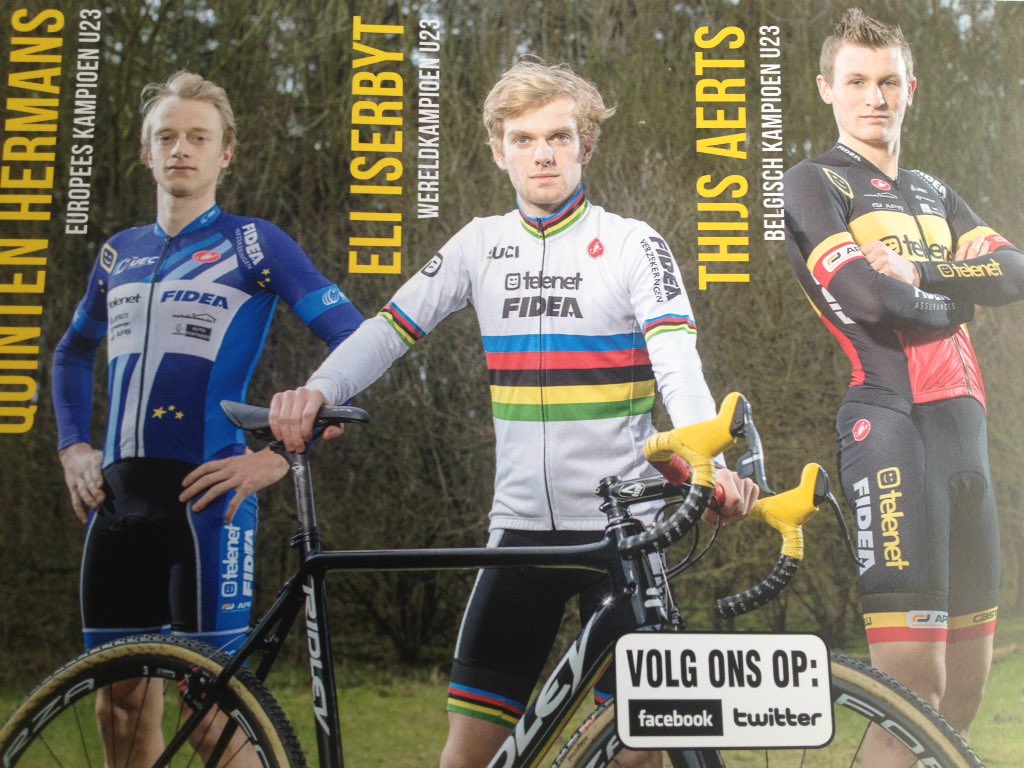 "

Also won the last Superprestige race of the season in Middelkerke! Love riding in this jersey! #spmiddelkerke #enerthermbkcp"





Elite Men

race on and immediately a mechanical problem for Laurens Sweeck. Not sure what it was but he almost fell. Tome Meeusen was the fastest at the start but the pack is still all together. Lars van der Haar is about 8th.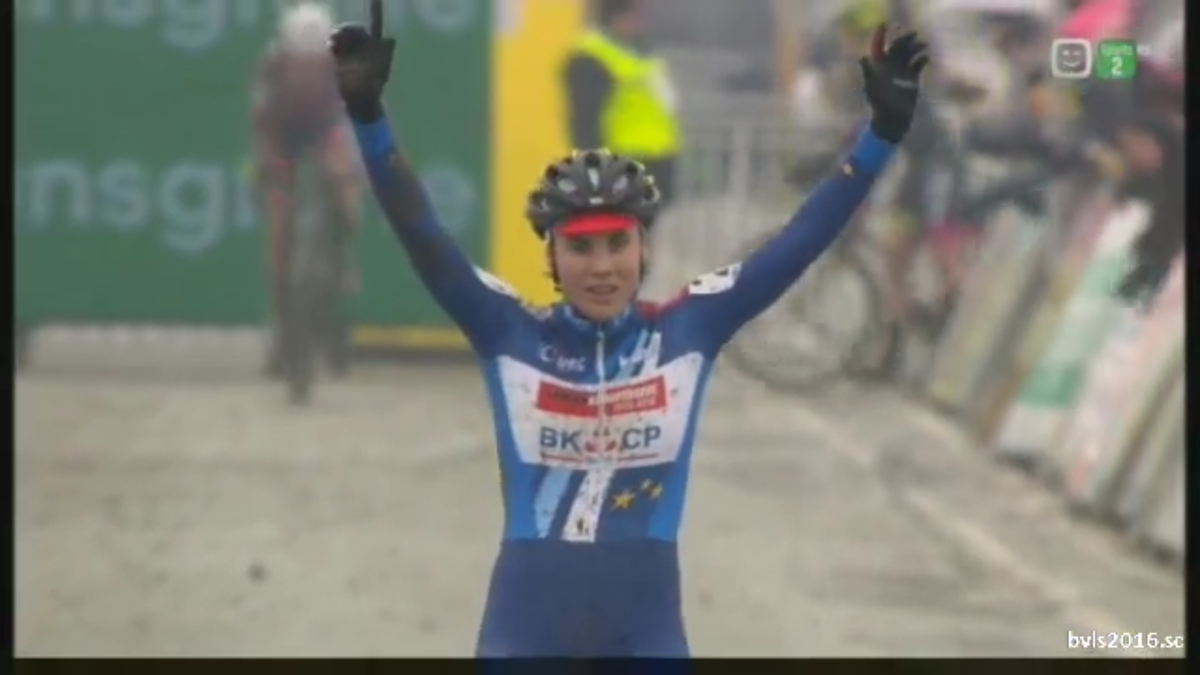 After one lap

Michael Vanthourenhout

has got a slight gap. Nys, Van Aert, Vantornout, Aerts, Meeusen and Van Kessel are chasing. Now

Wout van Aert joins

Michael Vanthourenhout but M. van der Poel closes the gap and brings back the group.

A mechanical problem foces van Aert to run

, his bike on his shoulder while the race head goes away.
Seven riders in front including M. van der Poel who's leading. Van der Haar is also here, on 4th position.
5 laps to go M. van der Poel has got a gap while van Aert is dropped behind. He can finally change his bike and starts chasing but now Nys is the Super Prestige vitual leader.
Van der Poel is solo, Meeusen and Vanthourenhout at 10", Van der Haar, Aerts, Nys and Vantornout at 14''.
Suddenly Vantornout falls.
4 laps to go M. van der Poel is still solo, Meeusen is chasing at 19'', then van der Haar comes. Van Aert is 15th now and furiously chasing.
Mud is slippery
and Klaas Vantornout goes down.
3 laps to go
Van der Poel has got a solid advantage.
Meeusen chases at 23", Aerts, Nys and Van der Haar at 42".
Wout van Aert
croassed the line on 7th position and is back the virtual leader of the Super Prestige, on Nys.
2 laps to go Van der Poel is leading solo, Meeusen is at 27", Nys and van der haar at 48", Aerts at 59", Vantornout and a GREAT Van Aert at 1'21.
Last lap: in spite of a small mistake M. van der Poel is still leading solo.Then Tom Meeusen comes. Then Nys, van der Haar and... Van Aert! Incredible!
Nys and van Aert even drop van der Haar and are fighting for the 3rd place.
Mathieu van der Poel wins solo but To Meeusen celebrates as well with a wheelie. 3rd is Wout van Aert who also won the Super Prestige series

.
4th is Sven Nys and 5th Toon Aert. Only 6th Lars van der Haar.
MORE TO COME
RESULTS
U19 MEN
1 DEKKER Jens
2 VERMEERSCH Florian
3 VANDEBOSCH Toon
4 ROMBOUTS Seppe
5 CAMPS Jelle
6 LIESSENS Jarno
7 DRIESEN Jarne
8 TIELEMANS Jente
9 DE CLERCQ Jari
10 GROOT Mitch
U23 MEN
1 ISERBYT Eli
2 HERMANS Quinten
3 AERTS Thijs
4 CLEPPE Nicolas
5 PEETERS Yannick
6 VAN DER MEER Gosse
7 WOUTERS Sieben
8 BUDDING Martijn
9 JOSEPH Thomas
10 BAKX Kelvin
ELITE WOMEN
1 CANT SANNE
2 DEBOER SOPHIE
3 HARRIS NIKKI
4 VERSCHUEREN Jolien 5 SELS Loes 6 VAN LOY Ellen 7 KAPTHEIJNS Maud 8 ANDERSON Elle 9 VANDERBEKEN Joyce 10 VAN PAASSEN Sanne
ELITE MEN
1.M.Van der Poel,
2.Meeusen,
3.Van Aert,
4.Nys,
5.Aerts,
6.Van der Haar,
7.Vantornout,
8.Van Kessel,
9.Aernouts,
10.D.Sweeck.
SUPER PRESTIGE SERIES WINNER
1. Wout van Aert
2. Sven Nys
3. Lars van der haar