Jens Dekker
Flat and fast

.

Bordering the cold water.

No surprise in the

U19 race: Jens Dekker

won. In the

U23 race Daan Soete

was 1st but

Quenten Hermans

got the victory in the series.
Eli Iserbyt

As far as the

Elite Women race, Thalita De jong

won while

Sanne Cant

topped the overall. The

Elite Men race

is on now.
A great start for

Lars van der Haar

who immediatelly takes the lead. After one lap

Toon Aerts

is leading solo on Vanthourenhout and Merlier at 3", the peloton is at 10". Two laps together they are all back together.

Meeusen

attacks and new front group forms including also L.Sweeck, M.van der Poel, Merlier, Van Aert, M.Vanthourenhout, Aerts, Nys and van Kessel. But it's a very

fluid situation.

7 laps to go

M. van der Poel

and Meeusen got a 10'' gap on Van Aert, Sweeck, Nys, M.Vanthourenhout, Merlier and Van Kessel. Suddenly

Michael Vanthourenhout's back wheel collapses!

no good!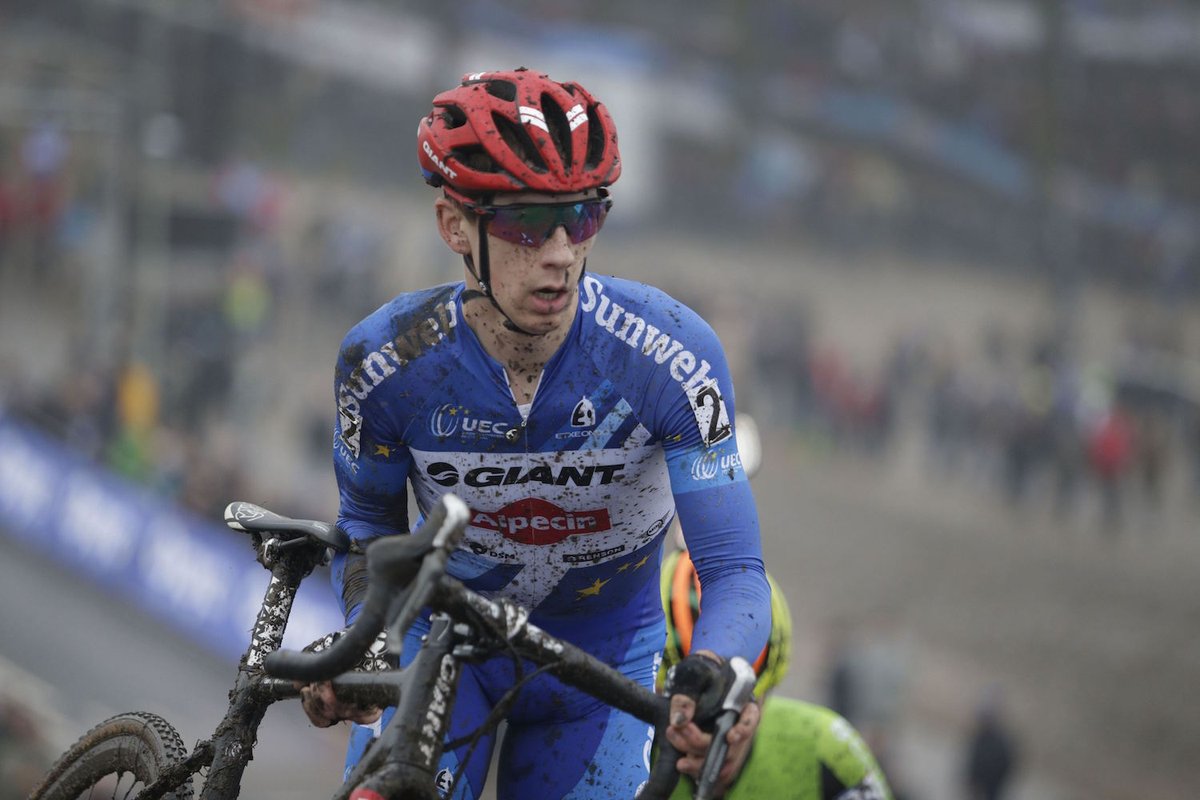 M. van der Poel

is trying to go solo. Successfully: 6 laps to go he's leading on Meeusen and van Aert. But they don't let him go.

Meeusen

attacks and gets a gap. Sweeckfollows then Van Aert and Van der Poel who made a mistake. Lars van der Haar is 9th at 27''. 5 laps to go Meeusen, Van Aert and Sweeck are leading, then Nys and Van Kessel come at 12", then Van der Poel at 16".

Van Kessel crashes

trying to follow Nys.

Sweeck is on the attack

.

Van Aert, Meeusen and Nys

are chasing. 3 laps to go L.Sweeck is still solo but

van Aert and Nys dropped Meeusen. Incredible

Sven Nys! He dropped Wout van Aert and is closing the gap to Sweeck!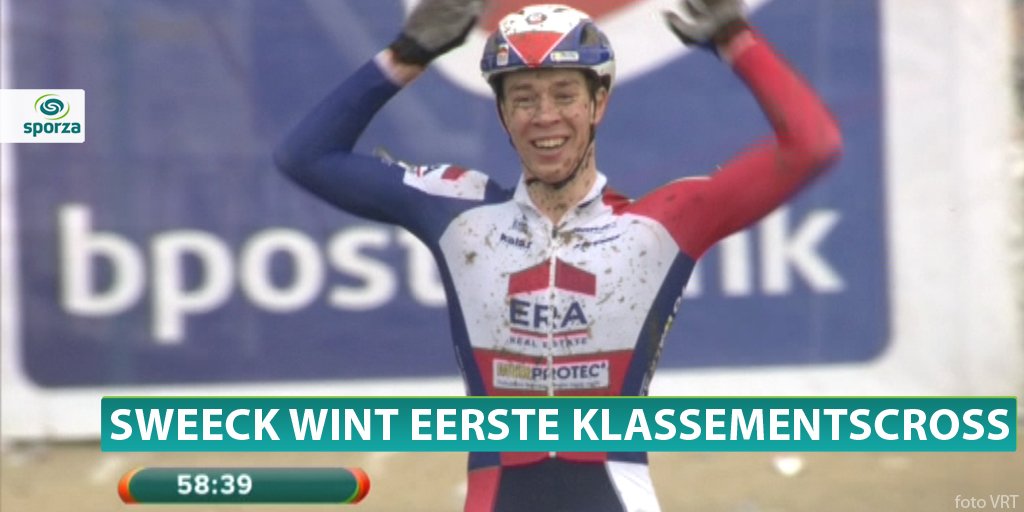 Two laps to go Sweeck is leading solo. Nys is at 12", Van Aert at 15". Now Nys and van Aert are chasing together but

Sweeck

's gap increased and he looks

launched toward the victory

. Last lap. He goes. Passing at the pit he's already celebrating.

Van Aert sprints on Nys for 2nd and that's the podium.
Wout van Aert wins the overall.
Lars van der Haar:
"A day to forget. Not the legs, not the power here in Sint Niklaas. Hopefully a good warm up for tomorrow. Hard weekend with two power races. Today the spectators were all perfect! Even when I didn't do my best performance. They kept supporting. Better then at the worlds! #thanks"
Laurens Sweeck:
"I had been all the season on podium in cross series. Even after the World Cup this was the goal in the final weeks of the season. But I didn't think I would have been here on the highest step of the podium.
I didn't choose the moment to attack: Mathieu and Wout were looking at each other, I was there, just behind, and I had no doubt. At the beginning of the race I was struggling when Mathieu attacked, but then he slowed down a bit.
Two laps to go Wout and Sven came quite close. For me it was when 'bending or breaking'. But I think they do really well together and that played in my favor. When I dived into the final lap with a 15'' lead, I knew that, without bad luck, it was done." [
Sorry for my bad translation
:)]
MORE TO COME
RESULTS
Junior Men
1.Jens Dekker
2.Florian Vermeers
3.Bauters Reno
U23 Men
1 SOETE Daan
2 VANKEIRSBILCK Berne
3 CLEPPE Nicolas
4. AERTS Thijs
5 PEETERS Yannick
6 ISERBYT Eli
7 VAN TICHELT Yorben
8 HERMANS Quinten
9 CALUWE Stijn
10 MERLIER Braam
Bpost Bank Trofee Winner: Quinten Hermans
Elite Women
1. Thalita de Jong
2.Harris,
3.Cant,
4.Verschueren,
5.Wyman,
6.Sels,
7.Kaptheijns,
8.Havlikova,
9.Van den Hoek,
10.Verdonschot.
Bpost Bank Trofee Winner: Sanne Cant
Elite Men
1.L.Sweeck,
2.Van Aert,
3.Nys,
4.Meeusen,
5.Aerts,
6.Peeters,
7.Merlier,
8.Van der Haar,
9.D.Sweeck,
10.Pauwels.
Bpost Bank Trofee Winner: Wout van Aert