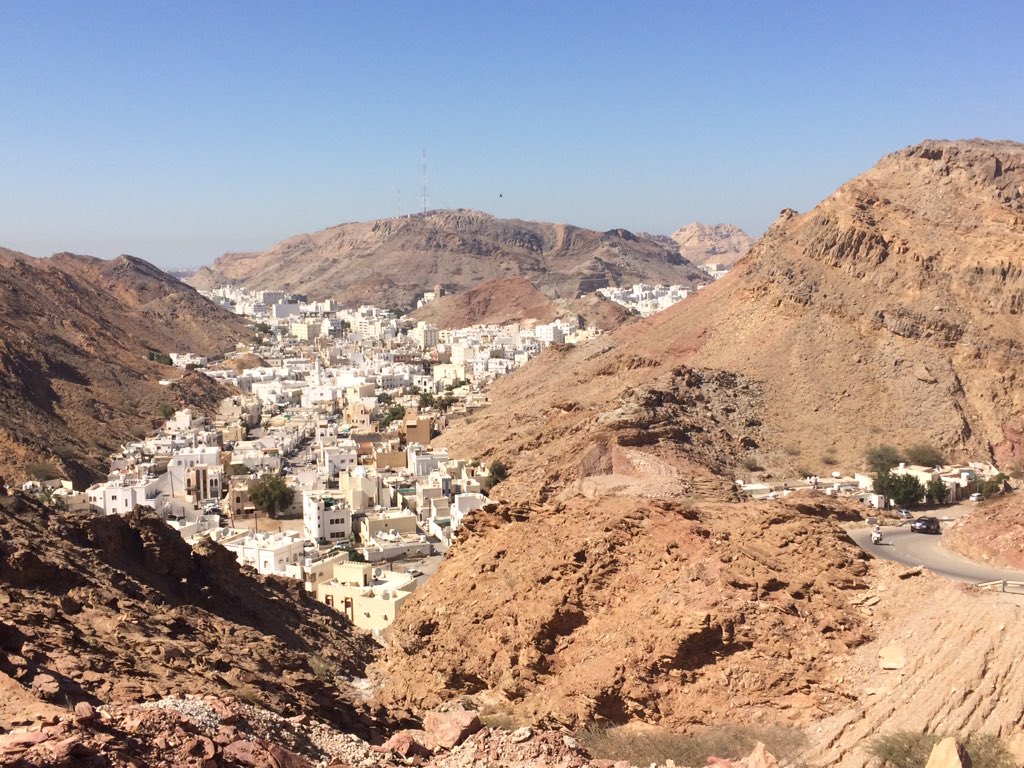 At the last stage. Normally a sprint but the route includes

some climbs

and there is

a break-away

: Meersman, Asselman, Eaton, Marycz, Minard, Muhlberger and Vanspeybrouck. Gap is 2:20.
Blinding white buildings like white little stones in the ocra rocky hand of Oman's mountains.

Lunar landscape and such a blue sky!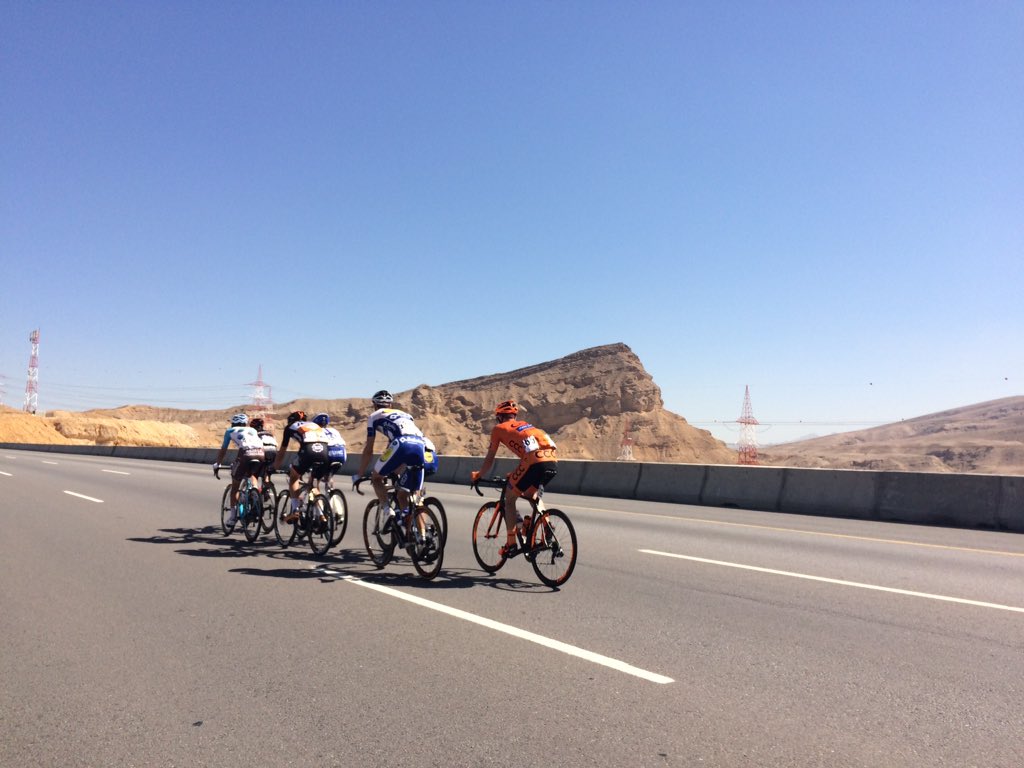 All together

with 10 kms to go. And Alexander

Kristoff sprints to the last victory.

In this race of course!
Vincenzo Nibali wins the overall.
Vincenzo Nibali: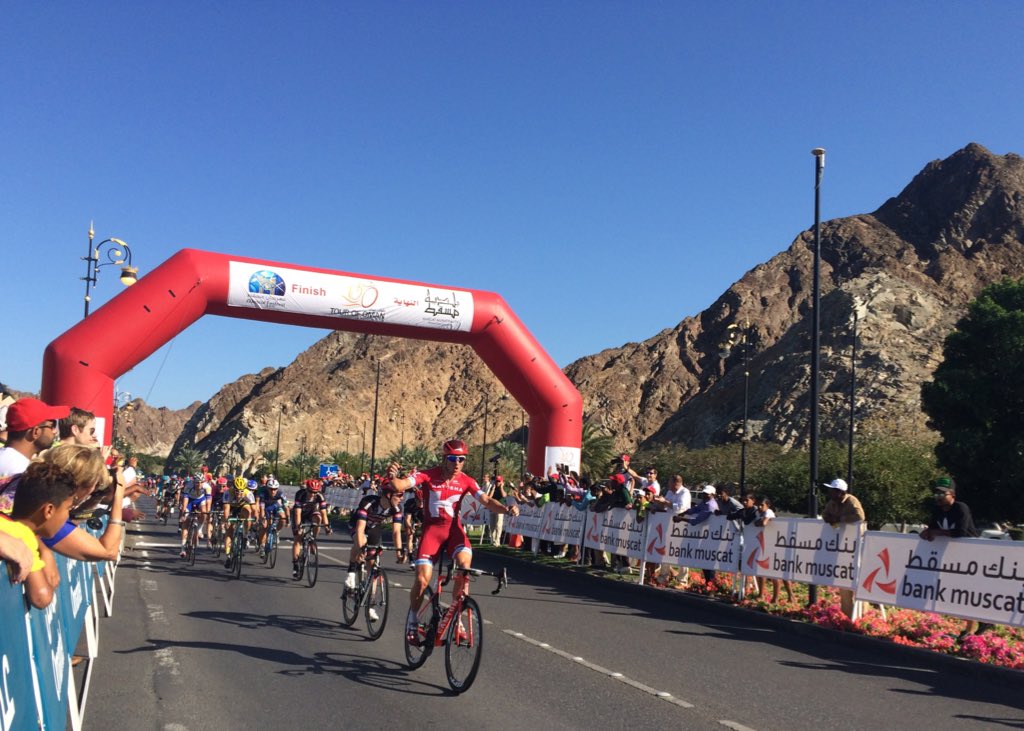 "I am very satisfied. This year I wanted to try to win right away and I did it. Special thanks to my teammates who have made a great contribution to my success."
Jakob Fuglsang:
"It 's a great beginning of season. I'm very happy with this third place in the GC. I have done a good job this winter and this is the first result".
Moreno Hofland:
"Didn't feel that good today, so we decided to sprint with @Tomvanasbroeck and he goth 4e. Now time to recover and of to omlp het Nieuwsblad!"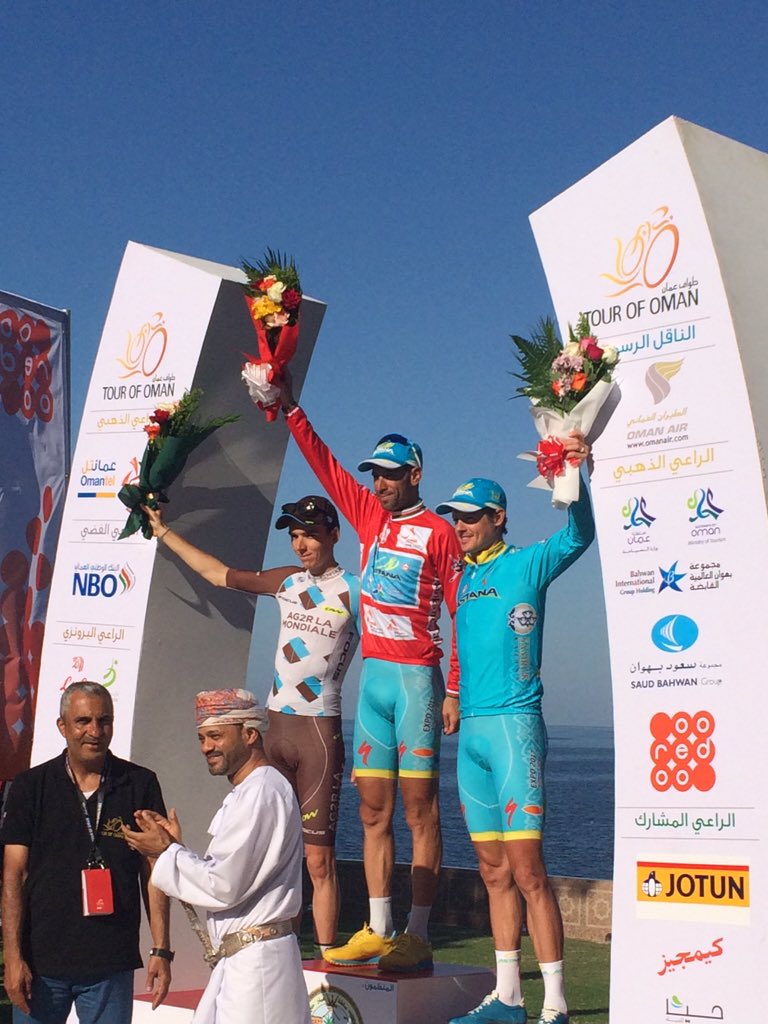 Zico Waeytens:
"The team did a great job in setting up the sprint for me. I managed to stay calm and I trusted the team to put me in the perfect position for the sprint finish and 2nd place is very satisfying."
Tom Dumoulin:
"This week of racing was very good. At the start, it was not the plan to go for GC but only to test my performance levels. Eventually, as the race went on, my performance was very good and the GC was a possibility. This result will give me a lot of confidence for the upcoming races."
Alexander Kristoff: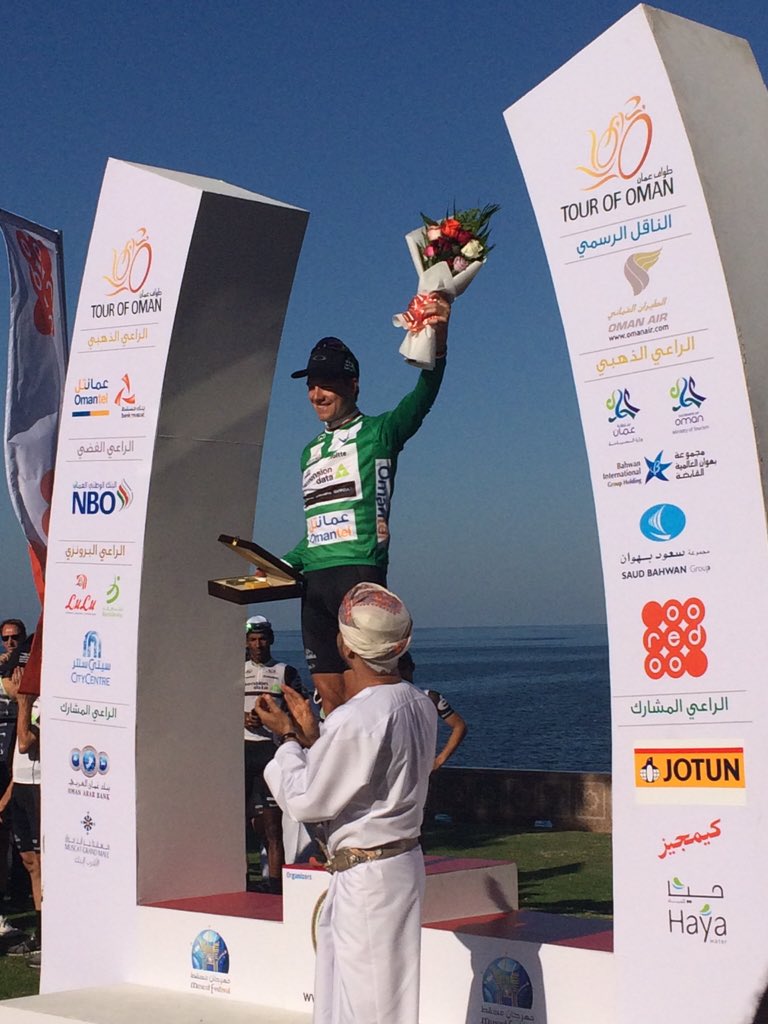 "I felt good, but also the team was super strong today. Dima (Kozonchuk) did an excellent job the whole day in front of the peloton, holding the break on 2 minutes and saving the energy of other teammates. Coming on the local laps, we had Jurgen (Van den Broeck) and Pavel (Kochetkov), who worked well. In the last lap there were some attacks in front, but Michael (Mørkøv) and Marco (Haller) controlled everything. In the final, Marco again did a phenomenal job from 2 km to last 500 meters, while later it was Jacopo Guarnieri, who speed me out really well until 200 meters to go. For me it was just to keep the speed and to finalize this day with a victory".
Greg Van Avermaet:
"It's always good racing here in Oman. It's ideal preparation for the early season as we always have good weather and we do some extra training on top of the racing by riding to and from some of the stages.
The team worked well and I think we are going into the Classics with good form."
Floris De Tier: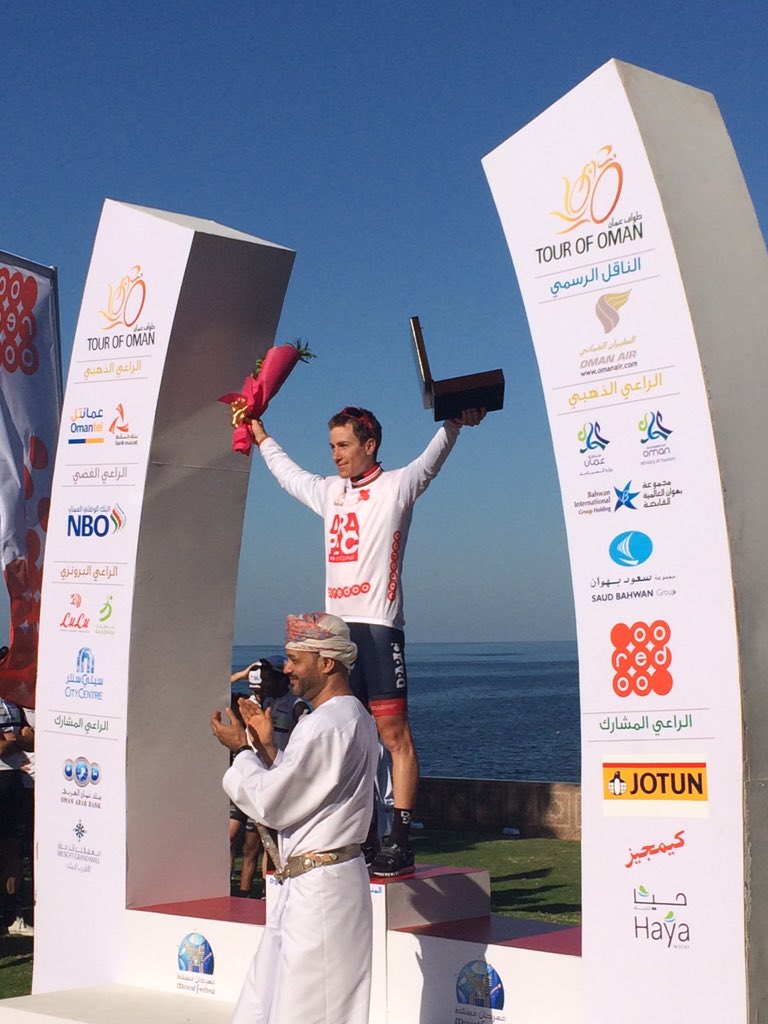 "@tourofoman is done. very happy with my results and condition. Special thanks to my teammates for the very good work all days! 👌👌"
Jacques Janse van Rensburg:
"I am really happy with the team performance here in Oman. We raced as one unit and that has shown in the results we were able to achieve this week in Oman. I feel fortunate to have got the most aggressive jersey win here in Oman as I was just doing some hard work for the team, and that I suppose is just a little pat on the back for me. The team vibe is just amazing and that is why we are racing so well."
RESULTS
Source
http://www.procyclingstats.com/race/Tour_of_Oman_2016
STAGE
1KRISTOFFAlexanderTeam Katusha 20303:01:18
2WAEYTENSZicoTeam Giant - Alpecin1018,,
3ANDERSENSøren KraghTeam Giant - Alpecin512,,
4VAN ASBROECKTomTeam LottoNL - Jumbo 7,,
5BENNETTSamBora-Argon 18 4,,
6JANSRoyWanty - Groupe Gobert 3,,
7CAPIOTAmauryTopsport Vlaanderen - Baloise 2,,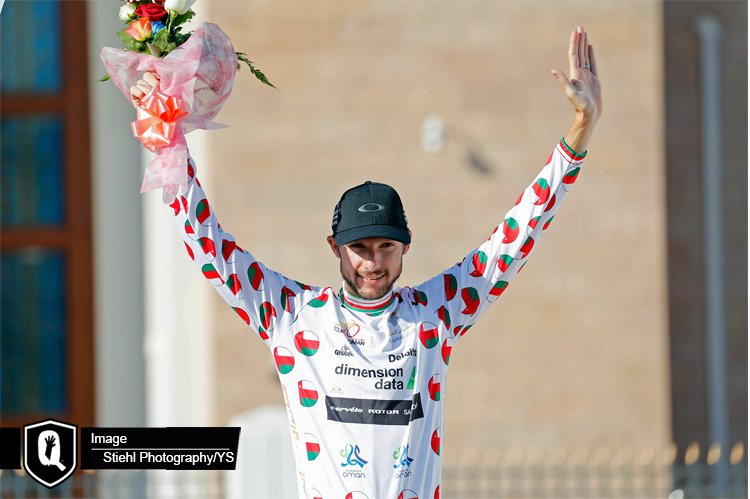 8KUMPMarkoLampre - Merida 1,,
9BOASSON HAGENEdvaldDimension Data for Qhubeka ,,
10CANOLAMarcoUnitedHealthcare Pro Cycling Team ,,
11LOOIJAndreRoompot - Oranje Peloton ,,
12GULDHAMMERRasmusStölting Service Group ,,
13BRAMBILLAGianlucaEtixx - Quick Step ,,
14REGUIGUIYoucefDimension Data for Qhubeka ,,
15DE PLUSLaurensEtixx - Quick Step ,,
16GUARNIERIJacopoTeam Katusha ,,
17FUGLSANGJakobAstana Pro Team ,,
18HAASNathanDimension Data for Qhubeka ,,
19TEUNISSENMikeTeam LottoNL - Jumbo ,,
20JONESChrisUnitedHealthcare Pro Cycling Team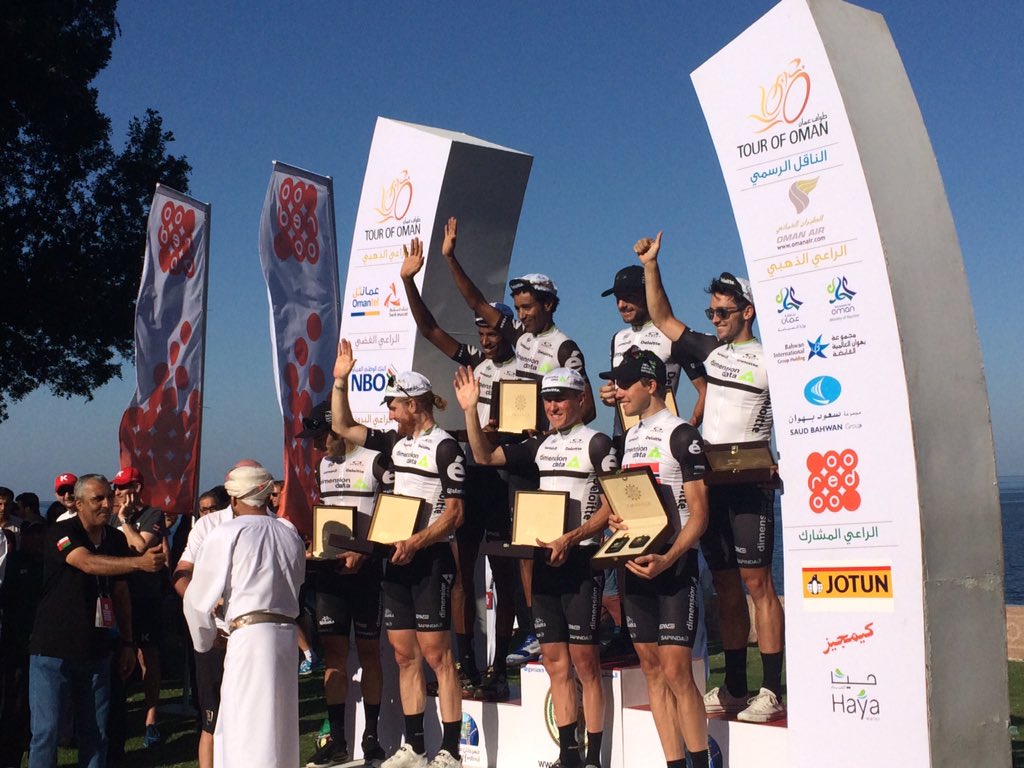 GC
1(1)NIBALIVincenzoAstana Pro Team20015022:25:25
2(2)BARDETRomainAG2R La Mondiale1501100:25
3(3)FUGLSANGJakobAstana Pro Team125900:24
4(4)DUMOULINTomTeam Giant - Alpecin100800:40
5(60)COSTAMárioLampre - Merida85700:54
6(6)BOASSON HAGENEdvaldDimension Data for Qhubeka70601:06
7(7)CANTYBrendanDrapac Professional Cycling60551:31
8(8)POZZOVIVODomenicoAG2R La Mondiale50501:38
9(9)KUDUSMerhawiDimension Data for Qhubeka40451:56
10(10)BRAMBILLAGianlucaEtixx - Quick Step35401:59
JERSEYS
POINTS
1. Boasson Hagen
MOST COMBACTIVE RIDER
1. Jacques van Rensburg
YOUTH
1. Brendan Canty
TEAM
1. Team DimensionData