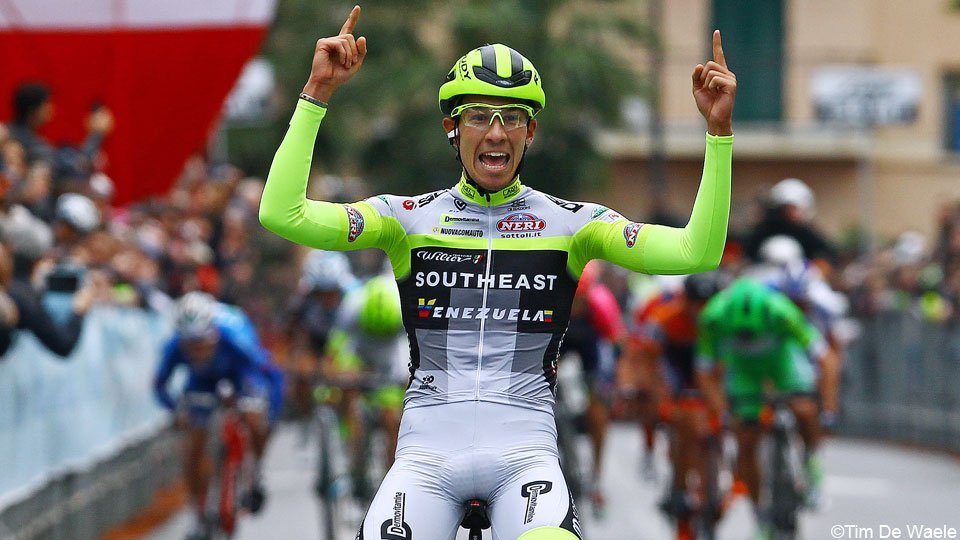 Fabio Felline:
"Oggi 4° posto con un po' di amaro in bocca ma guardiamo verso i prossimi obiettivi 💪💪💪 grazie a tutti compagni e tifosi @il_Laigueglia"
[
A bitter 4th place today but let's look toward my next goals. Thanks to my team mates and supporters
.]
Luca S
cinto
(Southeast):
"Una grande soddisfazione dopo due anni che non provavo l'adrenalina di vivere un finale di corsa così caotico. Con Parsani ci siamo detti che siccome allo sprint eravamo battuti bisognava far di tutto per evitarla. Sia Busato che Fedi sono stati esemplari, ci hanno provato e Fedi con l'ultimo scatto è andato a vincere una bellissima corsa. Siamo un bel gruppo, la squadra ha lavorato bene. Abbiamo vinto tutti"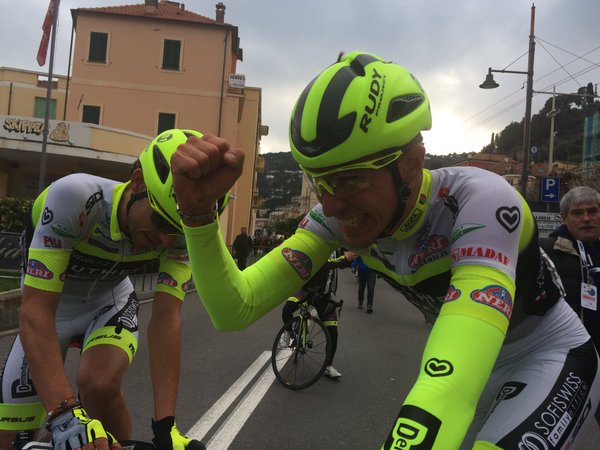 [
"A great satisfation after two years I didn't feel the adrenaline to live such a chaotic finale. Parsani and I told each other that we must do anything to avoid a sprint given that at the sprint we were beated for sure.
Both Busato and Fedi have been perfect, they tried and Fedi with a last attack went winning a wonderful race. We are a good group, the team worked well. We all won."
]
Sonny Colbrelli:
"It's a good result but I'm not satisfied at all. I wanted to do well and the chance, looking to entire race, was pretty good. Fedi did a great action and I want to congratulate with him. Unfortunately when he attacked in the final kilometers in the group we looked each other and we reacted too late. It's a pity because this could be the best way to continue the series of good performances we did in this season beginning. I wanted also to present this success to the team, who worked hard today but, first of all, is showing to be a strong and motivated group.
Second place in a such important race like Trofeo Laigueglia gives me a boost of morale, especially for next races. After a short team camp I'll race in Lugano and I'll be motivated to fight for the victory. We're a strong team and we're on the right way to well in this season" added Colbrelli.
RESULTS
1
Andrea Fedi (Ita) Southeast - Venezuela
5:00:55
2
Sonny Colbrelli (Ita) Bardiani CSF
0:00:02
3
Grega Bole (Slo) Nippo - Vini Fantini
4
Fabio Felline (Ita) Trek-Segafredo
5
Francesco Gavazzi (Ita) Androni Giocattoli - Sidermec
6
Diego Ulissi (Ita) Lampre - Merida
7
Arthur Vichot (Fra) FDJ
8
Matteo Busato (Ita) Southeast - Venezuela
9
Matteo Montaguti (Ita) AG2R La Mondiale
10
Pierre-Roger Latour (Fra) AG2R La Mondiale
0:00:08
11
Damiano Cunego (Ita) Nippo - Vini Fantini
0:00:58
12
Giulio Ciccone (Ita) Bardiani CSF
0:00:59
13
Jan Polanc (Slo) Lampre - Merida
0:01:06
14
Luca Chirico (Ita) Bardiani CSF
15
Redi Halilaj (Alb) Amore & Vita - Selle SMP
16
Anthony Roux (Fra) FDJ
17
Enrico Barbin (Ita) Bardiani CSF
18
Davide Vigano (Ita) Androni Giocattoli - Sidermec
19
Marco Frapporti (Ita) Androni Giocattoli - Sidermec
20
Quentin Pacher (Fra) Delko Marseille Provence KTM
21
Enrique Sanz (Spa) Southeast - Venezuela
22
Iuri Filosi (Ita) Nippo - Vini Fantini
23
Mauro Finetto (Ita) Unieuro Wilier
24
David Lozano Riba (Spa) Team Novo Nordisk
25
François Bidard (Fra) AG2R La Mondiale
26
Michele Gazzara (Ita) Norda MG VIS
27
Simone Petilli (Ita) Lampre - Merida
28
Antonino Casimiro Parrinello (Ita) D'Amico Bottecchia
29
Artem Nych (Rus) Gazprom-Rusvelo
0:01:21
30
Edoardo Zardini (Ita) Bardiani CSF
0:02:03
31
Marco Tecchio (Ita) Unieuro Wilier
0:02:28
32
Lorenzo Rota (Ita) Bardiani CSF
33
Stefan Schumacher (Ger) Christina Jewelry
0:04:39
34
Ivan Balykin (Rus) GM Europa Ovini
35
Charles Planet (Fra) Team Novo Nordisk
36
Pierpaolo Ficara (Ita) Amore & Vita - Selle SMP
37
Guillaume Bonnafond (Fra) AG2R La Mondiale
38
Valerio Conti (Ita) Lampre - Merida
39
Daniele Ratto (Ita) Androni Giocattoli - Sidermec
40
Ivan Savitskiy (Rus) Gazprom-Rusvelo
0:05:03
41
Nico Denz (Ger) AG2R La Mondiale
0:06:32
42
Pierre-Henri Lecuisinier (Fra) FDJ
43
Pier Paolo De Negri (Ita) Nippo - Vini Fantini
44
Filippo Pozzato (Ita) Southeast - Venezuela
45
Alessio Taliani (Ita) Androni Giocattoli - Sidermec
46
Mirko Selvaggi (Ita) Androni Giocattoli - Sidermec
47
Benjamin Giraud (Fra) Delko Marseille Provence KTM
48
Leonardo Duque (Col) Delko Marseille Provence KTM
49
Paolo Ciavatta (Ita) D'Amico Bottecchia
50
Andrea Pasqualon (Ita) Team Roth
51
Oliviero Troia (Ita) Italian National Team
52
Nicola Gaffurini (Ita) Norda MG VIS
53
Giovanni Carboni (Ita) Unieuro Wilier
54
Alex Turrin (Ita) Unieuro Wilier
55
Roland Thalmann (Swi) Team Roth
56
Evaldas Siskevicius (Ltu) Delko Marseille Provence KTM
57
Javier Megias (Spa) Team Novo Nordisk
DNS
Josè Alberto Marquez Romero (Spa) GM Europa Ovini
DNF
Manuele Mori (Ita) Lampre - Merida
DNF
Kristijan Durasek (Cro) Lampre - Merida
DNF
Ilia Koshevoy (Blr) Lampre - Merida
DNF
Przemyslaw Niemiec (Pol) Lampre - Merida
DNF
Niccolo Bonifazio (Ita) Trek-Segafredo
DNF
Filippo Fiorelli (Ita) Italian National Team
DNF
Davide Ballerini (Ita) Italian National Team
DNF
Francesco Castegnaro (Ita) Italian National Team
DNF
Edoardo Affini (Ita) Italian National Team
DNF
Edward Ravasi (Ita) Italian National Team
DNF
Maxime Daniel (Fra) AG2R La Mondiale
DNF
Quentin Jauregui (Fra) AG2R La Mondiale
DNF
Blel Kadri (Fra) AG2R La Mondiale
DNF
Olivier Le Gac (Fra) FDJ
DNF
Jérémy Maison (Fra) FDJ
DNF
Laurent Pichon (Fra) FDJ
DNF
Benoît Vaugrenard (Fra) FDJ
DNF
Alessandro Tonelli (Ita) Bardiani CSF
DNF
Mirco Maestri (Ita) Bardiani CSF
DNF
Manuel Belletti (Ita) Southeast - Venezuela
DNF
Samuele Conti (Ita) Southeast - Venezuela
DNF
Mirko Tedeschi (Ita) Southeast - Venezuela
DNF
Eugert Zhupa (Alb) Southeast - Venezuela
DNF
Luca Pacioni (Ita) Androni Giocattoli - Sidermec
DNF
Alberto Nardin (Ita) Androni Giocattoli - Sidermec
DNF
Eduard Michael Grosu (Rom) Nippo - Vini Fantini
DNF
Genki Yamamoto (Jpn) Nippo - Vini Fantini
DNF
Giacomo Berlato (Ita) Nippo - Vini Fantini
DNF
Gianfranco Zilioli (Ita) Nippo - Vini Fantini
DNF
Sergey Nikolaev (Rus) Gazprom-Rusvelo
DNF
Aydar Zakarin (Rus) Gazprom-Rusvelo
DNF
Igor Boev (Rus) Gazprom-Rusvelo
DNF
Roman Kustadinchev (Rus) Gazprom-Rusvelo
DNF
Mamyr Stash (Rus) Gazprom-Rusvelo
DNF
Evgeny Shalunov (Rus) Gazprom-Rusvelo
DNF
Stephen Clancy (Irl) Team Novo Nordisk
DNF
Andrea Peron (Ita) Team Novo Nordisk
DNF
Martijn Verschoor (Ned) Team Novo Nordisk
DNF
Mikel Aristi (Spa) Delko Marseille Provence KTM
DNF
Martin Laas (Est) Delko Marseille Provence KTM
DNF
Nicolas Baldo (Fra) Team Roth
DNF
Lucas Gaday Orozco (Arg) Team Roth
DNF
Marco d'Urbano (Ita) Team Roth
DNF
Giacomo Tomio (Ita) Team Roth
DNF
Rino Zampilli (Ita) Team Roth
DNF
Andrea Zordan (Ita) Team Roth
DNF
Federico Burchio (Ita) GM Europa Ovini
DNF
Antonio Di Sante (Ita) GM Europa Ovini
DNF
Filippo Fortin (Ita) GM Europa Ovini
DNF
Andrea Di Renzo (Ita) GM Europa Ovini
DNF
Matteo Rotondi (Ita) GM Europa Ovini
DNF
Federico Borella (Ita) GM Europa Ovini
DNF
Gian Marco Di Francesco (Ita) Norda MG VIS
DNF
Matteo Occhialini (Ita) Norda MG VIS
DNF
Niccolo Salvietti (Ita) Norda MG VIS
DNF
Michele Scartezzini (Ita) Norda MG VIS
DNF
Raffaele Radice (Ita) Norda MG VIS
DNF
Giacomo Giuliani (Ita) Norda MG VIS
DNF
Julian Schulze (Ger) Christina Jewelry
DNF
Moritz Fussnegger (Ger) Christina Jewelry
DNF
John Mandrysch (Ger) Christina Jewelry
DNF
Kai Kautz (Ger) Christina Jewelry
DNF
Georg Loef (Ger) Christina Jewelry
DNF
Joshua Stritzinger (Ger) Christina Jewelry
DNF
Andrea Cacciotti (Ita) Unieuro Wilier
DNF
Alessandro Malaguti (Ita) Unieuro Wilier
DNF
Simone Ravanelli (Ita) Unieuro Wilier
DNF
Enrico Salvador (Ita) Unieuro Wilier
DNF
Giorgio Bocchiola (Ita) D'Amico Bottecchia
DNF
Fabio Chinello (Ita) D'Amico Bottecchia
DNF
Davide Leone (Ita) D'Amico Bottecchia
DNF
Francesco Baldi (Ita) D'Amico Bottecchia
DNF
Marco Tizza (Ita) D'Amico Bottecchia
DNF
Fabio Tommassini (Ita) D'Amico Bottecchia
DNF
Mattia Gavazzi (Ita) Amore & Vita - Selle SMP
DNF
Marco Zamparella (Ita) Amore & Vita - Selle SMP
DNF
Eugenio Bani (Ita) Amore & Vita - Selle SMP
DNF
Paolo Lunardon (Ita) Amore & Vita - Selle SMP
DNF
Danilo Celano (Ita) Amore & Vita - Selle SMP
DNF
Yukinori Hishinuma (Jpn) Amore & Vita - Selle SMP