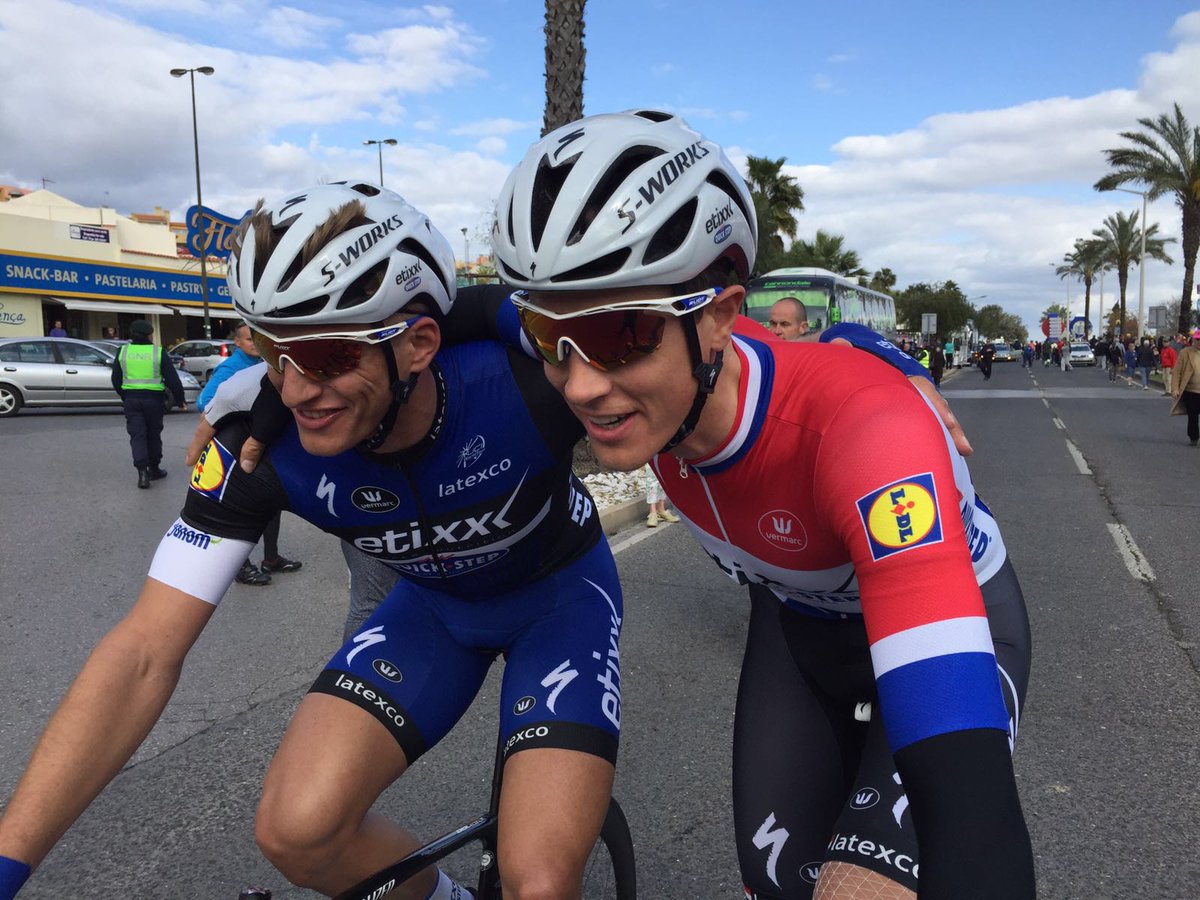 A break -

D. Gonçalves (Efapel), A. Kolobnev (Gazprom-RusVelo) and K. Gradek (Verva ActiveJet) - some crashes and a bunch sprint. A winner:

Marcel Kittel

.
The first day of the Algarve is done and dusted. Nice to see

Jasper Stuyven on the podium

with

Andre Greipel

, and

Alex Dowsett

in the top ten.
You can watch the finish HERE.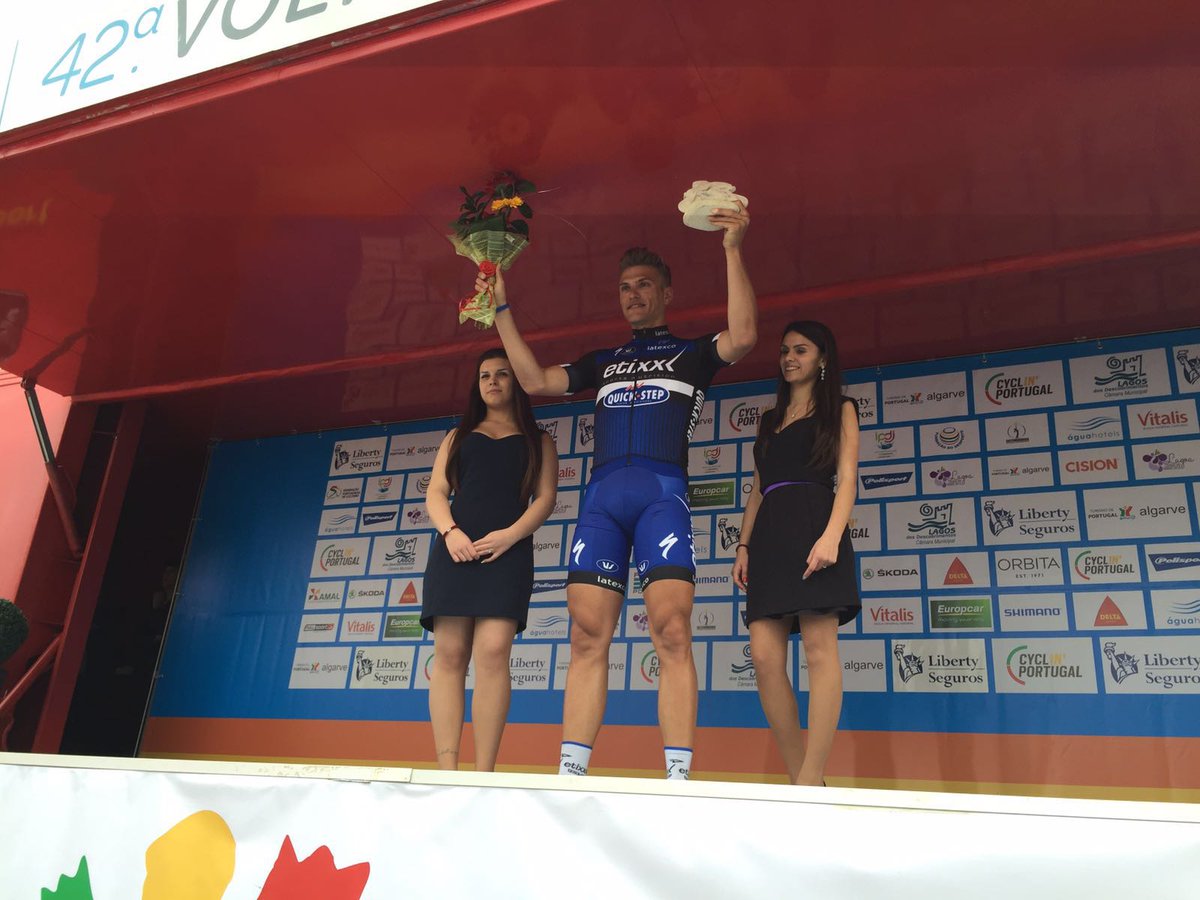 Marcel Kittel: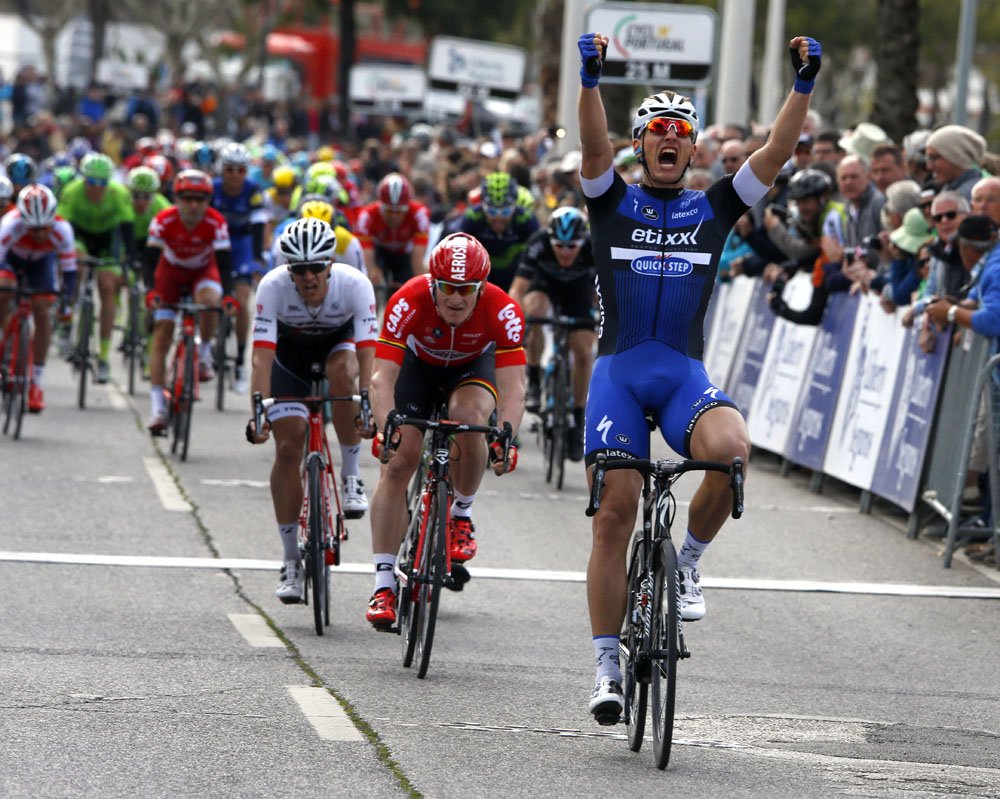 "It wasn't an easy day, and we were aware of that, but we took it as a challenge, because we wanted to prove that we can win also on such a finish. We stayed calm, came at the front before the last roundabout, and it all worked well in the end.
It's a good start for us here in Portugal. As a matter of fact, the overall picture makes us happy and proud, because we have enjoyed an excellent start to the season, and I am very grateful for that. My goal in Algarve was to take a stage and I did it against a quality field, which is very important for my confidence. Now, the team will be more relaxed, will take things day by day and we'll see if we will get another shot at a win".
Andre Greipel:
"1......1st day in @VAlgarve2016 done with a strong @Lotto_Soudal team+lead out of the boys-best guy won 2day with @marcelkittel".
Jasper Stuyven:
"Managed to finish 3rd with a big help from my @TrekSegafredo behind two really fast guys! Okay, it's not a win but not bad either.."
"The team was good staying in the front, so we stayed out of trouble with the crashes. There was a roundabout at 1.4kms to go and a little kicker with 1km to go. There was a crash on the roundabout and part of the peloton went on the left, but we were supposed to go right, and I had to make a little effort here to get back to the front. But with 1km to go, I was on was on the wheel of Kittel and I managed to stay in his wheel until he launched his sprint. I was just trying to hold onto Kittel's wheel, and he went over Greipel but I couldn't. But the support of the team was awesome, and this gives me more confidence.
It's a nice result. Not only the sprint, but also I felt strong on the little kicker before, and it's good for the head. Of course you try to win, but I can say that this is already a good start."
Alex Dowsett:
"Top 10 today, one minute I was bouncing around, next minute I was sitting with Kittel and Contador inside 1k to go like a duck out of water".
Tiago Machado:
"My goal was to survive and to not crash with all these roundabouts. So I was in the front and took a very good last corner. In 2013 I finished in the same circumstances and was second at this finish. However today the finish line was some 250 meters further than in 2013. Anyway it was not really my goal to sprint for the victory but this result is good for my mind".
Alberto Contador:
"It was a good day but this being one of the first races of the season. there is always some tension. With a peloton of nearly 200 riders the race can be tense. I understand there were some crashes but, fortunately, the Tinkoff squad wasn't affected. Last year, the start at the Ruta del Sol was quite similar, again with crashes and falls. It was windy but that didn't cause much trouble. The field in the Volta ao Algarve is strong, with excellent sprinters and very good time-trialists, and the race level is similar to that of the WorldTour.
Yesterday, we carried out the recon of tomorrow's stage and I expect it to be tough, although, in my opinion, the main GC contenders will reach the finish together. We will have to wait for the time-trail and the final stage to see how the GC shapes up".
RESULT
STAGE
1. Marcel Kittel
2. Andre Greipel
3. Jasper Stuyven
4 Wipprts
5 Campanaerts
6 Puccio
7 Machado
8 Dowsett
9 Maikin
10 Cieslik
GC
1. Marcel Kittel