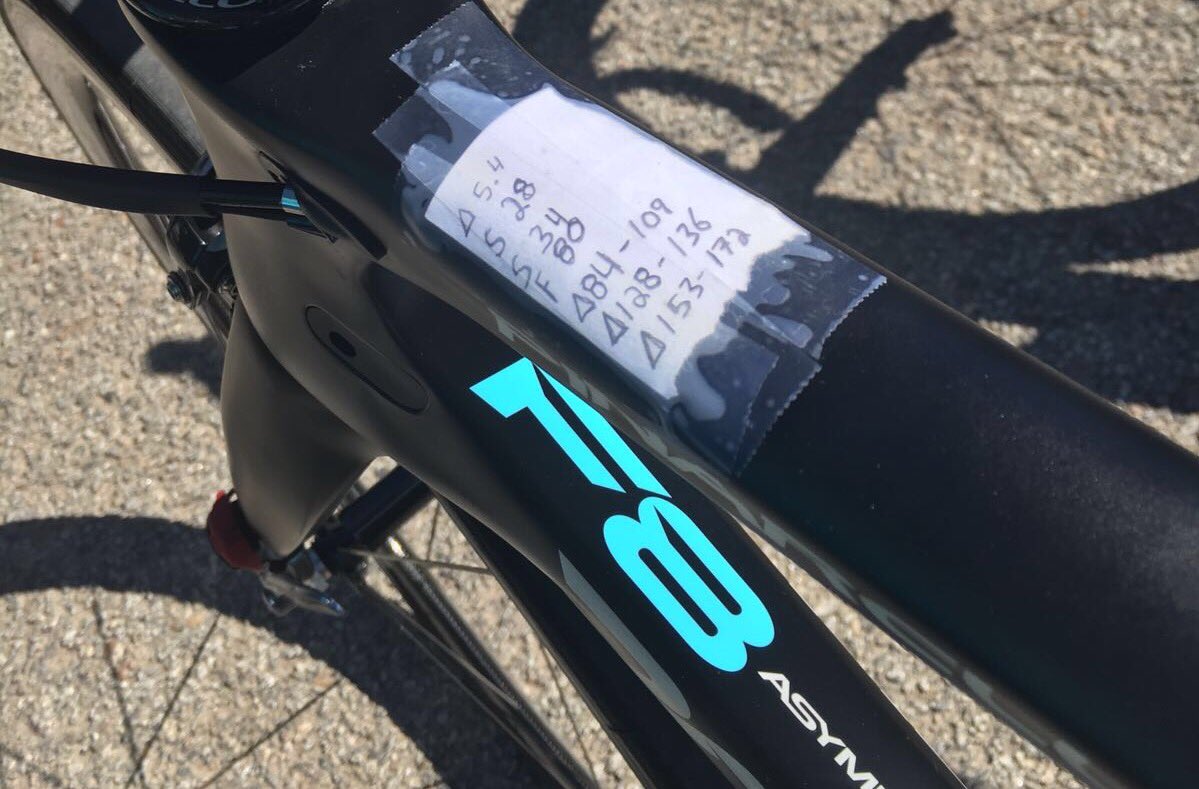 Serious

mountains. Definitely serious.

so fireworks are expected today. Yesterday finish was just a starter.
There is

a break-away

including De Gendt, Dron, Durasek, Erviti, Gilbert, Plaza, Swift, Ten Dam, Tsatevich, Weening. 140 km to go they have 4' gap.

This break is

a serious one

, just check the names. 100 km to go yet but the

gap keeps growing

and it's now 8'40". 92 km to go the gap is 10'30. The race is approaching

Port de Cantó climb:

(HC): 24.3 km, 4.5% average, 12% max. Top is 63.9 km from the finish. News come that

Marczynski and Rafa Valls Ferri abandoned

the race due to illness.
There we go: David Arroyo, Nathan Brown, Andre Cardoso, Dario Cataldo, Dayer Quintana and Marc Soler have attacked from the bunch. 50 km to go: in front

De Gendt and Erviti attack

the break and get a gap. 32 km to go:

in the descent Erviti goes solo

, De Gendt and Weening are chasing. Meanwhile Wout Poels attacked from the peloton and joined Ben Swift in the chase. The two groups merge.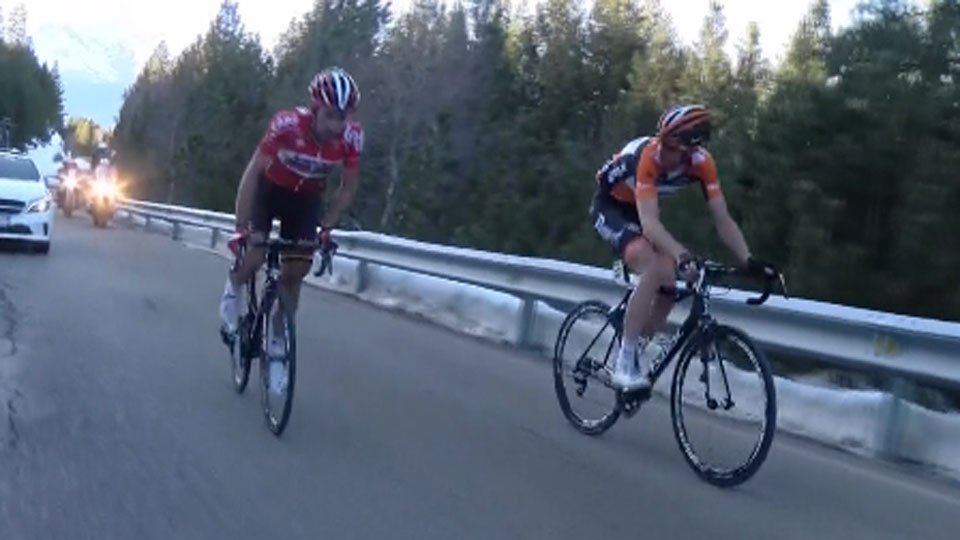 Port Ainé

(HC - 18km - avg 6.8% - max 12%). Erviti is

caught and dropped as Weening goes solo

. 7 km to go Lopez jumps off the peloton but is quickly caught.

Poels' move

has been

neutralised

and now Nieve is pulling the peloton.

There is the snow on the edge of the road and a lot of people clapping and screaming

.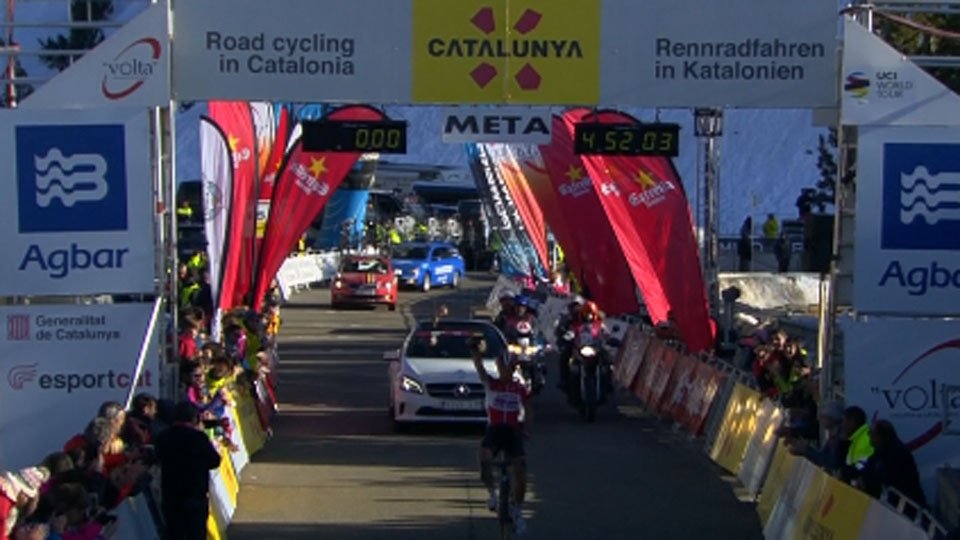 3 km to go for Weening: the peloton is 3'50" behind.

De Gendt is chasing

in the middle. 2 km to go Tejay van Garderen attacks. De Gendt

joins and immediately drops Weening.

Richie Porte attacks.

Alberto Contador and Nairo Quintana

go on counter. De Gendt wins. Behind

Quintana dropped Contador

and he's 2nd on the line.
Thomas De Gendt:

"It's three years since my last victory. This is very emotional. I am really glad that Lotto Soudal gave me a chance last year and that I can give this victory to the team. I am very proud.

It was an uphill start, on a third category climb. After about eight kilometres I started to attack and I got in front with a nice group with also Gilbert in it. We cooperated well and also got a lot of space from the peloton. None of us had a high overall ranking so that was an advantage. Still, afterwards the gap suddenly dropped to six minutes.

After the first hors catégorie climb, with about sixty kilometres to go, when the others were eating or taking care of their clothes Erviti took a lead of a few metres and set a high pace. I immediately felt like I had to follow him because I didn't feel great today. I thought that when the others would attack uphill it would be over for me, so I decided to ride away with Erviti. Pieter Weening bridged to us and then started a solo. I didn't panic and kept my own pace. First I was only thinking about defending the second place, because that's also a fantastic result in the queen stage of a WorldTour race, but then I saw Weening. Then I went full gas with the victory as result."



1 De Gendt
2 Quintana +1:08
3 Porte +1:23
4 Contador +1:23
5 van Garderen +1:36
6 Weening +1:36
7 Zakarin+1:41
8 Froome+1:45
GC
1 Nairo Quintana
2 Contador +8
3 Porte +17
4 Martin +24
5 van Garderen +27
6 Bardet +32
7 Zakarin+42
8 Froome+46
9 Carthy+1:01