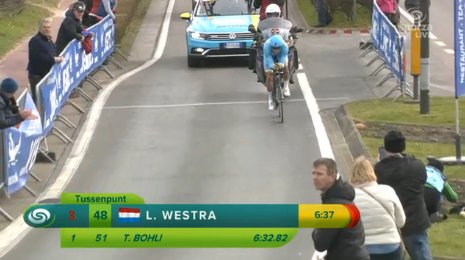 Lieuwe Westra:
"It feels great to win. I've been second a few times and I didn't want to be second again today.
Fortunately I had good legs and also during the three days of racing I had a very strong team behind me. They did a lot of work for me and so I have to thank them if I've been able to take the victory this time. I knew that the time trial would decide everything. I didn't feel great but the time was fast and that's what counts. It's great to win De Panne. It's a great race, an important race. I'm happy to win it."
"I've lost to Tony Martin by a second in the past and so it's a pleasure to beat him this time, also because he's a great rider and former world time trial champion.
I didn't ride last year but I won two years ago. It's good to win again and winning like that is extra special."
"Of course I'm extremely happy to win today, it's a really nice victory," Maciej confirmed after his podium duties. "It's nice to take my second win in this race. In addition, the fact that I finished ahead of some strong specialists like Tony Martin is very encouraging for me, and I'm really satisfied with that.
It's a pity that the first day didn't go as planned, and afterwards my chances for the GC were very limited. It was visible that the work to help and support Peter Sagan at E3 and Gent - Wevelgem took its toll on my form. So I'm happy that I've recovered and could take the win today. Also, the fact that I started the TT early meant that I had less time to recover than the guys starting later, yet I still felt very strong which is a good sign. Now I'm looking forward to the next races starting with Flanders on Sunday."
Tony Martin:
"First of all, congratulations to Maciej for the victory, he was very strong today. The time trial was ok. I didn't make any mistake, it was just that I missed the last punch. You could say that I was a little bit tired, as I had a solid block of racing in the past weeks, with Dwars door Vlaanderen, E3 Harelbeke, the Paris-Roubaix recon and now Driedaagse, where I went full gas for the GC and also worked for Marcel. Learning wise, the race totally worth it, because I gained a lot of experience, but eventually it took its toll on me. Now I will look forward to De Ronde, where I can't wait to start"
STAGE
1 Bodnar
2 Martin +0
3 Bohli +0
4 Westra +3
5 Le Bon +19
6 Chavanel +22
7 Lutsenko +24
8 Kristoff +28
9 Kung +29
GC
1 Westra
2 Kristoff +13
3 Lutsenko +16
4 Martin +35
5 Chavanel +59
6 Durbridge +1:04
7 Kung +1:06
8 Pedersen +1:19
9 Politt +1:19