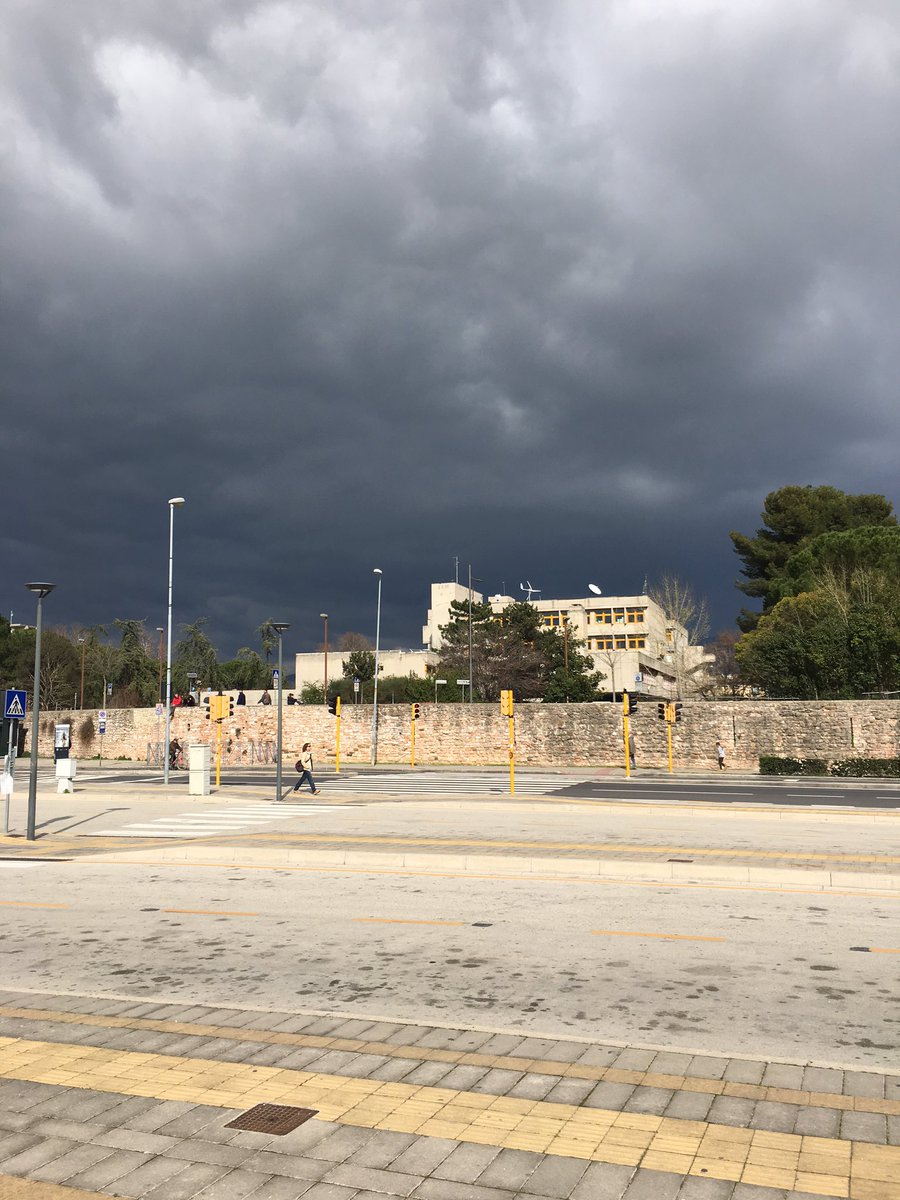 At the finish in Foligno
Spoleto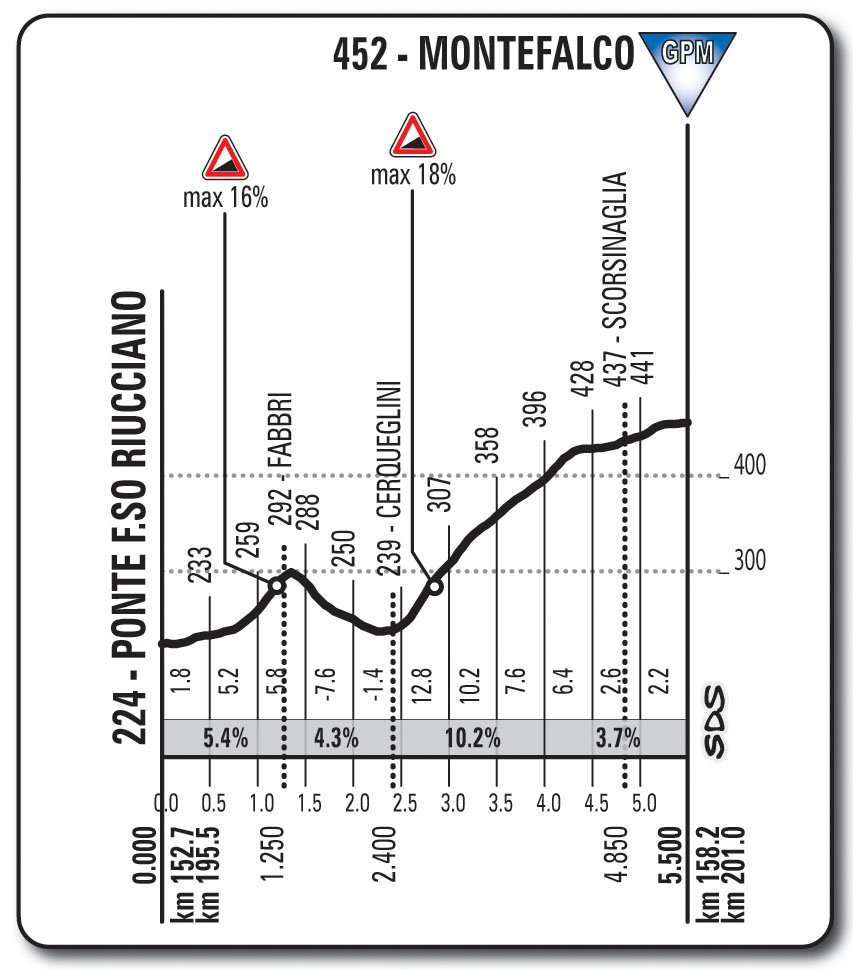 It's

a long day in Tirreno

today - 222 km - as

the race head to the Adriatico sea crossing the Appenino mountains.

Long and hard, including some nice climbs like Valico della Somma and Montefalco.
There is

a break-away

including Bongiorno, Benedetti, Vilela and Conti. 63 km to go they have have 3'06".
On Montefalco

Vilela is caught and

Conti goes solo.

He's first at the KOM but doesn't stop. 50km to go he has 2'59" on the peloton. In the middle Bongiorno and Benedetti are chasing. In the peloton

Druker fell and brings down Agnoli and Kreuziger.

Both are fine but they have to chase. First passage in Foligno and now the race is approaching the

second ascent of Montefalco

. 37 km to go the rest of the break is caught whil Conti keeps going solo. Yates puntctures and Durbridge stops to give him his bike. Also Formolo has a mechanical problem and the team stops waiting for him. 2 km to the KOM of Trevi:

Conti is caught

. The race is on. A new

crash

involves Colbrelli, Formolo and a few others. KOM. A fast descent. Nibali is spotted pedaling very well but isolated, now it's time for Astana to gather around its captain. Approaching

Montefalco

: 3.1 km 18% max. Fabian

Cancellara is pulling

the peloton to launch Bauke Mollema.

The peloton exploded and riders are scattered all over the climb

.
15 km to go Ulissi attacks. Pozzovivo and Puccio close the gap. KOM and descent: Visconti attacks and Montaguti joins. They have a gap but Poels brings back the group that includes now a 40 riders. Gaviria isn't in the front group. Sagan is. 7 km to go Salvatore

Puccio

gets a gap. Riders are bridging. The peloton is back together but it's a very fluid situation. Montaguti and Puccio attack again, Cummings on the wheel to control the move.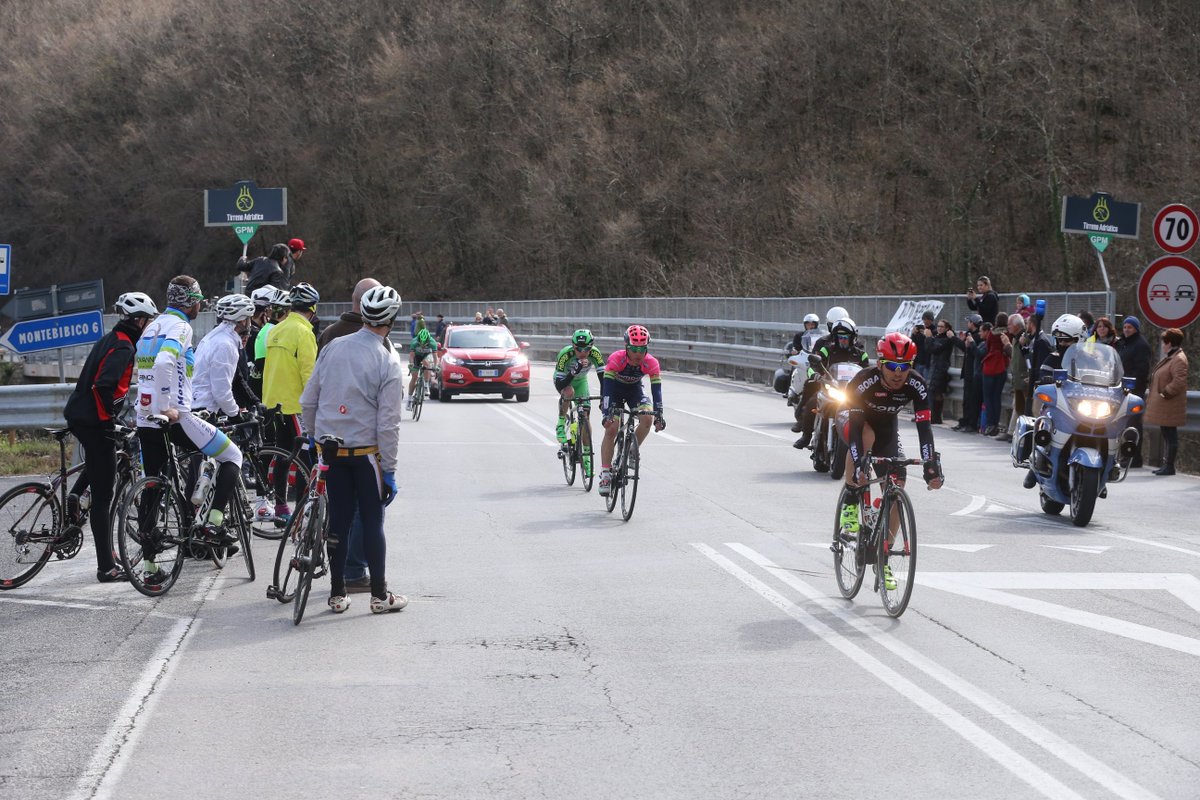 3 km to go Cummings attacks

. Nobody is really chasing. Cummings goes.

Last km. It's done! Steve Cummings wins solo.

Puccio sprints for 2nd on Berane, Cummings' team mate.
Steve Cummings: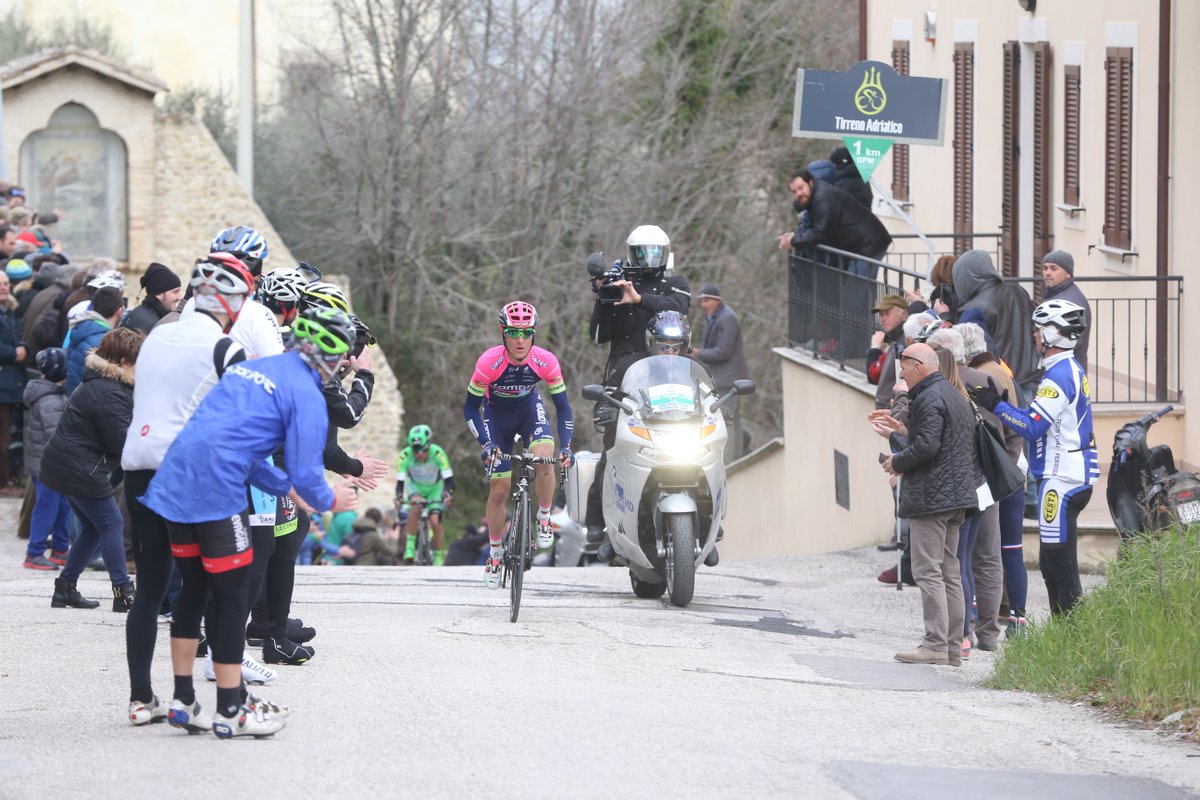 "The plan for the day was to ride for Edvald. In the final when it was just a select group we were trying to close down all the attacks and keep the race together so he could sprint for the victory. When I got away with the Pucchio and Montaguti in the final I didn't ride on the front because we had Edvald behind. Then Natnael came across and the other guys just kept riding and we sat on. With 3km to go though I saw the victory was being served up on platter for me as the group behind wasn't coming back, so I took it, I knew I could stay away. I am happy the team could get the win today, we had the numbers today and it worked out really well for us. It's a great win for the Team, for our sponsors and for Qhubeka."
Salvatore Puccio: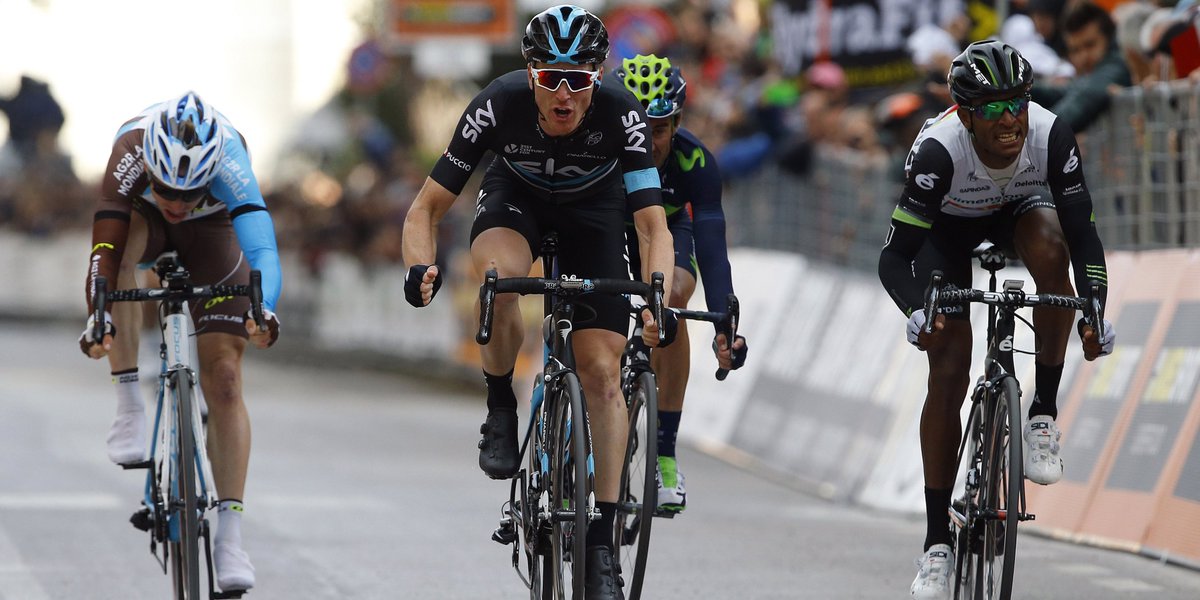 "I wanted to be there at the front and I felt super strong in the last 10km - I was really focused.
I tried to win the stage and I'm a little bit disappointed not to have done that, but second place is still good for my morale, and the team's. I knew the last 10km were flat but that they'd be hard - it was a long stage, 220km, so everyone was on the limit.
I'm pleased to finish second so near to my home town - and there is a long season ahead to go for more wins."
Alex Dowsett: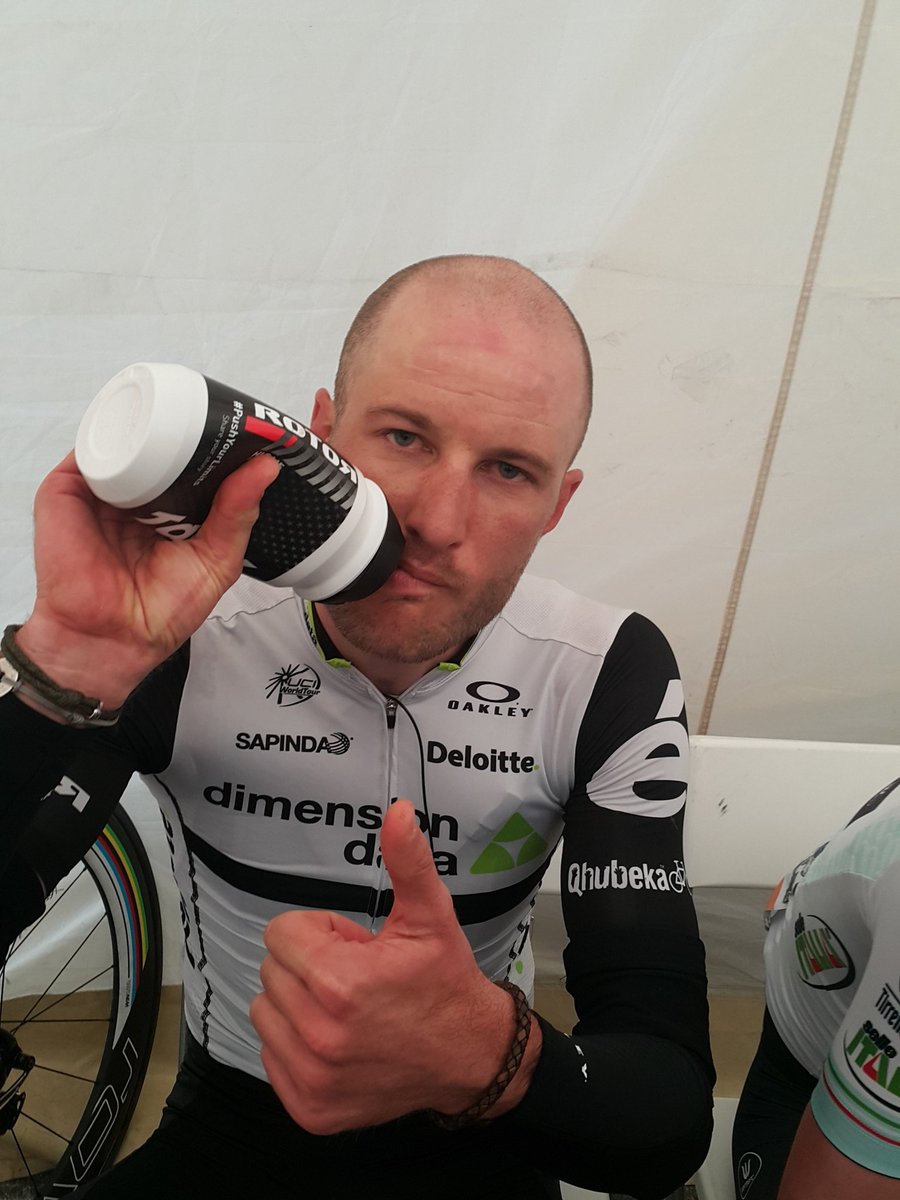 "That was a legit "headwind the whole way" Strava ride*
*except for the finishing laps"
Primoz Roglic:
"Today was a very nervous day with high wind. You were never really relaxed on the bike and always fighting for a good place. My team-mates protected me very well and I am very happy with the performance today. I was well-positioned at the foot of the last climb and could defend my ranking."
Zdenek Stybar: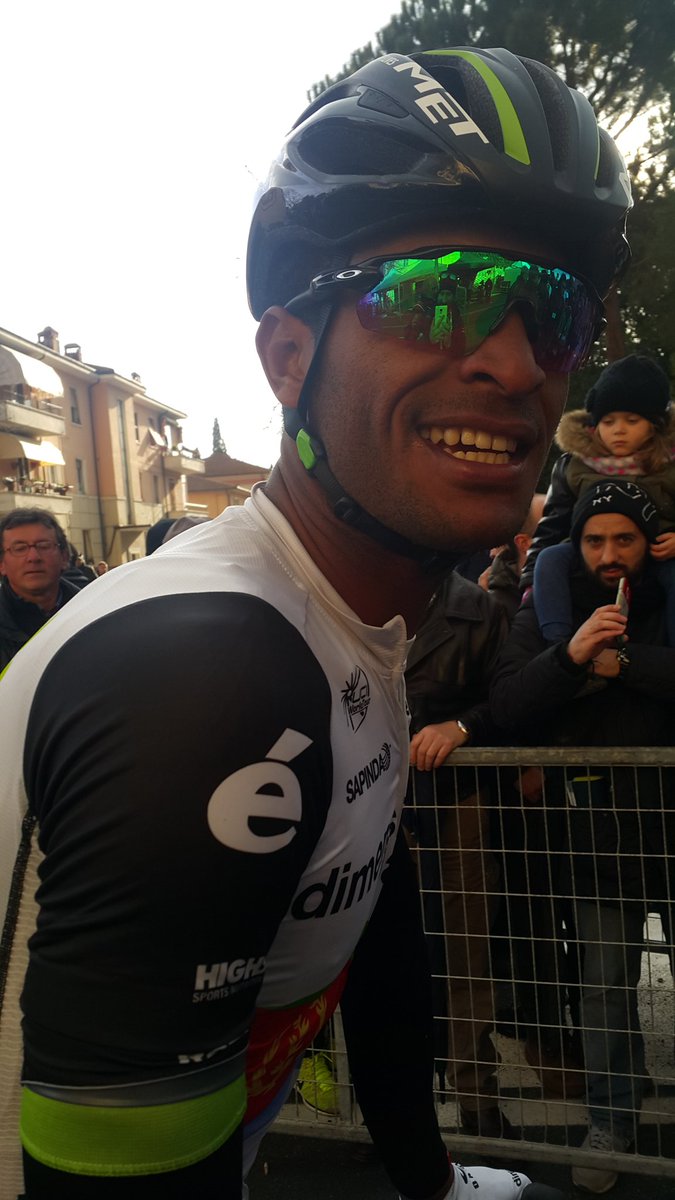 "It's been a long and rough stage in the saddle, with quite a lot of headwind, but the guys were fantastic and helped me all the time. I'm glad that I'll get to wear the blue jersey for one more day and even though a mountain top finish is in store, we will give our best there."
Bob Jungels:
"Once again we had a fantastic team, as Yves Lampaert, Julien Vermote and Tony Martin controlled the whole stage. In the end it was up to us to prove we can climb with the best and this turned out well. We kept the jerseys and this gives us more confidence for tomorrow. My legs feel pretty good, but I'm realistic that on such a long ascent it will be difficult to stay with the pure climbers. I know it's going to be hard, but as I said a couple of days ago, I'm not willing to give up this jersey without a fight".
Greg Van Avermaet: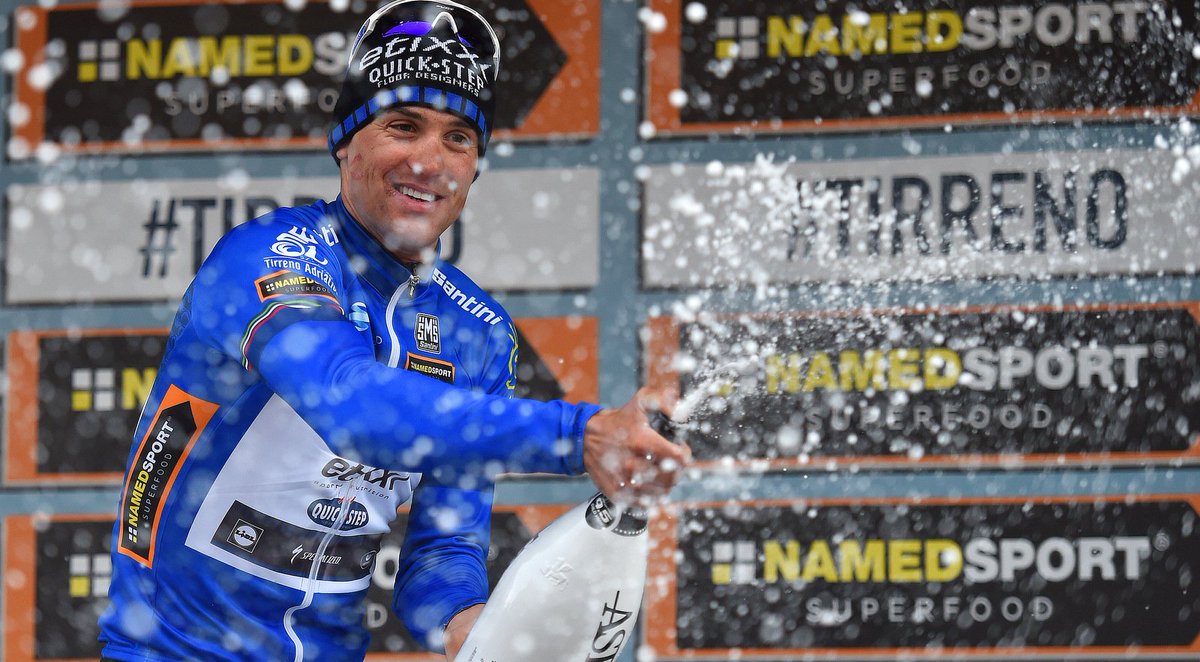 "It was nervous and after these hard climbs I don't think many riders had many teammates left to really control the race. I think we were the only team left with four guys.
I think tomorrow you'll see more of a tempo rather than today which was so punchy. It was just a long day today with a lot of headwind but I think tomorrow we will see the real GC battle. I feel good, the team's looking strong and we're ready to tackle the next big days."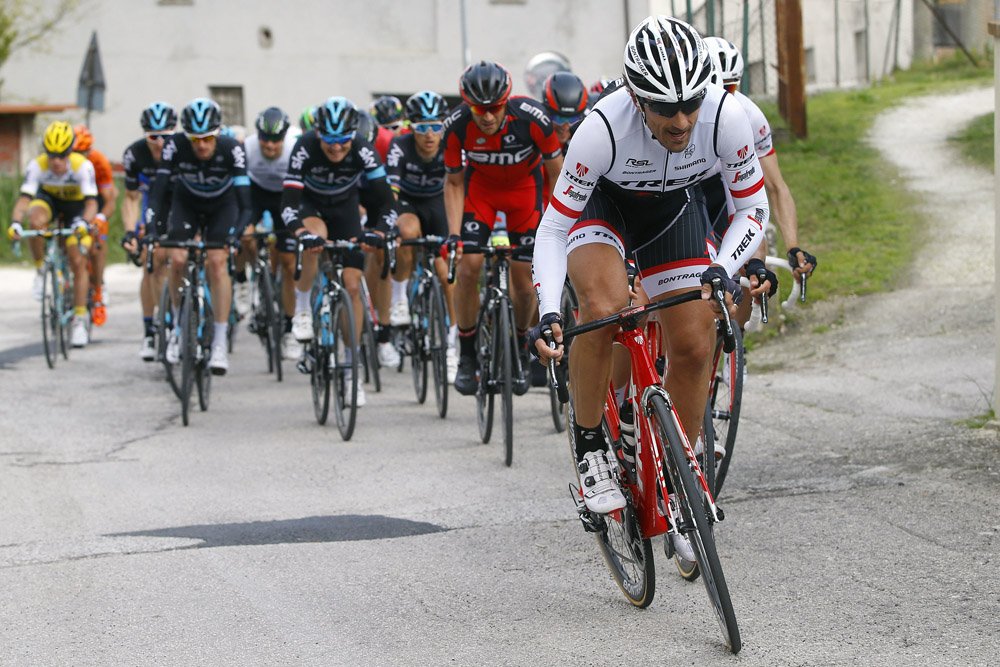 Fabian Cancellara: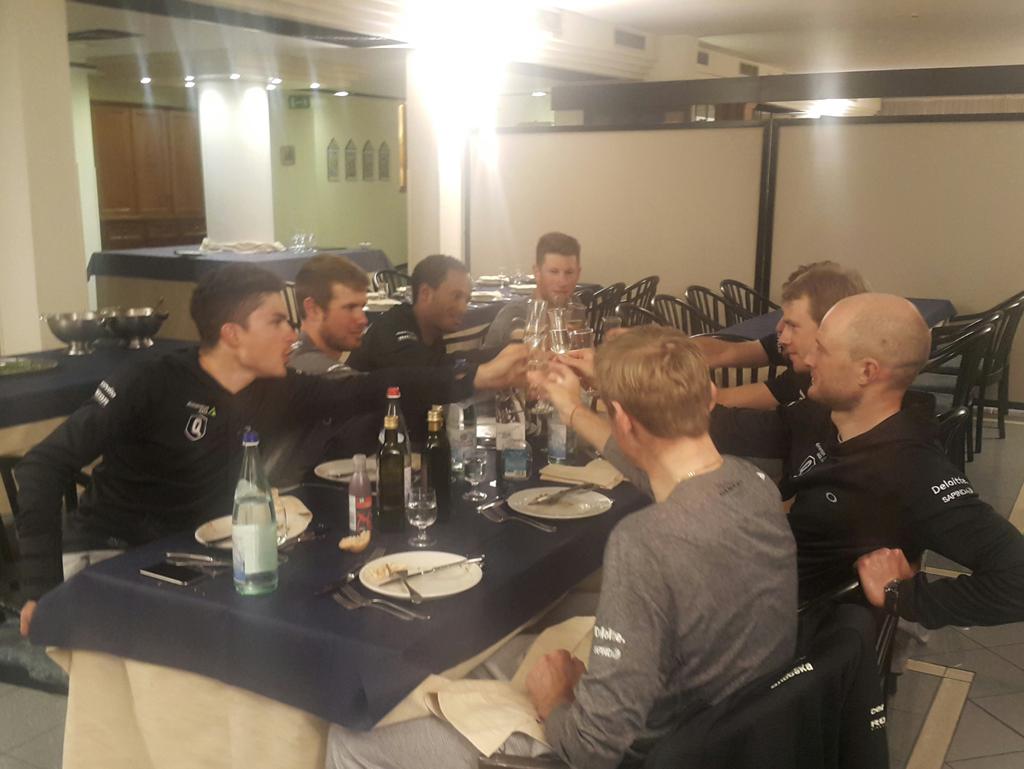 "I had a job to do today. I think in the wind at the end, before the last passage of the climb, the whole team did a fantastic job to keep Bauke out of trouble.
There were crosswinds, and we helped keep him protected at the front. I just did my job to keep him out of trouble, and I just continued my speed [up the climb]. That's how it's a team job. After a few days where I didn't feel so good, I finally found back some good rhythm and for me that's good.
After the climb, I don't like when after I pull so long to see rivals go on the attack," continued Cancellara. "So then I get excited as well, but it was the last of my power and energy in my body. In last 10kms, I again focused on Bauke to keep him up there and out of trouble. This was important for me and my only goal today – he deserves our 100 percent support, so I wanted just to be up there for him because he is a contender for the overall win."
MORE TO COME
RESULTS
STAGE
1 Cummings
2 Puccio +13
3 Berhane +13
4 Moreno +13
5 Bakelandts +13
6 Montaguti +16
7 Sagan +25
8 Van Avermaet +25
9 Benoot +25
GC
1 Stybar
2 Caruso +9
3 Van Avermaet +9
4 van Garderen +9
5 Jungels +11
6 Brambilla +11
7 Sagan +14
8 Pinot +18