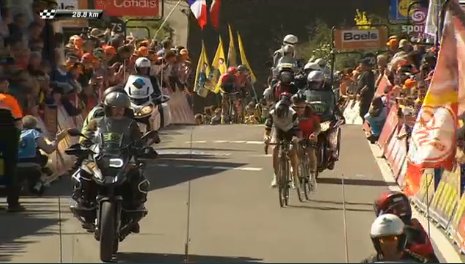 Not a rider I like but yes today he DOES make history:

he just won la Fleche for four times

, the first and only one and always atop Huy.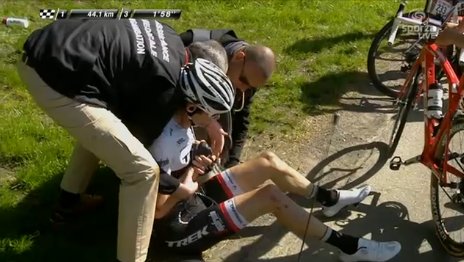 That's

my favourite Ardenne's classic race: short and brutal

. Even boring but

blasting in the finale

. Today

in a glorious sun

and really

uneventful

if you exclude the

crash involving Frank Schleck

, who sadly broke his collarbone. Team Movistar strictly controlled.
There was a

break, started and finished by Steve Cummings.

In there also Helven, Van der Sande, Dillier, Pacher, Reijnen, Bouwman, Bono, Pedersen and Laengen.
Bob Jungels attacked and Movistar's Ion Izagirre weirdly followed

, passive at first, then collaborating, then going solo.

Tim Wellens jumped off

the peloton, joined and passed by. But everybody were finally caught.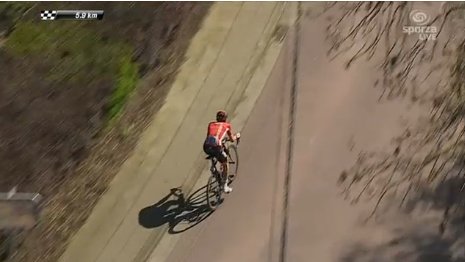 On the Mur de Huy

nobody had the legs to really try:

Purito, then Dan Martin

didn't do a difference. But

Alejandro Valverde

went on counter,

Alaphilippe

on his wheel.

An easy victory. If the mur de Huy can be easy!
Amongh the women

Anna Van der Breggen

won on Stevens and Guarnier. It seems it has been an exciting finale but we couldn't watch it. Shame!
Alejandro Valverde:

"The team was immense. An absolute marvel, the whole squad was amazing, in perfect harmony - since this very morning. We were able to do the race we wanted to - and crown it in the best possible way. Imanol, Rubén, Betancur, Rory, Dani, Visco… all of them pushed like hell and paid attention to every single split into the bunch, keeping me calm at the front.

Before the last Mur de Huy there was a lot of fighting, swerving and also mind games. I wanted to get to the front before the real climbing started to avoid any surprises. Purito attacked first, Daniel Martin followed shortly after. That moment, I saw my feelings were so incredibly great that I couldn't do any other thing but going after them. This victory, as well as the ones in Castilla y León, keeps me much calm. Also, see: before heading into the start, I was nervous because I felt my conditions were better than in previous years. I wanted to keep everything under control and eventually, it turned out well.

I'm really happy, as much as willing to go for next Sunday. We've fulfilled our 'internal' goal, which was winning Flèche - now it's time to rest up and thing about Liège. We don't know if it will rain, maybe the forecast can change, and if he does, we can stay happy: cold without rain is easier to combat. I'm really happy to enter history with this fourth Flèche Wallonne."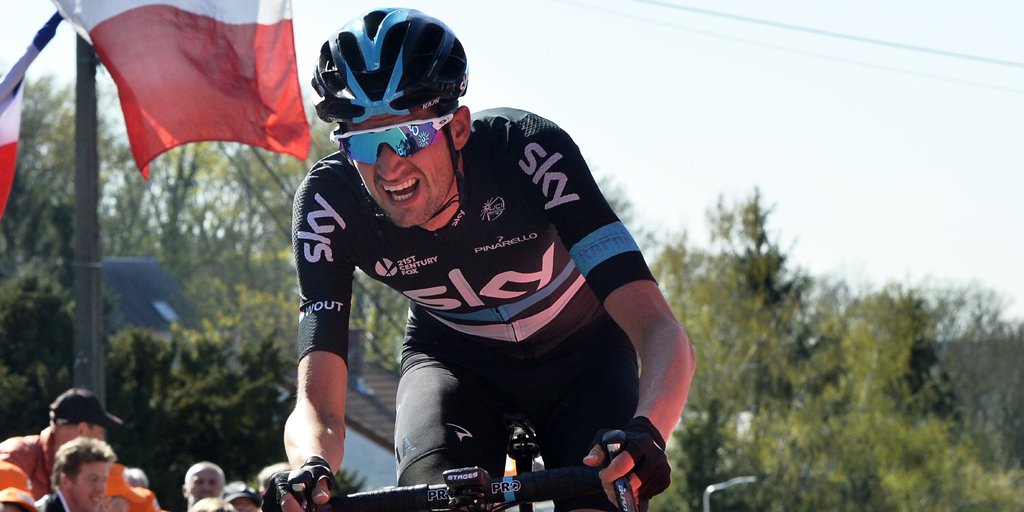 Wout Poels:
"It was a really good day. The team did a really good job for me and actually from the start my legs felt really good.
I did an interview with Dutch television before the race and said I wanted to get a top-five finish because I really want to go to the Olympics with the Netherlands. I have to show that I can perform in one-day races so it's quite cool that I can say I came fourth today. T
he Mur de Huy is a really long, steep and difficult climb and you need a lot of patience to wait. The last 200m was full gas and my legs were so painful then, I just had to keep going to the finish and see what I could do!
I think I did a good climb and the three other guys were just a little too strong. It bodes well for the next few years though."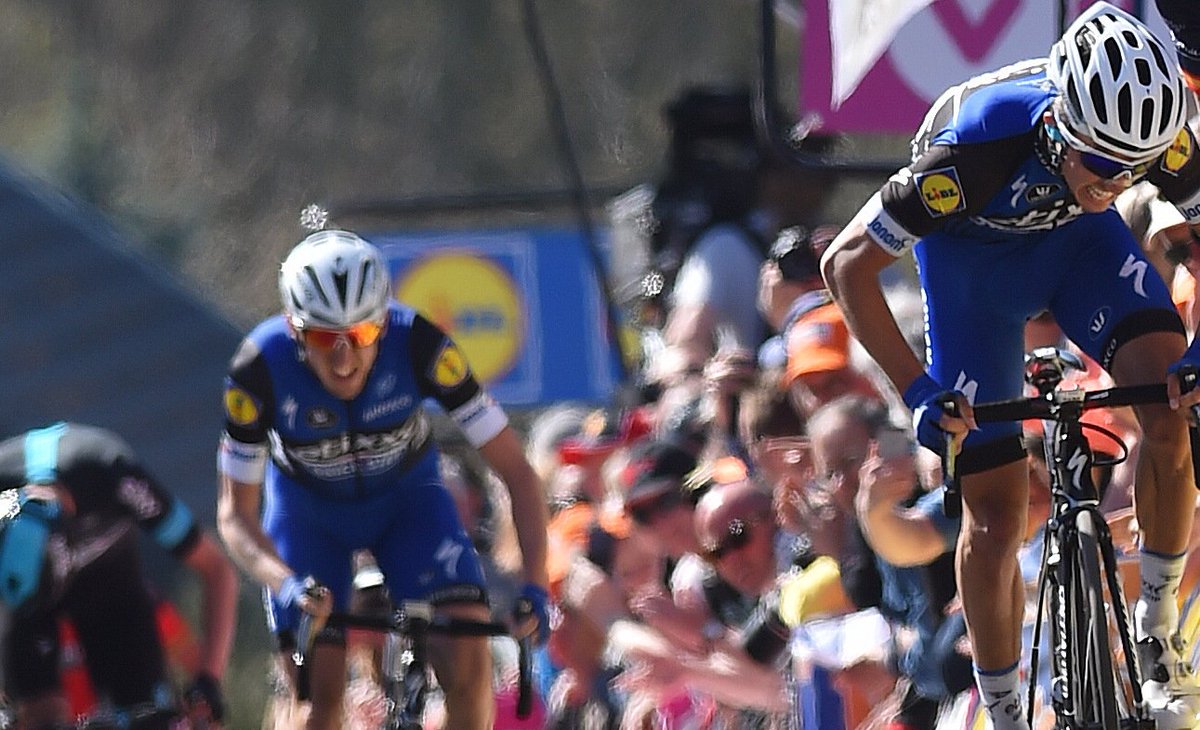 Daniel Martin:
"We wanted to go for the victory, but second and third on the podium is still a great result for the team. We knew that we can't beat Alejandro on the last 100 meters, so we tried to anticipate with 300 meters to go. We rode aggressively and the tactic was for Julian to stay in the wheel of Valverde, while I tried to go a little bit from afar. I have a very good relationship with Julian and we work very well together. We have to be happy, but we're also a bit sad, because we came here to get the win."
Julian Alaphilippe:
"I felt good throughout the day, rode with confidence and stayed close to Dan during the race. Our tactic was to have Dan start his effort early, because he has the power for such an attack, while I waited behind Valverde. Dan was really incredible and did a fantastic job on the climb. My legs were in pain after a really hard race, always up and down, without any time of respite. Of course, I am disappointed not to take the victory, but I'm also satisfied to come again on the podium at my second participation and especially to see how the team made the race on the Mur de Huy"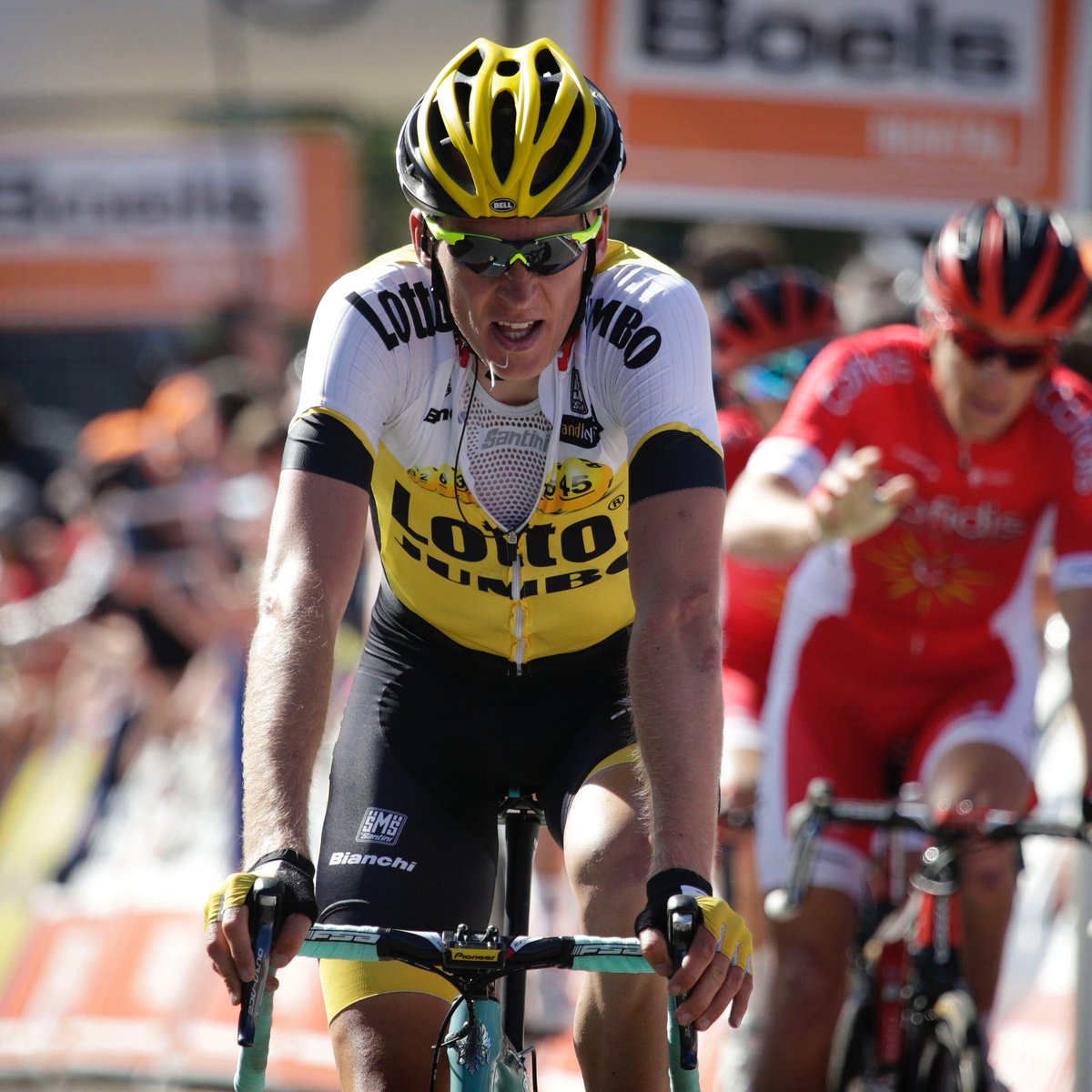 Robert Gesink:
"We saved Enrico for the final kilometres before the Mur de Huy. That went well and the other men were very strong earlier. We did fine as a team, but we missed the result we wanted. I wanted to finish top 10, but I failed. I need to become more explosive or be able to go deeper."
Wilco Kelderman:
"I wanted more than this 13th place. When they attacked on the Mur de Huy, a gap opened just in front of me and I wasn't able to hold on anymore. I exploded in the end and several riders passed me afterwards."
Koen Bouwman:
"It was my aim to be in the break, but it took quite a long time before we had a gap. I was there for more time than I imagined I would be. It was a beautiful reward. This was the best possible for me today."
Samuel Sánchez:
"For the team and for me the objective was to have someone in the top ten, and hopefully more in the top three. But in a race like this it's difficult when there are such good riders. The tempo was high from the beginning but the guys in the team worked really well. We had Silvan in the breakaway and Dylan to support me in the final. On the last climb I stayed in a good position and then in the last 150m I went full gas and passed a lot of riders. Sixth place is a good result.
Liège-Bastogne-Liège is a completely different race and the forecast isn't good. It's six or six and a half hours on the bike so it will be all about surviving."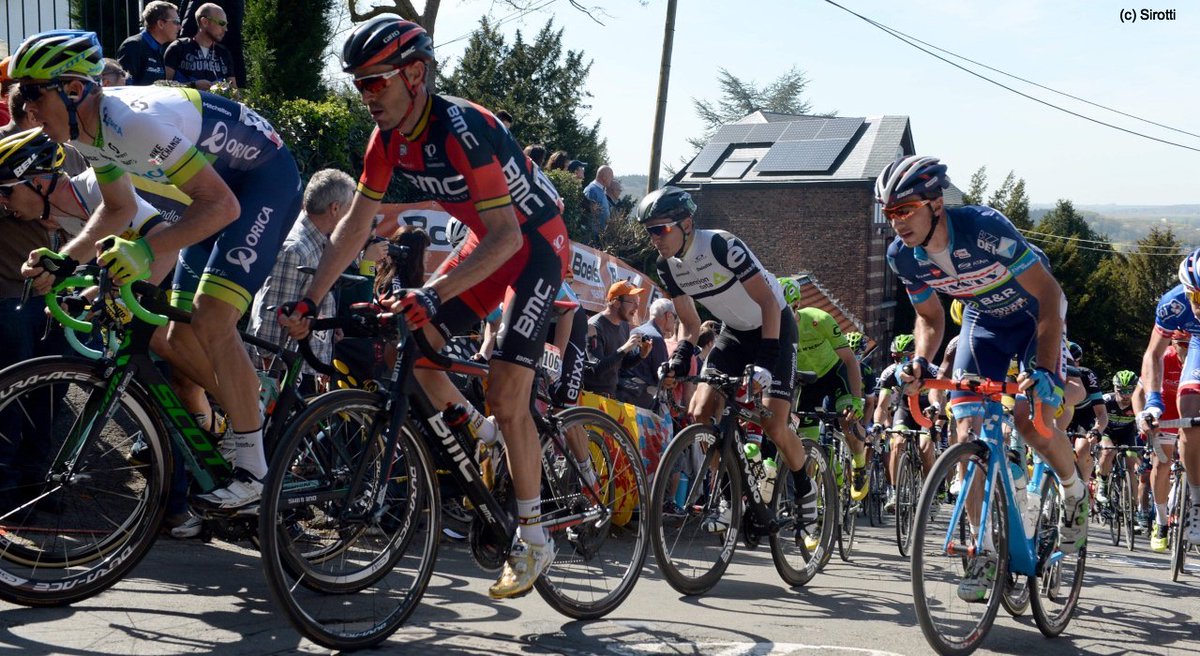 Silvan Dillier:
"I'm happy with my performance and being in the breakaway. My race today was definitely better than Amstel Gold Race last Sunday so I'm happy about this, but I'm not so happy that I couldn't stay with Steve Cummings (Dimension Data). He was just one level above, but then compared to the others in the breakaway I was able to stay the longest with him. In the end I don't think it would have made much of a difference because then caught him too, not too much later.
When we went up Mur de Huy the second time I felt really good and we had a one-minute advantage at the bottom of the climb. I said to myself that I would go at my own pace and see what happens at the top, whether or not there would be any moves from the bunch. But all of a sudden I was alone on the Mur and Steve bridged to me and we went the too of us. But I was surprised there wasn't more attacks from the bunch. To be in the breakaway was really nice but it's not the way you're going to win a race like La Flèche Wallonne."
Philippe Gilbert:
"I was feeling quite good at the start of the race but eventually started to feel fatigued and the side effects of my fractured finger and the different position that I have on the bike because of this. It was quite hard.
It was a hard and fast race from the start and that didn't stop all race. It was a big edition of La Flèche Wallonne. Now we'll see what happens on Sunday at Liège-Bastogne-Liège".
Tosh Van der Sande:
"Early" break today @flechewallonne ! If you never shoot, you always miss ! Next Liege Bastogne Liege"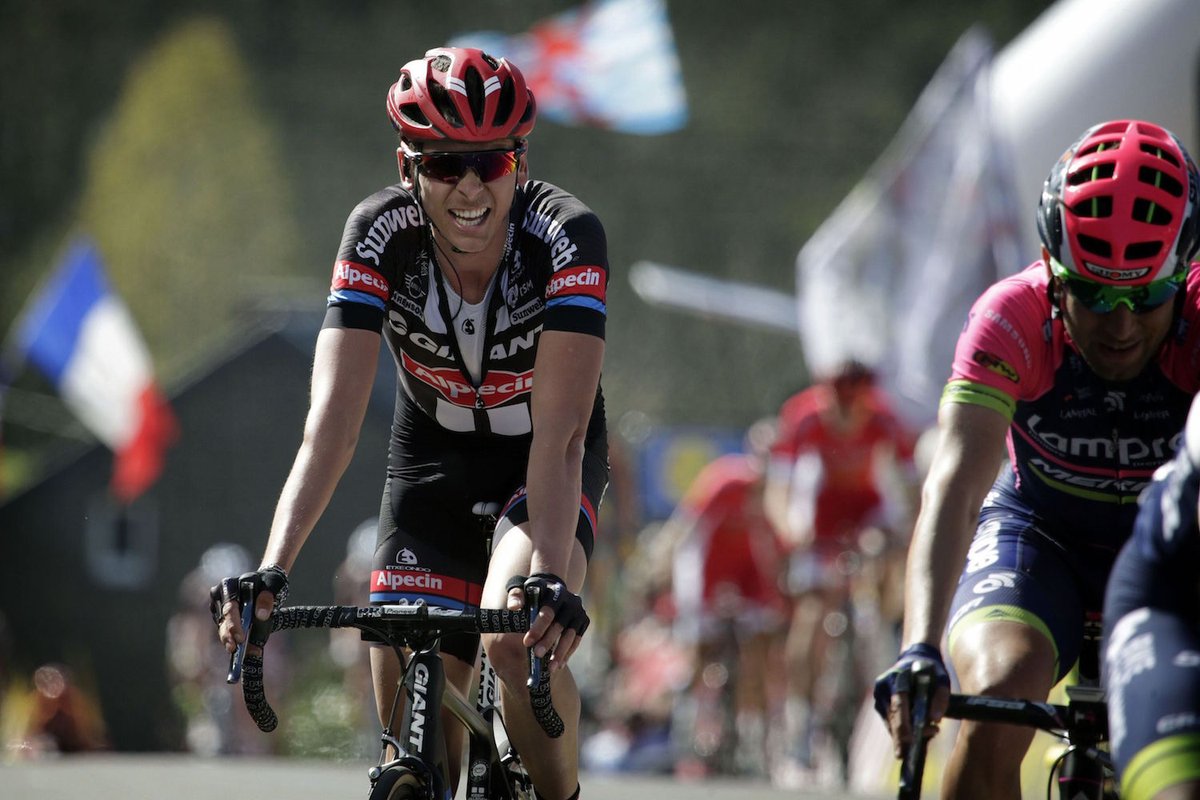 Warren Barguil:
"I am really happy with the team performance today who did a great job in protecting me all day. At the bottom of the Mur de Huy, I lost a lot of positions and I started the climb from too far back because I got boxed in. I'm progressing each year on the classics and that keeps me motivated to keep on improving."
Kiel Reijnen:
"It was not a super cohesive breakaway and Movistar did not give us a lot of leash, which was a bummer. As the race got harder I was hoping to feel punchier, but I definitely emptied the tank."
Peter Stetina:
"It was a ridiculously stressful race; all day on little cow-path farm roads, and it was honestly scary at times because no one would give anyone an inch and everyone was fresh.
The whole team tried to fly the flag together with no big favorite, we all tried to pull our weight. Laurent (Didier), myself and Kiel (Reijnen) were all in early breakaways and eventually the one with Kiel stuck.
Unfortunately, we were missing our big hitters with Bauke (Mollema) not here and Fränk (Schleck) crashing and breaking his collarbone. I could have supported and got them into position ahead of the Mur. I was just the last guy standing and just suffered.
For me personally, I am 12 months out from my crash and 8 months back riding a bike and so to finally be at the front of a race with the leaders instead of behind getting my head bashed in was a good feeling. Literally every race I am getting stronger and I want to keep the progression going for California and the Tour. The knee is holding up and it is not swelling; it's all moving in the right direction."
1
Anna Van Der Breggen (Ned) Rabo Liv Women Cycling Team
3:50:36
2
Evelyn Stevens (USA) Boels Dolmans Cyclingteam
0:00:08
3
Megan Guarnier (USA) Boels Dolmans Cyclingteam
0:00:22
4
Katarzyna Niewiadoma (Pol) Rabo Liv Women Cycling Team
0:00:23
5
Elisa Longo Borghini (Ita) Wiggle High5
0:00:25
6
Alena Amialiusik (Blr) Canyon SRAM Racing
0:00:38
7
Emma Johansson (Swe) Wiggle High5
0:00:43
8
Katrin Garfoot (Aus) Orica-AIS
0:00:45
9
Marianne Vos (Ned) Rabo Liv Women Cycling Team
0:00:48
10
Jolanda Neff (Swi) Servetto Footon
11
Claudia Lichtenberg (Ger) Lotto Soudal Ladies
0:00:53
12
Carmen Small (USA) Cervelo Bigla Pro Cycling Team
13
Malgorzta Jasinska (Pol) Ale' Cipollini
0:00:55
14
Annemiek Van Vleuten (Ned) Orica-AIS
0:00:58
15
Rachel Neylan (Aus) Orica-AIS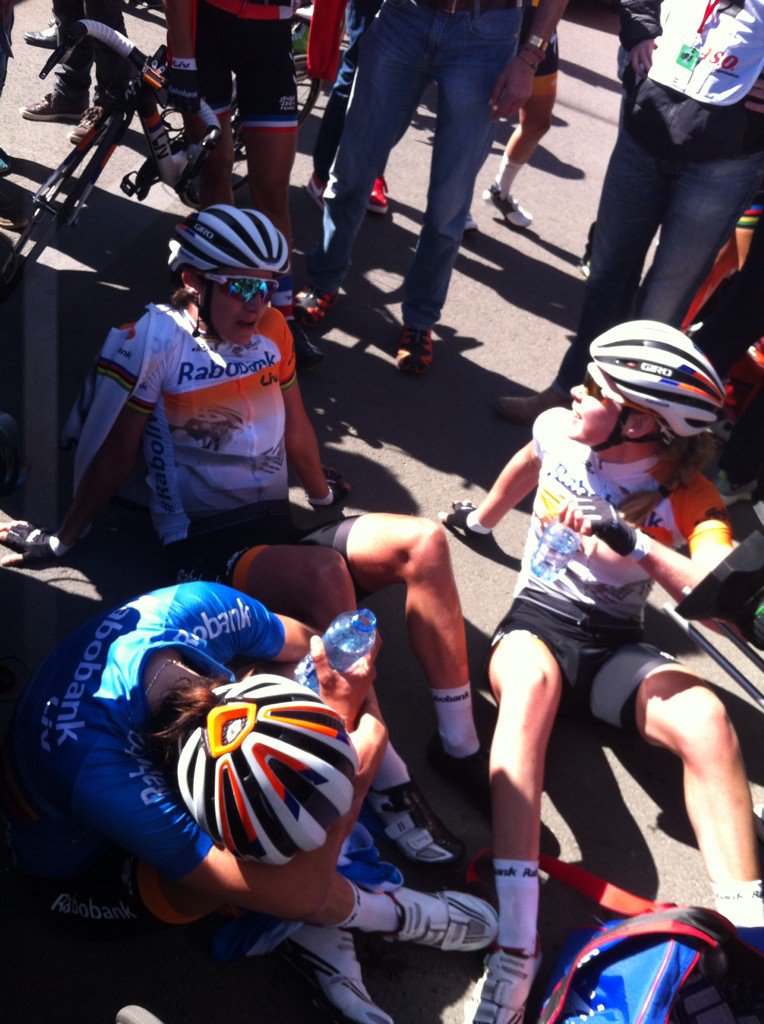 16
Ane Santesteban Gonzalez (Spa) Ale' Cipollini
0:01:00
17
Karol-Ann Canuel (Can) Boels Dolmans Cyclingteam
18
Janneke Ensing (Ned) Parkhotel Valkenburg Continental Team
19
Elena Cecchini (Ita) Canyon SRAM Racing
0:01:03
20
Anna Plichat (Pol) BTC City Ljubljana
0:01:09
21
Leah Kirchmann (Can) Team Liv-Plantur
0:01:11
22
Nicole Brändli (Swi) Servetto Footon
23
Amanda Spratt (Aus) Orica-AIS
24
Lara Vieceli (Ita) INPA - Bianchi
25
Danielle King (GBr) Wiggle High5
26
Eugenia Bujak (Pol) BTC City Ljubljana
27
Lauren Kitchen (Aus) Hitec Products
0:01:21
28
Elizabeth Armitstead (GBr) Boels Dolmans Cyclingteam
0:01:23
29
Joelle Numainville (Can) Cervelo Bigla Pro Cycling Team
0:01:25
30
Pauline Ferrand Prevot (Fra) Rabo Liv Women Cycling Team
0:01:27
31
Lisa Brennauer (Ger) Canyon SRAM Racing
0:01:30
32
Alexis Ryan (USA) Canyon SRAM Racing
33
Tatiana Guderzo (Ita) Hitec Products
0:01:37
34
Tayler Wiles (USA) Orica-AIS
0:02:15
35
Carlee Taylor (Aus) Team Liv-Plantur
0:02:16
36
Audrey Cordon (Fra) Wiggle High5
0:02:18
37
Tiffany Cromwell (Aus) Canyon SRAM Racing
0:02:21
38
Eleonora Van Dijk (Ned) Boels Dolmans Cyclingteam
39
Roxane Knetemann (Ned) Rabo Liv Women Cycling Team
0:02:33
40
Gracie Elvin (Aus) Orica-AIS
0:02:34
41
Jessie Daams (Bel) Lotto Soudal Ladies
0:03:01
42
Anna Zita Maria Stricker (Ita) INPA - Bianchi
0:03:20
43
Ganna Solovei (Ukr) Parkhotel Valkenburg Continental Team
0:03:39
44
Tetiana Riabchenko (Ukr) INPA - Bianchi
0:03:49
45
Mayuko Hagiwara (Jpn) Wiggle High5
46
Pauliena Rooijakkers (Ned) Parkhotel Valkenburg Continental Team
0:03:56
47
Olga Zabelinkskaya (Rus) Bepink
0:04:06
48
Flavia Oliveira (Bra) Lensworld-Zannata
0:04:07
49
Edwige Pitel (Fra) S.C. Michela Fanini
0:04:12
50
Katarzyna Pawlowska (Pol) Boels Dolmans Cyclingteam
0:04:16
51
Rozanne Slik (Ned) Team Liv-Plantur
0:04:29
52
Ursa Pintar (Slo) BTC City Ljubljana
53
Léna Gerault (Fra) France
54
Kristabel Doebel-Hickok (USA) Cylance Pro Cycling
55
Jermaine Post (Ned) Parkhotel Valkenburg Continental Team
0:04:35
56
Alexandra Nessmar (Swe) Lares-Waowdeals Women Cycling Team
0:04:39
57
Eva Buurman (Ned) Parkhotel Valkenburg Continental Team
58
Jenelle Crooks (Aus) Australia
59
Kelly Van Den Steen (Bel) Topsport Vlaanderen - Etixx
0:04:42
60
Riejanne Markus (Ned) Team Liv-Plantur
61
Stephanie Pohl (Ger) Cervelo Bigla Pro Cycling Team
62
Kseniya Tuhai (Blr) Bepink
0:04:45
63
Anisha Vekemans (Bel) Lotto Soudal Ladies
64
Svetlana Vasilieva (Rus) Astana Women's Team
65
Ana Maria Covrig (Rom) INPA - Bianchi
0:04:48
66
Clara Koppenburg (Ger) Cervelo Bigla Pro Cycling Team
67
Lex Albrecht (Can) Bepink
68
Sofie De Vuyst (Bel) Lotto Soudal Ladies
0:04:51
69
Dalia Muccioli (Ita) Ale' Cipollini
0:04:52
70
Ann-Sofie Duyck (Bel) Topsport Vlaanderen - Etixx
0:04:54
71
Alison Tetrick (USA) Cylance Pro Cycling
0:05:06
72
Polona Batagelj (Slo) BTC City Ljubljana
73
Cecilie Gotaas Johnsen (Nor) Hitec Products
74
Sarah Rijkes (Aut) Lares-Waowdeals Women Cycling Team
75
Arianna Fidanza (Ita) Astana Women's Team
0:05:14
76
Charlotte Bravard (Fra) Poitou-Charentes.Futuroscope.86
77
Valerie Demey (Bel) Topsport Vlaanderen - Etixx
0:05:40
78
Esra Tromp (Ned) Parkhotel Valkenburg Continental Team
0:05:52
79
Séverine Eraud (Fra) Poitou-Charentes.Futuroscope.86
0:05:56
80
Charlotte Becker (Ger) Hitec Products
0:05:59
81
Anna Potokina (Rus) Servetto Footon
0:06:18
82
Jessica Allen (Aus) Australia
0:06:49
83
Emilia Fahlin (Swe) Ale' Cipollini
84
Amélie Rivat (Fra) Poitou-Charentes.Futuroscope.86
85
Oxana Kozonchuk (Rus) Lensworld-Zannata
0:07:24
86
Alice Maria Arzuffi (Ita) Lensworld-Zannata
0:07:41
87
Maria Giulia Confalonieri (Ita) Lensworld-Zannata
88
Jessy Druyts (Bel) Topsport Vlaanderen - Etixx
0:09:54
89
Kaat Hannes (Bel) Lensworld-Zannata
0:10:27
90
Willeke Knol (Ned) Lotto Soudal Ladies
0:10:29
91
Spela Kern (Slo) BTC City Ljubljana
0:10:36
92
Dorleta Eskamendi Gil (Spa) Lares-Waowdeals Women Cycling Team
0:10:42
93
Emilie Rochedy (Fra) France
94
Lucia Gonzalez (Spa) Lointek
0:10:44
95
Miriam Bjørnsrud (Nor) Hitec Products
0:15:04
96
Ingrid Lorvik (Nor) Hitec Products
97
Tatiana Antoshina (Rus) Astana Women's Team
0:15:08
98
Marlène Morel Petitgirard (Fra) France
0:15:12
99
Doris Schweizer (Swi) Cylance Pro Cycling
0:15:13
100
Valentina Scandolara (Ita) Cylance Pro Cycling
0:15:18
101
An-Li Kachelhoffer (RSA) Lotto Soudal Ladies
102
Sofia Beggin (Ita) Astana Women's Team
0:15:19
103
Greta Richioud (Fra) Poitou-Charentes.Futuroscope.86
0:16:14
104
Anabelle Dreville (Fra) Poitou-Charentes.Futuroscope.86
0:16:23
105
Fanny Leleu (Fra) France
106
Hannah Barnes (GBr) Canyon SRAM Racing
0:16:40
107
Monique Van De Ree (Ned) Lares-Waowdeals Women Cycling Team
0:16:42
108
Heidi Dalton (RSA) Bizkaia - Durango
0:16:45
109
Victorie Guilman (Fra) Poitou-Charentes.Futuroscope.86
110
Sara Penton (Bel) Lares-Waowdeals Women Cycling Team
0:16:49
111
Roos Hoogeboom (Ned) Bizkaia - Durango
0:16:52
112
Lierni Lekuona Etxebeste (Spa) Bizkaia - Durango
0:16:58
113
Kyara Stijns (Ned) Team Liv-Plantur
0:17:08
114
Alba Teruel Ribes (Spa) Lointek
0:17:10
115
Michela Pavin (Ita) INPA - Bianchi
0:17:11
116
Ilaria Sanguineti (Ita) Bepink
117
Kimberley Le Court De Billot (Mri) Bizkaia - Durango
0:17:35
118
Simona Bortolotti (Ita) Bepink
0:18:28
DNF
Aurore Verhoeven (Fra) Lointek
DNF
Gloria Rodriguez (Spa) Lointek
DNF
Rocio Del Alba Garcia Martinez (Spa) Lointek
DNF
Maria Del Mar Bonnin Palou (Spa) Lointek
DNF
Saartje Vandenbroucke (Bel) Topsport Vlaanderen - Etixx
DNF
Fien Delbaere (Bel) Topsport Vlaanderen - Etixx
DNF
Margarita Lopez (Spa) Bizkaia-Durango
DNF
Elisabet Escursell Valero (Spa) Bizkaia - Durango
DNF
Astrid Chazal (Fra) France
DNF
Claudia Cretti (Ita) INPA - Bianchi
DNF
Nicole Moerig (Aus) Australia
DNF
Kimberley Wells (Aus) Australia
DNF
Shannon Malseed (Aus) Australia
DNF
Louisa Lobigs (Aus) Australia
DNF
Maaike Polspoel (Bel) Lensworld-Zannata
DNF
Veronika Kormos (Hun) Lares-Waowdeals Women Cycling Team
DNF
Amber Neben (USA) Bepink
DNF
Kseniya Dobrynina (Rus) Astana Women's Team
DNF
Jelena Eric (Srb) BTC City Ljubljana
DNF
Anna Trevisi (Ita) Ale' Cipollini
DNF
Ellen Skerritt (Aus) Ale' Cipollini
DNF
Rossella Ratto (Ita) Cylance Pro Cycling
DNF
Maria Vittoria Sperotto (Ita) Servetto Footon
DNF
Katia Ragusa (Ita) Servetto Footon
DNF
Molly Meyvisch (Bel) Servetto Footon
DNF
Anna Sanchis Chafer (Spa) Wiggle High5
DNF
Lotta Lepistö (Fin) Cervelo Bigla Pro Cycling Team
1
Alejandro Valverde (Spa) Movistar Team
4:43:57
2
Julian Alaphilippe (Fra) Etixx - Quick-Step
3
Daniel Martin (Irl) Etixx - Quick-Step
4
Wouter Poels (Ned) Team Sky
0:00:04
5
Enrico Gasparotto (Ita) Wanty - Groupe Gobert
0:00:05
6
Samuel Sanchez (Spa) BMC Racing Team
7
Michael Albasini (Swi) Orica-GreenEdge
8
Diego Ulissi (Ita) Lampre - Merida
9
Warren Barguil (Fra) Team Giant-Alpecin
10
Rui Costa (Por) Lampre - Merida
11
Roman Kreuziger (Cze) Tinkoff Team
12
Michael Woods (Can) Cannondale Pro Cycling
13
Wilco Kelderman (Ned) Team LottoNl-Jumbo
14
Julien Simon (Fra) Cofidis, Solutions Credits
0:00:12
15
Robert Gesink (Ned) Team LottoNl-Jumbo
0:00:14
16
Arnold Jeannesson (Fra) Cofidis, Solutions Credits
17
Rudy Molard (Fra) Cofidis, Solutions Credits
18
Jelle Vanendert (Bel) Lotto Soudal
0:00:17
19
Pierre-Roger Latour (Fra) AG2R La Mondiale
20
Diego Rosa (Ita) Astana Pro Team
21
Michael Matthews (Aus) Orica-GreenEdge
0:00:23
22
Jan Bakelants (Bel) AG2R La Mondiale
23
Floris De Tier (Bel) Topsport Vlaanderen - Baloise
24
Serge Pauwels (Bel) Dimension Data
0:00:27
25
Daniel Navarro (Spa) Cofidis, Solutions Credits
0:00:29
26
Louis Meintjes (RSA) Lampre - Merida
27
Pieter Weening (Ned) Roompot - Oranje Peloton
28
Joaquim Rodríguez Oliver (Spa) Team Katusha
0:00:32
29
Dries Devenyns (Bel) IAM Cycling
0:00:34
30
Dylan Teuns (Bel) BMC Racing Team
31
Luis León Sánchez Gil (Spa) Astana Pro Team
32
Andrey Zeits (Kaz) Astana Pro Team
33
Huub Duijn (Ned) Roompot - Oranje Peloton
34
Bjorn Thurau (Ger) Wanty-Groupe Gobert
35
Peter Stetina (USA) Trek-Segafredo
0:00:40
36
Tom Jelte Slagter (Ned) Cannondale Pro Cycling
37
Daniel Moreno (Spa) Movistar Team
0:00:43
38
Chris Anker Sorensen (Den) Fortuneo - Vital Concept
0:00:46
39
Sam Oomen (Ned) Team Giant-Alpecin
40
Florian Vachon (Fra) Fortuneo - Vital Concept
41
Robert Kiserlovski (Cro) Tinkoff Team
0:00:50
42
Ben Hermans (Bel) BMC Racing Team
0:00:52
43
Julien El Farès (Fra) Delko Marseille Provence KTM
44
Jérémy Maison (Fra) FDJ
0:00:55
45
Andriy Grivko (Ukr) Astana Pro Team
46
Eliot Lietaer (Bel) Topsport Vlaanderen - Baloise
0:01:01
47
Tony Gallopin (Fra) Lotto Soudal
0:01:14
48
Simon Clarke (Aus) Cannondale Pro Cycling
0:01:22
49
Giovanni Visconti (Ita) Movistar Team
0:01:27
50
Georg Preidler (Aut) Team Giant-Alpecin
0:01:32
51
Mickaël Chérel (Fra) AG2R La Mondiale
0:01:39
52
Cyril Gautier (Fra) AG2R La Mondiale
53
Manuele Mori (Ita) Lampre - Merida
0:01:42
54
Fabian Wegmann (Ger) Stölting Service Group
0:01:54
55
Luis Angel Maté Mardones (Spa) Cofidis, Solutions Credit
0:02:02
56
Fredrik Ludvigsson (Swe) Team Giant-Alpecin
0:02:04
57
Pieter Serry (Bel) Etixx - Quick-Step
0:02:06
58
Laurens De Plus (Bel) Etixx - Quick-Step
59
Anthony Delaplace (Fra) Fortuneo - Vital Concept
60
Igor Anton Hernandez (Spa) Dimension Data
0:02:10
61
Stefan Denifl (Aut) IAM Cycling
0:02:13
62
Guillaume Martin (Fra) Wanty - Groupe Gobert
63
Bart De Clercq (Bel) Lotto Soudal
0:02:17
64
Jon Izagirre Insausti (Spa) Movistar Team
0:02:25
65
Tim Wellens (Bel) Lotto Soudal
0:02:33
66
Bob Jungels (Lux) Etixx - Quick-Step
0:03:01
67
Enrico Battaglin (Ita) Team LottoNl-Jumbo
68
David De La Cruz (Spa) Etixx - Quick-Step
0:03:16
69
Victor Campenaerts (Bel) Team LottoNl-Jumbo
0:03:23
70
Michel Kreder (Ned) Roompot - Oranje Peloton
0:03:30
71
Natnael Berhane (Eri) Dimension Data
72
Laurent Pichon (Fra) FDJ
73
Marcel Wyss (Swi) IAM Cycling
74
Sebastian Henao (Col) Team Sky
75
Jarlinson Pantano (Col) IAM Cycling
76
Armindo Fonseca (Fra) Fortuneo - Vital Concept
77
Nathan Brown (USA) Cannondale Pro Cycling
78
Christian Meier (Can) Orica-GreenEdge
79
Jack Haig (Aus) Orica-GreenEdge
80
Preben Van Hecke (Bel) Topsport Vlaanderen - Baloise
81
Romain Hardy (Fra) Cofidis, Solutions Credits
82
Alex Howes (USA) Cannondale Pro Cycling
83
Clement Chevrier (Fra) IAM Cycling
84
Gianluca Brambilla (Ita) Etixx - Quick-Step
85
Gaetan Bille (Bel) Wanty - Groupe Gobert
86
Paolo Tiralongo (Ita) Astana Pro Team
87
Oliver Zaugg (Swi) IAM Cycling
88
Angel Vicioso (Spa) Team Katusha
89
Yury Trofimov (Rus) Tinkoff Team
90
Maurits Lammertink (Ned) Roompot - Oranje Peloton
0:03:34
91
Philippe Gilbert (Bel) BMC Racing Team
92
Loic Vliegen (Bel) BMC Racing Team
93
Pawel Poljanski (Pol) Tinkoff Team
94
Arthur Vichot (Fra) FDJ
0:04:14
95
Lawrence Warbasse (USA) IAM Cycling
0:04:16
96
Michael Valgren (Den) Tinkoff Team
0:04:56
97
Ben Gastauer (Lux) AG2R La Mondiale
0:05:00
98
Ivan Rovny (Rus) Tinkoff Team
0:05:11
99
Sergei Chernetckii (Rus) Team Katusha
100
Alberto Losada (Spa) Team Katusha
101
Tiago Machado (Por) Team Katusha
102
Jurgen Van Den Broeck (Bel) Team Katusha
103
Chad Haga (USA) Team Giant-Alpecin
104
Tomasz Marczynski (Pol) Lotto Soudal
105
Ben Swift (GBr) Team Sky
106
Rémy Di Grégorio (Fra) Delko Marseille Provence KTM
0:05:22
107
Petr Vakoc (Cze) Etixx - Quick-Step
0:05:25
108
Anthony Turgis (Fra) Cofidis, Solutions Credits
0:05:54
109
Carlos Betancur (Col) Movistar Team
0:05:58
110
Ruben Fernandez (Spa) Movistar Team
111
Jan Polanc (Slo) Lampre - Merida
112
Michal Golas (Pol) Team Sky
0:06:08
113
Paul Martens (Ger) Team LottoNl-Jumbo
114
Alessandro De Marchi (Ita) BMC Racing Team
115
Salvatore Puccio (Ita) Team Sky
116
Matteo Montaguti (Ita) AG2R La Mondiale
117
Christopher Juul Jensen (Den) Orica-GreenEdge
0:06:29
118
Mario Costa (Por) Lampre - Merida
0:06:58
119
Sander Helven (Bel) Topsport Vlaanderen - Baloise
0:07:00
120
Stephen Cummings (GBr) Dimension Data
0:07:08
121
Lawson Craddock (USA) Cannondale Pro Cycling
122
Romain Combaud (Fra) Delko Marseille Provence KTM
0:08:02
123
Benjamin King (USA) Cannondale Pro Cycling
124
Odd Christian Eiking (Nor) FDJ
125
Benoît Vaugrenard (Fra) FDJ
126
Sven Erik Bystrøm (Nor) Team Katusha
127
Daniel Teklehaimanot (Eri) Dimension Data
128
Sébastien Minard (Fra) AG2R La Mondiale
129
Michael Reihs (Den) Stölting Service Group
130
Bertjan Lindeman (Ned) Team LottoNl-Jumbo
131
Alexey Vermeulen (USA) Team LottoNl-Jumbo
132
Pavel Brutt (Rus) Tinkoff Team
133
Julien Loubet (Fra) Fortuneo - Vital Concept
134
Stefan Kung (Swi) BMC Racing Team
135
Sander Armée (Bel) Lotto Soudal
136
Silvan Dillier (Swi) BMC Racing Team
137
Simon Geschke (Ger) Team Giant-Alpecin
138
Fumiyuki Beppu (Jpn) Trek-Segafredo
139
Nicolas Edet (Fra) Cofidis, Solutions Credits
140
Jean-Marc Bideau (Fra) Fortuneo - Vital Concept
141
Laurent Didier (Lux) Trek-Segafredo
142
Ryder Hesjedal (Can) Trek-Segafredo
143
Rory Sutherland (Aus) Movistar Team
0:08:10
144
Mathew Hayman (Aus) Orica-GreenEdge
145
Tosh Van Der Sande (Bel) Lotto Soudal
0:08:12
146
Matteo Bono (Ita) Lampre - Merida
0:08:15
147
Toms Skujins (Lat) Cannondale Pro Cycling
0:08:22
148
Alexey Lutsenko (Kaz) Astana Pro Team
0:10:54
149
Aleksei Tsatevich (Rus) Team Katusha
0:11:19
150
Tim Declercq (Bel) Topsport Vlaanderen - Baloise
151
Johannes Fröhlinger (Ger) Team Giant-Alpecin
152
Pieter Vanspeybrouck (Bel) Topsport Vlaanderen - Baloise
153
Johnny Hoogerland (Ned) Roompot - Oranje Peloton
154
Omar Fraile (Spa) Dimension Data
155
Leonardo Duque (Col) Delko Marseille Provence KTM
156
Yannick Martinez (Fra) Delko Marseille Provence KTM
0:11:23
157
Reinier Honig (Ned) Roompot - Oranje Peloton
0:11:28
158
Delio Fernández Cruz (Spa) Delko Marseille Provence KTM
0:11:41
159
Lars Petter Nordhaug (Nor) Team Sky
160
Vegard Stake Laengen (Nor) IAM Cycling
161
Koen Bouwman (Ned) Team LottoNl-Jumbo
162
Christian Mager (Ger) Stölting Service Group
0:11:47
DNF
Quentin Pacher (Fra) Delko Marseille Provence KTM
DNF
Daniel Diaz (Arg) Delko Marseille Provence KTM
DNF
Thomas Koep (Ger) Stölting Service Group
DNF
Lasse Norman Hansen (Den) Stölting Service Group
DNF
Gerald Ciolek (Ger) Stölting Service Group
DNF
Otto Vergaerde (Bel) Topsport Vlaanderen - Baloise
DNF
Dries Van Gestel (Bel) Topsport Vlaanderen - Baloise
DNF
Youcef Reguigui (Alg) Dimension Data
DNF
Antwan Tolhoek (Ned) Roompot - Oranje Peloton
DNF
Kai Reus (Ned) Roompot - Oranje Peloton
DNF
Thomas De Gendt (Bel) Lotto Soudal
DNF
Caleb Fairly (USA) Team Giant-Alpecin
DNF
Anthony Roux (Fra) FDJ
DNF
William Bonnet (Fra) FDJ
DNF
Haimar Zubeldia (Spa) Trek-Segafredo
DNF
Niccolo Bonifazio (Ita) Trek-Segafredo
DNF
Frank Schleck (Lux) Trek-Segafredo
DNF
Frederik Veuchelen (Bel) Wanty - Groupe Gobert
DNF
Marco Marcato (Ita) Wanty - Groupe Gobert
DNF
Mark Mcnally (GBr) Wanty - Groupe Gobert
DNF
Evgeny Petrov (Rus) Tinkoff Team
DNF
Lieuwe Westra (Ned) Astana Pro Team
DNF
Dario Cataldo (Ita) Astana Pro Team
DNF
Danny Van Poppel (Ned) Team Sky
DNF
Sergio Henao (Col) Team Sky
DNF
Christophe Riblon (Fra) AG2R La Mondiale
DNF
Adam Yates (GBr) Orica-GreenEdge
DNF
Jens Keukeleire (Bel) Orica-GreenEdge